Nowadays, it is hard to find a person not using a smartphone. It has become a necessity for everyone. Now, everyone goes here and there with a personal computer which was not possible without smartphones.  According to this interesting guide, there are 6.3 billion smartphone users all around the world and If you are buying a smartphone today, it will obviously be either Google's Android or Apple's IOS operating a system-based smartphone. Both the operating systems are excellent. So, it becomes hard to choose a smartphone before buying. Android vs IOS, which one to choose? This article will give a comparison between Google's Android and Apple's IOS.
Android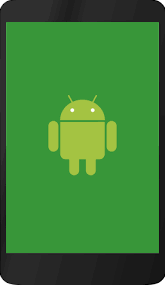 Android is an operating system for mobile phone based on Linux kernel. It was developed by Google and primarily was designed for touchscreen mobile devices(Especially for smartphones and tablets). Google has also developed Android TV for television. For cars, they developed Android auto. Now, game consoles, digital cameras and a lot of electronics are using Android OS too.
Android was initially developed by Android Inc. Google bought Android Inc. in 2005. Google releases Android's source code under an open source license. On September 23, 2008, the first Android smartphone was released. The first version was Android 1.0(known as Android Alpha). Android apps can be downloaded from Google play store. Now, Android is run on the vast majority of smartphones. There are around 2.7 million apps in the Google play store(by 2017). There are high budget Android smartphones as well as low budget smartphones available from various manufacturers.
IOS
IOS (formerly known as iPhone OS) is a mobile operating system which was created and developed by Apple Inc. This operating system is generally used in iPhone, iPad and iPad Touch. After Android, it is the second most popular mobile operating system.
It was unveiled in 2007 for the iPhone. First IOS version was IOS 1.0. But then, IOS has been started supporting other Apple devices like iPod Touch(September 2007), iPad(January 2010). IOS's apps can be downloaded and installed from Apple Apps store. By 2017, Apple's Apps store has a collection of more than 2 million apps. It is under OS family of OS X and UNIX. The IOS kernel is not open source. But IOS kernel is based on the open-source Darwin OS.
Android vs IOS Comparison
In this section, we will talk about various aspects.
1. User-Friendly/Simplicity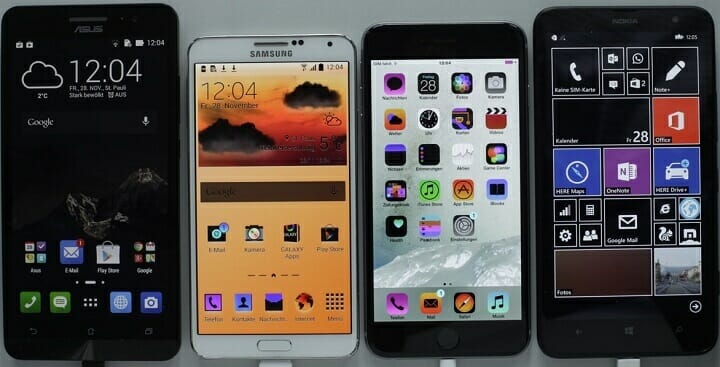 In terms of simplicity or user-friendly, it is not same for everybody. It can only be said by a user who used both IOS and Android for quite sometimes. As I am using both the IOS and Android, I have pretty much idea about that.
Suppose you have never used a smartphone before. Then, IOS will be perfect for you because of its cleanliness and simplicity. But IOS is very restrictive. So, it helps in the long run. After some days, you obviously will have at least around 20 apps or more installed on your smartphone. If you are an Android user, then it will be seen that your storage is going down day by day whereas you haven't downloaded anything at all. But if you are a geek user, then it will be possible for you to clean up storage, memory, identify malicious apps from your device. But you don't need to do that.
But in android, it will be seen that your device is becoming slow and the hardware isn't quite same as you first bought it. Though it is not about Android, but about the device's manufacturer. If you buy flagship device from Samsung, Sony or any other well-known manufacturer, then it may not be a problem. But it will be costly too. Though all IOS devices are quite costlier than Android devices.
As I am saying about simplicity, IOS obviously do it better than android. It will be quite same after a long time if you buy an Apple phone. Apple does not allow their user to customize their phone as compared to Android. So, you don't need to be geeky to do the things as I have mentioned earlier.
But to be honest, both the operating systems are quite simple initially. Android just allows their user to make the smartphone as like as you want whereas IOS doesn't allow that. So, IOS remains simple after a long time and Android doesn't remain simple if you have customized your smartphone.
2. Apps Availability/Apps Store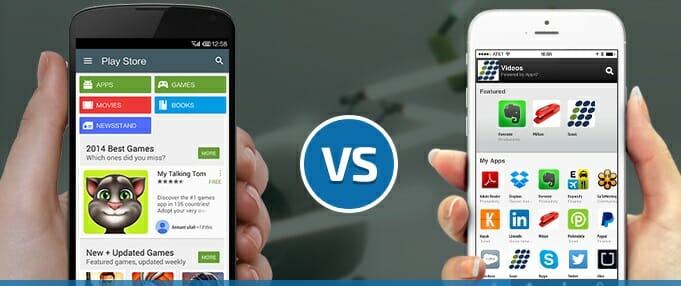 Both Android and IOS have a lot of apps for their users available in Google play store(For Android user) and in Apple app store(For IOS user). The total number of apps:
Android apps in Google Play store: Around 2.8 million by 2017
IOS apps in Apple Apps store: Around 2.2 million by 2017
Actually, numbers aren't the scale of measurement in this. Most of the people use a handful of apps. Both the stores have most of the necessary and popular apps. Traditionally, there is a tendency for new apps to appear in Apple apps store first. But, now all over the world, there a lot of android developer than IOS developer.
But Google's play store has a lot of free apps than Apple's apps store. Still, the best games land on IOS first. So, you cannot say which one is better. Both the apps stores are quite good for their users.
3. Alternative Apps Stores and Sideloading
You can download apps from various websites. There is some alternative apps store for Android. You can share your apps with APK files. All you need is to install the apk files. But there is no alternative apps store for IOS unless your phone is jailbroken. Besides, downloading apps from the alternative app store and sideloading is risky as there is a risk of malware.
4. Gaming and Apps Performance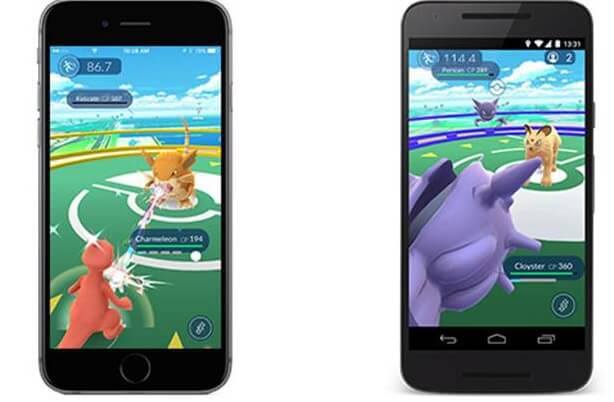 Now, both IOS and Android devices are available with the powerful 64-bit processor, GPU, and RAM.
In terms of performance, it is hard to tell which one is better. IOS devices are made only by Apple. But as Android being open source, a lot of manufacturers manufacture Android devices by just following Google's simple terms and conditions. So, IOS devices are more stable than android devices. But for general uses, the performance doesn't matter for both Android and IOS.
All IOS devices are quite good at performance. Performance means gaming experience or other apps user experience. In IOS devices, as all the devices are made by Apple and Apple is quite famous for their extra care in terms of hardware. So, gaming and other apps experience are quite good with IOS devices.
Android devices are made by a lot of manufacturers all over the world. So, there are low-end android devices as well as high-end flagship phones of various companies. Flagship smartphones from popular companies like Samsung, Motorola, Sony etc are quite good in gaming and other apps using. But gaming and other heavy apps don't work well on low-end Android devices.
5. Security and Privacy
Apple is so much well-known for its security and privacy that they don't even give their user's information if FBI wants their user's information from them. But, google use their users' information to make money. So, it will be good for you to choose IOS over Android if you value privacy and security.
In IOS devices, data is encrypted and cannot be accessed without the passcode. After IOS 8, the security of IOS devices reaches a high level. Android devices can be secured too. After Android version 6.0(Marshmallow), full disk encryption was made must for the Android device manufacturer.
But, there is a problem with Android. As different companies manufacture Android devices, they can put the old version of Android in their low-end devices. So, there is a security issue with android devices because of malware and other cybercriminals threats.
Again, in Android devices, your photos are automatically uploaded to google photos. Though you can stop them from being uploaded. But it has recently become viral that Google uses your photos and personal information to make money by giving them to other advertising companies.
So, if you are too much concerned about security and privacy, you should go for IOS device.
6. Customizability/Interface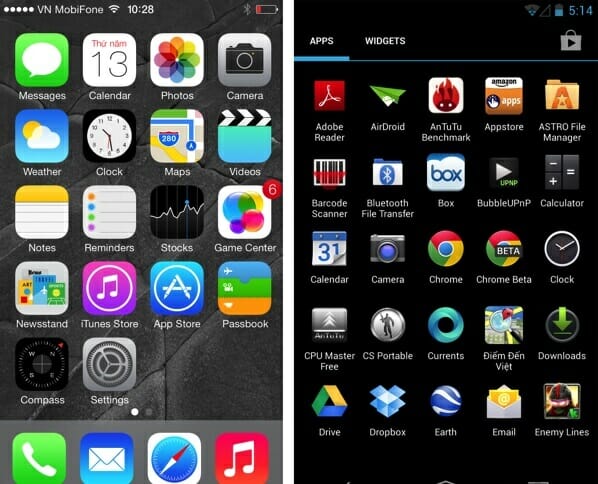 In terms of customizability, none can beat Android. You can easily put a theme on your smartphone. You can set background, widgets, shortcuts. You also can set the layout of your home screen according to your choice. A great thing you can do with your Android device is that there are many launchers by which you can fully change the user interface.
But IOS doesn't allow you to do that. All the apps are placed on the home screen. Though it allows users to make the folder of apps. But you cannot customize the layout and look of your interface. But you can set the background in your IOS devices and some limited widgets are available for IOS.
In Android, you can set a third-party app as a default option but this is still locked down in IOS. If you are a person who likes to customize your phone according to your choice, then Android will be the best platform for you.
7. Affordability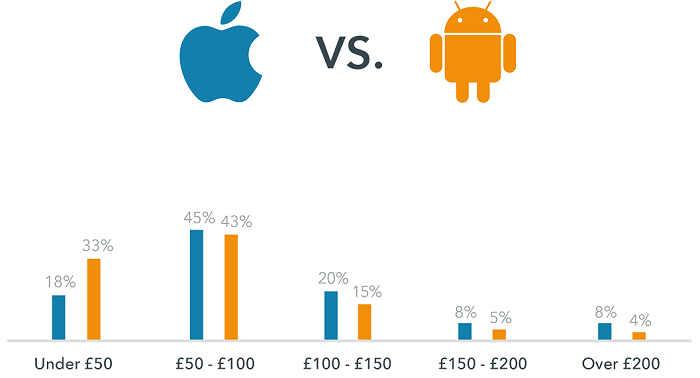 In terms of pricing, Apple is always on top of the market. In 2017, Apple released iPhone X which starting price was $1000. The iPhone 8 started from $700. But if you don't want to spend too much money, you can go for old iPhones like iPhone 6S, SE or 5S. But old iPhones are costly too. Apple's iPhone 6s can be bought at $450 and SE at $350. Pretty much costly, isn't it?
Android has a lot of variety as there are many manufacturers of Android devices. There are many costly Android smartphones as well as cheap smartphones. There are phones like Google's Pixel 2 or Samsung's Galaxy Note which price match the price of iPhone's. But low-budget Android smartphones are available which prices start at just around $60.
If you are able to pay a lot, then you can buy iPhone or Android anything you want. But if your budget isn't that much then Android is there for you to fulfill your desire.
8. Integration With Other Device
Android does it better than IOS. You can share and get almost all files including apps for all other Android devices and Java or Symbian phones via Bluetooth. There are many apps which use wifi to share files among Android devices. Accessories like a smartwatch, wireless speaker or headset can be connected via Bluetooth.
But you cannot share or get files via Bluetooth to or from other devices in iPhone. Though you can share or receive files via some third-party apps which use wifi for sharing with other Android devices, it is a complex task to do that in iPhone. But accessories like a smartwatch, wireless speaker or headset can be connected via Bluetooth.
9. Battery Life and Charging
Battery life is a huge factor for smartphone users. Apple's iPhone doesn't come with a high power battery. But IOS is well optimized with its software. So, battery life in IOS isn't bad. But various Android smartphone manufacturer produces Android smartphones with a powerful battery which can easily outlast iPhone.
Now, both iPhone and Android offer fast charging which allows you to charge your phone for the small amount of time.
Comparing similarly priced iPhones with Android phones, Android phones tend to have longer battery life than iPhones.
10. User Experience
This actually varies person to person. It is a common argument between Android user and IOS user. IOS user generally like it simple whereas Android user likes to customize their smartphone. If you like simple, neat and clean user experience, then IOS is for you. But if you want to make your smartphone as like as you want, then Android is perfect for you.
11. Booting
Booting is not a daily basis task. But if you are a developer who needs to reboot smartphones multiple times, then this is a great issue. Or it is a fun thing to know that which phone does booting faster. Same configuration iPhone takes a fewer time extra than an Android phone. For example, iPhone 6's(IOS 8.3) booting time is around 26 seconds whereas Samsung S6's(Android 5.0.2) booting time is around 21 seconds and LG G3's(Android 4.4.2) booting time is around 25 seconds. So, it is clear that boot-up times only varies between 2 or 3 seconds at max.
12. Camera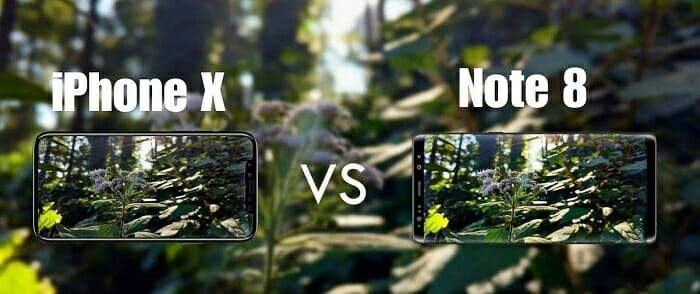 This is difficult to say which camera is better. In the past, it was known that iPhone's camera was pretty much better than Android's camera. But recently, this has changed. Recently Google has released Pixel 2 and Pixel 2XL which cameras are best cameras among all smartphones. But iPhone 8 Plus's and iPhone X's camera can be said equally good as Google's Pixel. But low budget Android smartphone's camera cannot be comparable to iPhone's camera. But camera performance on both platforms is acceptable in terms of price.
Initially, iPhone used to give some special feature like slow-motion video capturing and burst photo shoot. But Android smartphone manufacturer has already started to give that features in their recent flagship phones. Recent iPhone's and Android's flagship phones are good at low-light photo and video shooting and almost all kind of photos and videos capturing can be done by both platform's cameras.
13. Voice Assistants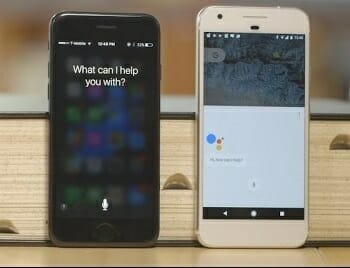 Google has Assistants and IOS has Siri as your voice assistants. You can do all the same things with these two assistants. But Siri is a More straightforward helper which is good at setting calendar appointments, making calls, or searching on the web. But Google's assistant can offer useful suggestions. Google Assistant is more conversational than IOS's Siri. Also, you can stop Google Assitant in various ways.
So, it can be said that Google Assistant is smarter than Siri.
14. Calls and Messaging
Both IOS and Android can do basic calling and messaging well. But it is sometimes confusing on Android. Google folds everything into Hangouts which allows SMS, video chat, messages. But then it released Allo and Duo confusingly. There is also Android messages which were previously called Google messenger and it's Android's default texting app. But many manufacturers often offer their own texting and messaging apps as default texting and messaging apps. So, it is sometimes annoying to cope with new messaging and dialing app when you move to a new Android smartphone.
Every iPhone and iPad has Facetime and iMessage pre-installed. So, it is to be connected with friend and family. IMessage is very easy to use. But it works better when you are communicating with other IOS users. But it is same for every iPhone. So, it can be easily said that IOS does it better than Android.
15. Email
IOS and Android have default email app which is pretty much easy to use. You can add multiple email accounts to the app and check your emails. Both the Android and IOS have many third-party email apps. You can install Google's Gmail app on the IOS too.
16. Maps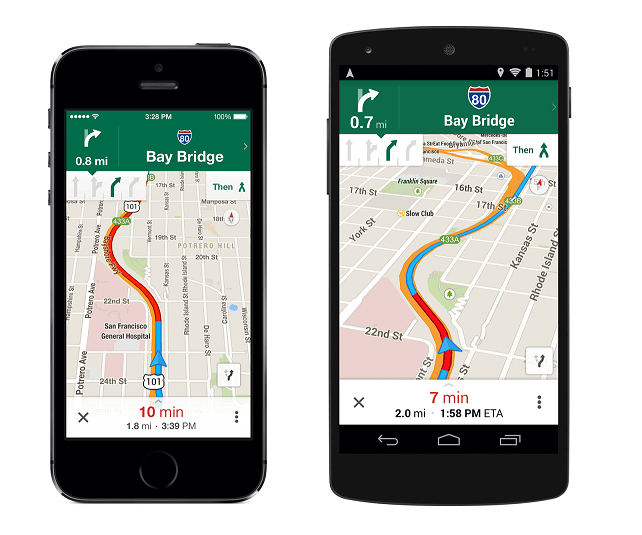 In the past, Apple's map was not quite good. But they have significantly improved in that section. Key features are similar to both IOS map and Google map. Both the maps can give you accurate estimates based on traffic conditions. They can also give turn-by-turn directions for driving and walk.
Google map offers cycling direction that Apple maps cannot. Google map is more detailed and accurate than Apple map. You can download and install Google maps from Apple apps store.
What's New in Android 8.0 Oreo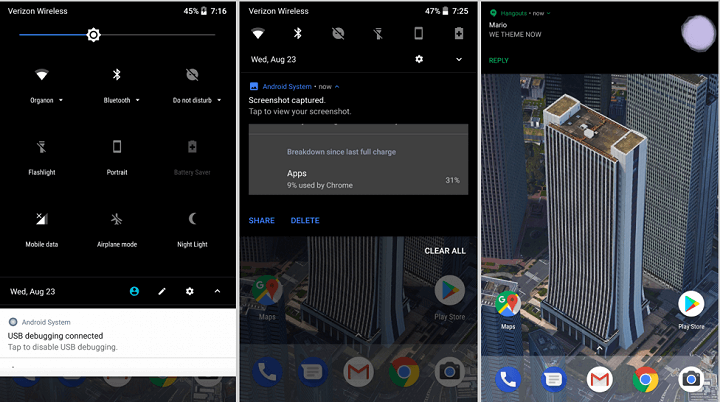 Google has recently released Android 8 Oreo.
It is 2x faster than before in booting.
Android Oreo minimizes background activity in the apps which you use least.
It allows you to see two apps at once
You can teleport directly into new apps from your browser.
There are many changes except these.
What's New on IOS 11
Apple has introduced IOS 11 on June 5, 2017.
Text is bolder
Calculator and Phone apps has a new look
Lock screen and control center is entirely redesigned
Control center is customizable
Lock screen is merged with notification center
Siri has more natural voice
There are many changes except these.
Our Verdict
It is difficult to say which one is better. IOS user feels comfortable with IOS and Android users with Android. If you want to know my decision, I will vote for Android because of its Customizable interface. In Android, you can go to the recovery mode of your smartphone and tweak a lot of settings and fix a lot of problems that cannot be done on IOS. You will be able to use your Android phone as like as you want.
Summing Up
It cannot be easily said which one is better, IOS or Android. From my experience, I feel both the OS are equally good in their respective manners. IOS devices are manufactured only by Apple itself whereas Android devices are manufactured by many manufacturing companies all over the world. If you buy an IOS device you can be ensured that all other devices like yours are pretty much same. But it is not like that in Android devices because of its various manufacturers. Android vs IOS, which one to choose? After reading the article, I hope now you know which one is suitable for you.
You May Also Read – How to Track Lost Phone Using IMEI Number