If you are a connoisseur of home theater, if you are a diehard lover of movies and music, then the sound quality must be the topmost priority for you. Maybe your amplifier is no longer meeting your expectations and now you are seeking for something new.
Then, this is high time to enrich your collection by having an AV receiver. It's now like a challenge to find out the AV receiver under $500 to make your personal home theater.
So, in this article, we will assist you to find out the best AV receiver under 500 by giving you some educational resources of an AV receiver like how to choose one, how to maintain them, and by suggesting our recommended products based on our research and reviewing them honestly.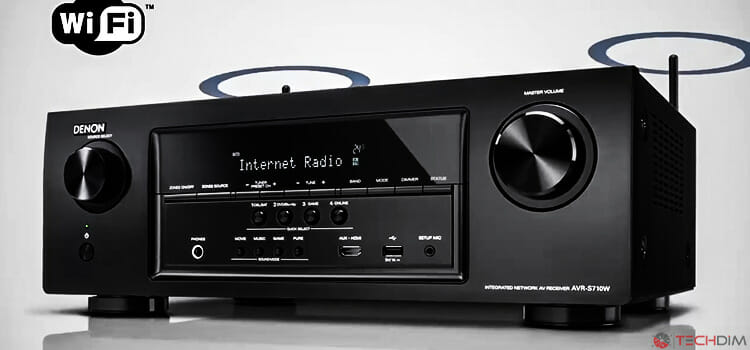 What is an AV Receiver?
Preview
Editors Choice
Best Buy
Nice Pick
Title
Yamaha RX-V683BL 7.2-Channel MusicCast AV Receiver with Bluetooth
Sony STR-DN1080 7.2-ch Surround Sound Home Theater AV Receiver: 4K HDR, Dolby Atmos, Bluetooth,...
Denon AV Receivers Audio & Video Component Receiver, Black (AVRS640H)
Editors Choice
Preview
Title
Yamaha RX-V683BL 7.2-Channel MusicCast AV Receiver with Bluetooth
Best Buy
Preview
Title
Sony STR-DN1080 7.2-ch Surround Sound Home Theater AV Receiver: 4K HDR, Dolby Atmos, Bluetooth,...
Nice Pick
Preview
Title
Denon AV Receivers Audio & Video Component Receiver, Black (AVRS640H)
Now, the first question that you should be capable to answer before going to buy an AV receiver is, what is an AV Receiver? An AV (Audio and Video) receiver is a combined form of audio amplifier and audio or video switching device. It is like the heart of your home theater.
It is an electronics component and it aims to receive audio and video signals from several sources and to process them to run loudspeakers and displays like Monitor, Television, or video projector. It controls and drives the whole home theater system.
Best AV Receiver under 500: Buying Guide
You will need to do some homework before finally selecting an AV receiver. There are some basic facts that you must consider as your receiver will be a hub of your home theater. The things keep in mind to find out the perfect receiver are discussed below:
1. Number of Inputs and Outputs
Firstly, the more inputs and outputs the more components the device can accommodate. Also, the connections have to be the right kind.
You have to decide how many inputs you will be needing to connect all your speakers. always find the Receiver that has inputs or outputs one or more than you require. This is because you will still have an option if you want to expand later.
2. Wattage Rating
The power rating not only is an idea of volume but also it is a measure of the receiver's ability to deliver sound. A high wattage rating refers to high-quality sound.
Your receiver must be powerful enough to handle all your equipment. Besides, if your room is large then look for an AV receiver of high power rating.
3. Control Mechanism
There are many types of controlling mechanisms of an AV receiver. The more updated products are coming, the more convenient the control mechanism we are getting.
 Some are controlled by remote, some are controlled by an app of your phone, tablet or pc. Some have a voice control feature. You have to select according to your comfort.
4. Connectivity
The receivers that contain airplay, Wi-Fi, Bluetooth compatibility, they allow you to stream music from your favorite site. It enhances and expands the limit of your capability to enjoy music or movies which is very great.
5. Automatic Calibration
Setting up the whole system is complex enough. Many receivers offer automatic speaker calibration that automatically adjusts the sound of the speakers. So, you should look for a receiver that has this advantage.
6. Features
More will be the feature, more will be the price. If you want your receiver in your budget, then make a short research and never buy a product with modern features that you will never use in the future.
Our Recommended Best AV Receivers under $500
It's a matter of hassle to choose the best AV receiver among all the receivers with tremendous features. Here we gathered some of our preferred av receivers and reviewed them neutrally. Let's have a look.
1. Yamaha RX-V683BL 7.2-Channel MusicCast AV Receiver
Yamaha RX-V683BL 7.2 channel MusicCast Av Receiver is equipped with Music Cast to make it easy to bring music to every corner of your room.
The unique feature of this receiver is that you can control this using wirelessly using a simple Yamaha AV Controller app phonograph input to control using your voice. The app is available on iTunes, Google Play, or the Amazon app store.
The 7.2 channel 4k ultra HD network receiver provides Dolby atoms and DTS:X object-based sound. There are 9 additional channels for you so that you can add more inputs like wireless speakers or other Music cast devices as you desire.
You can get a great experience of 4k video quality without degradation at the transmission of 60 frames per second pass through. Also, this is compatible with 3D, audio return channel, and CEC.
There is Wi-Fi, Bluetooth, and AirPlay connections available, and also Vinyle playback and Zone 2 audio add to system versatility. Moreover, Dolby's vision, hybrid log-gamma compatibility provides incredible contrast, sound, and enriches color.
Using Bluetooth connection, you can play your desired streaming services. You can enjoy wireless music video and audio from your phone, pc, or tablet. With the built-in Wi-Fi, you can connect to your router to stream simply. It not only allows you to stream music directly from our smart devices but also enables you to control the receiver using wireless direct feature when a router is unavailable.
But the remote control is not efficient. The device is not compatible with the echo. Also, when switching an input /app on a smart TV, the receiver changes the arc signal temporarily and defaults to another input. It does not support HDR format even after updating.
2. Sony STR-DN1080 Surround Sound Receiver: 7.2 Channel Dolby Atmos Home Theater AV Receiver
Sony STR-DN1080 Surround Sound Receiver has 7 channels to give you surround sound with a 5 channel speaker setup. The DTS:X object-based surround advanced audio adapts to your speaker configuration and the D.C.A.C. EX and virtual speaker relocation technology gives optimized sound.
The device is 4K HDR compatible with HDCP 2.2 support for a source for screening image quality. You will also get a preset channel FM/AM radio tuner and multi-channel stereo setup. The setup is dynamic with 6 inputs and 2 outputs HDMI flexibility, front USB port, and optical digital, analog AV connection.
Also, it includes calibration microphone, FM wire antenna, batteries, and remote control. The Immersive sound of physical surround back speakers is a replication of the Phantom surround back speaker setting.
The new speaker solution relocates sound to simulate the optimal position and angle to get the best sound while working around or any physical space restriction. The receiver is very easy to set up and the manual is quite a descent.
The problem is the UI or interface is a bit slow. When you press the custom preset button and selecting the movie preset, it changes the input from what you were on to BD/DVD. All of the HDMI inputs are in the back. Also, the receiver has an issue to connect with Samsung TV.  The remote does not seem efficient.
3. Denon AVR-S640H Audio Video Receiver, 5.2 Channel 4K Ultra HD Home Theater Surround
Denon AVR-S640H Audio Video Receiver is exceptional for its voice control compatibility with Amazon Alexa. All you have to do is just to sit back and enjoy music without using remote now and then. You can adjust volume, change the current track or switch the inputs just using your vocal.
it is compatible with your 4k Ultra HD TV. It delivers multi-dimensional audio with 5.2 channel compatibility and it supports 4k Ultra HD picture quality. It features unique brightness, contrast, and color leveraging industry-leading HLG, HDR. You can extend your reach of music to any corner of your house using Wi-Fi, AirPlay or Bluetooth with HEOS Wireless speaker.
An interesting fact is, no command center or excess hardware is required. With your Pandora, Spotify, TuneIn, Deezer you can get Hi-Fi sound. There are a simple walk-through clear and simple instructions to connect to your TV, specific EQ, settings and optimizing sound.
There are four quick select buttons on the front panel to help you to store your favorite audio settings for TV, Blu-ray and so on and allows you to switch between them frequently. The back panel connections are horizontally arranged in a color-coding scheme so that you can connect all your speaker inputs without any bother.
There are some drawbacks as well. The recovering requires hard reset and erases all the settings and customization and forcing the user to reconfigure it from scratch. Sometimes intermittently the sound drops out making the circuit breaker to trip. The connectivity criterion is a bit glitch as it drops and reconnects continuously
4. Onkyo TX-NR686 7.2 Channel THX Certified Network A/V Receiver Black
No products found.
Onkyo TX-NR686 7.2 Channel THX Certified Network AV receiver can be your existing SONOS home sound system or the start for fresher. The Duel band Wi-Fi, DTS Play-Fi, airplay, music, Spotify, Tidal, Deezer, Pandora, tune in and Chromecast is built-in.
So, you can update the music streaming capability of your home theater receiver instantly with SONOS connect and free update of firmware. After doing some setup, it will seamlessly tie into SONOS using SONOS connect. So, you can instantly wake, change inputs, and the desired volume you command with the app.
It has the legacy of a select theater reference sound that is THX certified.  That means it suits rooms where the screen-to-seat viewing distance is about 10 feet and room volume around 2K cubic feet and it guarantees the high-volume sound for the commercial theater of home.
It provides 5.2.2 channel Dolby atoms and DTS:x playback to provide special cues in legacy multichannel soundtracks and up-mix them for 3D audio playback through your speaker system. The standby power consumption is 0.15 watt.
The HDMI rear 7 input and a main output and sub out support 4K/60 HZ. So, it supports pass-through of 4K HDR in HDR10, Dolby vision formats, and HLG. The front HDMI helps to connect video cameras or consoles, while the rear sub out is perfect for connecting projectors.
But the built-in Chromecast supports audio-only. 4K video quality is not that good. The interaction with the remote is not much intuitive. Moreover, it requires nondescript data collection from this device and how it is used which may be annoying. Also, google assistant capability is limited.
5. Pioneer Dolby Atmos-Ready Audio & Video Component Receiver Black
Pioneer Dolby Atoms-Ready Audio & Video Component Receiver features the VSX-832 which supports up to 3.1.2ch Dolby atoms, surround enhancer which is a virtual speaker technology based on HRTF. The virtual surround speakers give out the sound that comes from surround speakers.
The 5.1.2ch creates a 3D sound field. Even who has issues in installing rear speakers can also enjoy various audio formats in a wide audio field with surround enhancer as well Dolby atom. The low directivity sound and the high directivity sound follow different pathways causing phase shift. The reflex optimizer adjusts the shift using phase control technology.
Moreover, the next-generation audio codec DTS:X leverages object-based audio to enable the new immersive and interactive audio experience. Since it can adapt the audio automatically to the existing channels and speaker system, there is no requirement of a specific speaker layout. The built-in Chromecast, play-Fi, dual Wi-Fi will give you wonderful experience.
Besides you can create an acoustic environment with Pioneers MCACC, updated with the expertise of professional recording studios. Using the custom microphone, the system automatically compensates for differences in speaker size, distance and level and equalizes the response.
As there is sometimes the problem of phase lag between the subwoofer and the main channel speakers caused by the bass management filter, an innovative solution is included. The solution is phase control that compensates the delayed bass to improve the synchronization of sound.
On the other hand, you may face some cons as well. It requires updates very often. The remote is not combo and can only control the receiver. Also, it does not hold on to the connection with the Wi-Fi. The feature of Chromecast is infuriating.
How to Maintain your AV Receiver for Best Performance and Long Life
An av receiver can easily break your home entertainment system by delivering muddy visuals and lo-fi music. If you take care of good care of your receiver through some maintenance, it is quite normal for a receiver that is well-built to last for 30-40 years. Some tips are discussed below:
Always turn off your receiver after you have finished your work.
You should use a soft, clean cloth or microfiber towel that will not make a scratch on it. It is wise to turn it off while cleaning.
An AV receiver with Economy power or echo mode uses significantly reduced energy, which helps the user to cut their bill low. But this is not good for your receiver performance. This is because there remains a noticeable amount of dip in audio quality in echo mode that dampens audio performance. So, you should turn off echo mode.
Dynamic Range Compression (DRC) is a feature that helps you to have both loud and soft sounds.  If you leave the DRC ON all time it can hurt your audio experience. It will result in a flat sound. So the DRC has to be kept in Check.
Replacement of capacitor is recommended after 10-15 years of operation.
Frequently Asked Questions (FAQS)
There are some general questions about AV receiver that often may come to your mind. They are discussed below:
Q: What is the main difference between an amplifier and an AV receiver?
Ans: Amplifiers amplifies audio to produce stronger output but. Av receivers not only boost the volume of sound but also is capable of adding audio effects.
Q: Can a Receiver can be used as an alternative to amplifier?
Ans: Yes, the receiver is an amplifier with radio section built-in. all receivers are amplifiers but not all of the amplifiers are receivers.  
Q: What is referred by the channels on the receiver?
Ans: it is a circuitry dedicated to one audio source. In the case of stereo, the audio source is two.
Q: How to connect a phone to an AV receiver?
Ans: you can connect it via a stereo mini jack-to-RCA adapter cable in the simplest way.
Q: What is the meaning of 7.2 on a receiver?
Ans: it designates the receiver's degree of support for separate audio channels. 7 indicates 7 full frequency range audio channels that a 7.2 receiver powers.
Q: How many watts is good for a speaker?
Ans: 50 watts will be more than enough.
Ending
To get the best performance from your home theater set up, an Av receiver is a must. Finding out the best AV receiver under 500 to make your personal home theater.
In this article so far we tried to suggest some of our top picks of AV receivers that will fit in your budget and their neutral review based on our research. Also, some basic information that can assist you in your purchase was given.
if you want an AV receiver that supports phonograph input then Denon AVR-S640H Audio Video Receiver or Yamaha RX-V683BL 7.2 channel MusicCast Av Receiver will be an ideal choice. Other than that, if the cons are at a moderate level you can choose any of the receivers suggested. Thank you for having your patience.