In this technological era, high-speed connectivity is a crucial need to stay connected to the online world. Ensuring such connectivity requires a set of devices that are of high quality. Cable splitter is an inseparable part of the connectivity system, which enables the user to connect multiple devices while keeping minimal connection loss. The best cable splitter can ensure uninterrupted and optimum connectivity under all conditions.
Unfortunately, choosing the best cable splitter for robust connectivity for different systems can be difficult for average users for the technicalities. Compatibility and product quality can be a major issue that may degrade the expected performance. This article will help customers to pick the best one at their respective budgets and needs.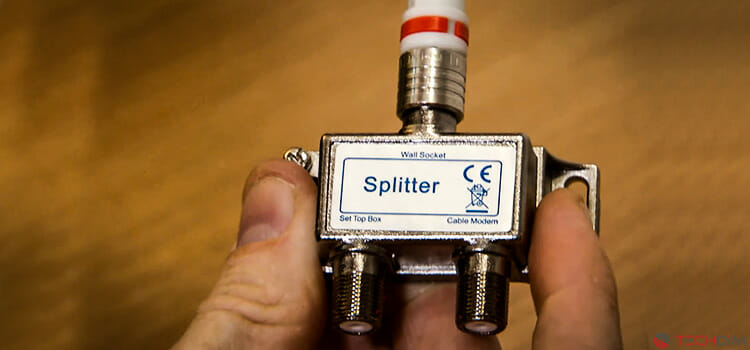 What Is a Cable Splitter?
Preview
Editors Choice
Best Buy
Nice Pick
Title
BAMF 2 Way Coaxial Cable Splitter, Bi-Directional Coax MoCA 5-2300MHz, RG6 Compatible, Nickel Plated...
Extreme 2 Way HD Digital 1Ghz High Performance Coax Cable Splitter BDS102H
Cable Matters 2-Pack Bi-Directional 2.4 Ghz 2 Way Coaxial Cable Splitter for STB TV, Antenna and...
Editors Choice
Preview
Title
BAMF 2 Way Coaxial Cable Splitter, Bi-Directional Coax MoCA 5-2300MHz, RG6 Compatible, Nickel Plated...
Best Buy
Preview
Title
Extreme 2 Way HD Digital 1Ghz High Performance Coax Cable Splitter BDS102H
Nice Pick
Preview
Title
Cable Matters 2-Pack Bi-Directional 2.4 Ghz 2 Way Coaxial Cable Splitter for STB TV, Antenna and...
A cable splitter is a device that is used to connect incoming signals and distribute it evenly between multiple output ports. It is a very useful device to connect two or more devices and share signals. Splitters are also used in signal booster systems, where they split amplified signals to multiple ports and maintain a minimal signal loss.
There are many types of cable splitters. The most popular of them is coaxial cable splitters, or coax splitters. These are more efficient than non-coax ones, take up less space, and are easier to install. Coax splitters reduce cable fail points and puts less stress on cables.
Our Recommended Best Cable Splitters
Choosing the top cable splitter for different needs is a crucial factor that determines the performance it will provide. Often times, it becomes difficult to choose the best one because of the technical aspects. To save you the hustle, we have picked the best choices for cable splitters available in the market. You also have to follow the basic rules of using a splitter.
Product Reviews
1. BAMF 2-Way Coax Cable Splitter
With more than 20 years of technical experience, BAMF launched a coax splitter which is perfect for almost all needs. It's a bi-directional MoCA (Multimedia over coax alliance) supported cable splitter with a 5 to 2300MHz frequency spectrum. This RF splitter is perfectly compatible with CATV, satellite and can be used in MoCA configurations.
The MoCA support gives it an upper hand in delivering a reliable high-speed connection, that is shielded with a nickel-plated housing for better prevention of digital noise. As a result, the signal loss is only up to 3.5dB on each port, which gives it overall better performance.
All these setups are very connection-friendly and deliver an uninterrupted signal that can be upped to a very high speed. The coax architecture prevents the cables from stress and hard bends, increasing longevity. It is well-shielded and very reliable. Another plus point is, the splitter comes with a very detailed user manual, which makes the installation easier for average users.
The only downside of the BAMF coax splitter is its 2.3GHz spectrum. At present, there are lots of splitters that offer a 5 to 2500MHz (2.5GHz) frequency spectrum which has a wider aspect of multimedia streaming. This cable splitter falls short on the frequency category. But as a whole, the BAMF 2-Way coax cable splitter is a very good choice for reliability and high-speed connections with very low noise.
2. Extreme 2 Way HD Digital 1Ghz High-Performance Coax Cable Splitter BDS102H
This premium cable splitter is offered by Extreme Broadband Engineering. It is a broadband 2-way digital splitter, and one of the top cable splitters for high-speed internet. Similar 3 and 4-way splitters are also available on the market. This splitter is an excellent choice for using in routers or connecting multiple multimedia devices like desktops and TV sets.
The connection will provide an output amplification of a maximum of 3.5dB. It delivers a 5 to 1000 MHz frequency spectrum with 130dB EMI. This makes it ideal for splitting cables without dropping performance. The product is very compact, weighing 1.92 ounces only.
Despite being compact, it is well made to withstand rough usage. The housing is made of Zinc die casting, with some additional layers of protection from galvanic corrosion. The back is completely soldered and the sockets are made with high-quality sockets. The F-ports are sealed and tested up to 15psi to ensure no water ingression occurs. The housing works very effectively in noise reduction. All these make the splitter very premium and long-lasting under stress and difficult condition.
The only downside is the frequency, which is even lower than the BAMF splitter, having only a 5-1000 MHz spectrum. Within this range, the splitter works just fine but falls short on ranges beyond. Apart from that, this is a very good choice because of its low price, premium structure, longevity and low loss of signal. It is a reliable and convenient splitter in this range.
3. Cable Matters 2-Pack Bi-Directional Coax Cable Splitter
Cable Matters introduced this splitter to set a benchmark for being the best of cable splitter. It features high quality output and top-notch durability at an affordable cost. There are 3, 4- and 5-way variants available in the market.
This cable splitter offers a 2.4GHz (5 to 2450MHz) frequency range with 75ohm resistance. The large frequency band is more than enough to handle regular incoming signals and split them. The splitter can be used on almost every device like TV, VCR, antennas and satellite networks.
Another useful feature is the MoCA adapter supporting, which makes it more versatile and usable in higher quality connections than the average ones. The RG6 F type splitter can also be used in DC passing. Due to higher quality internals, the output signal faces minimal loss and thus a higher standard signal is obtained.
As for the durability, Cable Matters went a step more by adding gold plating, with the combination of zinc and nickel casting for housing. This makes the cable splitter virtually resistant to corrosion. The zinc casting shields the radio frequency well enough to maintain a very low insertion loss. As far as the durability goes, this splitter delivers the best of it. For any weather conditions, this can be used inside or outside the home without any worries.
The splitter is considerably compact too. It weighs only 3.2 ounces. Considering the gold plating and alloy-housing, the weight is very low, making it easier to handle and set up. The ports are of high quality and cable friendly, they prevent any stress on the cables.
With all these great features, the only downside is the splitter is a little bit costlier than the other ones on this article, essentially because of the gold plating. Still, the cost is relatively low and affordable, with a limited lifetime warranty in amazon. In sum, the Cable matters coax cable splitter is a great choice for long term usage and high-quality reception within budget.
4. GE Digital 2-Way Coaxial Cable Splitter
The GE digital cable splitter is perfect for multipurpose usage and comes in a very low-price range. It is cheaper than any other splitters reviewed in this article, but delivers just the same premium feedback. The splitter comes with a 5 to 2500MHz frequency range, which makes it very useful in lots of scenarios.
Like the Cable Matters, this splitter is also gold plated, making it very much durable. On the added benefit, it also has a lifetime warranty, which makes it super reliable. The shielding is well enough for inhibiting loss of connection. Added to the high frequency range, this cable splitter is able to deliver very high-quality output.
The splitter is also usable across many platforms like satellite, antennas, HDTV or for high speed internet. It has an F-type fitting delivering high-quality connectivity with less noise, added with RG59 and RG6 coax cable compatibility, which makes it useful to use in both older and newer devices.
This device is also very compact. Weighing only 1.76 ounces, it is lighter than most of the coax splitters out there. The mixture of compaction, less weight, and gold plating makes it a very useful device across many platforms with broad frequency limit, making it a very practical device. Adding the very low-price range, the GE digital cable splitter is a great choice for almost every type of users looking for premium connectivity within budget.
5. Tolmnnts 2-Way Coaxial Cable Splitter
Tolmnnts coaxial splitter is focused on all-in premium connectivity and longevity. It is slightly costlier than the other splitters in this list, but still cheaper than many other splitters, and is surely affordable. The splitter packs in 5 to 2500MHz frequency range, which is the broadest range normally offered by splitters. It is usable in 75-ohm cable systems with the F type connectivity.
To ensure optimum connectivity, the broad frequency is backed with MoCA configuration support, which ensures way better delivery of signals within a very high-speed bandwidth. The splitter can be used in many platforms like antennas, CATV, satellites and TV signals. The 2 output ports and 1 input port are all enabled with power pass, which comes in handy for many applications.
The housing is made of zinc-nickel plating, causing a better shielding of signals. As a result, the insertion loss is considerably low to a scale of 4.4 to 6.4dB. The shielding effectiveness is up to 80dBs, making the connection almost intact. The pocket loss is greatly reduced for using modems. And the presence of grounding screws replaces the need of having grounding blocks. The durability is great. It is waterproof, corrosion-resistant and can be used outside the house easily.
The package contains a splitter, with a pair of screws and another pair of screw plugs, and also a user manual. It weighs 4.2 ounces, which is a bit heavier than the other splitters, also a bit more expensive. But the result is top-notch connectivity.
In short, the Tolmnnts 2-way coax cable splitter is made of premium materials, with powerful internals and highly advanced shielding mechanisms which make it a very well-built splitter. The result is vivid outgoing signals with minimal losses. If signal quality and longevity is a priority, this splitter can deliver just the thing.
Best Cable Splitter Buying Guide
While shopping for the most suitable cable splitters, there are some factors that should be noticed before buying. These factors will filter the best candidate worth buying from a long range of available products. For high volume usage, you may need different types of splitters altogether, like for 4K needs. Here are the top factors that make a cable splitter stand out from other ones.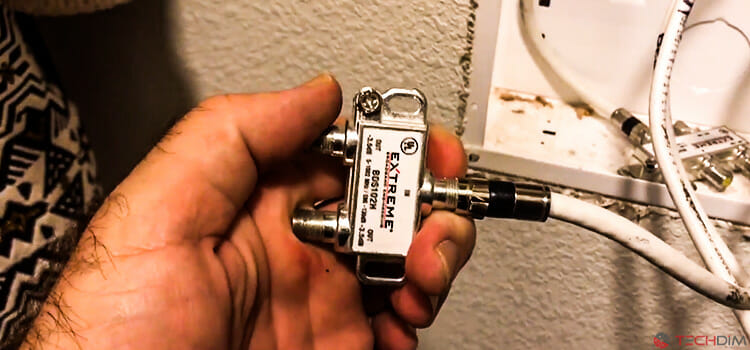 Durability and Material
It is very important to make sure the circuit board and the shielding structure are reliable and durable. Durable material will cause the splitters to last longer, and will also reduce noise more efficiently. Non-corrosive coated splitters like zinc-coated or nickel-plated covers can withstand rain and harsh conditions without degrading the quality. On the other hand, aluminum coated ones can interfere with the signal instead of improving system loss.
Frequency Range
The frequency spectrum should be checked. Low-frequency spectrum will filter out a good portion of signal and channel only a short portion, while higher frequency will be able to handle most of the signal and will result in better output. In general, 5-2500MHz (2.5GHz) frequency range is more than enough for all occasions.
Socket Condition
It is recommended to check the input and output sockets before buying. Sockets that are made of premium materials will likely last longer and will be able to withstand constant stress. They will also cause less damage to the cables. Very high-quality sockets also come with waterproofing to ensure ultimate protection to the inside of the splitter.
To check if the socket has a higher quality, identify if the socket-cable setup contains any wire leakages or is the socket causing the cable to strain or not. Cables will sit comfortably inside a good socket without any openings.
MoCA Support
Splitters with MoCA supports can handle a much wider range of signals and are optimum for high-speed connectivity, but they can be costlier than the average ones, and MoCA support isn't required for normal digital connections.
Coax Splitters
Coaxial or coax splitters are better than the average ones because they deliver a better signal, takes less space and doesn't put stress on the cables. Choosing a coax splitter instead of a normal one is always better.
Compatibility
Some splitters are only compatible with satellites or routers, but some can handle almost all splitting conditions. Ensure the variant from the manual or ask before buying.
2-Way vs 3-Way

The presence of more ports makes the splitter usable for multiple connections. But having more output ports means more loss of signal. So, the overall signal quality will decrease in 3, 4 or 5-way splitters. Before buying, make sure how many connections are needed to join, then buy accordingly. But if unsure, buying splitters with more ports can come in handy for the long run too.
Amplifiers
Cable splitters with built-in amplifiers are always better choice than those without, because they improve signal quality by amplifying them, and can be used on more demanding machines with bigger needs of signal strength.


These are the basics to know before buying cable splitters. Covering these basics will ensure better splitters for the different needs of the customer.
Cable Splitter vs Tap
While splitters and taps come in many variations, they are easy to be confused because they look the same, but are very different from one another in action. Here are the main comparisons between cable splitters and taps.
Goal
Essentially, splitter takes incoming signals and distributes to the output ports evenly, while tap distributes signal loss unevenly for each of the outputs.
Cable length
Both of them have their own uses. Splitters are used in systems having close to equal cable lengths. Taps, on the other hand, can be used on systems with different lengths of cables and still maintain the same output.
Facts
For systems with different lengths of cable, splitters will cause a different amount of net signal output at the end. This is where tap comes in. Tap will send a lower amount of signal to the system with low cable length and will provide a higher signal to longer cable lengths. This will cause the cable signal loss to even out, and the end systems will receive the same amounts of signals.
Uses
Splitters are used in simpler and centralized systems with similar cable lengths. But for long hallways and uneven cable lengths, taps are used. Multiple splitters and taps can be used to gain the same outcome for more complex systems.
FAQ
Q: Can this splitter be used to split the antenna signal and deliver it to two TVs?
Ans: Yes, it can split digital signals from the antenna.
Q: Can this splitter be used for radio signal splitting?
Ans: Yes, as long as the FM bands are within the given frequency spectrum.
Q: Is this splitter usable outside the home?
Ans: Yes, it is shielded. But, if the cable contains open sections, consider using duct tape to seal them from water and dust.
Conclusion
The above-given choices are taken from a long list of available splitters in the market and categorized in the criteria of more reliability, better quality connection, and longevity. All of these splitters come with high-quality shielding and will provide the best results in splitting operations.
These products are also affordable according to the price range and usable to almost any platform. These are durable, premium and can handle a wide range of frequency and delivers output with a minimal amount of noise and distortion. Users who are finding the best cable splitters for better connectivity can pick one from this list without worrying about the technical aspects.