Have you ever wondered, is there a way to enhance the performance of your headphones? Well, there is a way and it is a device called DAC amp combo.
Sometimes even if we use a high-quality headphone we do not get the expected sound quality or bass boost as we have expected. This is because most of our modern devices are equipped with a built-in DAC amp combo. But some old devices like old model laptops and smartphones are not equipped with them. That is why whenever you try to listen to music on older devices the quality drops.
To get the best performance out of them you can always use an external DAC amp combo and today in this article I am going to talk about some of the best DAC amp combos available in the market.
There will also be a buying guide from our professional tech team so that you do not get fooled or tricked with low-quality products. 
And finally, I am also going to answer some frequently asked questions about them. 
Preview
Best Overall
Nice Pick
Editors Choice
Title
FiiO Headphone Amps Portable DAC USB Type-C coaxial 384kHz/32bit (E10K-TC black)
Audioengine D1 Portable Desktop Headphone Amp and DAC, Preamp, USB/Optical Inputs, Hi-Res Audio...
Schiit Modi 3 D/A Converter - Delta-Sigma DAC (Silver)
Best Overall
Preview
Title
FiiO Headphone Amps Portable DAC USB Type-C coaxial 384kHz/32bit (E10K-TC black)
Nice Pick
Preview
Title
Audioengine D1 Portable Desktop Headphone Amp and DAC, Preamp, USB/Optical Inputs, Hi-Res Audio...
Editors Choice
Preview
Title
Schiit Modi 3 D/A Converter - Delta-Sigma DAC (Silver)
What is DAC amp Combo?
A combination of digital to analog converter and an amplifier (usually works at low voltage) is briefly known as a DAC amp combo. Just like the name suggests, it is a combination of two devices, a digital to analog converter and a low voltage amplifier.
A DAC or digital to analog converter converts digital signals into a low powered analog signal. Amplifiers are not good at processing or amplifying digital signals. It is more efficient to convert digital signals into low powered analog signals that can be converted by the amplifiers very easily. 
The amplifier associated with it is a bit different from a regular amplifier. It operates at comparatively low voltage and capable of amplifying much low powered signals.
Usually, whether a headphone needs a DAC amp combo or not greatly depends on the impedance of the headphone. Impedance is heavily dependent on the resistance of the headphone. Higher the impedance, the higher the resistance of the headphone for the electrical signal.
The impedance of a headphone can be as low as 10 ohms to as high as 650 ohms. Headphones with high impedance require it to amplify the receiving signal to produce good quality audio sound.
Headphones with very high impedance come with dedicated DAC or amp or both as a combo but a bit cheaper headphones do not always come with this advantageous feature.
Our Recommended Best DAC AMP Combos
Based on the customer reviews on different online shops and our market research, we have shortlisted five best DAC amp combos available in the market. Let's take a look at what features they have.
1. FiiO E10K USB DAC and Headphone Amplifier
This is portable and has a very good build quality. The aluminum (brushed) casing is very lightweight and makes it easy to carry. The brushed metal casing gives this device a premium look which is unique for a DAC amp combo at this price range.
Like the volume knob, it has an ALPS potentiometer and there are some led lights around it which give it a very attractive look
The digital-analog converter consists of a PCM102 chip and can process up to 24-bit signals. It also uses a built-in linear filter to stop internal silencing and improve the delay between any kind of track change to produce a flawless music experience. 
It supports both standard headphone jack and USB so that it can be connected with USB devices along with the headphone.
The sound quality enhanced by its powerful headphone amp is a bit crispy, not super bass boosted. Some bass boost fans may find this feature disturbing but I think it for the greater good. This feature is included so that it can compensate for the extra bass boost when it enhances a song with a very high bass setup.
To keep the sound quality modest and condensed this measure was taken by its designers. Furthermore, it has an impedance regulating system to compensate with high bass boosted electronic music. This shows a very satisfying performance with headphones having impedance under 100 ohms.
2. Audioengine D1 24-Bit DAC, Premium Desktop Digital
Audioengine D1 is also a 24-bit DAC amp combo that supports a wide range of devices including computers (Windows, MAC), Smartphones (Android, iOS), TV, CD player and so on. 
This one is very lightweight and portable. It supports optical input for high-speed data transfer which plays a vital role in the performance quality of this combo. Usually, the USB input ports allow up to 92KHz/24-bit input signal but optical input ports support up to 192KHz/24-bit input signal.
One of the most unique features of this item is that it supports USB input and as well as Optical input. This is very useful when it comes to highly refined and high-quality audio output.
Another attractive feature of this combo is that it supports both Windows, MAC, iOS, and other operating systems without the need of drivers. This saves a lot of pain for the users as setting up drivers in the wrong way can result in no sound or mute situation.
Furthermore, Audioengine D1 comes with a 3-year warranty and the package contains a USB cable, carrying bag and detailed user manual.
The plug and play driverless easy setup and the wide range of compatible devices make this DAC amp combo a very wise choice.
3. Schiit Modi 3 D/A Converter – Delta-Sigma DAC
Schiit Modi 3 is a very powerful DAC amp combo which is equipped with AK4490 delta-sigma digital-analog converter coupled with DC output. 
This feature is very important for a decent noise-free output and enhanced performance. The chip of this amplifier is very efficient and coupled with DC output which filters out the noise generated by any kind of AC supply as we know AC supplies have a constant frequency that can interfere with audio signals.
This one supports almost any digital device that can produce a digital signal. It also has multibit DAC that makes it compatible with both loudspeakers and headphones. In this price range, this wide range of acceptance feature is very unique.
Schiit Modi 3 DAC amp combo comes with a micro USB cable and wall power supply. The power supply provides power to the DAC amp combo in case it is connected with a low powered device or coaxial cables.
However, requiring an external power source makes it a bit less portable. But still, it can be used anywhere where a power source is available.
The unique feature of this unit is that it has a toggle switch to switch between different types of input signals like Co-axial, Optical, USB SPDIF, etc, which makes it highly versatile for multipurpose use.
In short, this DAC amp combo is very versatile from the perspective of supporting various devices and operating systems and also from the perspective of supporting a wide range of input signals.
4. Creative Sound Blaster E5 High-Resolution USB DAC 600 ohm Headphone Amplifier
Creative sound blaster E5 is designed for professional usage which focuses on high quality enhanced audio quality.
This DAC amp combo has a 120-decibel signal to noise ratio. It enables the DAC amp combo to deliver almost identical audio signals as the original one at a bit rate of 24.
Blaster E5 is equipped with a powerful amplifier that enables it to support a wide range of headphones even the ones with high impedance as much as 600 ohms. This DAC amp combo also can be used with high-quality loudspeakers to enhance the audio output and bass quality.
It also has Bluetooth connectivity which makes it highly portable and usable with mobile devices like laptops and smartphones. The Bluetooth comes with built-in NFC for near-instant pairing with other Bluetooth devices. Bluetooth feature also makes it freely movable and remotely usable, which is a very unique feature.
The fully customizable SBX Pro enables the user to experience realistic high definition audio. It also has built-in dual microphones to catch the incoming audio signals from both portrait and landscape orientation while recording from a mobile device. For this feature you do not need to worry about holding your device up close while recording, it has it covered.
Another cool feature of this DAC amp combo is that it can recharge itself using the USB power outlets of the connected USB devices like the USB port of a laptop, or an OTG supported smartphone. This saves the user from a huge pain of charging it over and over.
5. Cambridge Audio DacMagic 100 Black
Cambridge Audio DacMagic is a versatile DAC amp combo that supports virtually any kind of device that has an audio outlet port.
The frequency response of this DAC amp combo is very wide which is around 20Hz to 20KHz means it is compatible with various types of audio input and it can amplify very weak input signals to an enhanced audio signal.
The unique feature of this DAC amp combo is that it has an asynchronous signal input port which means it controls the rate of signal receiving depending on the output rate of the audio signal. This makes the DAC amp combo extremely efficient and helps it to produce a flawless music experience.
As the DAC amp combo controls the input signal processing there is no risk of the input signal getting overlapped or creating poor quality distorted audio signals.
The input supports up to 192kHZ/24-bit signals and it has various types of input port such as optical, coaxial, etc. That is why it can be used with different types of devices such as computers, TV, smartphones, etc.
Using this DAC amp combo on PC is a bit hefty. To use it on a PC you need to download additional drivers from the website of this brand and install them, you also need to switch the USB port from one mode to another.
Best DAC Amp Combo Buying Guide
Here is our foolproof buying guide so that you do not end up buying the wrong product and regret it.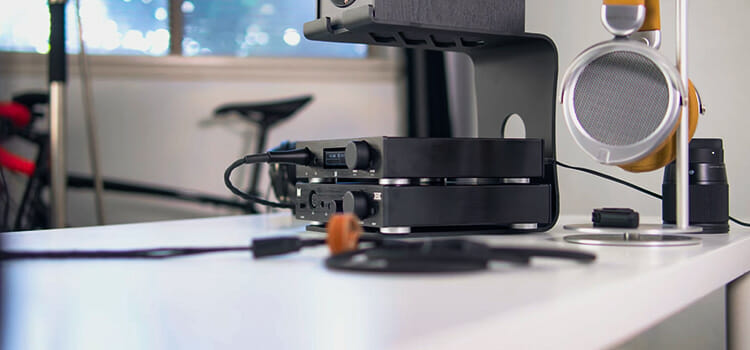 Headphone Connection
First look for a DAC amp combo device that has the proper headphone jack compatible with your headphone. Usually, it is a 3.5mm jack but based on your headphone model it may vary. 
If you end up buying a DAC amp combo unit that supports a different type of jack then you will need to buy an adapter which is another pain.
So, make sure you are buying the right kind of DAC amp combo which supports a proper kind of headphone jack.
Input connection
It is wise to go for a DAC amp combo that supports a wide range of input signals such as coaxial, optical, USB, etc. But that sometimes leads to a larger price tag. 
If you are not willing to spend that much money then look for the DAC amp combos that support your desired kind of input signal. If you do not choose it right your DAC amp combo will be of no use.
Impedance
DAC amp combos are equipped with an amplifier that amplifies weak signals and sends them to your headphones as enhanced signals. But this amplifying process has a limit and greatly depends on the impedance of your headphone. 
A headphone with high impedance requires more enhanced signals than a low impedance headphone. So, the amplification power of the headphone amp should be sufficient enough to cope with the high impedance.
Make sure your headphone has the right amount of impedance and it is well within the capability of your DAC amp combo.
Also look for features like a wide range of frequency responses and compatible with different types of mobile devices, warranty, etc. 
Make sure you buy a DAC amp combo that meets these criteria and you will be able to pick the best DAC amp combo for your headphone.
Tips on How to Connect Dac to Amp
Some might purchase DAC and headphone amplifiers separately and connect them to build a DAC amp combo themselves. So here are some tips so that you can do that properly.
First, connect the DAC to the computer via USB port or another device you want to use it with. If it is a computer, you may need to reboot it.
After connecting it properly to the computer connect the DAC to the amplifier using an RCA cable. If it is a headphone then connect it using a stereo cable.
Look at the rear of the digital-analog converter. It has ports with different colors on it. Insert the cables into them.
Make sure to insert them into the proper colored port. It is essential to insert the right colored wire into the corresponding colored port. 
Then connect the cables to the audio input on the rear of the amplifier and attach it to any external amplifier using the right port. 
After that turn on the amplifier.
If your DAC requires any drivers, Insert the CD into the computer's CD drive and install the drivers. 
Follow all the instructions shown on the screen and complete the installation.
Now to check if the setup works properly or not play any music on the computer and listen to it. If there is no soundcheck the connections and check if the drivers are installed properly.
FAQ
Q: Does a DAC amp combo require an external power source?
Ans: Usually, they do not require any external power source, they work just fine with power from the USB outlet of the connected device.
But some heavy-duty DAC amp combo requires an external power source and they usually come with a universal adapter for that.
Q: Is a DAC amp combo better than a sound card?
Ans: Yes, an external DAC amp combo is better than a sound card. A sound card resides inside the case of your device and affected by the electrical noise around it, on the other hand, a DAC amp combo resides outside of your device's casing and free from the influence of electrical noise.
That is why the DAC amp combo can improve the sound quality of your headphones far better than a sound card.
Q: How do I know if I need a DAC amp combo?
Ans: It is quite easy. If you hear any kind of hissing sound or distortion in music then you can be sure that you need a DAC amp combo to reduce this. 
It generally occurs when you hear music at high bass boost configuration or in high volume. The music gets distorted or it becomes a bit fuzzy. You can also be sure when you are using a very high-quality headphone but you are not feeling the premium sound effects as you expected to hear. 
Do not hesitate to use a DAC amp combo and improve your music experience.
Conclusion
To conclude I'd like to say that if you love music it is worth hearing in the best way possible. Nobody wants to hear fuzzy distorted and cracked bass music on a high-end headphone. 
If you are not satisfied with the performance of your headphone, give DAC amp combo a try and see the difference for yourself.