Home security, the most sensitive issue, is the top priority of every household. But, with the busy life, it's pretty impossible to stick your eyes to the camera recordings all the time. Also, it won't be easy to fast-forward all the recorded videos to see who broke into your property. What if the spycam only records footage and notifies you when some suspicious movement is detected? Here comes the motion-activated spy camera with only the crucial recordings! This camera will effectively save up battery life, memory space, and valuable time by not recording any pointless footage. Keep reading this content to find out the best motion-activated spy camera that will ensure your home security. To find out the best USB spy camera, check this article.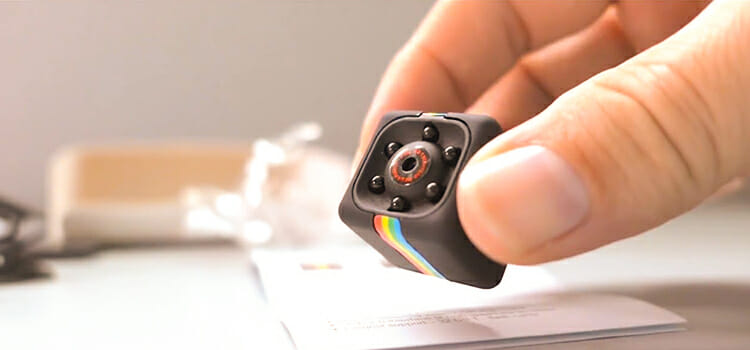 Best Motion Activated Spy Camera Reviews
Here we have sorted out some top-notched motion-activated spy cameras for you. Let's check them out!
1. Spy Camera Charger – Hidden Camera – Premium Pack – Mini Spy Camera 1080p – USB Charger Camera – Hidden Spy Camera – Hidden Nanny Cam – Hidden Spy Cam – Hidden Cam – Surveillance Camera Full Hd
To begin, we have this motion-activated hidden spy camera of DEVINEEAGLE. This one is hidden inside a compact USB charger for portable devices. The camera features crystal-clear 1080p video quality and a 90-degree viewing angle. You can get the idea about the compactness from the weight, which is 0.952 ounces only.
The IQ motion detection with 130 points is worthy of praise. Even the slightest movement and the camera will be activated. So, you can rely on this camera entirely. It starts recording about 8 feet away.
You will not need any WiFi to record. You need to purchase a 256GB Class 10 micro SD card separately. Then plug it remotely to an electrical outlet, power bank, or a USB port as there is no battery in design. This quick plug-and-play feature makes the camera simple to handle. It's compatible with MAC and PC.
The great thing about this spy camera is the loop recording. When the SD card is full, the camera automatically overwrites the oldest recordings.  So, this confirms continuous and complete recording. Also, the surge multiprotection saves the SD card from any possible corruption.
But as this spy camera doesn't need WiFi, it doesn't support live streaming or any apps. Anyone can watch the private videos by plugging them in, so this is not secure. Also, the low light picture quality isn't excellent. 
2. Mini Spy Camera 1080p Hidden Camera – Portable Small Hd Nanny Cam With Night Vision and Motion Detection – Indoor Covert Security Camera for Home and Office – Hidden Spy Cam – Built-in Battery
Mini spy cam of SIRGAWAIN is a battery-powered device.  The battery offers 60 minutes of runtime. The camera can detect motion and turn on to record any suspicious activity. You will need a 1A adapter and charge the camera for 2 hours.
Also, this can record all day long when the battery is charging. The device doesn't need any WiFi connection.
Now let's talk about the picture quality. It offers 12 MP photos with 1080p clarity. The secret is the 140-degree wide-angle lens. The night vision feature is worth mentioning, which reaches about 16 ft with six hidden LEDs.
To record, you will need a 32 GB microSD card which is not included in the package. The device supports 2 to 32 GB SD cards. If you use 32 GB memory, then you will get 6.5 hours of recording. Also, the camera has a loop recording system, so it will keep recording even when the memory is full by overwriting on older files.
As the name implies, the design is compact, small, and discrete. The weight of the camera is 3.52 ounces. The package includes a pin, a mini spy camera, a fastening clip, USB cable, and TV cable, neck lanyard, 360-degree rotation, a card reader, and a user guide. 
But the construction may seem a little cheap. The videos have a lagging problem. Also, the button system is tiny and difficult to control. 
3. Arebi Spy Camera Wireless Hidden Wifi Mini Camera Hd 1080p Portable Home Security Cameras Covert Nanny Cam Small Indoor Outdoor Video Recorder Motion Activated Night Vision a10 Plus [2021 Version]
Next, we have AREBI wireless spy camera on our picklist. This spy camera supports 1080p live streaming to watch over the babysitter 24/7 remotely. For that, this requires 2.4GHz router WiFi with a strong password. You will need HIDVCAM to configure the camera with WiFi.
AREBI spy cam is a wide-angle camera with a 150-degree wide-angle lens. The inbuilt magnet is featured to help the camera to be absorbed on any iron surfaces. The compact design (1 ounce) ensures that you can hide it well. 
You will be surprised to see the fantastic features of this tiny spy camera. Motion-activated push alerts and no-glow IR night vision are worth mentioning. You can set the sensor's sensitivity level manually; how amazing is that! The intelligent mini camera will send you photos as a push notification whenever any suspicious motion it will detect.
There are six infrared IR lights and non-luminance 5M night vision. This covert design efficiently records even in low light about 15 feet distance without letting now anyone. You can switch this night vision mode on or off using the app remotely. 
Now let's talk about the battery. There is a built-in 300 mAh rechargeable lithium-ion battery. The run time is one h approx by plugging it in a 10000mAh battery pack to record up to 30 hours. You can also use USB chargers.
On the downside, the images a little blurry of the slow capture mechanism. The images look purple. The camera cannot mirror the images. Also, the WiFi functionality isn't satisfactory.
4. Hidden Mini Spy Camera With Audio and Video Live Feed Wifi With Cell Phone App Wireless Recording -1080p Hd Mini Nanny Cams Wireless With Night Vision and Motion Detection Built-in Battery (Black)
The hidden mini spy camera of FADEPLEX is a battery-powered device. For powering the camera up, a lithium-ion battery is given inside.
This device is wireless and works with a WiFi connection. That means this is easy to hide, and you can handle this remotely with your device. Also, the camera supports live streaming with an application. So, sitting in your office, you can keep your eye on the nanny 24/7.
The dimension of the camera is 5.83 x 3.15 x 1.73 inches, and the weight is 6.4 ounces. The video picture quality is excellent with 1080p.
Next, let's talk about the night color feature. The night vision helps to monitor and ensures security even at night. So, this will help you to spy in the dark without letting anyone know.
Also, the FADEPLEX spy camera provides a motion-activated feature. The spycam will notify you whenever any suspicious movement is noticed.
Now let's talk about some problems with this camera. The controller app is not efficient. For constant monitoring, the unit needs a continuous power source as the battery drains quickly. Also, the size is bigger, which further makes it difficult to hide. The SD card slot doesn't hold the card nicely. 
5. Blink Indoor – Wireless, Hd Security Camera With Two-Year Battery Life, Motion Detection, and Two-Way Audio – 1 Camera Kit
Next comes the battery-powered and WiFi-connected security camera of Blink Indoor. The camera needs two AA lithium batteries to run. 
This one is compatible with Alexa. So, if you have any Alexa compatible devices, you can control the spy cam and monitor with voice commands. Besides this, the camera doesn't need any wiring or a complex installation process. 
Not only that, you will get a motion alert feature. You can also customize the alert system using the Blink Home Monitor app. That means you don't need to keep your eye on all day long; this will alert you only when any suspicious movement will be detected. The infrared night vision further facilitates to help you watch over also in the night.
What I liked most, is the two-way audio feature and the live view. So, not only do you get to check your home now and then from the office, but also you can talk to your baby in real-time. The field view is 110 degrees, and the frame rate is up to 30 fps.
Another thing is the cloud storage facility with the Blink subscription plan for 60 days. They offer a 30-days trial. Alternatively, you can use the blink sync module 2 (included). For that, you will need to purchase a USB flash drive separately.
But, the nightly feed isn't clear enough to detect the face. The camera makes a loud clicking noise with bright light while the motion sensor is on. To stream live, you will have to keep clicking the annoying continue button. Also, there is a delay between motion detection and the video. 
6. Rf Detector & Camera Finder Anti Spy Hidden Camera Detectors Bug Sweeper Gps Audio Spy Scanner Radio Wireless Signal Electronic Tracker Us Plug (Black)
Finally, to end up, we have the hidden spy camera detector plus the RF detector of AnNido. This detector needs a WiFi connection for functioning. It is the latest version anti-spy RF bug sweeper detector. The device is convenient to maintain privacy and prevent eavesdropping.
The detectable RF frequency range is 1 MHz to 6.5 GHz, including GSM, WIFI Bt, FM, VHF, UHF, and most of the transmission frequency. With this, you can detect GPS locators, Mobile phone sim card bugs, etc. 
There are two modes of this unit: buzzer mode and vibrate mode. If you don't want to make noises, this will allow you to use earphones. The unit is effortless to operate with only a switch and the sensitivity knob. The small size and makes it super easy to carry.  So, you can use this in bathrooms, cars, locker rooms, meeting rooms, and anywhere.
The product features the detection of a multi-function detectable pinhole camera. There is an inbuilt Bright red LED. This can determine all types of cameras like monitor, pinhole, mobile camera, etc., after detection; this will let you know with sound and light.
But the unit is plastic made, which makes it flimsy. While detecting cameras, this picks up RF signals from almost everything, so not suitable for apartments. Also, this is a little troublesome to handle, especially for the first time.
Things to Look for in a Motion Activated Spy Camera: A Complete Buying Guide 
As the market is full of unctuously advertising products, you need to research how you can differentiate. Here we are with a list of factors that you have to double-check before shopping. Let's go ahead!
Power supply
Spy cameras are designed to run on different power sources. The wireless spy cameras are battery-powered. In this case, you have to recharge the battery from time to time. 
Picture Quality
What is the use of a spy camera if it can't even show you the faces? That's why picture quality matters. If the video and picture quality is hazy, you will only see someone moving around but can not identify or get any proof. All the manufacturers advertise their cameras to be 1080p HD. So, check real-time user reviews and lux ratings. 
Area Coverage
Area coverage is essential if you don't want to bother yourself installing multiple cameras. The angle refers to the area coverage. Spy cameras nowadays offer 90 to even 360-degree wide-angle lenses. So, look for something that will cover a large portion of the area.
Battery Run Time 
If the spy camera is battery powered, the battery run time is the most important thing to check. Although motion-activated cameras don't need that much power, they must record the whole thing when the motion is detected. Most of the batteries offer 40-90 minutes runtime, and it depends on the battery quality.
WiFi Connectivity
If you are thinking about live streaming, a WiFi connection is a must. If the camera supports WiFi, you can control and observe remotely using your phone or pc in real-time. But as this depends on the network, it's normal to lag in the video, sound, and movement detection.
Size
A motion-activated camera also needs to be hidden well. That's why the size and portability of the camera matters. Try to find something that weighs around an ounce.
Night Vision
Spy cameras provide IR lights for Night vision. Thieves will roam around your house in the dark, not in daylight. Some spy cameras can even sense darkness and automatically activate the night vision mode. But the quality of the IR light matters. It will be useless if you can only see shadows of some moving object. 
Storage of Recordings
Many spy cameras need external micro SD cards for storing videos. But in this case, as the storage is limited, think about how much surveillance data you need to reserve and what maximum size of memory the camera supports. Most of these cameras offer a loop recording system to overwrite older videos with newer ones. 
Some spy cameras offer a subscription plan for cloud storage. Cloud storage will release you from the worries of storage limitations.    
Extra Features
Who doesn't want some extra benefits? Some spy cameras have a two-way audio facility. This will let you talk to your baby when you are at the office.  Some offer subscription plans for cloud storage and other tools like SD cards, USB cable, etc., with packages. But don't compromise with the primary function being flattered by the extra features.
Frequently Asked Questions (FAQ)
How long do batteries last in spy cameras?
Ans: Depending on the battery type, it can be within 20 hours.
How long can a spy camera record?
Ans: A spy camera generally records around 1 hour for regular check out. In the case of night mode, this will run for a lower time for high power consumption. In the case of motion detection, it can record for more than an hour.
Can a cell phone detect a hidden spy camera?
Ans: Yes, there are many applications available.
Conclusion
Unfortunately, you cannot trust anyone and always need to stay alert. A motion-activated spy camera can help you shield your property and gather evidence in case of break-ins of thieves. In this article, we honestly reviewed some best motion-activated spy cameras available out there. We also included a detailed buying guide to avoid deceiving products.
If you don't want live streaming and looking for a compact cam, then consider the spy camera of DEVINEEAGLE or SIR GAWAIN.  AREBI wireless spy camera will best if you are thinking of live streaming remotely. Whatever you choose, make sure to do a little research before. I hope this was helpful! If you are interested to find other security cameras, you can check these for your consideration: pen camera, Poe security camera, IP camera system