People who use wired mice often face a problem with the cord of the mouse getting in the way of hovering it. During busy office hours or an intense gaming match, this incident can be very annoying. As it is said, where there is a problem there is a solution. To get rid of your mouse cord getting in your way there is an accessory called mouse bungee which keeps your mouse cord out of your way and provides you an undisturbed mouse hovering experience.
Today in this article I am going to review some of the best mouse bungee available in the market. Some of them have been in the market for a couple of years and still considered best till this year of 2020.
Along with that, there will be a detailed buying guide from our professional tech team and at the end of this article, I am going to answer some frequently asked questions over the internet regarding it.
What is Mouse Bungee?
As I have mentioned earlier, a mouse bungee is a device that holds your mouse cord with help of a firmly based crane-like structure so that it does not get in the way compromising your focus and drawing your attention to fix that. This often causes problems, especially when you are doing such a work that requires continuous and intense focus such as gaming.
It can be traced back to 1994 when corded mice were heavily used. They mostly came in the form of a DIY hack but soon this idea of it caught the attention of a computer accessory manufacturing company named Mouse Bungee.
The product did not succeed in the market and later in 2010 Razer bought this idea and launched a modified and improved version of it and since then it grew more and more popular and still running in the market with success.
Now several computer parts and accessories manufacturing company manufactures this accessory and people all over the world including office workers and gamers use them.
Best Mouse Bungees Review
In this section, I am going to review some of the best mouse bungee available in the market. Our professional tech team shortlisted 7 of them based on customer reviews on different online stores, market and sales figure research. Here is the list.
1. KLIM Mouse Bungee – RGB Extension for Mouse
KLIM mouse bungee is designed for gamers. The rugged-looking build quality resembles Razer products a bit but the design is unique in its way. The whole body and holder are made up of highly drop-resistant polymer plastic.
The base of this accessory is separated into 3 grids and from those separation line LED lights emits various colors of lights. This gives this mouse a unique look and brings out the gaming vibe. The base itself looks like a cool gaming mouse.
This is not merely a mouse bungee. It is housed with 3 additional USB 3.0 ports. The data transfer rate of these ports is up to 6 GB/s.
Furthermore, it includes a micro USB port and an SD card slot.
Users can use it as both a mouse bungee and a USB hub simultaneously. The cord holding arm is retractable. If users wish to use it solely as a USB hub, they can do that too. Because of the SD card slot, it also works as a card reader.
These features make it a true multifunctional computer accessory.
The RGB lights enable gamers to use it in the dark especially when they are gaming in the night. Most of the fancy-looking mouse bungee is often overpriced and comes with half as these features. In that case, this KLIM mouse bungee is truly affordable and also comes with 5 years warranty.
2. BenQ Zowie CAMADE (Cable Management Device) Mouse Bungee for Esports
Unlike the previous one BenQ Zowie CAMADE is designed for professional users. You can say it from its look and design. Instead of adapting the shiny LED light decorated and rugged-looking gaming design it rather opted to more decent and corporate looking design.
If your job requires you to concentrate your focus on your computer without any kind of interruption then you can easily use it in your office. This will save you from being eyed for using a gaming mouse bungee inside your office or other corporate environments.
Besides it has a rubber base that provides a solid grip on any kind of desk and the chances of getting tipped over is very less. The mouse wire holder is also made of rubber. This rubber clip can stretch and contract along with the girth of the wire.
The rubber clip is attached to an adjustable and semi-flexible metal holder that provides strong support and the height of it can be adjusted as per requirement.
All of these features are packed in one single body part which makes it very lightweight and portable. So, if you travel a lot or you are looking for a mouse bungee that is not funky looking and goes with the corporate environment then BenQ Zowie CAMADE is a good choice for you.
3. Razer Gaming Mouse Bungee v2: Drag-Free Wired Mouse Support
As I have mentioned earlier, Razer brought the mouse bungees into the modern market and they are one of the most experienced and qualified computer accessory manufacturers. So, their mouse bungee will be one of the most awesome available in the market.
The full matte black body along with the Razer logo looks very attractive. Although it is a gaming mouse bungee for its simple and elegant look, it can also be used in a corporate environment.
This mouse looks very similar to the previous one except for the color and the wide base at the bottom. It introduces drag-free cord support and its wider, rubber padded base provides more stability.
The wire holding clip is made of flexible rubber which stretches and holds the wire firmly. The wire holder is made of metal spring cable and its height is adjustable. The angle of its holding position can also be adjusted as per the user's requirement. Metal spring wire is coated in rust and corrosion resistant coating providing it a long-lasting life.
If you are looking for a mouse bungee that can be used for both gaming and other purposes then Razer Gaming mouse bungee V2 is not a bad choice at all.
4. Cougar gaming CGR-XXNB-MB1 Cougar Bunker Gaming Mouse Bungee
Cougar Bunker gaming mouse bungee is one of my personal favorites. It is a very high quality yet affordable.
The design of it is so unique that it had to patent it. The name of it is adapted from its bunker looking base. Like any military bunker, the base of it is immovable unless you want it to move.
The base consists of a vacuum seal that provides a firm grip on any kind of surface as long as its capable of providing sealing effect. Even if you do not have any desk or table you can use it on a wall or floor. This very unique feature of its design gives it versatility and portability.
The base is round and very compact in size. This is why it consumes very little space on your desk and instead of being another problem itself, it does its job discreetly from the corner of your desk.
There wire holder design is also unique and It is made of rubber instead of metal spring wire and adjustable for any kind of wire position. This not only gives the tool more flexibility but also a reduced weight and makes it easy to use and portable.
5. Gaming Mouse Cable Management, Casethrone Mouse Bungee Device

It is for the people who love to keep a low profile. The design of it is simple and elegant and it comes at a very low price tag. If you are thinking that any mouse bungee will do the job, you just need the lowest price tag possible, then this one is for you.
The base is made of plastic which is rubber coated to provide a firm grip on the desk. The simple yet elegant design enables it to consume very little space. The handle is made of metal spring and the wire holder is made of rubber which provides a strong grip against the wire.
Though it uses metal spring, for its simple design it is very lightweight and portable. One thing about this mouse is that it followed the same design trend as the BenQ and Razer mouse bungee. It was designed for gamers but it looks more like a decent mouse bungee which can be used in a more formal environment too.
The metal spring wire holder can be adjusted as per user's requirement which provides the flexibility of it and all of these features comes at a very low and affordable price.
6. AOBOR Flexible Mouse Bungee Mouse Cord Management Fixer Holder
This one is another low budget mouse bungee with a sleek design. If you are looking for a tool that can remove the annoying cables from your desk at a cost as low as possible then AOBOR flexible mouse bungee is for you.
It falls in the range of low budget, simple mouse bungees yet it comes with a very classic looking design. There are some mirrors attached to its base which makes it a bit shiny and attractive. The center of mass of this base is very close to the ground that is why the mouse bungee is very stable.
In addition to the main wire holder, there is a clip to hold the wire at the back of the main wire stand which provides extra grip and the wire does not get sipped out of the wire stand as you move the mouse.
The design of it is neutral which means it can be used for gaming, official uses, and so on. The advantage of its simple design is that it is very lightweight, portable yet classic looking and affordable.
7. Mouse Bungee, Stageek Aluminium Alloy Gaming Mouse Cable Cord Management System
This is a very compact and capable mouse bungee. The compactness of the design of it is its unique feature.
When you are looking for a manager to manage the messy cable on your desk you do not want the manager to be messy and space-consuming itself. That is why to keep your desk organized a compact design is required.
it is also designed to uphold your mouse cable above your desk so that you can have a high mobility range with your mouse and the wire does not get in the way of it.
The bottom surface of it has a self-adhesive layer. It is washable and reusable adhesive tape which is provided with the mouse bungee to provide more grip on the surface of your desk.
This seems a bit cumbersome but as the base of it is very compact and the wire holder is a bit high above the desk, the mouse bungee can become unstable and that is why this extra grip is required. Unless you try to wash it and reuse it you would not even notice the adhesive tape.
Although it is a gaming mouse it can be used in other places like your office too.
Best Mouse Bungee Buying Guide
This is a professional buying guide from our tech team to help you to get the most suitable mouse bungee for you.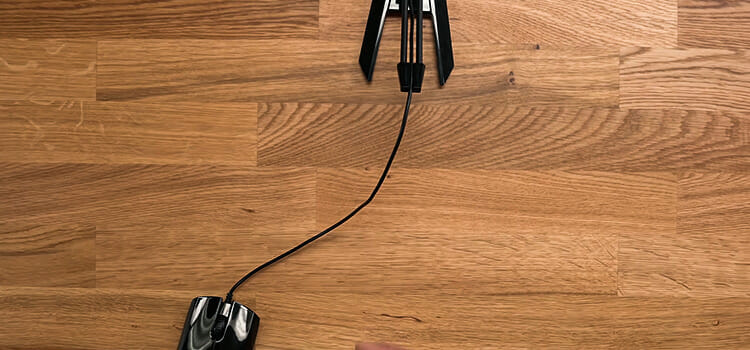 Design
The first thing you need to look for while buying a mouse bungee is that if it has the proper design that suits best for your requirements.
If you are intending to use it on a less spacious desk then you need to go for a more compact design. If you are looking for mouse bungee to use it inside your office then you should go with a classic or formal design instead of a gaming design that you can differentiate by the mass lighting and rugged looks on them.
If you are a hardcore gamer then should go with those gaming mouse bungees, for late-night gaming or just to bring out your gaming enthusiasm you can go for the mouse bungees with lightings.
Compact and Stable Base
The second thing you need to keep in mind that the base of the mouse bungee plays a very important role while holding your mouse up. Stable, firm, and well-designed bases are the ones you should be looking for.
Flexible Wire Stand
With longer wire stand you will get more mobility and flexibility of use with your mouse. But keep in mind very long wire stand makes the mouse bungee more unstable and this what you do not want. Always go with a flexible wire stand so that you can adjust it just as you need it.
Flexible Wire Clip
The next feature you should look for is the flexible or rubber wire clip. This makes the wire clip suitable for any various girth of wire and enables you to use your mouse bungee with various types of mice.
Look for these features before buying your mouse bungee and you will have the best mouse bungee suitable for your mouse in no time.
FAQ
Here are some frequently asked questions which have been asked in different websites, blogs, and online stores and their answers.
Q: What is the difference between a gaming bungee and a mouse bungee?
Ans: Gaming bungee and mouse bungee is the same tool or accessory to prevent the dragging of your mouse wire. The mouse bungee is widely used by gamers and they like to call it a gaming bungee instead of mouse bungee.
Q: Is mouse bungee worth it?
Ans: Yes and No. No, if you spend an awful lot of money just to get a fancy gaming bungee with half the feature of a cheaper mouse bungee then it is a waste of money.
Some say the same effect can be achieved with some tapes. This is also not true. If you use a laptop that requires you to move a lot along with it or if you change your computer setup frequently, the tape is not a solution but a problem.
So, yes, if you want a neat and organized setup, mouse bungee worth it.
Q: Why don't I get a wireless mouse instead of a mouse bungee?
Ans: First mouse bungees cost very less than a decent quality wireless mouse and second, they are not as reliable as wired mice. The battery of your wireless mouse may die at a time when you need it the most.
So, mouse bungees are not a bad choice. This question is only valid if you go for an overpriced mouse bungee which is as bad as its price tag.
Conclusion
In conclusion, I would like to say mouse bungees are the easiest solution for your mouse wire. But it not necessary that you spend a ton of money just to get a mouse bungee.
Pick the mouse bungee you like most from our list and you will be able to get them at a very affordable price without being fooled by an overpriced shiny looking mouse bungee with half of the features available at that price.
I hope our shortlist and buying guide was helpful to you. Have a great day.