If you are looking for a surveillance system to buy for the sake of your desired place's security but you are confused to see all those numerous security cameras like IP cameras, PoE security camera,etc, and surveillance systems of various price, features, and specifications.
What is even worse, you see a lot of writings mentioning PoE cameras and Wi-Fi cameras and you do not know which one is better, or even if you know which one is better, you do not know why.
Well, you have come to the right place. Because in this article I am going to talk about 5 best PoE security cameras so that you can choose one to buy for yourself. 
As a bonus, I am also going to talk about PoE technology for those of you who do not know what it is or why it is better than WiFi cameras.
And finally, at the end of the article's review section, there will be a detailed buying guide for you so that you can be free of any kind of misconception and confusion or hesitation while buying the best PoE security camera for your place.
As the concluding part of this article, there will be some frequently asked questions and will put up answers to them as far as my knowledge in this field goes. Without further a due let us jump into it.
What is the PoE security camera?
A security camera needs two cables to gain power and to transmit data which it has recorded but a PoE security camera needs only one cable which can both transmit digital data and supply power to the camera.
Generally, the traditional cameras use two-wire, one with no electrical power to transmit digital data and another one is with the sole purpose to supply power to the camera so that it can do its works.
A traditional camera can also be equipped with PoE technology replacing the two cables with one ethernet cable with the purpose of transmitting both electrical power and digital data simultaneously.
For those of you who do not know what is PoE then click here- Power Over Ethernet Technology.
These are some security cameras I like personally. I am going to talk about them bellow and show you how they fit in different types of applications based on their features. Click here to learn about some of the best outdoor light bulb cameras.
Our Recommended Best PoE Security Cameras Review
1. Reolink 4MP 8CH PoE Video Surveillance System
This Video Surveillance System supports up to 8 IP cameras. Each camera is backed up by 2TB of HDD. Total storage is 4TB HDD expandable up to 8TB which enormous in my opinion. This surveillance system has the most storage capacity compared to the other four security cameras and surveillance systems that I have mentioned.
Reolink 4MP 8CH PoE Video Surveillance System's most attractive feature, in my opinion, is that it has night vision capability as well as it supports both VGA and HDMI cables and can be remotely accessed from smartphones and personal computers.
You can access your surveillance system remotely via your computer or even your very own smartphone.
Another thing I like about this surveillance system is that it is a full-fledged surveillance system. You do not need to buy an additional NVR recorder or Storage unit. This surveillance system has 8 cameras and 4 of them can playback recordings simultaneously. So, you can over a large place under this surveillance system.
The operating temperature of this video surveillance system is around 10 degrees Celsius to 45 degrees Celsius only. Which simply means this Reolink 4MP 8CH PoE Video Surveillance System will definitely suck at winter when the temperature will fall below 10 degrees or in a place like somewhere in Africa where temperature can easily reach 50 degree Celsius. So, if you are thinking to use it in a harsh environment where temperatures can get out of hand then consider something else or consider using it in an air-conditioned place.
2. ZOSI 1080p PoE Home Security Camera System, 8 Channel NVR Recorder
The ZOSI 1080p PoE Home Security Camera System offers 4 cameras along with 8 NVR recorders with built-in 1TB HDD for a comparatively lower price. 
That means if your budget is not high enough as a business firm's security budget but your place is quite big then you can go for this security surveillance system. 4 cameras can cover your big house quite well. These are accessible from smartphones and personal computers. 
It supports night vision mode along with 4 recording modes. It also allows recording for motion detection. What is more fun and attractive is it also allows you to set the detection parameter around each camera-range in motion detection mode.
 Thus, you do not get a false alarm or any unwanted useless recording which will end up consuming your valuable storage for no reason at all. 
ZOSI 1080p PoE Home Security Camera System has comparatively low storage. It comes with only a 1TB built-in HDD storage system. But to operate surveillance at a large scale you definitely need a larger storage capacity. But I think 1TB is quite enough if your keeping an eye on a less busy parameter with regular checkup and back up.
3. Amcrest UltraHD 4K (8MP) Outdoor Bullet POE IP Camera
This camera has the best quality recording capability at the lowest price possible. The camera is PoE equipped IP camera and needs an NVR recorder or device of that kind. Another up to date feature is this camera has an SD card slot to store the recording. SD cards are far more advanced, fast, and energy-efficient for recording stuff hours after hours. HDDs are noisy power consuming and obviously slow. Having an SD card storage system is quite a feature in my opinion.
The Amcrest UltraHD 4K (8MP) Outdoor Bullet POE IP Camera is a simple and low effort required to install.  it can be used for household works, you can use it to install a surveillance system around your house or to keep an eye on a small place. 
This is not a full-fledged surveillance system. It is far more simple and both power and cost-efficient for household usage.
The recording quality is also very good. HD recording is not easy to get from a security camera but this camera can record HD videos.
4. IP Security Camera 1080P, POE Outdoor Surveillance Security Camera
This IP security camera 1080p, PoE Outdoor Surveillance Security Camera is by far the cheapest security camera with awesome features to offer. It costs around 32 bucks yet comes with features like 3D noise reduction, Waterproof and so much more. This low price and awesome features make it more convenient to use in a small house.
From the name "IP Security Camera 1080P" it can be guessed that the camera is capable of full HD 1080p recording. It also has a 3D noise reduction feature. Real-time alerts via email and 3rd party apps including a snapshot of that moment and motion detection. 
The camera is waterproof and the design of the camera is highly durable which can withstand the harsh environment of outdoor thus it can be used outside during rain or snow or any extreme weather.
This is just a security camera only not a full-fledged surveillance system. NVR recording system, remote accessibility can be initiated separately via a 3rd party app which great for remote access and household usage.
5. Reolink 5MP PoE Camera (Pack of 2) Outdoor Indoor Video Surveillance Work
It is the same manufacturer as the first surveillance system we have talked about. This is the smaller or home-based version of the first one. Instead, 4 IP cameras provide 2 IP cameras with lower storage capacity for a bit lower price tag. This is a clever business strategy from the manufacturer because you definitely do not want to spend the same amount of money on your home security as you would have spent on your business or office place.
Full HD recordings and long-distance night vision. Free software, remote access from smartphone and laptop, or personal computer.
As it is designed for household usage, it is not a full-fledged surveillance system. NVR recorder is needed to be bought additionally.

Best PoE Security Camera Buying Guide
Here comes the section where I guide you thoroughly so that you can buy your desired security camera within your budget overcoming all those confusion you had before reading this article.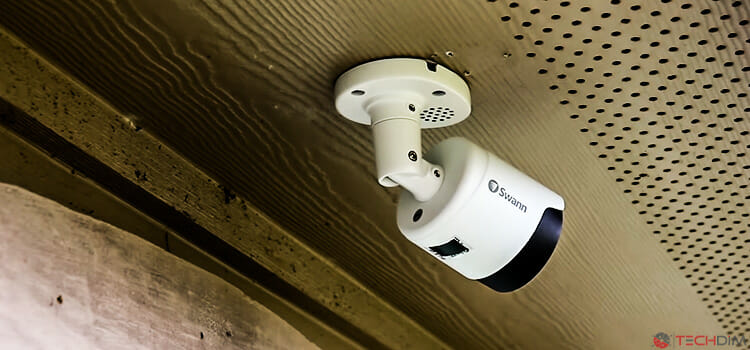 Price
The first thing you need to set up your mind is to select the price range based on your needs. For instance, if you are aiming to put your home under security surveillance then you should go for the lower-priced version of the professional or business class which comes with a bigger price tag and obviously with equipment more than what needed which you can use to cover your office place under security surveillance.
Packaging contents
Once you have done that your second target would be looking up at the Packaging box contents. The of doing that you are looking for equipment as much as possible packed inside your budget. That is why looking out for more packaging box content at the same price. For packaging box contents information, visit the manufacturer website or the website where you are buying it from.
Night Vision
Security surveillance means mostly security during night time. I mean the night is the scariest part. Without night vision your surveillance camera is of no use. So, no matter what you look for into a security camera you must look for night vision mode. If not, no matter how updated the technology of the camera maybe.
Large storage
To do long-time surveillance or some kind of place that needs surveillance for a long period of time because of the absence of human beings during that period then large storage capacity is a compulsory feature. But for surveillance on a daily basis, a place like your home, small to medium surveillance recording storage capacity is enough. 
Playback Capacity
Sometimes an unwanted event occurs in covering multiple camera range. To playback that scene you might need to play all the cameras simultaneously to get a summed-up idea about the incident. That is why you need to pay attention to this feature if your security surveillance system capable of doing multiple playbacks simultaneously or not.
Operating Temperature
Another most important feature you should put emphasize on is the operating temperature of the devices you are using in your security surveillance system. If you live in a country where the temperature often gets below freezing point then you should consider buying a surveillance system that is able to withstand such low temperature. Otherwise, your security system will be of no use in case of providing surveillance data. The same goes for African or desert-like temperatures, when the temperature gets over 50 degrees Celsius or above these systems are often known to fail. That is why you should look for this feature while buying it.
Durability
The surveillance cameras are often used in the outside environment. We all know the outside environment can be quite harsh on our digital devices. That is why you should look for a compact and durable surveillance camera while purchasing it.
So, in short, I can say you need to set up your mind and fix your required budget. Then find a camera or surveillance system within your budget that fulfills most of your requirements. Thus you can have the best security camera or surveillance system within your budget.
I did not mention any price of the selected products because it varies from place to place and it also depends on how are you buying it. To get a price information, detailed specification and packaging box contents visit the manufactures website.
PoE VS Wi-Fi Camera
There is a common curiosity among the people interested in buying security cameras or surveillance systems that is which one is better PoE cameras or Wi-Fi cameras? And why it is better? Well in this section of this article I am going to try to clarify that dilemma.
Wi-Fi cameras use an internet connection and a power source to provide security surveillance covering a certain area. The surveillance capability depends on the bandwidth of the internet connection and the area covered by that network. Due to low coverage, the camera often fails to provide security surveillance for a wide range of areas.
On the other hand, the PoE camera uses a single wire to do both operations, this ethernet cable network has a much larger range of coverage and more reliable than an internet-based network system. 
This is why I think PoE cameras are better than Wi-Fi cameras
The PoE surveillance systems offer a comparatively wide range of surveillance coverage at a much cheaper rate. Wi-Fi-based networks are unreliable and hard to operate and costly too. And it also requires a power source nearby. That is why This Power over Ethernet technology is far more advanced and popular over Wi-Fi-based surveillance network.
Another point is to consider that PoE Cameras are comparatively power-efficient and easy to install than Wi-Fi cameras. Because unlike Wi-Fi cameras PoE cameras are simple and easy to install because they use a single wire to transfer both power and data.
Frequently Asked Questions(FAQs)
In this section we are going to discuss some frequently asked questions over the internet about PoE technology which I am hoping will remove the common misconceptions and myths about power over ethernet technology which is briefly known as PoE.
Q: Do PoE cameras need power?
Ans: Yes, They do not need a separate power cable but they obviously need the power to work. They use the same cable for both power supply and data transmission.
Q: How far (range) does PoE works?
Ans: It depends on the supply voltage and the network speed that you are working with. But for a category 5 or Category 6, this range is around 100 meters.
Q: Is there a PoE standard?
Ans: Yes, there is a PoE standard, the Institute of Electrical Electronics Engineers briefly known as IEEE has put the PoE technology into the Ethernet standard. The IEEE 802.3 standard covers devices using PoE technology all over the world.
Conclusion
Well, I hope you have enjoyed the article while it cleared your misconceptions and confusion about the best PoE cameras. I hope you will be able to choose one from those five I have reviewed. 
But still, I am going to recommend ZOSI 1080p PoE Home Security Camera System for covering a business place or office and Reolink 5MP PoE Camera (Pack of 2) Outdoor Indoor Video Surveillance for a big house and IP Security Camera 1080P, POE Outdoor Surveillance Security Camera for covering up a small house or if you want to keep an eye on a single room or something like that, you can use it for that too.
That is going to be all, thank you for reading the article with patience.