For many years looking into the microscopic world was not near easy. As the microscopes were tremendously expensive and the fine-tuning of them was quite hard. It also consumed a lot of time. But with the advancement in modern technology, this painful process is almost a thing of the past.
For instance, if we take a USB microscope. One can easily examine samples with the help of it very quickly.
It can be put in this way, in the past when personal computers were not yet invented, computers were not available for personal usage. Only leading companies or governments owned them as computers were freakishly large and expensive. Then this period came to an end when personal computers were invented and people started using computers in their daily life as they became comparatively cheaper than the large ones.
The same goes for the USB microscope. Just like personal computers, USB microscopes enabled people to use microscopes more often rather than relying on fancy labs or their expensive microscopes.
Now people can take live microscopic pictures of samples using USB microscopes. From researchers to students, all can now have access to a portable and more affordable microscope. Healthcare systems do not need to rely on expensive microscopes all the time especially during an outbreak or disaster because now they have access to portable USB microscopes which are faster and more affordable.
Today in this article I am going to talk about some of the best USB microscopes in the market. We listed them based on customer reviews, sales figures analysis, and user experiences.
After that, there will be a detailed buying guide so that our readers do not end up buying fake products. Then as a wrap-up, I will answer some frequently asked questions on the internet about USB microphones.
So, without further a due let's get started.
What Is a USB Microscope?
A USB microscope is a digital microscope that works with the help of a digital USB device such as a computer or smartphone.
USB microscopes are portable microscopes and comparatively less expensive. But their price varies and it can be from around $10 to $10,000 depending on their magnifying power and hardware quality.
USB microscopes can be used to take instant snapshots, videos, live streams of the microscopic view of a sample and these can be saved on digital devices. They have enabled thousands of curious people all over the world to get access to a microscope more easily and comparatively more cheaply.
Our Recommended Best USB Microscopes
These are the five best USB microscopes out there in the market. In this section, we are going to review them from a neutral perspective. They are sorted in random order, not by their service quality so make sure you take a look at the whole review section before choosing one.
1. Plugable USB Digital Microscope 250x Magnification – 2.0 Megapixels
This is a USB microscope which is for students, collectors, and other such peoples who love to explore the microscopic world.
Pros
It can produce snaps of the sample with 2.0 Megapixel resolution with up to 250x magnification. It is integrated with a webcam chipset and supports nearly any operating system. This feature makes this USB microscope highly portable and versatile for mass usage.
The USB microscope also consists of adjustable LEDs and flexible stand which makes it easy to fine-tune as per the requirement of the user. It has optional software for Windows and OS X that provides additional features like video recording.
Cons
Final magnification highly depends on the monitor it is connected with.
2. USB Digital Microscope 40X to 1000X, Bysameyee 8 LED Magnification Endoscope Camera
This one is slightly better than the first one. This USB microscope is equipped with a wider range of magnification power making it suitable for professional usage.
Pros
Bysameyee USB microscope is equipped with the magnification range of 40x to 1000x making it usable for students, engineers, researchers, collectors, biologists, etc. This microscope can directly be used for video recording and measurement of the sample at the microscopic scale.
It has 8 adjustable LEDs to control the brightness of the captured images. The light from the LEDs is passed through a diffuser to prevent unwanted brightness of the captured image that may damage the image details.
It has a wide range of compatibility among them Windows, Mac, Android OS, iOS are noteworthy.
The USB microscope is also equipped with an OTG adapter, ruler and carrying case.
Cons
The measurement feature is only available on the Windows platform.
3. Celestron – 5 MP Digital Microscope Pro – Handheld USB Microscope Compatible
Celestron Digital Microscope Pro was designed to emphasize the details of the captured image rather than the magnifying power.
Pros
This USB microscope has a 5 MP high-resolution camera to capture a detailed image of the microscopic world with a magnifying range of 20x to 200x.
It has a 4-foot-long USB cable (USB 2.0) providing high maneuverability while observing large samples.
Compatible with both Windows and Mac OS. With the provided software the sample dimensions can be measured at the microscopic level.
Cons
Supports a comparatively lower number of operating systems.
4. Jiusion Original 40-1000X USB Microscope
Jiusion Original USB Microscope is a semi USB microscope which means it can work without USB connection over the Wi-Fi.
Pros
This USB microscope supports USB type C/ USB.V.3, micro USB, and compatible with various types of operating systems including Android, Windows, Mac, Linux, Chrome, etc.
It also has built-in adjustable LEDs (8 pcs) with adjustable focus for the lens. This feature enables the user to fine-tune the microscope optimally.
This is one of the most powerful USB microscopes with magnification power ranging from 40x up to 1000x making it one of the most versatile used USB microscopes.
It is capable of video recording and measuring on the Windows platform.
Cons
It does not support iOS unless it is connected via Wi-Fi which requires an additional Wi-Fi box.
5. Wireless Digital Wi-Fi USB Microscope 50X to 1000X Magnification Mini Handheld
Many of us find wires to be problematic to work with. So, here is a digital microscope which unlike the previous ones, totally wireless.
Pros
2 MP high definition camera with the magnifying power of 50x to 1000x. This is powerful enough to observe bacterias and cells.
This wireless digital microscope supports video recording and it is compatible with a wide range of operating systems such as Windows, Mac, Android, OS X, iOS and so on.
It has 8 adjustable LEDs to clarify darker areas that are to observe.
Cons
It does not support the measurement function.
Best USB Microscope Buying Guide
This part of this article is dedicated to our readers so that they do get fooled by fake or poor-quality products while buying USB microscopes. Follow our foolproof guide to stop that from happening.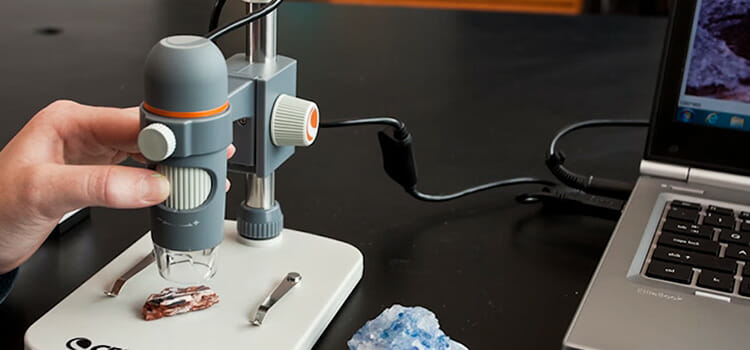 Pixel Quality
A better part of the performance of the microscope depends on the amount of light it is receiving. Large pixel size means a large amount of light the microscope is receiving.
But too large pixel quality damages the resolution of the captured picture as large pixels means a smaller number of pixels can be placed on the receiving sensor at a time.
To balance this out 6 to 7-micrometer pixel size is perfect for crystal clear image quality.
Sensor Capacity
Another key factor for the optimum performance of a microscope is its sensor capacity. Larger the sensor size larger the number of pixels fitted inside it at a time resulting in a high-resolution detailed image quality.
However, to avoid disturbance in the field of view the sensor size of 1 to 3 inch is optimum for good quality image resolution.
Resolution
This goes without saying that high-resolution picture quality can present the microscopic observation with great detail.
However, due to distortion at high magnification power, it is optimum to work with resolution ranging in between 2 to 5 megapixels.
Color
Another key factor one should consider before buying a USB microscope is what kind of color should the microscope produce? Color or grey-scale? Some people find the grey-scale image more useful at the microscopic level.
All of the microscopes in our list are capable of colorful capturing of images and videos.
The Dynamic Range
The dynamic range is simply the sensitivity of the camera of the microscope that corresponds to how much better the microscope defines the subtle changes in tiny details of the microscopic images of the samples.
The bit depth is often misinterpreted as the dynamic range, but this is another factor that mainly affects the macroscopic image quality.
Microscopes with large dynamic range can better define the tiny details of a sample.
Image Processing Quality
Fast and better image processing quality means a detailed and vibrant image in a short amount of time which greatly impacts the recording quality of the microscope's camera.
Data Transfer Rate
The interaction of a USB microscope with the device that it is working with also affects the performance of a microscope.
A faster and better data transfer rate results in a good and smooth quality recording. USB type C and USB V.3.0 has a better data transfer rate.
The performance of a digital microscope depends on these key factors. Keep your eyes open to look for them when you purchase your USB microscope.
FAQ
In this section of this article, I am going to answer some frequently asked questions over the internet to clear out the misconceptions of our readers regarding the USB microscope.
Q: If USB microscopes are cheap, why do we still use the expensive ones?
Ans: Just because we have personal computers and laptops, we did not stop using gigantic computers. We still use such enormous computers called supercomputers to calculate complicated and tricky matters.
We just do not use them in our daily life for simple tasks like we used to do in the past.
USB microscopes are the same. Just because we have them does not mean we do not need electron microscopes or other expensive microscopes.
We still need them for high precision and detailed observations but we don't have to use them as often as we used them in the past for simple and less tricky observations.
Q: Can I use a USB microscope to see bacteria?
Ans: Yes, you can. Any microscope in our recommended list can do that.
Q: Can USB microscopes be used for soldering?
Ans: Yes, USB microscopes can be used for soldering. But microscopes with very high magnification may not come out as useful as you thought due to over magnification. Look for USB microscopes with the magnification power of 10x to 20x.
USB microscopes can also be used for observing coins, stamps, checks, passports, visas, snowflakes and so on. Just make sure that you get the right microscope with the right magnification power.
Q: Can USB microscopes be used for scientific research?
Ans: Yes, they can be used in scientific research and projects that do not require very high magnifying power (more than 1000x to 1600x) or high precision measurements.
Students can easily use USB microscopes in their scientific projects.
Q: Does my Android device need to support OTG to work with USB microscopes?
Ans: Yes, your device needs to support USB OTG to work with USB microscopes. If your device does not support USB OTG then simply use the wireless versions of the digital microscopes.
That would be all for the FAQ section.
Conclusion
I would like to say that science has presented us a way to gain more public access to a vital device such as the microscope, we should use this opportunity more appropriately to overcome our lack of knowledge regarding the microscopic world. These best USB microscopes are a new addition to access more to this microscopic world.
Relying heavily on highly expensive microscopes is the story of the past. We are rapidly advancing toward a point where microscopes will be as available and affordable as our smartphones and other daily life accessories. If you are interested to know more about different types of microscopes, you can check this amazing article.