Hope you know about Blogger  or you may have a blog in blogger.com and struggling to make it more professional and SEO friendly. You may think to shift your blog to word press or anywhere else. However, in this post we are going to tell you some cool BlogSpot features and facilities of blogging.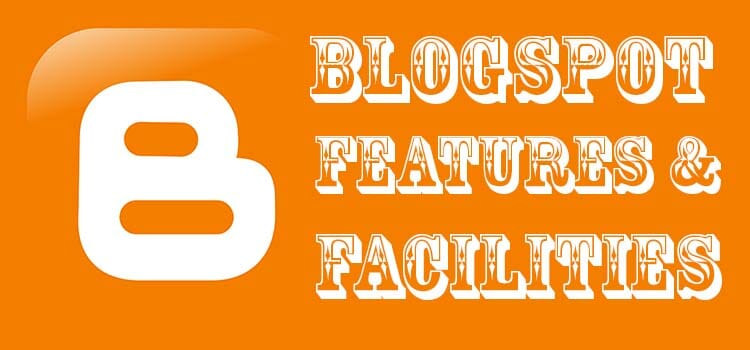 Cool BlogSpot features and facilities
Feel free to start a blog in blogspot without any hesitation. A lot of professional full time and successful bloggers become successful and making a lot of money using this platform. If you have passion then simply a platform with not be a barrier. However, I am going to list out Cool blogspot features and facilities.
1. It's free
Blogger is a Google product hosted in Google hosting and Google kept it as free. Google has become a name of trust, we all believe that Google at least  will not cheat with their users.
Before starting a blog for the beginners it's a challenge and confusion both, which hosting provider is best? Which one costs how? How to manage a cPanel? How do I start? From where I will start?  How my blog will look like? Which CMS I will use? WordPress or Joomla or something else? and so may question answers need to be find out.
But honestly in blogger.com you can simply start blogging without such type of Hassel. Only challenge if front of you in blogger is buying a domain and integrating it with blogger.com. which is a pretty simple task.
Some hosting provider is quite helpful, they may help you to set the domain with blogger.com or find and contact with your local domain hosting reseller.
From our blog we will help you too how to set up a custom domain in blogger.
2. Make money online
Blogging is a popular way to make money online. Sharing your ideas, experience and what you know well through writing and publishing in a blog is a great way to make money online.
Google AdSense is the biggest ad network pay thousands of blogger to the whole world. You know, blogger is a product of Google and they kept an easy option to apply for Google AdSense from blogger dashboard.
Even you can make money without spending a single penny, just writing some awesome contents using Blogger provided free domain name.
3. Adding external script
Sometimes you may need to add a custom scripts or HTML in websites. Like using SUMO or Facebook page integration script and so on. This is an awesome facilities of blogger that you can add external scripts very fist and quick.
Let's take a look how to add external scripts in blogger?
This is nothing but adding a widget in blogger. To do this just –
login to your blogger dashboard
Go to layout and select add widget
Then select add html / JavaScript
Paste the html or script
Done
4. Adding a custom domain
Only shortcomings for blogger is by default you don't get any professional domain name. But fortunately google kept an option to add a custom professional domain from any platform. You can purchase a domain from Godaddy or Namecheap or from wherever you want and integrate it to your blogger account.
Read the following posts –
How to add a custom domain to blogger.com from Godaddy
How to add a custom domain to blogger.com form Namecheap
5. Cool default templates
Recently google added some awesome templates looks very professional, modern and obviously responsive, looks very cool in mobile devices.
To check the modern templates go to themes from your blogger dashboard and see the preview one by one.
6. Custom template upload facilities
So if you don't like the default templates then don't worry. You can upload a custom template very easily. You can hire developer's to build a custom template for blogger or a lot of free or premium templates are available over internet.
Checkout for more: How to upload custom template to blogspot
I like to use the templates from gooyaabitemplates.com. Tons of free and premium templates are available here.
7. SEO facilities
Is blogger is SEO friendly? How to do SEO to a site which is hosted in blogger?
A lot of questions asked by folks but surely there is nothing to worried about SEO facilities in blogger. We can say confidently to you that there is no reason to leave blogger to different platforms to get better SEO facilities. But if you feel comfortable with WordPress then you can shift on it.
8. Easy to Navigate
Blogger platform is built with very user friendly interface both in front end and backend. It's dashboard is crystal clear even a newbie will understand easily.
Creating new posts and pages, changing themes, checking site status, settings everything is at your finger prints.
To the front end blogger kept adding menu facilities.
A menu helps to navigate your blog nicely so this is very important for a professional blog. Like a professional blog you will be able to add menu to the top, sidebar or footer in a widget area.
A good navigation menu helps to get a clear idea about the site, sometimes it intends to the users to visit the whole site so it decrease the bounce rate and increase user engagement and increase click and conversion rate too.
In a built in Blogspot template there is a fixed place to set a navigation menu. To do this find out the navigation menu widget area and add a new widget called pages.
Things I don't Like
I have list of things I don't like of blogger platform is –
Less customization facilities for beginners
No automatic backup plugins
Very few default templates
No ecommerce facilities by default and so on.
So what do you think what is the coolest feature of blogspot?
However, after all blogger is good enough to run a blogging and a brand also. I think most of successful blogger started blogging from blogger platform, you may crosscheck this info. Beyond of this eight blogspot features and facilities there are a lot of issues too. We will write them on an another day. Happy blogging with blogger platform.