With the modern-day relentless technological advancement, every piece of technology is being upgraded to a much more efficient version continuously. Technologists worldwide are pulling their resources to create things that will enable humanity to surpass the ongoing boundaries and to thrive further into the future.
We have been encountering the challenge of data storage from the beginning of communication devices, and clearly, we held our own. Thumb drives, hard disks, and SD cards are our main sources of data storage. But in the upcoming future, these systems may become obsolete. In this article, we're going to discuss what is DNA storage, and how data storage in DNA could be the answer to our endeavors.
DNA and Its Basic Structure
To understand DNA storage, we need an overview of the DNA itself. DNA (Deoxyribonucleic Acid) is the basic molecule in all living organisms which stores information and instructions related to the details and development of that being. In other words, it's nature's very own data storage.
Inside DNA, we have nucleotides as the second group that contains:
2 backbones made of Sugar and Phosphate
4 nitrogen bases which are: Adenine (A), Thymine (T), Guanine (G) and, Cytosine (C)
These 4 nitrogen bases are shortly named A, T, G, C and they are key to this storage medium. These 4 bases form 2 base pairs, A-T and G-C, situated in a specific order with hydrogen bond in between. In DNA sequencing, we can retrieve this base pair sequence and figure out the properties of the organism. We can copy these, read the pattern by sequencing, and modify the pattern by synthesizing them.
What is DNA Storage
An Overview
Modern-day storage options are mostly silicone-based. The difference of DNA storage is, it's a storage medium situated inside the DNA. Here, the information is written inside the DNA strands, and they can be retrieved by synthesizing them and afterward, converted to a binary system, which our computers would understand.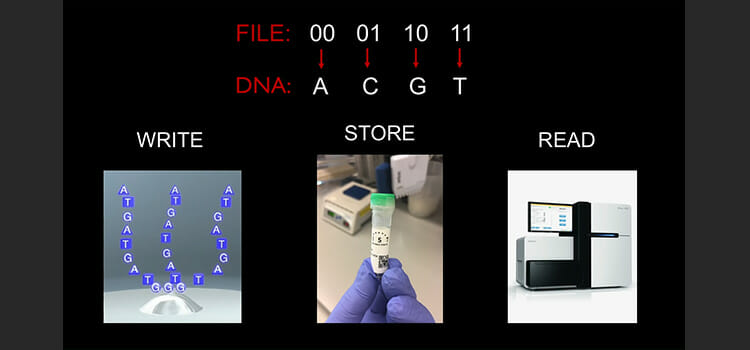 How DNA Storage Works
Currently, there is no completely usable and feasible DNA storage available but the main process of it is very straightforward. We differentiate this process into 2 main goals, writing information in DNA, and then reading it afterward.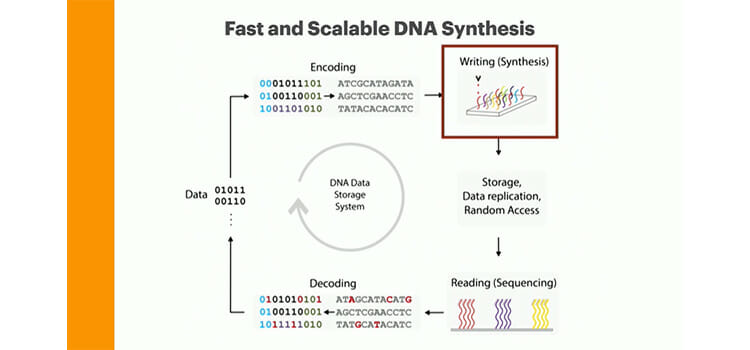 Writing on DNA
At first, we encode the binary digits (0, 1) into A, T, C, Gs.
The encoded A, T, C, G strings are inputted into the storage device.
The A, T, C, G patterns go through a column and each is included in a DNA strand.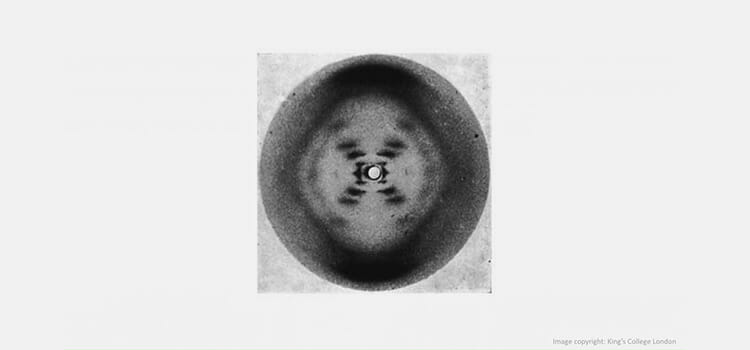 The writing process is complete, and the strands are separated from the column by pumping chemicals inside. This chemical pushes the strands outwards to liquid storage. This process is similar to DNA synthesizing.
Reading/Retrieving Info From DNA
We prepare the DNA by applying chemical mixtures and pump them back into the machine.
The A, T, C, G patterns are decoded back into binary forms by means of an algorithm.
The binary numbers are then converted to digital outputs.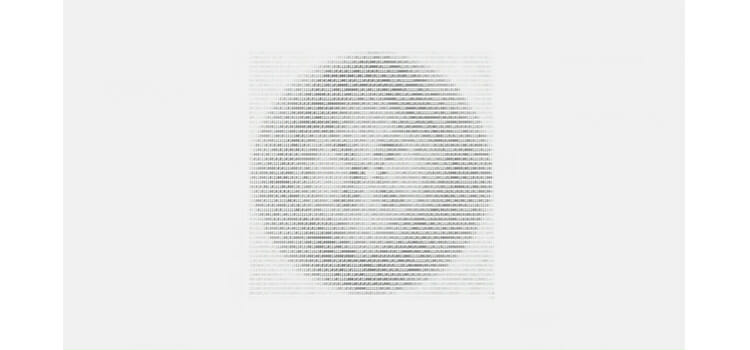 This process of recovering information from DNA is called DNA Sequencing. With these general processes, scientists are taking various methods into consideration to make it more efficient, faster, and cheaper.
Why DNA?
There are several reasons for which, DNA can be the perfect material for the storage device. First off, it's the very part of us humans, as a result, it will stay with us forever unlike any other materials used before. And, DNA storage technology can effectively eliminate our further need for storage, by filling out every storage demands from mankind. It boasts an unusually large amount of storage capacity inside the smallest structure possible, something the world sorely needs right now.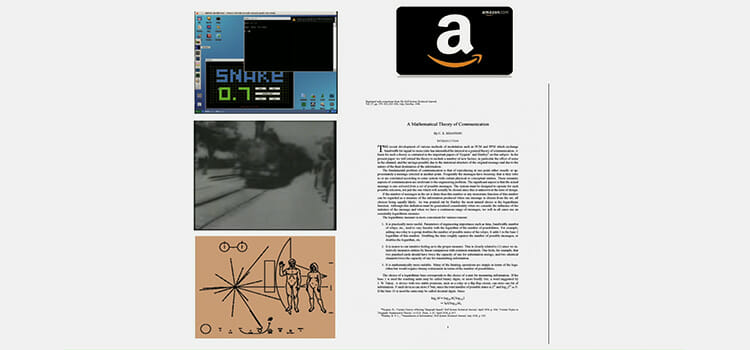 There are many physical properties too! DNA actually has a very high storage density. Meaning, in the same amount of space, DNA can store much more information than any other storage device known to man. It is at least a 1000-times denser than the most compact SSD (Solid-state drive) ever made, and DNA storage lifespan is 300-times more than magnetic tapes in their most stable forms. For this reason, DNA can keep all the information to develop a living body in its microscopic structure.
To test the data density of DNA, an experiment was done by converting a large amount of data (The first movie ever made, an entire operating system, an Amazon gift card, a manuscript, and a pioneer plaque) inside a DNA. The result was astonishing to see that the whole data could sit inside a small test tube.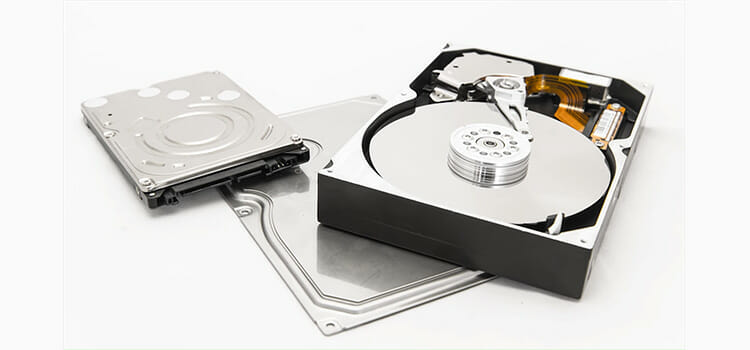 The durability of DNA is also much more than what we're using today. We can retain information accurately from DNA coming from fossils thousands of years ago. DNA is very stable and can keep the information intact for very long, whereas modern storage devices can only keep info for maximum a century. In addition, we don't need electricity or magnetism to store info inside.
The Need of an Upgrade
In our daily life, we create megabytes of data per second. At present, all the storage devices are silicone-based, and it is estimated that by the year 2025, the need of data may exceed the amount of silicon we have at our disposal. At that stage, recycling will not solve the problem, and the aftermath can be challenging.
For these reasons, mankind is in a dire need of an upgrade over traditional systems. We need a lot of denser and reliable materials. DNA storage fits the need. The technology isn't highly futuristic, because reading and modifying DNA is a routine work at present. So, DNA storage is a promising lead in this matter.
DNA of Things
As the Internet of Things (IoT), the DNA of Things (DoT) is the process of embedding DNA storage technology into objects. Where IoT relies on devices connected to each other through the internet and forming a network over objects, DoT focuses on building storage devices completely independent of each other.
In addition to many other advantages, DoT will be untraceable, and can't be hacked because of its molecular property instead of the electromagnetic network. And the reliability and storage fulfillments are also advantages.
Drawbacks of DNA Storage
Although DNA storage brings a promising future for humanity, there are some minor setbacks that are yet to be overcome. For example, the cost of synthesizing and retrieving such data is still very high to be a feasible option to consider. This setback is likely to fall due to the increasing amount of synthesis technology.
Another problem is the data transfer time. The transfer rate (read/write) is still much slower than the average storage mediums we use today. Transferring DNA bases efficiently is another problem that requires an upgraded EDS (Enzymatic DNA Synthesis) technology. The Purple Drop Project from Microsoft is a promising project to overcome this.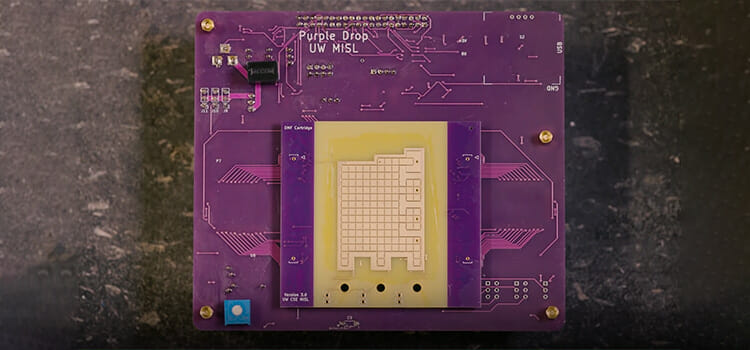 In addition, to decrease the transfer timing exponentially, Microsoft and the University of Washington have been working to build the first fully automated DNA storage ever. It is safe to hope that, this DNA storage technology can face its successful arrival to general consumers very soon.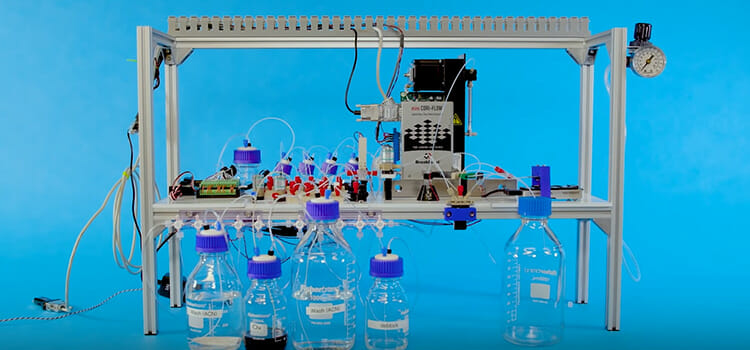 Conclusion
Despite the minor setbacks we're encountering today, DNA storage technology is one of the most promising pieces of the invention in our generation, which is expected to bear great results in a very brief amount of time. It is also the only solution to increasing the data storage needs of the modern era. We can expect to see this technology amongst us sooner than we think, and it may be a blessing for us. If you are interested to know about DNA Synthesis which is the basic foundation of this article's topic, follow the given link.