If anyone uses the computer for a long time, most of them find the problem that the hard disk space is gradually filling up and windows will be slower. So, to quickly clean-up overloaded memory space of your PC which had Windows 10 operating system, the best way is to find large files on Windows 10 and delete them permanently if they are no longer useful, or move them to an external hard drive or you can move them over to the cloud storage.
Windows gives you multiple numbers of ways to find large files in your devices. You can use those build-in tools on your pc or you can take the help of any third-party app to do the job.
Find Large Files in Windows 10 Through File Explorer
File explorer, formally named Windows explorer is the basic tool for viewing files. It is the most common tool to find large files on windows 10. It gives lots of features to organize, sort, search files on your computer. You can shortage and organize them through name, file size, or date. Consider showing hidden files to get accurate results.
To find large folders o windows 10 with file explorer, please refer the following steps:
Step 1: first of all, show hidden files. This is to ensure that file explorer will look for both hidden files and common files. Common files included: read-only, hidden, and system. If you didn't select a hidden file then file explorer will not be displayed.
By clicking on the icon of the taskbar, open file explorer
Click the file in the upper left corner and choose the change folder and search options. A folder options window will pop up.
Select the View tab and ensure show hidden files, folders, and drives. Click apply and the ok after that. Mow you will able to see those hidden files in file explorer.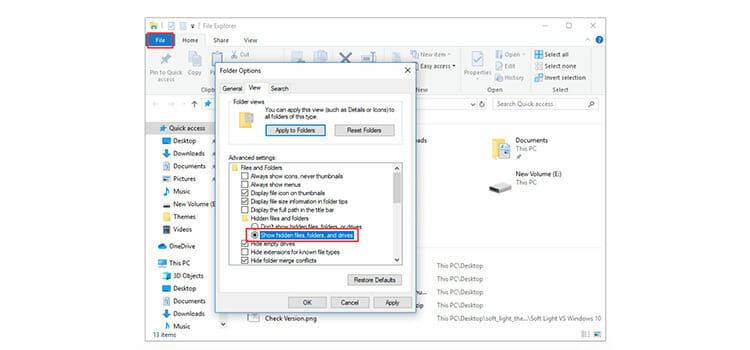 Warning: most of the hidden files are related to apps or the system. Remove permanently or deleting them will cause your apps to malfunction and even able to crash your entire system. So, you should make sure what kind of file it is before deleting any of those.
Step 2:  find the large files 
Click this pc on your computer to open file explorer.
Click the search box on the upper right corner of the window. After that, the hidden search tab will appear.
Click the size and select your desire size from the drop-down menu. The menu included: empty (0-10 kb), small (10-100 kb), medium (100-1 MB), large (1-16 MB), huge (16-128 MB), gigantic (> 128 Mb). File explorer will search and display eligible files according to your selected option.
If your desire file size is not available o this default menu, you can easily customize your size filter. For this, you just need to type your desire size o the search box, for example, size: > 500 Mb or size: > 1gb
If there are too many files, you can shortage them according to size. For this just right-click on files and navigate to sort by> size. Then click size and files will be displayed from large size to small size.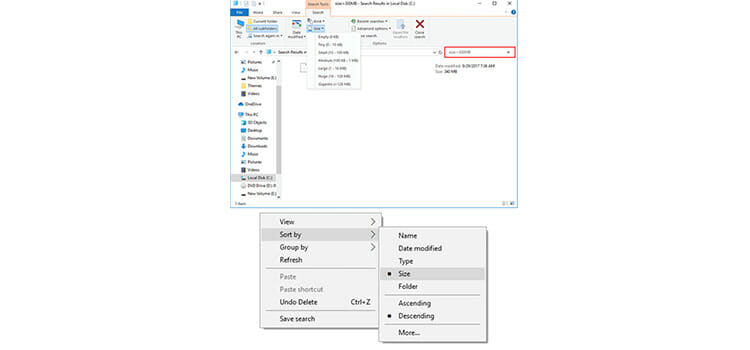 Now, if you want to delete any of those files, you can just right-clickon it and select delete. Or if you want to transfer this file, you can right-click on it and choose an open file location. Then you can transfer to your desire location.
Find Large Files in Windows 10 Through Command Prompt
You can also use the command prompt facility to find a list of all the files larger than a specific size value. To do that, please refer to the following steps:
Step 1: Press Windows + r, then the run box will appear. Type cmd into the run box and click ok to open the command prompt window.
Step 2: Type the following command am then hit enter key:
forfiles/s/c*cmd/c if @fsize grt 1048576 echo @path*
on this command, 1048576 means 1mv (1024*1024 – 1048576 bytes). You can replace it accordingly. According to this command, you will get the list of files larger than 1 mv.
Step 3: With the help of this list, you can find the desire files to transfer or delete.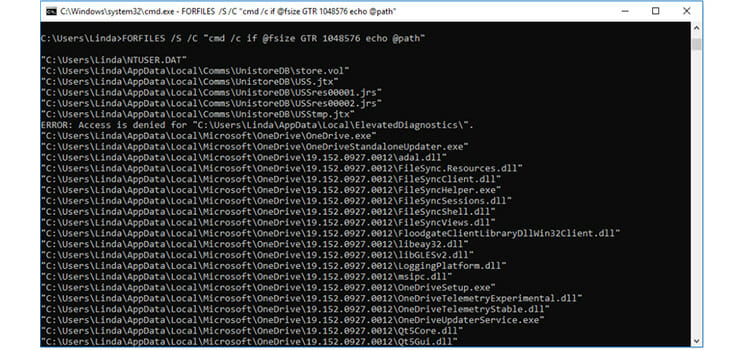 Related information
The "Forfiles" command's function can be defined as a function for selecting a file or a set of files and executing a command for that file. It is very helpful for batch jobs. In this command, /s and /c are command parameters.
/s instructed forefiles to recurse into subdirectories.
/c indicates the command to execute for each file mad the command strings should be wrapped in double-quotes.
@fsize means the size of the file.
Gtr means 'greater than'. It can be replaced by geq which means 'greater than or equal' 
The echo instructs the computer to displays results in messages.
@path means the full path of the file.
Find Large Files in Windows 10 Through Large Files Finders
File explorer and command prompt are the default way to find large files on your Windows 10 operated computer. Apart from those two ways, there are a few third-party apps to easily find such files.
The largest files finder is one of those apps which helps you to find the top 100 largest files on your computer. It will e only taking a minute to scam drives and finds files up to 200 Gb. It doesn't require any installation and works by launching. To do that, please refer to the following steps:
Step 1: Download and launch the app on your computer.
Step 2: soon as it launches, it will automatically start searching for a job for larges files on your computer. It will categorize the files and will show at least the top 100 largest files of your computer. When it's done his job, you can review the results for yourself.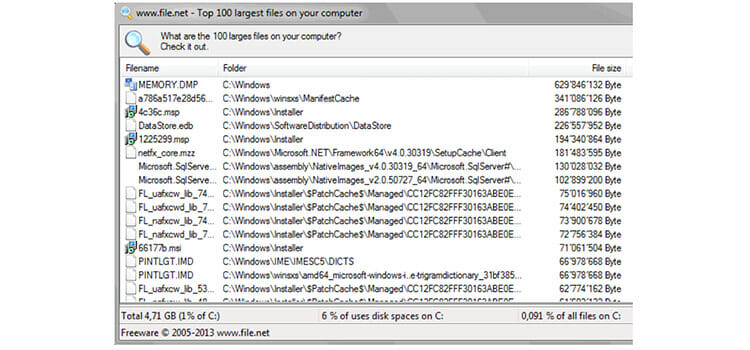 Find Large Files Through Mini Tool Partition Wizard
Mini tool partition wizard is a third party to find large files on windows 10 easily. To do that, please refer to the following steps:
Step 1: Download the mini tool partition wizard and follow the wizard to launch the app. Soon as it launches, go to the main interface and click the space analyzer.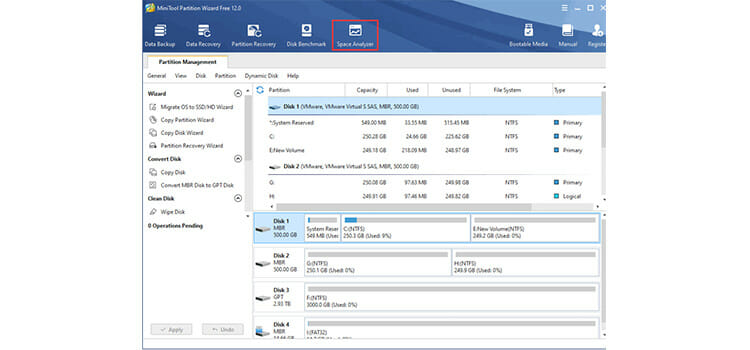 Step 2: Choose the drivepartition where you want to findor locate the large files and folders. After that, click the scan.
Step 3: After scanning, the results will display through three tabs named: the tree view, file view, and folder view. Mini tool partition will display the result which also includes hidden files even if you didn't select the command to show the hidden files. by using these tabs, find large files or folders to delete or replace them.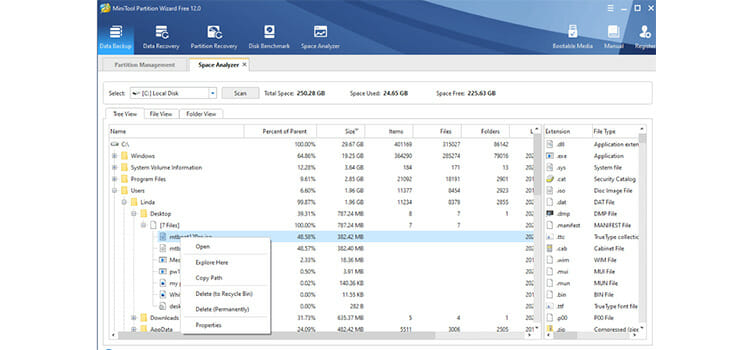 The tree view gives you the hierarchical view of files and folders. Each folder may have many sub-folders and you can expand it to show subfolders or collapse it to hide. To find large files easily of the selected partition, you can click size or percent of parents to listed files and folders according to their size or the percentage they take up. If you have found out your desire large files or folder that you want to delete, you can just right-click on them to choose to delete to recycle bin or delete permanently.
Conclusion
Windows provides you with multiple ways to find large files and folders that are stored in your drive. Either you can use those built-in tools on your computer which have windows 10 operating systems or you can take help from any third-party app to do that job. Once such files are found, then it's up to what you want to do with them. But, before deleting you should sure about what kind of file it is, cause remove permanently, or delete some of those files will crash your operating system.