To get the local broadcast service, all you need is to hook up an antenna to your TV without paying any monthly or yearly bills. But to get the best of this, you have to know the process of hooking the antenna up to your TV. So let's get started.
How to Hook up TV Antenna | Step by Step Method
TV antennas can be connected with or without coax cables. Though the process is simple, you have to follow some steps properly to set correctly the antenna on TV. Here we go with the steps.
Check Your TV's Antenna Connector Type
There are various types of connectors used in electronic devices like USB connectors, coax connectors, etc. At first, you have to look at your antenna connector type. You can get the point in the back or side of your TV. There are two types connector which is found on the antenna connection input point. They are:
IEC
This connector type is normally found in old CRT types. It looks like a smooth cylinder with another small cylinder inside it.
Coaxial RF
Coaxial RF is a standard form of modern TV's antenna connector type and a type of vastly used coaxial connector family. This is a threaded cylinder with a thick pin inside it.
You do not need to worry about which type is applicable for your TV because you can easily find this thing out by checking your TV manual. There is another way to find this out by your model number online.
Finding the Right Antenna
Now you go for the most important part of hook up an antenna to TV and that is to get the right antenna. For this part, you have to find out the nearest broadcast station. On the AntennaWeb website, you can find out the distance and direction of your nearest broadcast station. On this website, you have to write down your address or ZIP code on the required box and then you will come to know the distance and direction to your nearest broadcast station.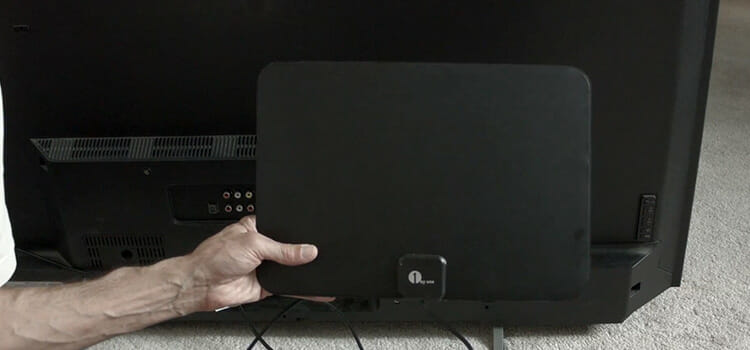 Now you are ready to buy an antenna if you do not have an antenna or a powerful one. According to your distance from your area to the broadcast station, you have to select the right one. If you are quite near to the broadcast station, then you can choose the Rabbit Ears antenna. This one is perfect for households and it has two telescoping antennae in particular. This one is very common for household TVs.
There is another antenna like Rabbit Ears which has similarities in function and displacement. That is known as Whip. It has only one telescoping antenna and only this is the difference between Rabbit Ears and Whip.
The best provider of antenna service is nowadays known as Flat antenna. This antenna provides the fastest tuning after plugging into the TV. This is kind of beyond the traditional antenna in the case of covering ranges and reception. So it provides superior service than the casual ones.
If you are too far from the broadcasting location or in a remote area, then you should go with the UHF band. This one is large and has multi-elements to provide secure connections in remote areas. As this one is big, it is often found on the top of the roof or in the attic.
So now you have to select one according to your requirement.
Placement of the Antenna
After buying the right antenna, you have to go for the final work and that is to hook up the antenna to the TV. For this, you may need cables to connect them. If your antenna is in the outer part of your house or the roof, then you will need a coaxial cable. Again, if there is a problem of space behind your TV set, then also a coaxial cable is needed to connect.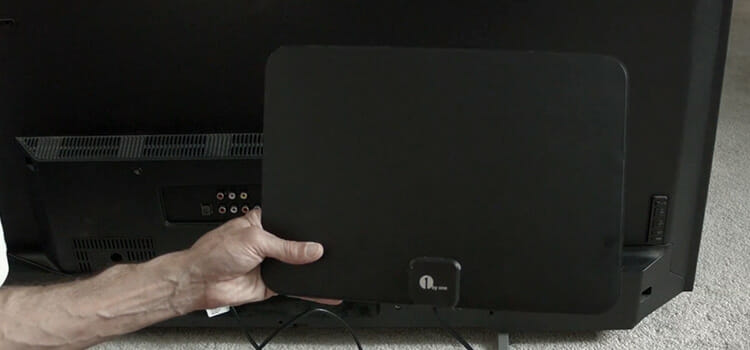 Now the main part comes. At this time, you have to power off of your TV and disconnect the TV from the power supply to secure yourself as well as your TV and antenna from any accident.
At this point, you have to find out the antenna port of your TV and plug the cable in that port. Another port of the cable will be attached to the antenna. If the antenna will be placed in the roof or outside part, then you have to buy the required coaxial cable and attach it to the input port of the given cable with the antenna. Thus you have to place the antenna on the TV. There is another point and that is if you want to secure the connection, then you can tighten the connector of the input. But this part is not always possible as well as safe.
Scanning for Channels
Now comes another important task and that is the scanning. For this, you have to plug in and put the TV on. After this, the scanning process comes. And this process varies from TV to TV. So you can directly take help from the local broadcast provider or TV's manual. But if you do not have the access, you can also do it yourself like below.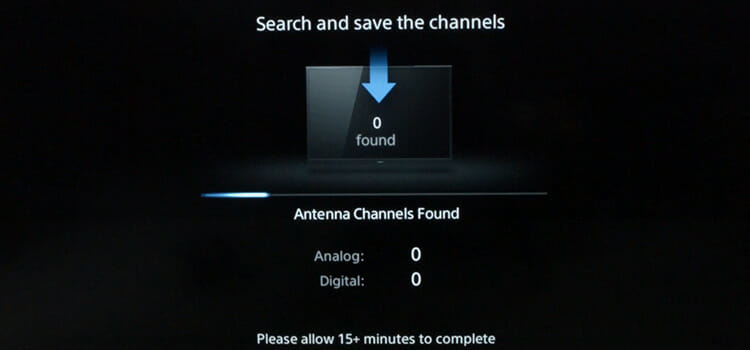 This step is very important because skipping this one can lead you with no channel or a few channels. So do this one carefully.
As early mentioned scanning process varies from TV to TV. But the general idea is the same. So read carefully.
At first, you have to make sure that your source or input is set on the TV or cable option. And when it sets in such a way, you will get a fizzy screen on your TV, similar to the screen flickering issues in monitors. After setting your source to TV or cable or whatever on your TV, then you have to go to your TV remote's setting menu. There you have to look for a section titled Antenna which can be in called over the air or tuner. But in some cases, it can be only a picture like a satellite or an antenna. If you don't find these options, then just browse around your menus to get them because different TVs have different menus.
Now you have to go onto the option and inside of it, you will get a few options. The first thing you have to do is under a menu called antenna or receiver, you will have to make sure that it is set to Air or Over-the-Air and not set to cable or cable box.
Your next step is to seek out the option titled auto program or program. Once you select this, a process will begin and it will start to scan for channels that it can find from your antenna. It can take a couple of minutes and it is a one-time setup. So once you do this, it will be set for a while. Once it is done, your screen will refresh and the channels are ready to play.
If your antenna is a directional antenna like Rabbit Ears, then you can adjust the direction of your antenna to get most of the channels of your local broadcast. But if you have a flat antenna, then you don't need to adjust the direction because a flat antenna can manage everything on its own. Again adjusting the direction to get the maximum channel is a trial process and it sometimes takes time and sometimes not.
Conclusion
Thus the process of hooking up an antenna to TV is completed. And these steps are quite capable of getting the job done. So go for this procedure and you are going to be successful in hooking up an antenna and you do not need to regret this. So all the best and take the best of it.