While you are working, you will need to copy-paste links or other stuff. To make your copy-paste work easier, the clipboard can be of help. Here you can store all of your important links and other things and whenever you need them, just take them from the clipboard. Generally speaking, a clipboard is a space in your operating system memory or storage where data is copied temporarily. So technically, you can access them as long as you don't restart your computer or smartphone.
Now, you are wondering how you can access the clipboard. Well, that's a very easy task to do. Here we have shared the ways that you can follow to access the clipboard with ease. So, be with us till the end and find out how you can get access to the clipboard on different devices.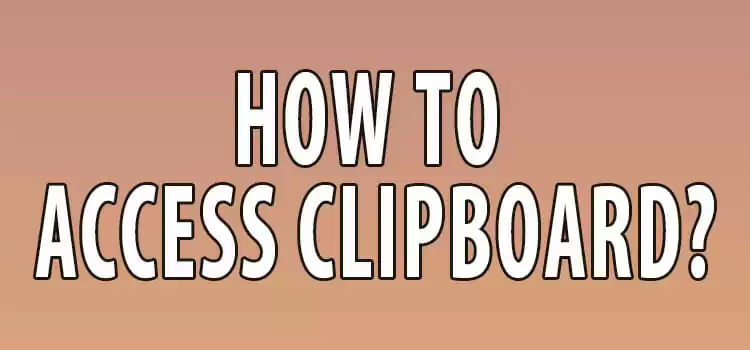 Accessing Clipboard on MS Word
When using any version of Microsoft Word, be it the offline Office 2019 or the online Office 365, accessing the clipboard is easy. The Office offers full functionality while using the clipboard. This means it can not only keep texts in memory but also any sort of graphics. Here's how to access the clipboard in MS Office.
Step 1: While inside Office, click on the Home tab.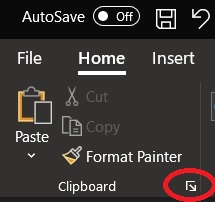 Step 2: Now click on the launcher icon on the bottom right, as we've shown in the picture.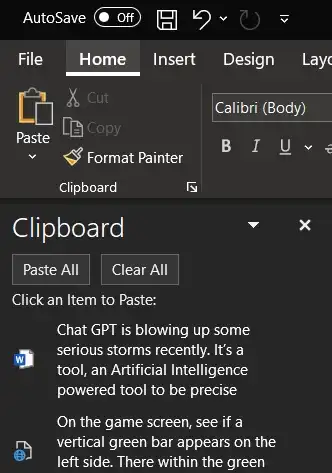 Step 3: You have now successfully opened Clipboard. There you'll see what you have cut or copied so far.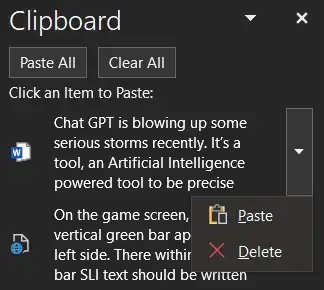 Step 4: Now right-click on anything and select paste. If you want something to remove from the clipboard, select Delete.
Accessing Clipboard on Windows 10 / 11
If you are using a Windows computer, accessing the clipboard will give you full access to what you have copied so far, be it texts or links from your web browsers. However, this feature isn't turned on by default. You can turn it on from Settings and also by using short-cut keys.
Here's how to turn on and access the clipboard in Windows 10 or 11.
Turn on Clipboard from the Settings and Get Access on It
Here are the steps that you need to follow –
Step 1: In the Start menu type clipboard settings. Once found, open it.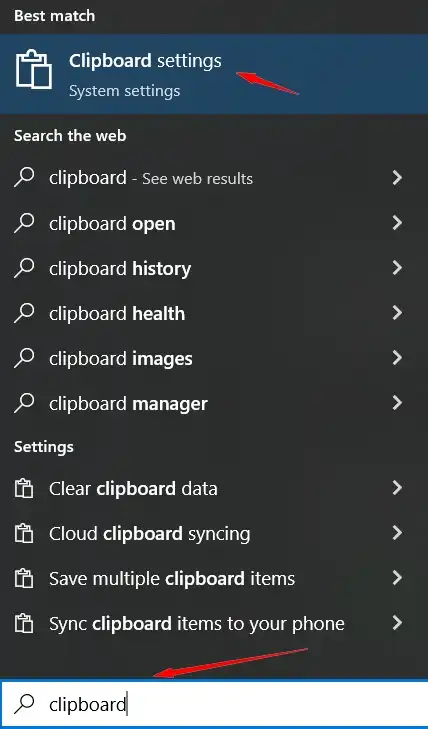 Step 2: Turn on Clipboard history as shown in the picture.

Step 3: Now press the Windows button + V on the keyboard.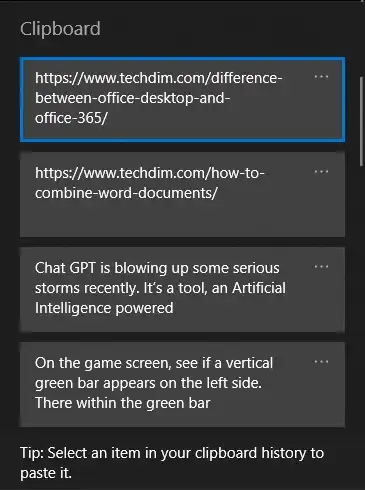 Step 4: Now copy, paste, delete, or pin to the top, whatever you need.
Optional: If you use multiple devices with the same Microsoft account, you can sync your clipboard across devices. 

Just click on the get started button, log in with your Microsoft account credentials and you are good to go.
Turn on Clipboard using Shortcut Keys and Get Access on It
Follow the steps below –
Step 1: Press Windows + V on your keyboard.
Step 2: Now, on your monitor, you will get a floating window. There you will see the Turn on option. Click on it.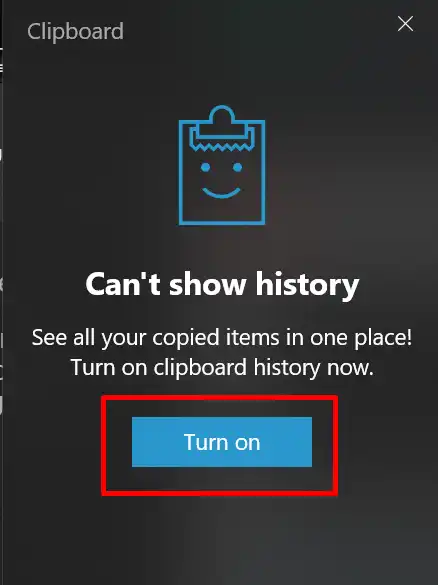 Now, you have turned on the clipboard and can access to the keyboard by pressing Windows + V buttons whenever you want.
Accessing Clipboard on Mac
Unlike Windows, there's no clipboard history available on Mac. That means you can only see the most recently copied item. 
Step 1: Open Finder, click on Edit and choose Show Clipboard.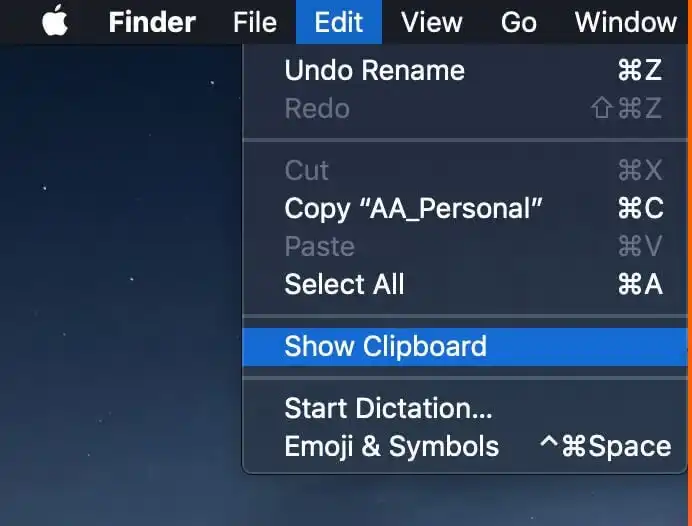 Step 2: You'll see a small popup window being opened. There you'll see your most recently copied text, image or video. 
Optional: If you want a clipboard that can keep multiple operations in memory, get a clipboard manager app from the Mac App Store.
Accessing Clipboard on iOS
Back when the original iPhone was released, there was no copy past option available in iOS. They introduced it back in 2009 with the release of iPhone 3. Still, like Mac OS, there's no clipboard history available in iOS. You can just copy past one item at a time. You can access the clipboard in iOS by making a custom shortcut.
Step 1: Launch the Shortcuts app in your iPhone.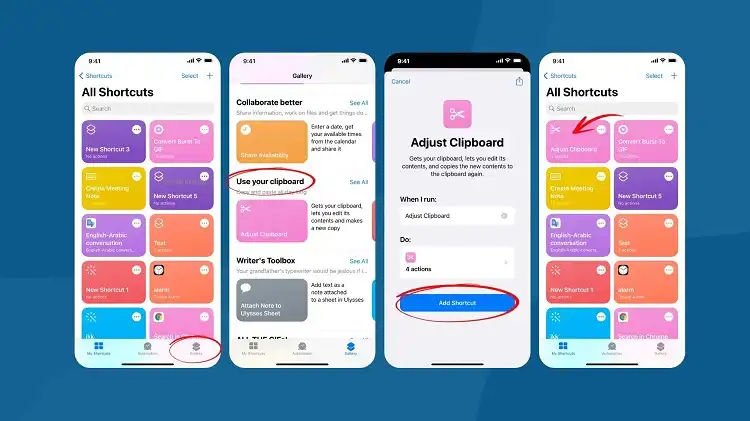 Step 2: Navigate to Gallery as shown in the picture.
Step 3: Scroll until you find Adjust Clipboard
Step 4: Now press on the Add Shortcut button. 
From now on, whenever you access Adjust Clipboard from My Shortcuts tab, you'll see a popup with options to edit the clipboard. 
Tip: Call Siri to adjust clipboard. This way you can access your clipboard even faster. To use your iPhone clipboard history on any of your Apple devices, you can use the Handoff feature. You'll need to sign in withyour Apple ID for that. To get the most out of this feature, both the devices should be on the same Wi-Fi.
Accessing Clipboard on Android
Thankfully, using a clipboard with full history is possible in androids. It's pretty straightforward too. All you need is the Google Keyboard, or the Gboard (which comes as default in all android phones)
Step 1: Bring up the android keyboard or Gboard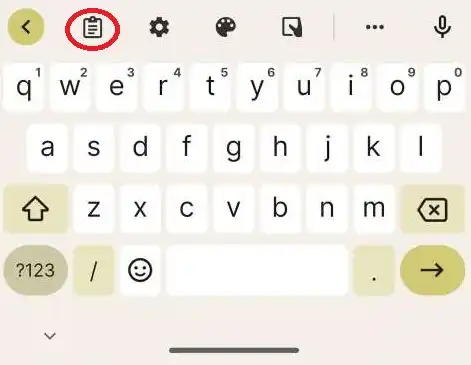 Step 2: Tap on the clipboard icon
Step 3: Tap on the Turn on Clipboard icon
Step 4: Now you'll see a list of things you've copied within the last hour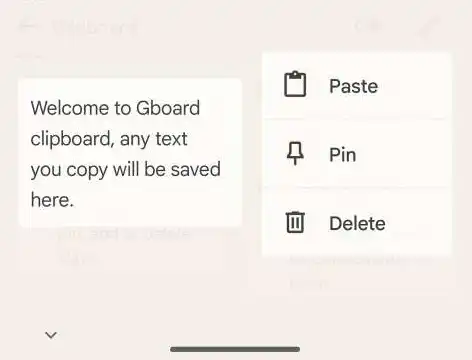 Step 5: Tap on an item to copy, edit or remove it
Tip: If you wish to keep anything in the clipboard history for longer, you should pin it. 
Bonus Tips
If you are using android 13 or later, after copying anything, at the left pan of your display, you will get a floating clipboard. By tapping on that, you can access the clipboard. Also, if you want customization in clipboard then you can download third-party software from the app store.
Frequently Asked Questions
How do I view my clipboard in Chrome?
To open clipboard in chrome, follow this sequence. Open toolbar popup > right-click and select clipboard manager.
How do I enable clipboard in chrome?
You will need to turn it on from the browser settings. Navigate to the settings, then click on Security & Privacy. Now, Site settings > Permissions > Clipboard > Allow.
Conclusion
 Lastly, you can easily get access to the clipboard and can store your important texts or links that you use frequently. It's a great tool to store data for reusing and increase productivity.  The process is not that much hard. Just follow them according to your devices and enjoy this feature. For any further queries, reach us through our comment box!