Your device screen may seem to be way too large or too tiny in your eyes. Or you may be capricious in this case and never satisfied with one resolution. Also, if the device is not adapting to the resolution, you may encounter slowdowns while playing games or watching videos. That is why, in this article, we'll discuss how to adjust the screen resolution.
Higher resolution means the pixels are packed tighter together and it provides a crisper, sharper, and more detailed image increasing more display area on the screen. But on the other hand, they also make everything to be smaller and difficult to see. It's hard for computers to run smoothly with higher resolution. Lower processing power can cause lower frames per second too.
Well, the screen resolution is not something unmodifiable, you can surely dig around in the settings to adjust it according to your desire.
What Does Screen Resolution Indicate?
Screen size and resolution are pretty much confusing. Display size refers to the diagonal length of the screen and it is given in inches. The resolution of the screen means the number of pixels that can be displayed in the limit of the display size inches. Or in other words, the pixels are the smallest size an image can have and each of the pixels has a piece of unique information and a particular color.
All the tiny pixels packed together to generate the large or ultra high definition picture that you see. The resolution tells you how many pixels are there in the row and Vertically. For example, 1280×720 pixel means there are 1280 pixels in the row and 720 pixels in the column. If your screen is set to 1280×720 pixels, this standard HD resolution is 720p, a total of 921,600 pixels to make up a single frame of the computer display.
How to Adjust the Screen Resolution on Windows 7
If you have any application on screen, close it down to see the desktop. Now right click on the desktop as you do every day and find out "Screen Resolution" from the menu to select it.
Now, you will see the screen resolution window appearing on the screen. Here you will see a representation of your monitor on top of the monitor screen. To alter the resolution, you will find a "Resolution" option below the "Display". Now select the drop-down next to it.
Now you will see a bunch of resolutions listed from low to high that is supported by your monitor. We will here try to set a higher resolution, let's say, 1280×720 pixels. We will change the slider to it and press "Apply'.
Then another window will appear and ask you if you want to keep the changes or revert them. if you don't choose the "Keep changes" it will automatically revert to the default one in 20 seconds.
How to Adjust The Screen Resolution on Windows 10
If you have any application on screen, close it down to see the desktop. Now right click on the desktop as you do every day and find out "Display Settings" from the menu to select it.
Now, under this find options on the right side of the window to customize the display. Now scroll down and select the "Advanced Display Settings" for more options. This segment contains extra info about integrated graphics and dedicated video cards too.
There you find what you are looking for. You will see a drop-down menu with a list of screen resolutions that your computer can support.
Let's for instance, we will select the 1024×768 pixels, a plain old resolution. After that, you are going to need to apply this on the screen so, we will click on "Apply".
Now another window will appear asking you if you want to keep the changes or you want it to revert. If you don't choose anything then the changes will be automatically reverted. You are here to change the resolution so click on it to keep changes. If you want to just check different resolutions, revert will be right and everything will go as before instantly.
How to Adjust the Screen Resolution on iMac
You can find the display settings in two ways. The two methods are discussed below.
Method-1
First, you have to go to the apple icon in the upper left corner and click on that. Then from the menu select the first option "About this Mac".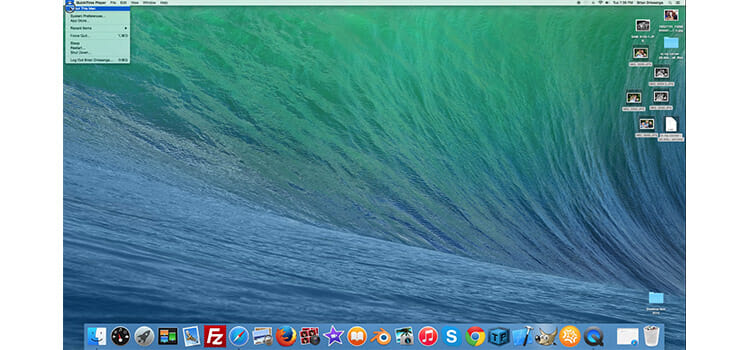 Then you will see a new screen appear with an array of categories arranged in a top row. Select the second one that says "Display" and you will reach the display catalog box showing your current settings. We can see the resolution is set to 2060×1440 pixels.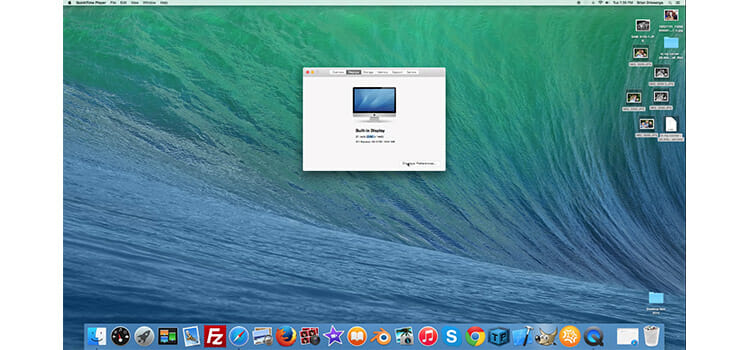 Now click on the "Display Preferences" option down below of the display catalog box and it will bring up an iMac dialogue box. Here you can change the display settings. Now here we can see the resolution is set to the best for the display. To alter the resolution at a lower level to see everything bigger, select "scaled" and you will see a bunch of resolutions listed. Now you can apply any of them.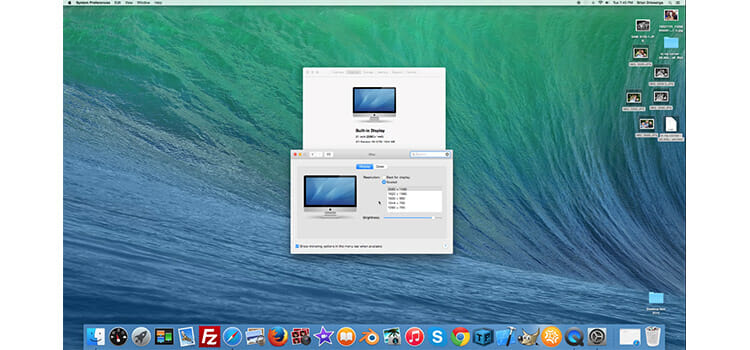 Method-2
Alternatively, there is another way you can find this Display preference setting. First, select the apple icon and then go to the "System Preferences" option.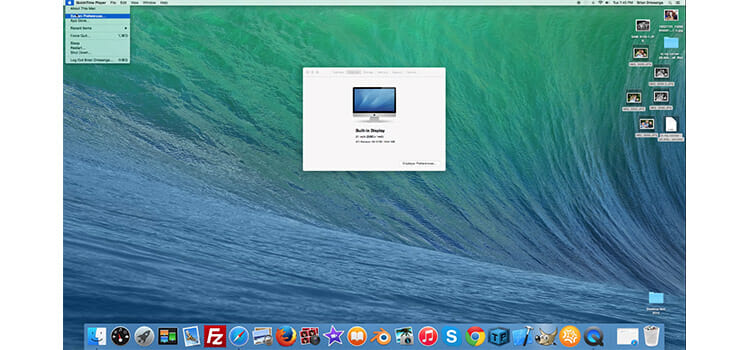 From the appeared box, you have to choose the "Displays" icon you will get to the same display preference settings and change your display resolution.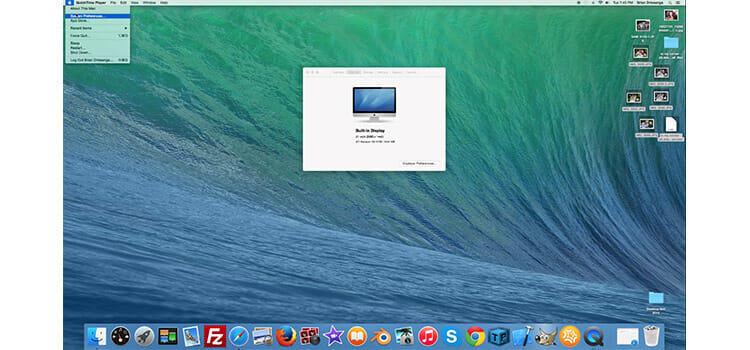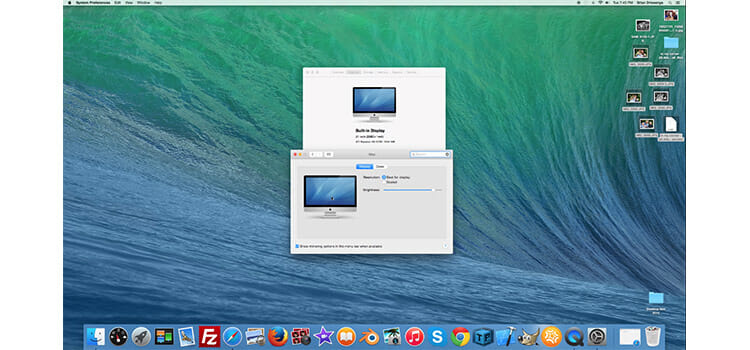 How to Adjust the Screen Resolution on Chromebook
On the Chromebook, a Linux-based OS of Computer, you can check the screen resolution quite easily with a couple of easy steps. First, go to the settings and then select "Device" from the left column options. Then go to the "Displays" and you will find out there your current screen resolution is set to 100% by default in your internal display. You can adjust it by sliding the pointer and lowering the percentage and see everything a little bigger.
Keyboard Shortcut
Well, you don't need to go back again and again in settings to change your resolution if you want.  Just simply press "Ctrl"+ "Shift"+ "+" to see everything larger and "Ctrl"+ "Shift"+"-" to make everything smaller.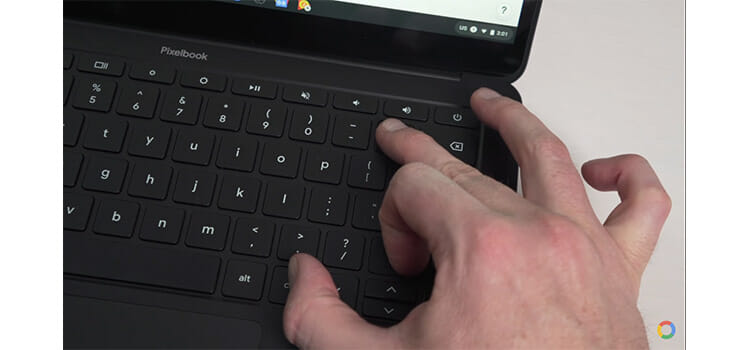 Video Link: https://www.youtube.com/watch?v=m5ShY3hiKaM
How to Adjust the Screen Resolution on Android
We will describe the process step by step on Samsung Epic Touch as many people complain about the resolution being A little too large.
First, you have to make sure you have a custom launcher as TwLauncher becomes goofy when applying a new resolution, if not install one. Then you need a resolution root application. So, search resolution root and you are going to find many applications. We prefer the "LCD Resolution (Root)" application. So, click on it, download it, and then install it.
Now go to the app drawer and open this app. Here we can see the default is 240. We are going to decrease this to make everything a little smaller. So, we will make it 200 which sets the resolution 200×576. Then apply these changes.
Now, they will ask you to confirm the change and we will hit yes. Allow superuser access to soft reboot your phone. Then select your custom launcher and you will see everything looks smaller and there is a lot of space than before. You can also increase the resolution if you want.
How to Change Screen Resolution on Kali Linux
First, find the settings and then select the "Displays" from the menu. Then you will find a drop-down menu under the name resolution. You can select from the listed resolutions and apply it. Then select the "Keep Changes" option or else it will go back to the previous one automatically.
How to Change Screen Resolution on iPhone
First, you need to be jailbroken and have Cydia on the iOS 8 device. After these all are set, go to Cydia and then go to the "Sources".
The required sources are not there. Now, tap on "Edit" and then "Add". Then there, type "repo.bd.452.com" and add this source. Once it is verified, it will be installed in Cydia as BD452 Beta Repo.  
Then find the upscale tweak in the Tweaks, then hit to install and just wait until its loaded.
Now, tap on the "Restart SpringBoard". Now the device will be booted back up. Going to the settings, scroll down and find "Upscale".
There you are going to find some resolution presets. You can adjust the resolution to any of these. Also, you can add manually under the X and Y. but make sure not to mess with it and be chary.
Wrap Up
Resolution is the one that is responsible for the image quality. Higher resolution means your screen will have smaller icons and there will be more space. But lower resolution means bigger icons, looking like a stretched image and lesser space on the screen. In this article, we have gathered up the compendious processes of how to adjust the screen resolution on different platforms. We anticipate this will help you to increase or decrease the resolution following your need.