Are you looking for in detailed answer to the question of how to cancel Wix domain?
The good thing is that you have come to the right place. In this entire article, I will describe the full cancelation process with relevant facts. 
Hopefully, you will cancel the Wix domain easily without facing any inner trouble after exploring the article. So, let's have a look.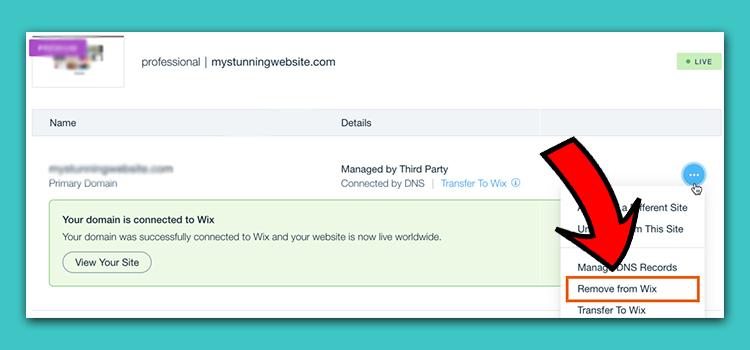 What is Wix Domain?
Wix is a very famous and leading development website platform for millions of users worldwide. One can make a beautiful professional website by adding advanced features of Wix. And obviously, they give you the authority to customize your domain as you want. 
Wix domain helps its users to set up an online shop or personal website for free and premium as well. According to the Wix authority, you can showcase your art and your business perfectly and easily by using their premium features.  
How to Cancel Wix Domain?
You may want to cancel the domain subscription. So, today I will talk about how to cancel the Wix domain easily. Canceling or stopping renewing a Wix website domain plan is much easier than you think. 
For your kind info, canceling a website domain does not mean that you are shutting down your Wix account. Another big point is that if you cancel your Wix domain, you will be able to use it normally as long as you have the domain scheduled time. 
To cancel the domain, you need to follow some steps. By following the steps, you will be able to cancel your Wix domain successfully. I will attach the steps below.
Step 1
To cancel the Wix domain, first of all, you have to get access to your premium subscription account. Consequently, the dashboard will be visible.
Step 2
Then, navigate to the account settings from the appeared dashboard. Here in the account settings, you will get various options. You have to select the 'domain' option from here.
Step 3
Clicking on the 'domain' option will open a new page. On that page, you can see a more signed option. You have to click on it.
Step 4
After entering the more option, you will get four more options. These are- 
Update Payment Method
Cancel Domain 
Extended Registration
Domin settings  
Among these options, you need to work with the 'Cancel Domain' option. When you click on the option, a pop-up will appear with some messages. 
Step 5
By doing this, you will be reaching the endpoint almost. In the message pop-up, there will be two options to choose from. One will be 'renew my domain automatically' and the other will be 'cancel auto-renew'. 
You have to click on the 'cancel auto-renew' option and submit the confirmation. Clicking the submit button will show a message. The message will say your auto-renewal has been stopped and the subscription will expire on the mentioned date.
This means you have successfully canceled the Wix domain. 
Frequently Asked Questions (FAQs)   
What happens if you remove a domain from Wix?
Wix gives you all the authority to connect and remove your domain any time you want. They will allow you to remove your domain if you buy it from another domain host. But in this case, Wix will not manage your DNS (Domain Name System) anymore. In this fact, the new company will manage your domain from where you will purchase it.
Can you cancel your Wix plan at any time?
Obviously, you can cancel your premium plan of Wix at any time. But if you cancel the Wix premium plan after 14 days trial, it will turn off renew option, though you will be able to use it until it expires.
Final Words
In sum, I hope that you have got the proper and relevant answer to your asking about how to cancel Wix domain. Additionally, I will assure you that you do not lose the domain authorship for further usage through the different domain companies.