You can get a bit confused choosing the right option for an internet connection. Considering different categories of Ethernet cable and understanding a few technical terms can make your work even tougher. But don't worry, this article will provide you with all the information required in a non-sophisticated manner and guide you towards choosing the right Ethernet cable for your use. You can follow this article to have a better understanding of Ethernet and the Internet and their similarities as well as dissimilarities. There is also an informative article on Wi-Fi vs. Ethernet, which can make your understanding more clear.
Why Ethernet Cable?
Here comes the first question why and how we will use it for. It is very easy to understand that it is used for connecting different devices for data transfer. There are some common cable connectors we here most often like HDMI, DVI, coaxial cable, or optical, etc. Among them, the Ethernet cable is generally used for making a network of different computer systems. LAN or even WAN is generally based on Ethernet cable connectors because of its speed and cost-effectiveness. This cable is also very much used in the successful setup of the Internet of Things or IoT.
Choosing the Right Ethernet Cable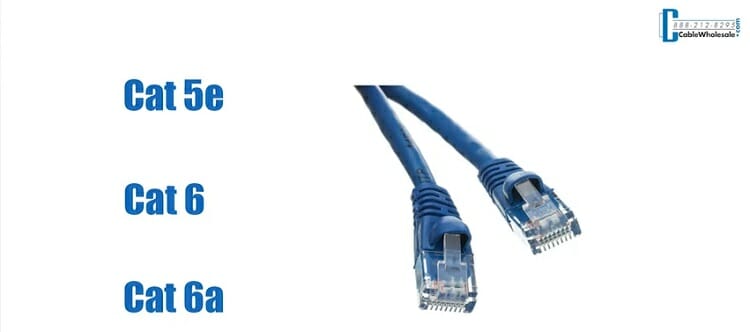 Now we will give you all the information regarding choosing the right Ethernet cable for your internet connection. There are a few things to consider before choosing the right cable for you. Because you can do various things like real-time gaming or doing home office. It may seem a little complex for the common users of the internet while considering multiple factors related to Ethernet cable, but to get the most benefit out of the chosen network you should know a couple of terms and characteristics before going to the market. The following points are provided here for you to understand in-depth on choosing the right Ethernet cable. Did you know that you can also convert coaxial cable to ethernet cable for various purposes?
Speed
A wide variety of Ethernet cables are available on the market; each of them possesses a different speed. If you want a connection for a building with multiple houses and a lot of members using the internet, then you can consider a higher category Ethernet cable (cat 6 or above). Then you must test the cable signal strength of your internet connection. You can also check this article to test the coaxial cable which is still widely used nowadays generally for different types of TV and monitor connectors.
Bandwidth
A high-speed Ethernet cable does not guarantee a high bandwidth rate; there are cases where a lower-speed Ethernet cable is capable of providing higher bandwidth. If you are big on YouTube videos or online series then you must give priority to bandwidth over speed.
Distance
Ethernet cables of various lengths are available on the market ranging from 3-4 feet to 250-300 feet. The larger the distance required for an Ethernet cable to cover, the more chance creates for electromagnetic interference which can cause a lower quality network.
Wire Material
Different materials are used for various types of Ethernet cables. Copper wire produces the best quality with minimum noise and disturbance. The use of Aluminum as a pure material for Ethernet cable is not the best idea. You at best can choose Copper-Aluminum (alloy) wired cable provided that you are low on budget. Also, Shielded Twisted Pair (STP) cable provides better security to the core wire when we compare it with Unshielded Twisted Pair (UTP) cable. STP cable is not used frequently for household networking live connecting TVs of different rooms as its cost is on the higher side.
Type of Network
You do not need a high category Ethernet cable if you are a single user and keeping in mind price as a major consideration. Cat5e cable is used heavily in most of the LAN connections. As the number of users increases, you have to choose a higher category cable accordingly for maintaining a certain quality.
What are the Pros and Cons of Different Cables?
You will find several categories (Cat) of Ethernet Cables on the market; before choosing one you must know what the relative advantages and disadvantages are and how these things affect your network quality. Different categories of Ethernet cable ranges from Cat5 to Cat8; as the category becomes higher so does the quality of the cable.
Cat5
Speed: 100Mbps; Bandwidth: 100MHz. Cat5 is not available on the market as it was the initial cable that worked in the era when there was not much demand for a high-speed network.
Cat5e
Speed: 1Gbps; Bandwidth: 100MHz. The enhanced version of Cat5 which provides much higher speed; but the low bandwidth creates a disturbance for watching online videos. Cat5e is the most common Ethernet cable; you can choose it considering both speed and price together.
Cat6
Speed: 1Gbps; Bandwidth: 250MHz. The increased bandwidth along with good speed makes Cat6 a good choice. Furthermore, usage of extra shielding around core wire started from Cat6 cable; thus makes it more secured from outside interference. Know the difference between Cat5 and Cat6.
Cat6a
Speed: 10Gbps; Bandwidth: 500MHz. The Cat6a (augmented) cable is an improved version of Cat6 and is backward compatible with the other ones. The price is quite high; hence choosing Cat6a for a single user is not a good option.
Cat7
Speed: 10Gbps; Bandwidth: 600MHz. Cat7 is still not widely available on the market, but if you can get it on your local market it is the best one for high speed and bandwidth rate.
As you already know that ethernet cable is best suitable for internet connection, you must know about the security measurement both for you and your business. You should set up your personal computer as securely as possible.
Conclusion
Consumers always find difficulty when they consider both the product quality and the price on the same line; choosing the right Ethernet cable can give you the same trouble. But it is the good quality network that can give you the most satisfaction, right? That's why focus on the need yours at first, whether its speed or bandwidth or noise-free network, and then consider other factors. If you are business personnel, then we suggest you should also learn about enhancing API security and the best web hosting security for your business.