The original Xbox series did not have any HDMI input option. It only had component and composite video and analog audio and an optional Toslink digital audio connection. It changed after 2008 when all Xbox consoles started implementing the HDMI input system.
This means there are ways to connect your Xbox one to your surround sound system without using HDMI. Here we will show you how you can do that.
How Do You Connect Xbox One to Surround Sound without HDMI
You can use the Digital Optical Toslink audio cable to connect your Xbox one to your surround sound system. Here is the step-by-step process:
Step 1: Connect your Xbox One to your television.
Step 2: Now you simply want to make the audio connection between your Xbox One and the surround sound system. For this, you will need a Digital Optical Toslink cable.
Step 3: If you don't have one on your hand then you can buy it at an online shop or even your local retailer.
Step 4: Locate the Toslink optical output on the back of your Xbox One and plug one end of that wire in there.

Step 5: Now locate the Optical Audio Input on the back of your surround sound receiver and simply plug the other end of the Toslink cable into one of the inputs.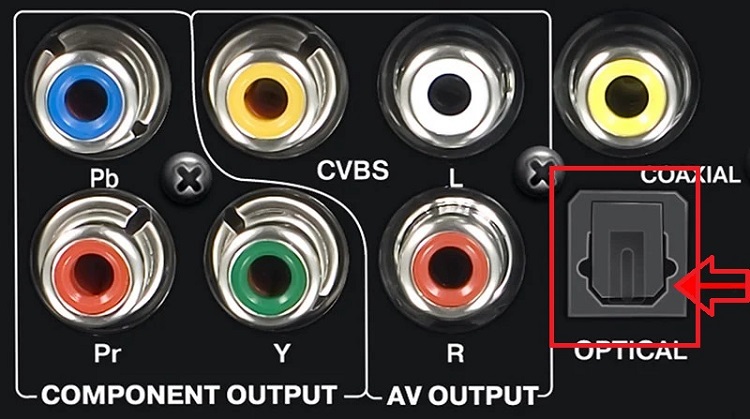 And you are done. Now let's see how you will need to configure your Xbox One settings to complete the full process:
Start your Xbox One without a disc.
Select My Xbox, go to Settings and choose System.
Select Console Settings > Audio.
Select Digital Output and then select Dolby Digital 5.1
Select the function on the surround sound system which matches the input connection for the audio cable hookup.
You should now be able to hear your Xbox one through your surround sound system.
Bonus Tip
If the above method does not work for you, then you could try connecting your headphones to your Xbox One console and try listening to audio that way.
Frequently Asked Questions (FAQs)
What is the HDMI input for on Xbox One?
The Xbox One console comes with one HDMI cable. You can use this cable to connect the console to an HDMI-compatible TV, HDTV, or monitor.
Which HDMI port is best for Xbox One?
Xbox One was designed with 4K 30Hz or 1080p 60Hz with HDR (High dynamic range). So, it's recommended to go with a premium HDMI cable, or HDMI 2.0. Xbox Series X|S equipped with an ultra-high-speed HDMI port, or HDMI 2.1, aims to deliver 4K 60Hz-120Hz and 1080p 120Hz.
Conclusion
It is recommended to use HDMI on most consoles including the Xbox One. But the above method is also viable if HDMI is not available. We hope we were able to help you connect your Xbox one to your surround sound system without using HDMI cables. If you need further assistance, don't forget to reach out through the comment section.