Microsoft Office suite contains 8 or more different office tools, all of which are very effective and useful in daily office needs. The only problem is, all of these tools use completely different file extensions to run. Word uses the .docx extension, Excel has .xlxs and PowerPoint has .pptx file extension. For this reason, oftentimes it becomes much more convenient to just send images of these documents to people who don't have Microsoft Office or other office tools to open them. In this article, we're going to talk about how to convert Word, Excel, and PowerPoint to image files like JPG or PNG so that you can send them to any system, Windows, phone, or Mac, where it'll be accessible.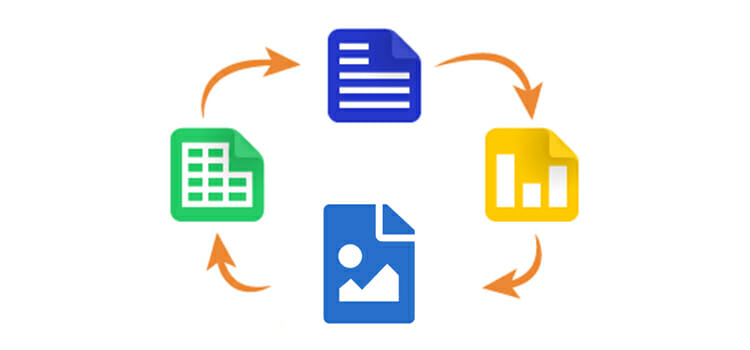 How to Convert Word, Excel, and PowerPoint to Image Files
Here are the various ways to convert files into images. You can choose to convert them offline with 3rd party software, or skip installing any software and convert the files online. You can easily convert images to PDF, or any other file format.
Convert Word, Excel, and PowerPoint Offline with 3rd Party Software
There is numerous 3rd party software to convert documents. At first, we have to convert the files into PDF files, then we will convert the PDFs to image files. You can also combine Word documents just following some easy steps.
Convert Word, Excel, and PowerPoint to PDF
To save the files to PDF, you have to download any 3rd party software of your choice. Here, we'll show how it's done with Icecream PDF Converter, which is a great tool to convert to and from PDF files to many other extensions. Its free version is enough to do that. To know more about how you can convert these files to pdf, follow this link.
First, download and install the Icecream PDF Converter to your computer.
Launch the app. On the home screen, you'll find two options: From PDF and to PDF.
Choose To PDF, then drag and drop your document file into this window.
Now select your Word or Excel files and then click on Convert. Note that you can't convert PowerPoint files in this manner.
You can convert to PDF files using Microsoft Office as well, even the PowerPoint files too. At first, open up any word file or .docx document file in Microsoft Word. After opening, go to the File tab at the top-left section. Here, you'll find a list of options. Choose Save As, and then, Browse option. A browse window appears where you'll need to specify where you want the file to be saved.
Now after renaming your file, on the Save as type: option, choose PDF (*.pdf) option among many other file extensions. Then, click on Save to save the Word file to PDF.
To save PowerPoint or Excel files to PDF, you can follow the same above steps as they're all similar in Microsoft Office.
In PowerPoint:
And, in Excel:
Convert PDF to Image
Now that you have your target file as PDF, let's move on to the next step and convert the PDF to an image file. To do that, you can use the Icecream PDF Converter again.
Open the app, and select From PDF option.
In this option, click on the + icon to browse and select your previously made PDF file. You can also directly drag the PDF file and drop it here.
Select jpg under the To option. This will convert PDF to a jpg image file.
You can use your folder or predefined folder in the Save to folder menu. Note that there's a tick sign under the Split option, which enables all the pages of the PDF to convert into separate images. For example, you'll get 5 images for a 5-page PDF file. If you turn off Split, all 5 images will be merged into 1 long panoramic image.
Click on the Convert option to start converting. You'll find your images of the PDF in the specified folder.
These are the steps to convert to image files offline with Icecream PDF Converter.
Convert Word, Excel, and PowerPoint to Images Online
If you don't want to download any app and are looking for a non-regular quick conversion, you might want to use these online methods. Several websites on the internet can convert any document files into numerous other file extensions. Here are some of the notable ones.
Convert with Cloud Convert
CloudConvert is one of the most versatile conversion websites where you can even convert advanced files like 3D or drawing files, video to MP3 files, JPG to PDF, etc. not to mention the Word, Excel, or PowerPoint to images. It's an easy solution if you're facing issues with your file extensions. To use this website:
Go to the official CloudConvert website.
Here, choose the appropriate file extensions in the Convert… section. Within this, for Word files, choose DOC or DOCX under the Document section. For PowerPoint files, choose PPT or PPTX within the Presentation section, and for Excel files, choose XLS or XLSX within the Spreadsheet section, according to your file extension.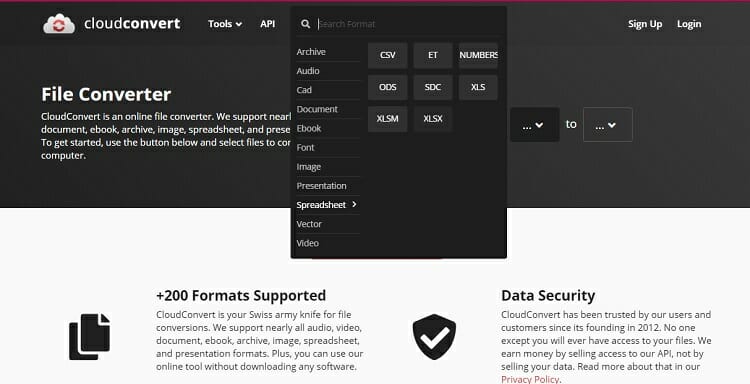 After selecting, in the To… section, select JPG under Image file format.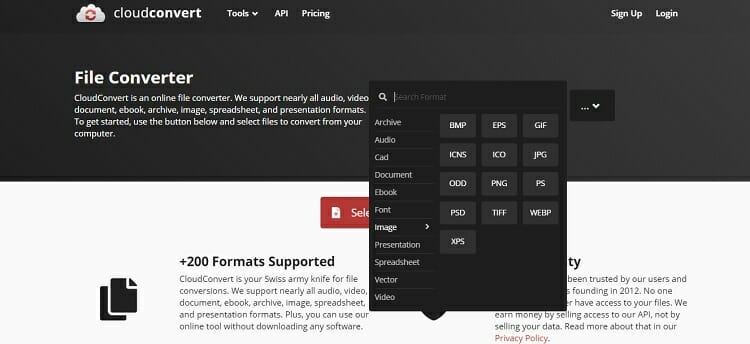 Now, go to Select File… option and then browse and select your target file. Then, after converting, click on Download to download the image files combined in a zip file.
CloudConvert delivers good quality images for any document files. There are other websites to do this as well.
Convert with Zamzar
Zamzar is another great website to convert files and download them. It offers up to 50 MB of file sizes at a time and ranges from image, document, music, video, eBook, and numerous other file types to convert.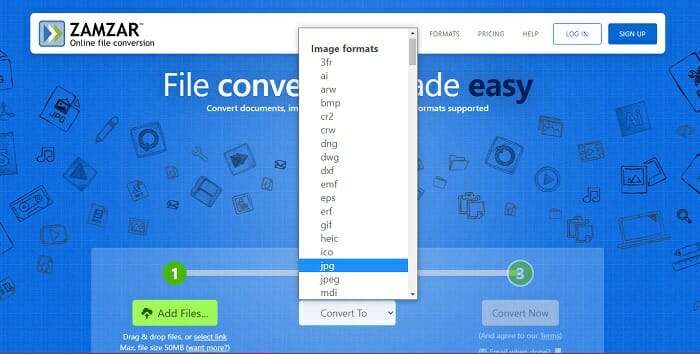 Just go to the Zamzar website. On the homepage, you'll find 3 main options. Add Files… is the section where you can add your target Word, PowerPoint, and Excel files. In the Convert To option you can choose .jpg or.jpeg image file formats. Then, click on Convert Now to start converting. Comparing to the other websites, the converted image quality is slightly lower, with a lighter image size, but it's still decent and not a dealbreaker.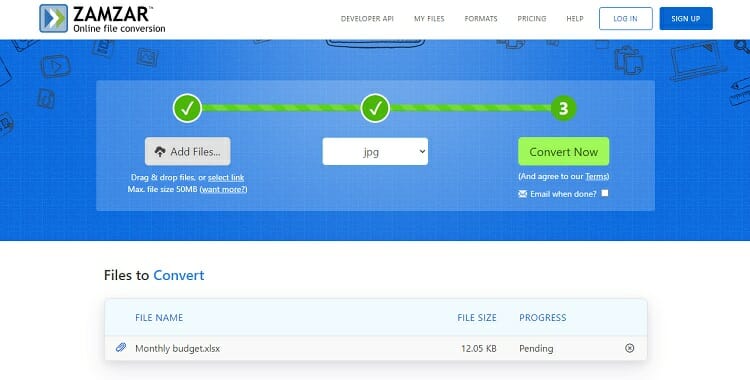 Convert with Word to JPEG
Word to JPEG is a standalone online file converter website that only converts Microsoft word documents (.doc or .docx) to .jpeg file extension. It can convert up to 50 MB of files at a time with mass conversion privileges.
Using it is very easy. Just go to their website, and you'll find the option Upload Files on their homepage. From here, you can upload your Word document file. After uploading, your file will be automatically converted into JPEG and zipped together. Choose Download All option at the bottom of the website.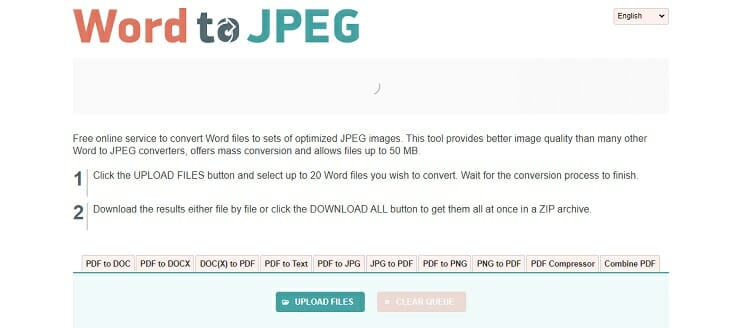 Word to JPEG offers high-quality image files, but it only works with Word documents and PDFs, not PowerPoint or Excel files. For these files, you can convert them to PDF and then use this website.
If you are interested to know how to encrypt an Excel file, read this. Actually, many file formats like text files, etc can be encrypted in Windows.
Conclusion
Here, we've discussed some of the easiest steps on how to convert Word, Excel, and PowerPoint to image files. Follow these steps accordingly to convert the files easily. If you're using a smartphone rather than a computer, some of these options might not be accessible to you. Choose to convert files online in these cases.