Have you ever felt that your Pc is running slow for an unknown reason? Though there is a lot of possibilities in this case. But using a fragmented hard drive can be a good reason for that problem. Then you should defrag your Pc to avoid that problem. Now the question that comes to your mind what is fragmentation or defragmentation and how to defrag a computer? It's very easy. Your following task is to follow this section to find your answer.
What is Defragmentation?
You probably have not any idea how the Windows operating system places your files on your hard drive. That is the operating system doesn't place all parts of a file in one location on the hard drive. As your hard drive is a collection of disks. Thus, the file has been fragmented. This process is known as fragmentation. Placing all parts of a file in one location of the hard drive is known as defragmentation.
Why You Should Defrag Your Hard Drive
Suppose a file on your Pc is fragmented. That will not cause any problem at all. But the time goes on and you get a lot of files on your Pc. Most of them are fragmented. As the hard drive is a collection of disks, a lot of fragmented files slow down your computer because the computer is always reading or writing from your hard drive or to your hard drive. Generally, the windows operating systems automatically defrag your hard drive. But sometimes it is quite good to manually defrag your hard drive. You will feel the change in the speed of your PC after defragging. Without any defragment for a long time, you might encounter hard disk issues.
For whom Defragging is not necessary
If you use SSD(Solid State Drive) for your storage device, you do not need to defrag your device. Because SSD doesn't have any moving parts like hard drives. So, if you are a hard drive user, then you should be conscious of it.
How to Defrag a Computer Hard Drive
This is the main part of this section. To defrag a computer hard drive, first, you have to analyze whether there is any need to defragging your hard drive. To complete the task, follow the following steps:
Analyze Disk
First, you have to analyze the disks' condition of your hard drive. To do this:
Go to the start menu or windows search bar. Type "defragment". You will see defragment and optimize drives.
Click on this. This will lead you to the main page of drive defragmentation.
Here you will see all the partitions of your hard drive and their corresponding fragmentation.
Now, you have to see how much the disks are fragmented. To see this, select a disk. Then select analyze. After completing 100% analysis, you will see how fragmented the disk is. In the following picture, you see that the disk is 1% fragmented. If the disk is fragmented less than 10%, there is not much to worry about and you don't have to defrag the disk. But, if it is above 10%, you should defrag the disk.


Defrag Which Drive You Want

Just right of the analyze button, you will see a button named optimize or defrag based on the windows version you are running on. To defrag a disk, first, you have to select the disk, then, click on the optimize button. This will start defragging the disk. This may take a long time defragging the disk. So, you have to ensure that you will not be needed to use your computer during defragging.
To ensure that the disks are defragmented automatically after a certain period of time, you have to go to change the setting To do this, click on the change settings button just under the analyze or optimize button. The settings page will open and make sure that you have checked the "run on a schedule" option. By doing this, you can select the interval between defragmentation of the disk.
Don't Do Any Other Task During Defragmentation
Defragmentation is a complex process. You can easily understand how difficult the task is. The location of the parts of the file is defragmented. So, you should not use your computer during the task. It will take a long time, may take overnight to complete the process. So, you should choose a suitable time at which you will not need to use your computer.
Best Defragging Software
Though defragging is an easy task, it is not happened automatically by the windows system when you load a large file or open a large software or game. Again, many people don't like to do it manually. There is much third-party defragging software for them to get the job done perfectly. Among them, we chose the best software for you.
1. Defraggler
Among all the software, Piriform's Defraggler software is the best. It can defrag specific files or folders which is so efficient. You can choose a large file or folder to defrag.
It also cleans the recycle bean before defragging, can check drivers' errors. You can download Defraggler from this link(https://www.piriform.com/defraggler). It is free and a pro version available.
2. Auslogics Disk Defrag
This Defraggler tool can do a lot better thing. It optimizes your file system to read and write faster. This software shows a list of fragmented files where much other software shows the full disk which isn't much efficient. It can also defrag a single file. This tool will automatically defrag your hard drive when the Pc remains idle.
You can download the software from this link(https://www.auslogics.com/en/software/disk-defrag/). This software is completely free.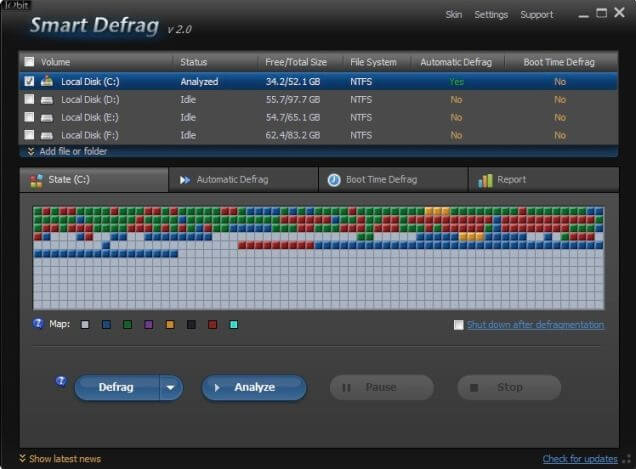 3. Smart Defrag
Smart defrag software has some advanced settings. In terms of automatic defrag, this tool can do a better job. This tool removes junk files from your system. It also clears cache files.
It can run defragging on a schedule. It can also use boot time defrags locked files.
You can download this software from this link(https://www.iobit.com/en/iobitsmartdefrag.php). There is a free version of this tool.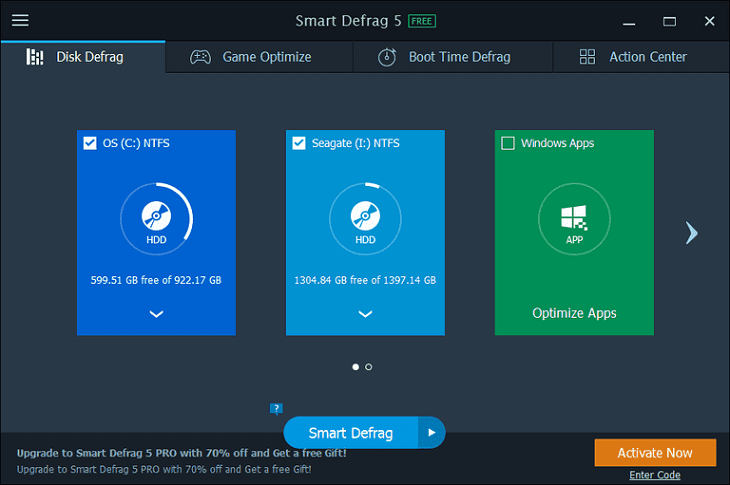 4. Puran Defrag
It has a custom optimizer called Puran Intelligent Optimizer. For speeding up the access to common files, it moves those files to the outer edge of the disk.
It can defrag files and folders too. It can also perform deletion before start defragging.
It has some schedule options by how the defragging will be performed in the future.
But it tries to install additional programs in your system during setup which I don't like.
You can download this software from this link(http://www.puransoftware.com/Puran-Defrag-Download.html). It is free software.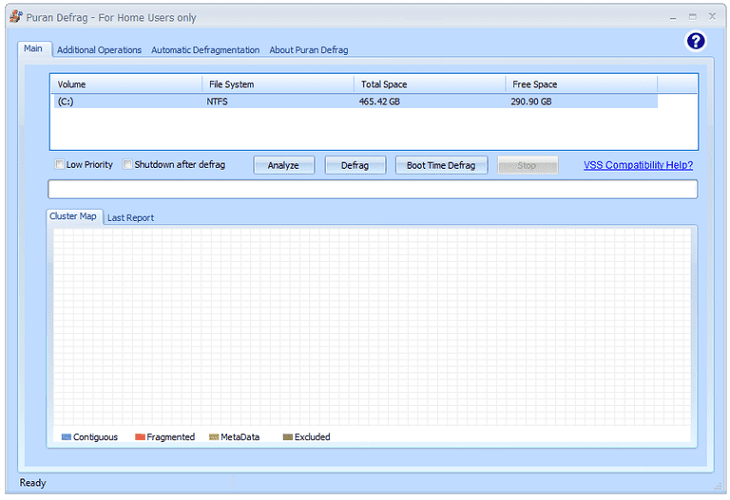 5. Disk Speedup
This is free software that can defrag full disk as well as individual files and folders. It can run automatic defrag during the idle state of your Pc.
It has some special settings. Suppose you don't want to defrag files that have less than 10Mb of size. You can do this from settings. You can select to move large files or folders or programs to the outer edge of the disk.
But it may try to install other programs during setup. You can uncheck anything you don't prefer.
You can download this software from this link(https://www.glarysoft.com/disk-speedup/download/). It is free software.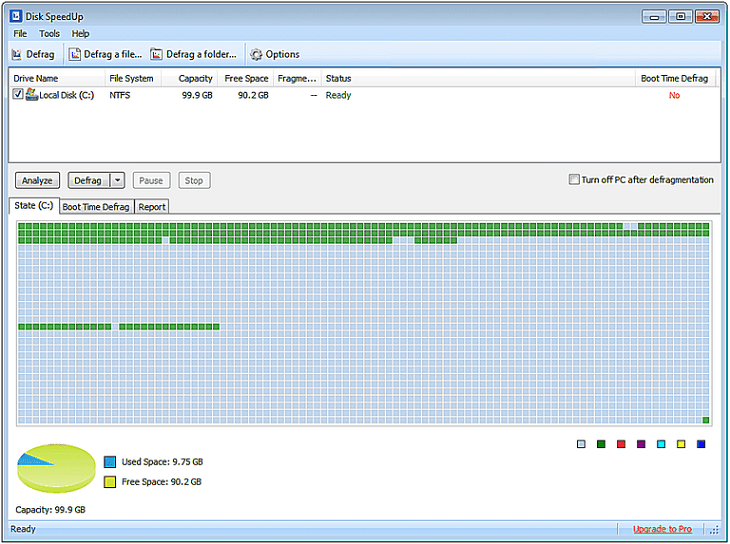 Safety Tips
Defragging is a complex task. So, it takes time to defrag a computer. You should take some precautions before and during defragging.
Before defragging, you should check that your hard drive is healthy. That means, it had not any problem in reading and writing data previously. You can check your hard drive condition through some software.
Before start defragging, you should store your important files, picture, videos in an additional storage device. Because all electronic devices can be harmed at any time.
Many software tries to install additional programs during setup. You should uncheck all of them.
Before starting, you should clean up your PC so that junk files, cache files are removed before defragging.
Summing Up
After reading the whole article, I hope you now have a clear idea about how to defrag a computer hard drive. If you feel that it takes a long time to load the large files, you should check this and if found fragmentation, then defrag it. But how to defrag a computer? I hope now you know the answer to that question.