There are many communication applications or software we use nowadays. Skype is one of them. Among the software, Skype is one of the oldest and most popular applications like the Hughesnet app. People from part to another part use it for their communication. They communicate on Skype via text messages, voice, or video calling. We use it for personal, business, or various purposes. Skype for Business is generally used for business purposes. Much important information is passed via Skype. So sometimes many wrong data can be passed in messages. For this, we need to delete those messages not only from the sender's side but also from another side. But how to delete Skype messages from both sides? You will find your answers here.
After connecting or finding someone on Skype, you can chat, make audio or video calls, or screen share. You can also join a meeting through Skype easily. You can also find your Skype ID following some easy methods.
Method to Delete Skype Messages From Both Sides
Sometimes after writing messages we regret it immediately. We want to remove them from both sides. The messages are stored on the server of Skype. But removing the message from the sender's side is easy. Everyone does not know how to remove messages from both sides. But in Skype, it is easy to delete messages from both sides. The method is described in the steps below.
At first, you have to open Skype on your device. You can download it from here.
Then you have to select 'Chat' options from the above-left side of the screen.
You have to select the account to whom you sent the unwanted message.
After this, you have to find the message and right-click on it.
A drag-down menu will appear.
You have to select 'Remove' from the options.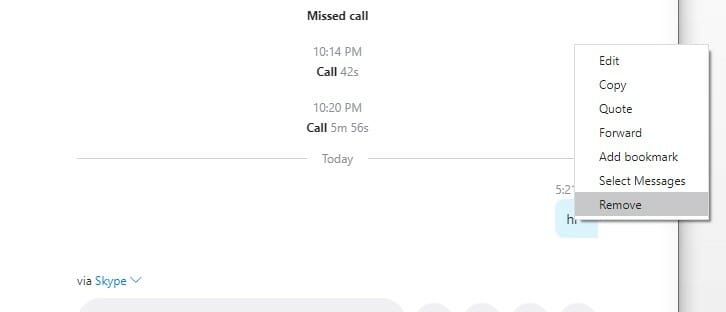 Then a pop-up will appear on the screen.
The pop-up is to confirm whether you have to delete the message or not.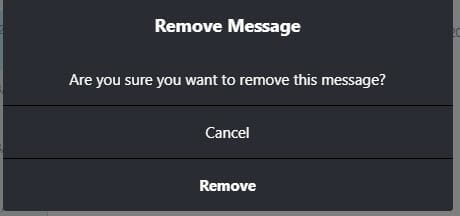 If you want to delete, you have to select 'Yes' from the menu.
The message will be removed from the screen. That it will be automatically deleted from both sides.
By following the mentioned steps, you easily delete Skype messages from both sides.
Conclusion
We can do many mistakes when we send messages. After doing this we regret it afterward. Many applications do not allow or do not have features to solve the problem. In Skype, you can easily remove unwanted messages just in time. The easy process can be useful for solving mistakes. Sometimes, it becomes annoying because Skype lowers the volume of the PC sound system during calls. It generally starts automatically when you start your PC.
Skype is one of the most popular video conferencing apps of the current time. It is also connected to the tech giant Microsoft. You can record the calls and can be saved on your PC or phone. After reading the whole article, we hope you know how to delete Skype messages from both sides.