If you are a Windows user then you have probably felt that a program starts faster if it was started before. That means when you start a program, the Windows system stores information about that program and use it when you again start that program. So, the program then starts quite faster and smoothly. But for a large program like games, it doesn't work well and the performance isn't quite good as usual. Again, it uses your Ram. So, you may want to disable this Windows feature. But don't you have any idea about the effectiveness of this feature? If it is not that effective, then how to disable superfetch? This article is going to give the perfect answer to your question.
What is Superfetch?
Superfetch is a technology of Microsoft Windows to ensure a smooth user experience in systems for traditional hard drive users. This technology improves system responsiveness. To do that, it predicts which applications you are likely to launch, and for that it loads the necessary data into memory. Thus, the applications which were started once, start faster and smooth. It also improves Windows startup time. But if you are an SSD(Solid State Drive) user, then you won't be beneficial by this technology.
What is Prefetch?
Prefetch is also like superfetch. It improves the application launching process. It stores information and necessary data of programs that are frequently used. These data are stored in the prefetch folder. As a result, users notice that common applications are starting faster than before. It also lessens Windows startup time.
What's the Problem of Keeping Superfetch and Prefetch
Both superfetch and prefetch technology of Windows helps the programs to start faster and smoothly. In superfetch technology, Windows predicts some of your frequently used applications and stores its data in RAM(Random Access Memory) to use the data at the time of starting of that applications. So, it uses your memory for that task.
When you start an application, Windows automatically store some of its data in prefetch folder and use the data as like superfetch to start an application faster and smoothly. It uses your hard drive. So, it is permanent. So, it gradually takes up places on your hard drive.
But these superfetch and prefetch don't work properly for large software like games. These lessen the performance of that kind of software. Again, SSD has a low writing limit relative to HDD. SSD is faster than HDD too. So, it is inappropriate to use these technologies if you are an SSD user.
Should I Disable Them?
For a specific application, superfetch and prefetch features of Windows sometimes affect performance.
In many cases, these two features do not work well with games.
Sometimes, these features use a lot of spaces on your hard disk.
If you are an SSD user, you should disable these features. Because SSD has less writing limit comparable to HDD and SSD is faster than HDD too.
Actually, this depends on your user experience. Though these features are enabled, if you don't find any problem with the performance and storage of your PC, then you can keep these features enabled. But if you are a gamer or big database is frequently needed or you have SSD installed on your PC, then you should disable them.
How to Disable Superfetch and Prefetch
You can disable this feature in many ways. Some methods are given below:
1. Disable superfetch from services
You can manually disable superfetch from here. To do that follow the instructions given below:
Press Windows + R. This will open the Run application.
In the text field, write "services.msc" and press enter. This will open the services manager page. You can do the same thing by typing "services.msc" in the search bar of the Windows menu.
Now scroll down to this page until you find Superfetch. It is controlled by the Windows service called SysMain.
If you find that the status of superfetch service is running then you have to disable it. Double-click on superfetch. You will see its properties.
Now, click on to Stop this service.
This service will be kept disable until you restart your computer again. As soon as you restart your PC again, the service will be automatically enabled. To permanently disable this service:
Click on the Startup Type drop-down menu and click on Disabled. Then click on Apply and then Ok. This will save the changes. Now, close the service manager and restart your PC to see the changes.
2. Disable Prefetch from Registry
You can manually disable prefetch from Windows Registry. To do that follow the instructions given below:
Press Windows + R. This will open the Run application.
In the text field, write "regedit" and press enter. This will open the registry editor. You can do the same thing by typing "regedit" in the search bar of the Windows menu.
Now navigate to the following registry key: HKEY_LOCAL_MACHINE\ SYSTEM \ CurrentControlSet \ Control \ Session Manager \ Memory Management \ PrefetchParameters
Now, double-click on the EnablePrefetcher. You can configure this service in four ways. To do that you have to enter a value either 0 or 1 or 2 or 3. See the value data box:
0 – It disables Prefetcher
1 – Entering 1 will enable Prefetch for Applications only
2 – It will enable Prefetch for boot files only
3 – Entering 3 will enable prefetch for Boot and Application files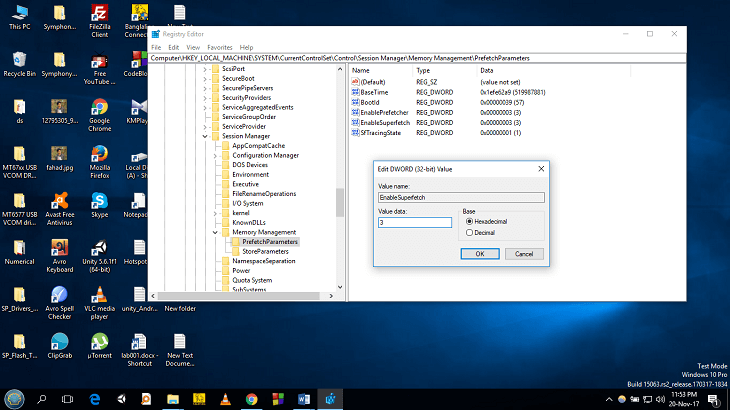 The default value is 3. To disable prefetcher, you have to enter 0 and then click OK.
Disable Superfetch Through Command Prompt
You can disable Superfetch from the command prompt. To do that follow the instructions:
Go to the Windows menu and type cmd.
You will see Command Prompt application there. Right-click on it. Choose Run as Administrator from the menu.
Now, type "net stop sysmain" and press enter.
Then type "sc config sysmain start = disabled" and press enter.
After that, the superfetch service will be stopped.
Warnings
Before disabling superfetch, you should keep in mind that it may slow down your PC. For this reason, your PC may boot up a little bit slower than before. Software that you frequently use may take a longer time than before. If you see that your PC is running smoothly and fast as before, you can keep superfetch and prefetch disabled. But if the situation is the opposite, then you should enable them.
Summing Up
For traditional HDD users, it is common to take a longer time to start a program. But superfetch and prefetch features of Windows play a vital role in that case. They store the application's data in Ram and hard drive to start the application a little bit faster. But for gamers and SSD users, it becomes a problem in terms of performance and smoothness. Again, it may take up a larger space in your HDD and Ram. So, you may want to disable superfetch and prefetch.
But how to disable superfetch and prefetch? If you have gone through the whole article, then you surely know the answer to that question.