Our lives are today flooded with data and information. Some of them are delicate and personal. Encryption and password protection should be used wherever feasible to secure your sensitive data. Encrypting your data using a password is the greatest technique to prevent unauthorized access. Do you want to successfully encrypt the Excel file with the password on Mac? This article is for you then.
Nowadays most of us use Excel to secure data. In this case, the storage of data in Excel should be safe and that can be done using a password.
Any Excel document may be password-protected, meaning that even if someone has access to your computer, they won't be able to see your confidential files.
There are a variety of Excel documents you may wish to keep secret, including financial spreadsheets, a Christmas present list, and the names of persons you may have infected with COVID-19 at an ill-advised Rose Garden event.
The Procedure of Encryption Excel File with Password on Mac
On a Mac, there are two options for password-protecting an Excel document. They begin differently, but they always finish up the same. They are
The File menu is one option.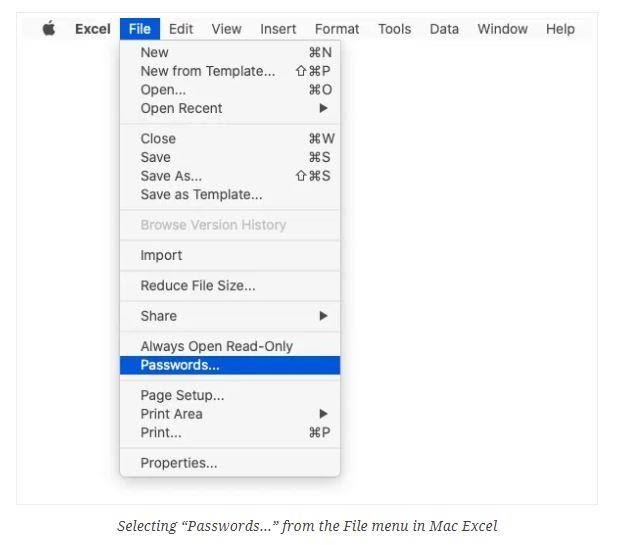 Another option is to use the Save As… box.
Let's go over them one by one.
Password-Protection of a Mac Excel Document Using the File menu
At first, you just have to select Passwords from the File menu while your spreadsheet is open.
When you select Passwords, this box appears.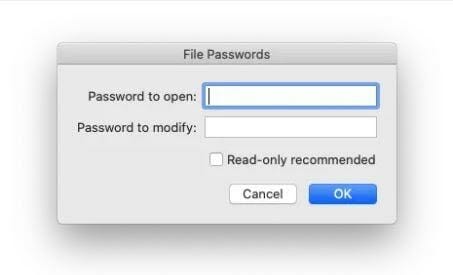 You've done everything you need to do if you established a password to open the document. You might definitely think of a scenario in which you'd want one password for opening the document and another for editing, but that seems unlikely. Anyway, input a password to view the document, click OK, and you'll see the following box: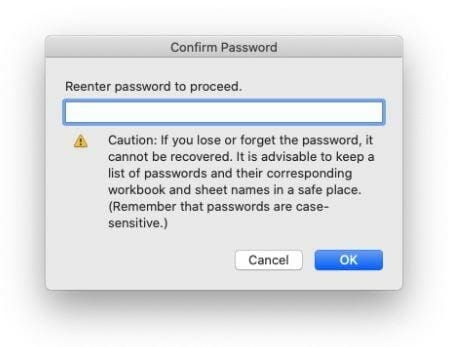 Enter the password (this is to ensure that you truly understand what the password is) and you're done. When you double-click the document after that, you'll see something like this: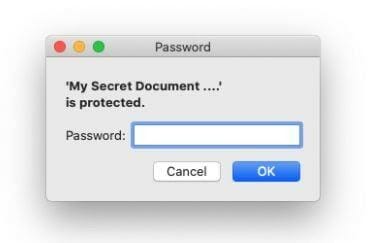 You're in if you enter the password. If you get it incorrect, you'll be kicked out. It's as simple as pie. Because the password is saved in the document, if you email it to someone, he will need to enter the password to open it. (If you're emailing the Excel document to someone, it might be a good idea to provide that person the password only for opening it, not for modifying it).
Password-protection of a Mac Excel document using the Save As… dialog box
You can set up a password when you save the document for the first time, or you may click Save As… later and do it then. In any case, you'll see something like this: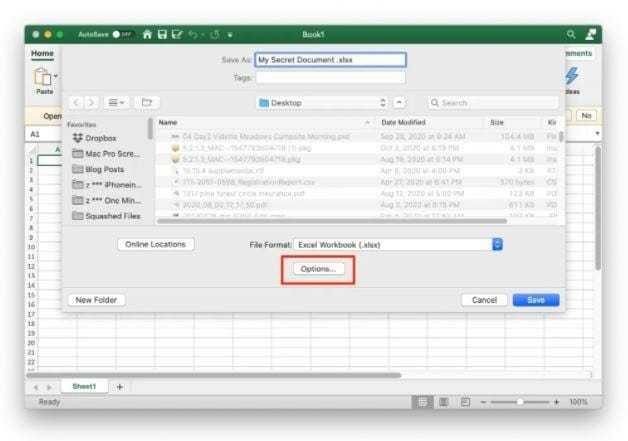 Select the Options tab. This brings you to this window: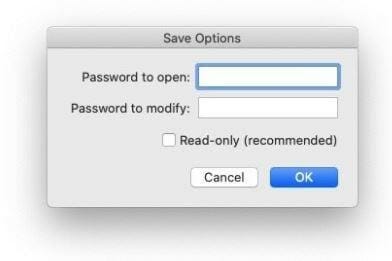 From here, the process is the same as with the File menu method: input passwords, check that you know them, and that's it.
Whatever technique you choose, remember the password; if you forget it, you're screwed. I don't know anyone who can hack into a password-protected Excel document, and I don't believe it is feasible. Perhaps you should create a password spreadsheet. Protect it with a password as well.
Conclusion
Using the above described two methods you can use any of them. Both of them are super easy and straightforward methods. So use any of them and do not forget to remember the applied password otherwise there will be chaos and you will get disturbed as without a password you yourself will not able to access Excel. So go through the step one by one and successfully encrypt the Excel file with the password on Mac. If you want to know the procedure to open a password-protected file, then read this article. All the best and thanks for visiting our article.