Nowadays, SD card has become a common storage device. Cameras, many Android phones use SD card for storing data. You use your SD card to store many important files, photos etcetera. Sometimes, you want to erase your SD card if you want to sell the SD card to someone or if you want to store new data. But you cannot completely erase your SD card if you don't use proper methods. But how to erase SD card? This article is going to give the right direction About how to erase a SD card in a proper way.
Here is an amazing 5 SD cards pack at a low cost: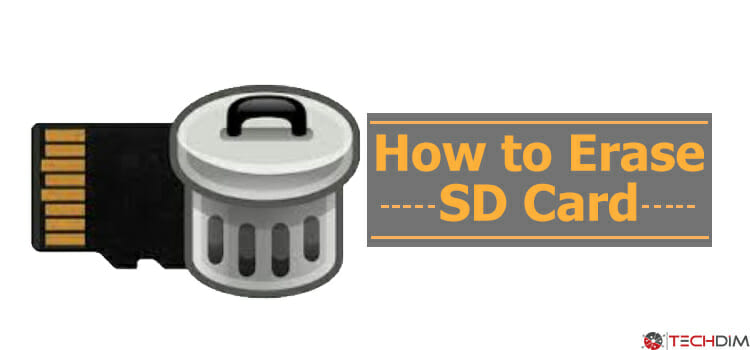 Why Do You Need to Erase SD Card Data?
There can be many reasons behind this. Sometimes, your storage may be full that it cannot store your data anymore. Then, keep the data in another storage device like hard disk or SSD in your computer. Then, you can store new data in the SD card and use it in your mobile phone or camera. You may sell your device with the SD card in it. So, you must completely erase the SD card because you might don't want anyone to have your personal data. And you may also want to know how to delete sd card photos because there may be a lot of sensible data.
Things to Remember Before Erasing Sd Card Data
If you are sure that you are going to erase your SD card, then you should take some precautions.
Check if you have any important data that you don't want to lose.
Keep the important data to another storage device like HDD (Hard Drive) or SSD (Solid State Drive).
We suggest you keep the backup of your SD card on your computer so that you don't have to lose any important files.
Check that if your SD card is in writable condition. If not, make it writable.
Check if there are any hidden files on your SD card. Because after erasing, your hidden files will also be erased.
How to Erase SD Card
So, how to clear an sd card or how to wipe an sd card properly? SD card can be erased in many ways, you can do it manually, or you can use any third-party software to do that for you. To erase an SD card, you must have a computer or an android phone. In this article, we will show you how you can erase a SD card by using an android phone, a Windows PC, or a MAC computer.
How to Clear Sd Card Using Android Phone
First, make sure that your android phone supports additional SD card. Because nowadays, many android phones don't support additional SD card. Again, android device support microSD card. Your device's full memory is reset after doing a factory reset. If your android phone support additional SD card then
Put your microsd card in the microsd card slot of your Android smartphones or tablets.
Open settings of your device.
Scroll down until you find storage management This option name can be varied device to device. Tap in that option to enter the option.
Now open the storage settings option and find format.
Now, tap erase and format You will find this option at the bottom of the page. This will start erasing your SD card. This process may take few seconds. Then you will get the formatted sd card.
How to Erase SD Card Using Windows PC
To know how to clear memory card in Windows PC, these are the rules to follow:
Insert the SD card in your computer's SD card slot or in the sd card reader. If you don't have any SD card slot on your computer, then you have to use an SD-to-USB adapter.
Now, go to my computer or this PC to see the local disks. You will find your SD card name. This is your SD card.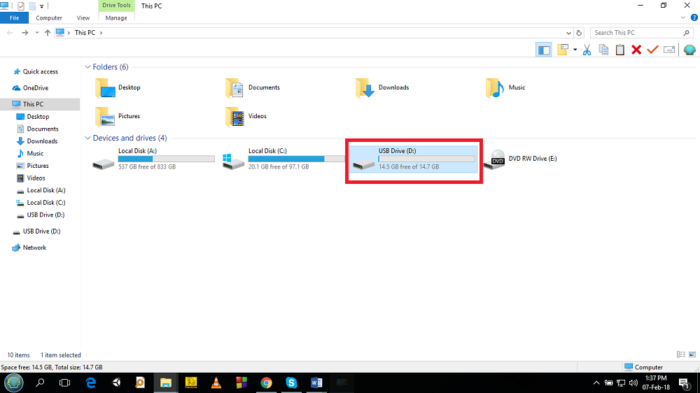 Now, right click on your SD card name. A list of options will appear. Find Format option and click on it.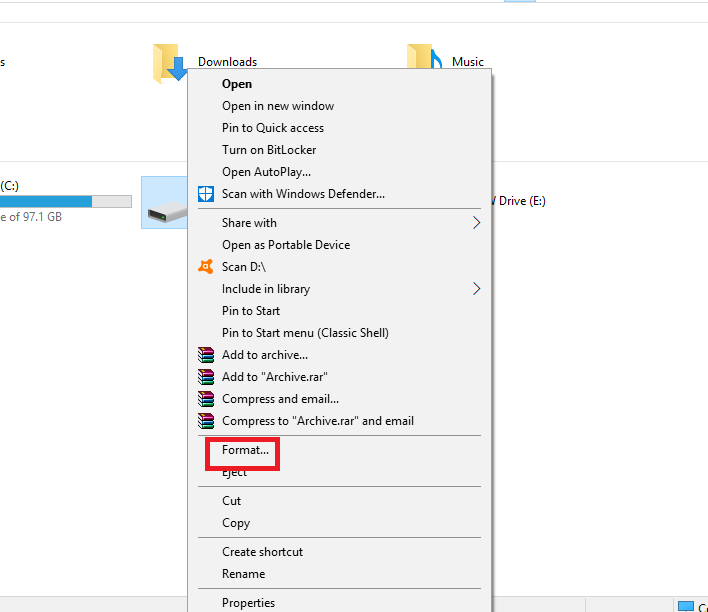 A new small window will open.
Click on the File System It will open a drop-down menu with three several options: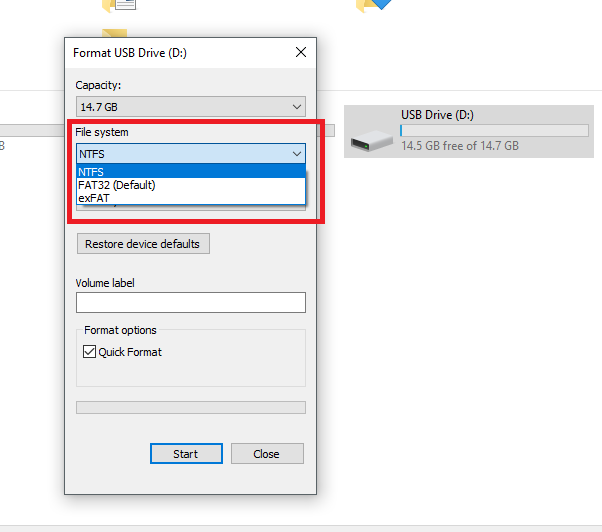 NTFS: This file system format is the default format and it only works on Windows operating system.
FAT32: This file system format works on both Windows and Mac. But it has a storage limit of 32 GB.
exFAT: This format also works on both Windows and Mac. But it has no storage limit. So, we recommend you to select this.
If you haven't formatted your SD card for quite a long time, you should uncheck the quick format. This will delete files from the SD card.
Now, right click on Start. A new small page will open. Click on OK or press enter. This will start formatting SD card.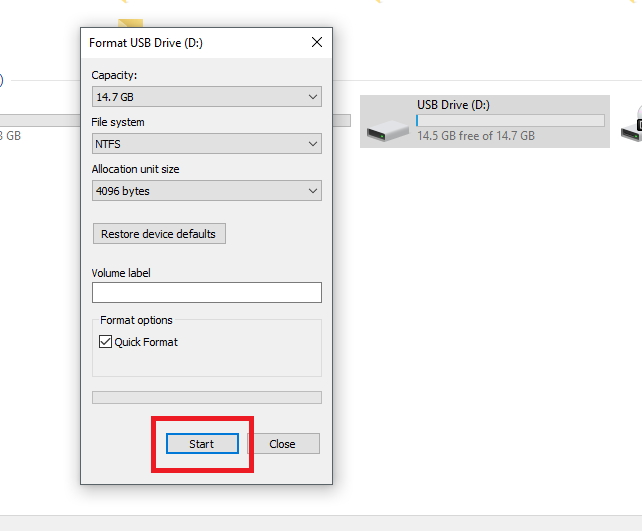 How to Erase Sd Card on MAC
The main question comes to mind when finding how to erase sd card mac is quite similar to Windows.
Insert the SD card in your Mac If your computer doesn't have a SD card slot, then you have to use an SD-to-USB adapter. Remember to unlock the lock switch.
Now, open the Finder (A face-shaped blue icon in the Dock).
Click on the Go menu item.
From the Go drop down menu, Click on Utilities.
In the utility page, double-click on Disk Utility. You can use this as the sd card wiper.
In the left side of the disk utility page, you will find your SD cards name. Click on your SD card name from the disk utility.
Click on the Erase.
Below the format heading, you will find a box and click on it. These are the format option. Choose a suitable format option.
Now, click on Erase. Again, click on Erase when prompted. This will begin erasing your SD card files and folder or usb drive.
Does Normal Formatting Permanently Erase All SD Card Data?
The answer is quite confusing on do you have to format a new sd card. It may be yes or no. After fully erasing the SD card or clearing sd card, you will find no file left on the SD card. That means the SD card's data are erased. But the data can be regained after clearing an sd card by just using some data recovery software which is quite available on the internet. Suppose you are giving or selling the SD card to someone and you don't want them to see your personal files. But, by using some data recovery software, they become able to gain those files. Then the question comes how to empty a sd card completely? There are many ways by which you can fully erase the data which cannot be recovered from the SD card. So, how to delete everything from sd card? Read the next section.
Want to buy a good quality SD card reader? Here you are:
How to Completely Erase/Wipe your SD card
So, how to erase an sd card completely or how to delete everything from sd card? If you erase or format your SD card, the data may not be seen anymore in the storage. But those data can be recovered. So, this kind of erasing/formatting technique isn't efficient if you want to fully erase the SD card. But how you can completely erase a SD card? The answer is you have to use a data wiping tool to erase and format sd card.
Safewiper is an advanced data wiping software by which you can completely erase your data from a SD card. There are also many tools available on the internet. You can use any of them. We are just suggesting this software. There are a free trial version and a paid version available for both Mac and Windows on the website. If you erase your SD card by using this tool, any other data recovery software won't be able to recover the erased data from the SD card. This tool uses strong algorithm to erase data. The process of using this tool is described in the next section.
Download and Install the software: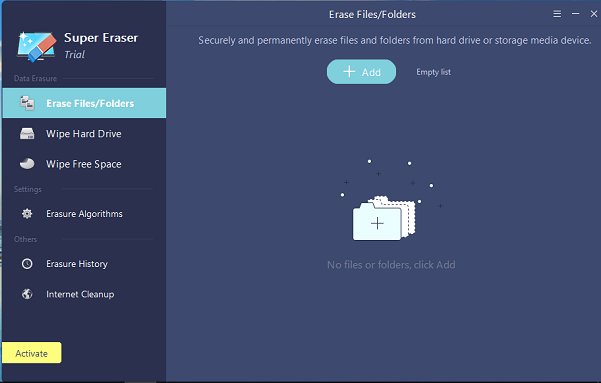 Download Safewiper from this link: https://www.safewiper.com/data-wiper.html.Then, install this like any other software.
Connect the SD card: Once the software is installed, you can connect the SD card to the computer by using an SD-to-USB adapter.
Select the SD card: After the SD card being recognized, you can launch the software. Then, select the second option named Wipe Hard Drive(there may another related name) from the program. Then, you will see all your local hard drive as well as your portable drive (SD card). Now, select the SD card.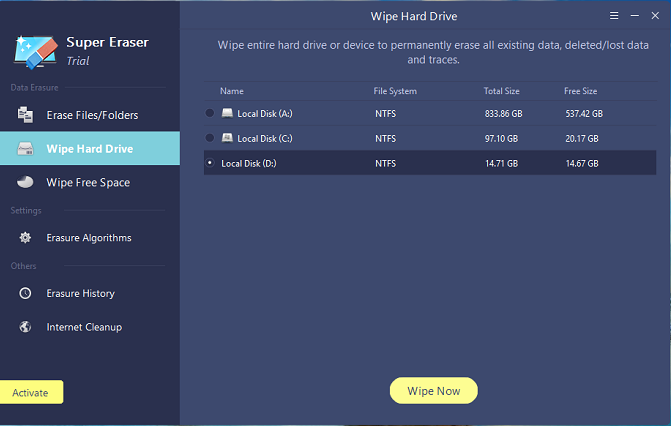 Select the proper erasing algorithm: Click on the setting button. Then, select the proper wiping method from the list. US D.O.D and Guttmann method can erase your SD card for 7-35 times. But, it will take much time. We recommend you to select U.S. Army wiping algorithm. Then click on Confirm button.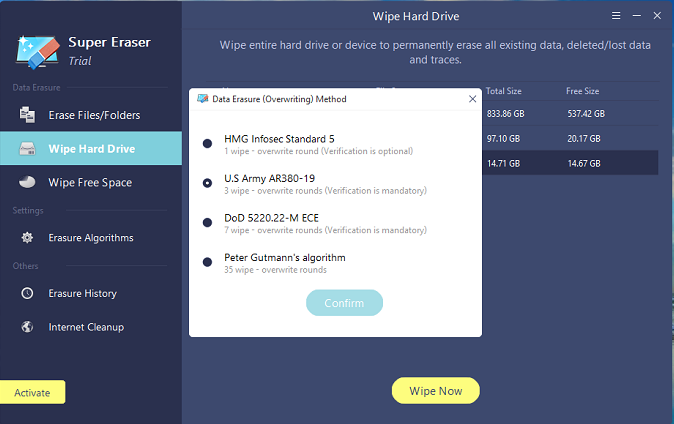 Start erasing: Now, click on Erase Now. It will start erasing your SD card data. Be patient. The formatting processcan take some time.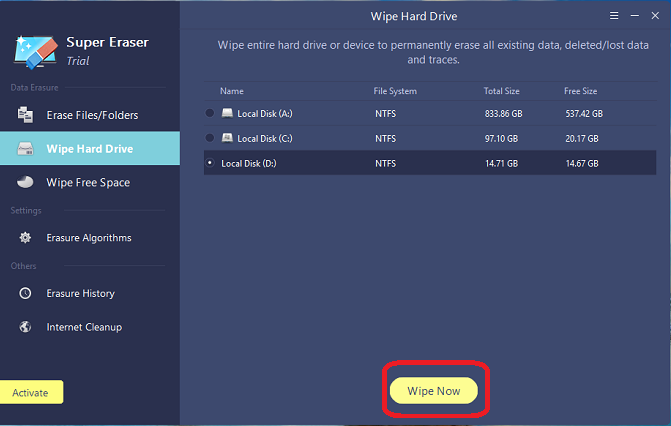 After finishing these tasks, your SD card is now fully erased. You can use some data recovery software to verify that the erased data or deleted files cannot be recovered anymore after erase the micro sd card. How to delete data permanently from memory card? We hope this question won't bother you anymore. You can also erase all the files permanently from an external hard drive or a usb flash drive too.
Summing Up
There are many reasons behind the task of erasing SD card. You erase SD card if you don't want the stored data any more or if you want to store other data.If this is the reason, you can use the normal erasing method. But you may want to be sure that the previously stored data cannot be recovered because you don't anyone to recover your personal or important data. Then you can use tool to completely erase your SD card data. The choice is yours. So, how to flash a memory card? We hope, after going through the whole article, now you know how to erase SD card and other things related to this procedure.