Skype is one of the oldest applications for communication that includes text messages, audio and video call, etc like other same kinds of apps like Hughesnet software. As it is owned by Microsoft almost every Windows PC has Skype application by default. So we can find almost every known person on Skype. So if we want to connect to someone on Skype, we will need their user name for this. You can find your Skype ID easily which is not that complex. But sometimes we don't have the information on how we can find people on Skype. In another way, we can find someone on Skype. So, how to find someone on Skype? Get along with us.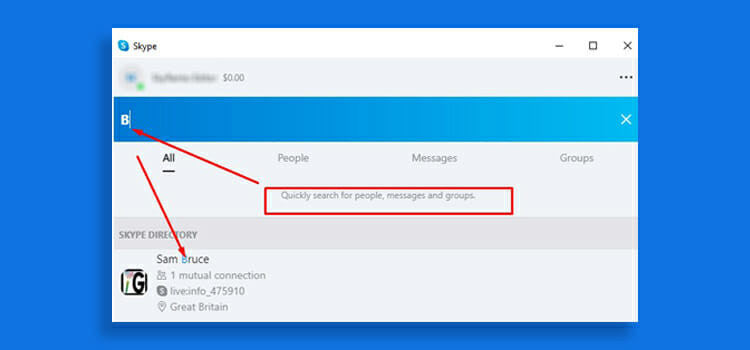 Methods to Find Someone in Skype
There are some ways you can find your known person on Skype without having their user name on Skype. The methods and their steps are given below.
Using Contact List
At first you have to open Skype in your device.
Then you have to log in for your account. If you don't have a previous Skype account, you have to sign up for the account. For this, you have to give your information that is wanted.
You have to click on the contacts option in which bottoms right corner of the Skype homepage.
You have to search the name you want to find from the search which is top of the screen.
You may find the person from the search result. The search process also can help you to find the person from your contact list.
You can select 'Add to contacts' option if you can find the person.
Also you can send the message by introducing yourself.
Using Location
At first you have open Skype and log into your account.
Then you can search for someone with a Location such as 'Sam in New York'.
There will be results of Sam of New York with your mutual contacts.
You can select your preferred contact from them.
Adding Information
By adding information in your profile such as phone number, location, or email address, you can find people within your reach. You may find that person whom you want to add in Skype.
You can then join a Skype meeting or can chat or screen share with other people. You can also record the skype calls on your computer and can find where Skype saves files on your PC. If you are a business person, then you will need Skype for Business. You can uninstall Skype and remove the Skype for Business app easily.
Conclusion
The described methods can help you find people and add to them on Skype. Skype is a way of communication that can help people contact across the whole world. You can find people from any place with the help of Skype. The methods are easy and help you to connect with people easier than ever. But Skype generally lowers the volume of the sound system of the PC. To stop this, you can read this article. Also, you can stop Skype from starting automatically.
After reading the whole article, we hope now you know all about how to find someone on Skype. We wish and hope that you found this article helpful.