The laptop screen turns black or dark is a common issue on Windows OS. It can happen before or after you log into your computer. In most cases, the entire laptop screen shows nothing, while in other cases, the mouse cursor is the only visible thing on the black screen. So, what causes the problem? And how to fix the black screen on the laptop?
Causes Of Black Screen On Laptop
There is some reason for what your laptop screen goes completely dark. Most probably it happens when your laptop couldn't perform a self-test. Here are reasons for black screen on a laptop;
–              Incompatible Windows update
–              Laptop drivers are out of date
–              Loose cables
–              The faulty connection between CPU and screen.
–              Problematic startup program
–              Recent installation of third-party apps or programs
How To Fix Black Screen Problem On Laptop
To fix the black screen issue on your laptop, you need to identify the reason and take steps to fix the issue. Here is some possible fixation of black screen on your laptop,
1. Rebooting Your Laptop
Sometimes, your laptop screen goes black for minor issues. A simple reboot can help you to fix these minor issues. You can perform a force shutdown on your laptop by pressing and holding your laptop's power button for 10 seconds.
2. Attempting To Wake Up The Laptop Screen
Malfunctioned screen and improper hardware connection may be the reason for the black screen problem on your laptop. Simply, you can attempt to wake up your laptop screen by pressing windows key+ ctrl+ shift+ B. Press them repetitively to attempt to wake up the laptop window. In tablet mode, you have to press the volume up and down key together 3 times within 2 seconds.
3. Restart The Explorer
If you see a cursor on the black screen of your laptop, it means you need to restart Windows Explorer to fix the issue. Here is how to restart the explorer;
Open the task manager. You can open task manager by pressing ctrl+ shift+ ESC at the same time or by typing 'task' on your windows search bar.
From the task manager go to 'Processes' and find the 'Windows Explorer' task. Right-click on that task, you'll find options. You have to click on the 'End task' option.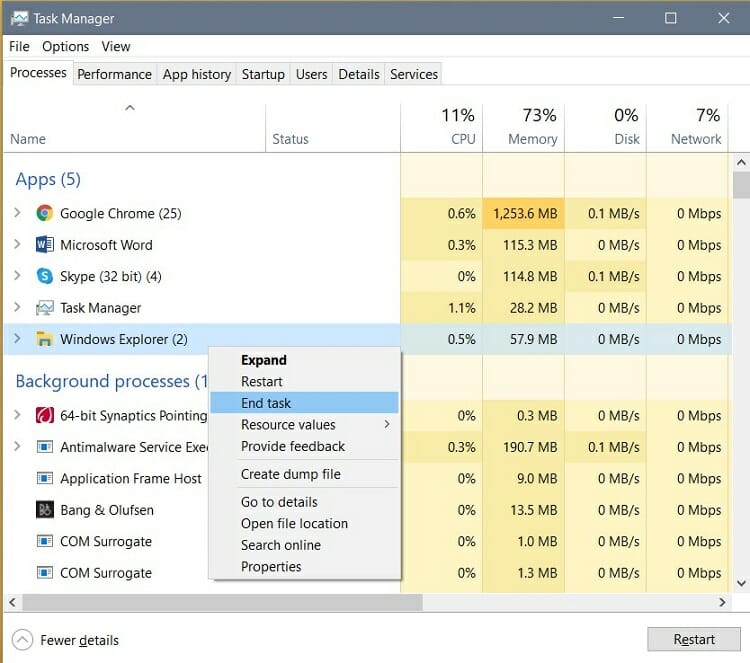 After ending the explorer task you have to reboot your laptop. After rebooting, check to see if this process fixed your problem.
If the Explorer process doesn't run automatically after reboot, you have to run 'explorer.exe' to start the Explorer process.
4. Remove All Peripherals
Removal of all peripherals (e.g. mouse, printer, external keyboard, scanner, headphones, mic, etc.) ASAP after noticing a black screen on your laptop and try to reboot your laptop several times.  Sometimes your laptop failed to take the load of these peripherals.
5. Testing With External Display
Your laptop screen may go black when your laptop screen is damaged and wasted. In this case, try to turn on your laptop with an external display. If your laptop is properly turned on with an external display, it means your laptop screen is damaged or dead.
6. Disable Problematic Startup Programs
Problematic startup programs may cause a black screen on your laptop. So, you can disable these problematic start-up programs to fix the black screen issue.
To disable your startup programs, you have to type 'startup' on the windows search bar. Open startup apps from the suggestion. From Startup apps, you can enable-disable programs that startup after booting your laptop.
7. Boot Windows In Safe Mode
A bad boot with plenty of startup programs may cause your laptop screen to go black. Some program automatically starts whenever you Boot your laptop. You need to prevent these programs from running in the background after startup.
To boot your windows into safe mode you can follow these steps;
Press the Windows+ R key to the open Run application. Type 'msconfig' in the dialog box and hit enter to open system configuration. Go to the 'boot' tab from the system configuration window. From the boot option in the boot tab select safe boot and click on apply then ok. When the system configuration window pops up, choose restart to apply changes.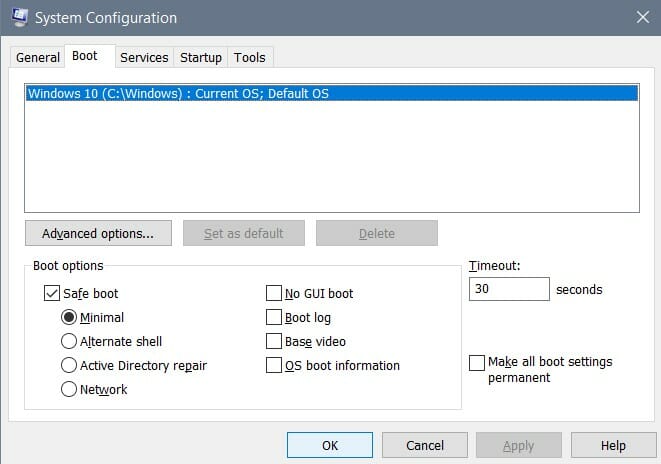 Your laptop will automatically perform a safe boot when you choose to restart from the system configuration window pop up.
8. Recent Installations And Third-party Utilities
Third-party applications (e.g. antivirus programs) and the recent installation of programs/applications can be a root cause of your laptop screen going black. So, you can uninstall/remove recent installations and third-party applications to get rid of the black screen.
To uninstall your third-party applications and recent installations, you have to boot your laptop into safe mode, then navigate to Setting> Apps/System> Apps and features. You'll find a list of applications and features installed on your laptop. Remove third-party applications and recent installations from there and perform a reboot.
9. Restore Your Laptop From A Previous Restore Point
Restoring your laptop from a previous restore takes your OS back to the previous state. You can fix the black screen problem by restoring your laptop from a previous restore point.
To do so,
You have to type 'restore point' on your windows search bar and open the create restore point option. A window of system properties will open. From the system properties window, go to the system protection tab.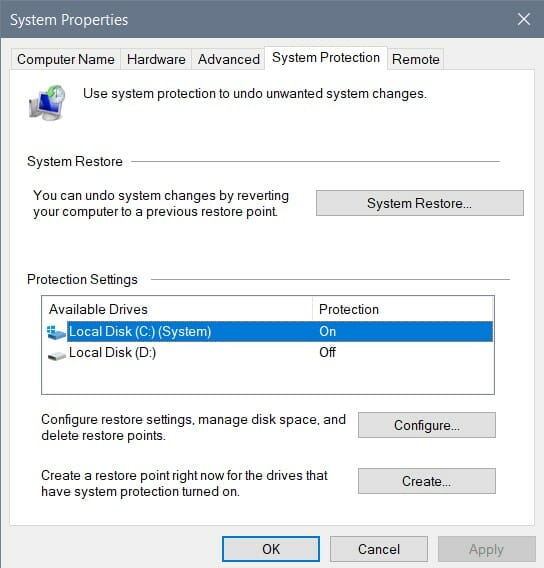 In the system protection tab, select system drive from available devices (in most cases drive C:) and then click on configure. A window of system protection for the local disc will appear. From that window, you have to select turn on system restore and click on ok.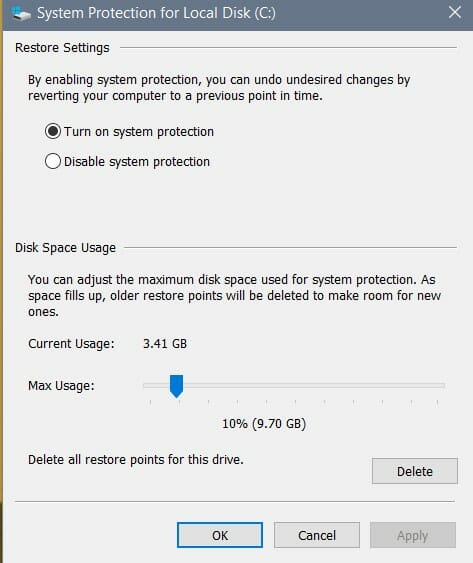 After that, click on system restore from the system properties window to open the system restore wizard. From the wizard click on next to see the restore point list. Select a restore point from the list and click on next. Then click on Finish to start the restore process on your laptop.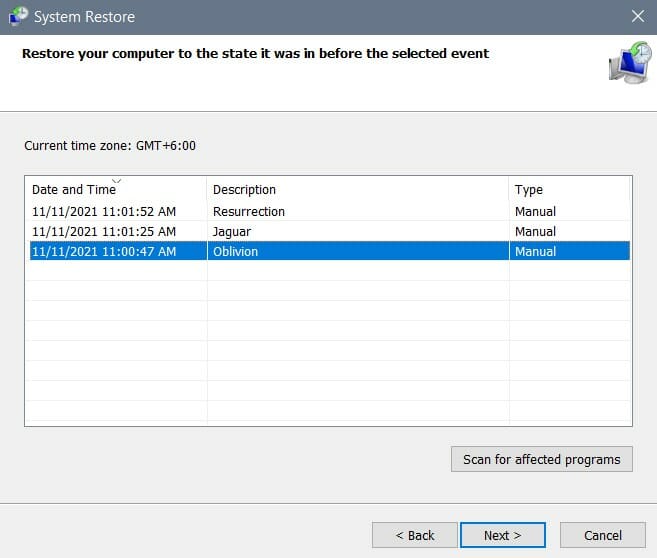 10. Reinstalling The Memory
Your laptop screen may have gone black because of your RAM. Whenever your laptop failed to perform a self-test, the screen of your laptop goes black. Sometimes RAM impedes your laptop to perform a self-test. Reinstalling your RAM can help you to solve this issue.
To reinstall your RAM,
i.             Turn off your laptop and remove the laptop battery, power cable, and all peripherals.
ii.            Remove the cover of MMC (Memory Module compartment), You'll find your laptop RAM under MMC, remove it.
iii.           Rub and clean the golden compartment of your RAM with an eraser.
iv.           Insert RAM on your laptop's MMC and engage the MMC cover.
v.            Turn on to see if your laptop issues are fixed.
11. Uninstalling Windows Updates
It's better to keep your Windows updated to fix possible problems. Sometimes, Windows update is not compatible with your computer drivers. It may be the reason your laptop screen has gone black. So, it is better to update your drivers or remove Windows updates.
You cannot change or remove mandatory updates of your Windows update, but you can remove optional updates of your windows. You have to navigate through Settings> Update and security> Windows update> Update history> Uninstall update to remove optional Windows update Safe mode to undo the recent optional change.
12. Check For Hard Drive And Hardware Errors
A defect in your hardware and hard drive may cause a black screen on your laptop. You need to check all your hardware, cable, and hard drive and fix them ASAP. You can call a technician if needed.
13. Using Windows Repair And Maintenance Tool
You can use a windows repair and maintenance tool to fix the issue that is responsible for your laptop screen to go black. You can easily fix and repair your windows issues by using a windows repair tool.
Frequently Asked Questions
What are peripheral devices?
Devices that are used to input, output, and store data on a computer are known as peripheral devices. Mouse, printer, scanner, external keyboard, trackball, joystick, trackpad, sensors, mic, headphone, webcam are some examples of peripheral devices.
What is BSOD?
Blue screen of death or BSOD is a system error on computers that indicates a system crash. In BSOD, the computer OS reaches a critical condition from where it can not operate the computer safely anymore.
How to change display settings?
On your computer, you can change your display settings by navigating through Start> Settings> System> Display. You'll find all your computer display settings here.
Conclusion
A black screen is a common issue in laptops with Windows OS, so don't get panicked. If you follow these fixations, you can be able to fix the black screen on your laptop yourself, except that is not caused by defective hardware.