Like the system RAM of a laptop or a desktop computer, VRAM plays a significant role in the performance of the system. For a computer to run properly and handle heavier tasks, a minimum amount of VRAM is essential. But whereas increasing system RAM only means buying more of it, we can increase the VRAM or video RAM of a laptop computer from the system itself. But how to upgrade VRAM? In this article, we're going to discuss how to increase VRAM on Windows 10.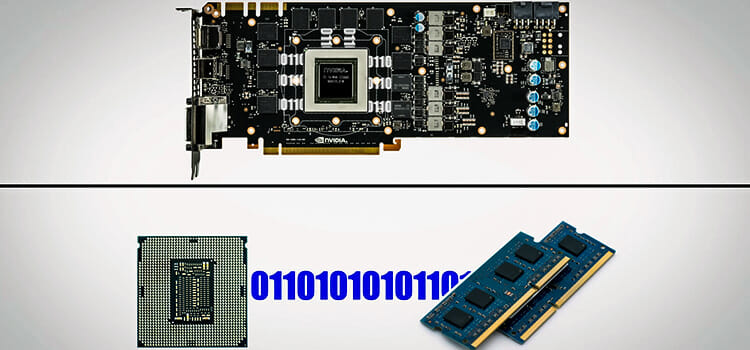 What is VRAM
VRAM or, Video RAM is a type of memory that stores display information given by the operating system to show them to the monitor. It differs from the traditional RAM and is responsible for displaying the graphical details. Just as system RAM shortage makes the laptop computer perform poorly, a shortage or insufficient VRAM capacity can affect performance too. So, increasing sufficient VRAM will improve performance obviously. Knowing how to increase video RAM can come in handy if you're suffering from low system video memory issues.
Want to buy one of the best gaming graphics cards from nvidia? Here you are:
For normal tasks like running office applications, a computer with low VRAM can perform just fine. But for more graphically intensive applications like multimedia streaming, heavy browsing, graphics design, and gaming, more VRAM is required. Modern games often require dedicated graphics cards to run properly. Beforehand, you should check your graphics card and its VRAM. But external graphics card VRAM is constant, and can't be changed. Whereas the VRAM settings of integrated graphics (IGP) of computers are changeable. So, you can easily increase the dedicated video memory of your system.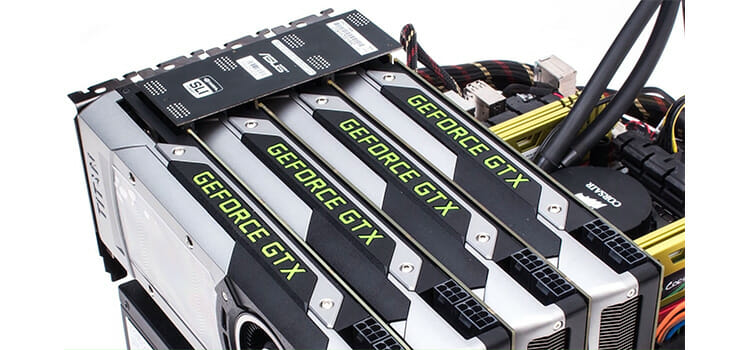 How Increasing VRAM Works
Integrated GPU or graphics card (not dedicated GPU) like Intel HD Graphics, use a portion of system memory as VRAM. This GPU comes pre-loaded with the processor or CPU. Though an integrated graphics card falls short on running heavy games, it is sufficient for most of the works. By following some steps, we are going to increase the amount of RAM that will be solely dedicated as VRAM means dedicated VRAM, and thus the allocated VRAM will increase. It will increase VRAM intel HD graphics of your computer. To increase graphics memory, follow the next sections to change video RAM and as well as get more VRAM.
If you are interested to increase VRAM, then we suggest you increase the RAM capacity too for better performance.
How to Increase VRAM in BIOS and Registry Editor
There are 2 easy methods of increasing VRAM. But how to increase dedicated video RAM or memory in intel HD graphics? Your graphics drivers should be updated properly. You can do it from your BIOS, or from the Registry Editor.
VRAM Increase From Computer BIOS
There are different ways to launch the BIOS menu. Turn off your computer, then turn it on while repeatedly pressing the Delete key. You can try the F2 or F10 key too. In the BIOS menu, go to the Graphics Configuration settings to change VRAM in BIOS, usually located in the Advanced tab.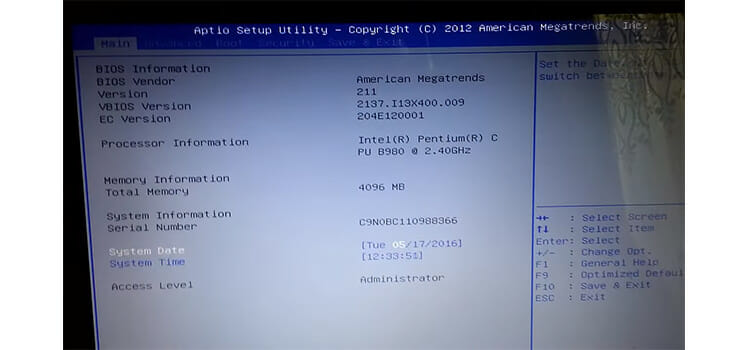 Here, you should be able to find the DVMT pre allocated option, or something close to DVMT pre-allocated. In this option, you can set your VRAM in megabytes. Then save the configuration and exit. After starting the computer, you can check the Display Settings again and you should see your VRAM increased.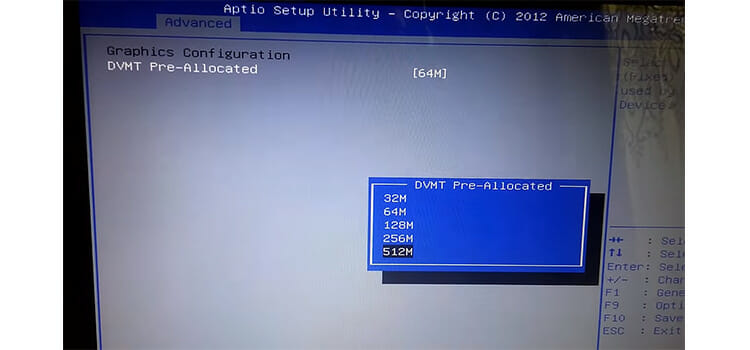 From the Registry Editor
If you don't want to access your BIOS, or can't find the proper options, you may opt to tweak with the Registry Editor built-in for Windows. Just type Windows key + R to launch Run. Here, type Regedit and hit enter. You can also search for it in the Windows search.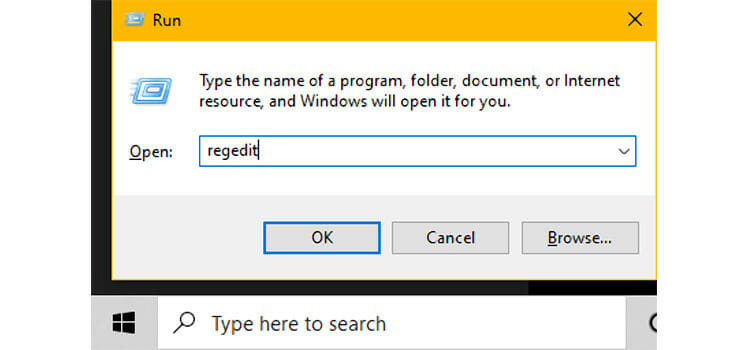 Inside the Registry editor, go to this location:
Computer\HKEY_LOCAL_MACHINE\SOFTWARE\Intel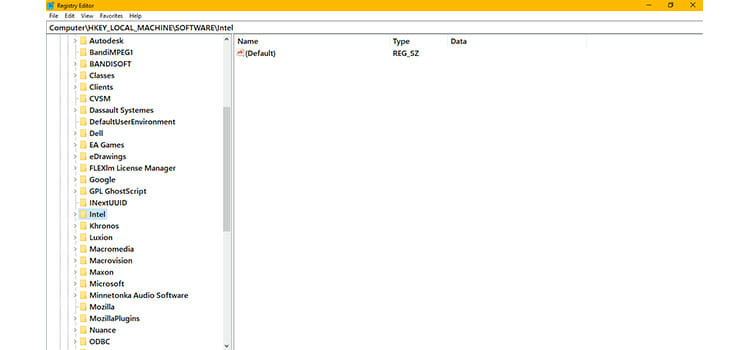 You can also copy this location in the registry search box. Here, right-click on Intel and select New> Key to create a new key. Rename this key to "GMM". The GMM key will be visible under Intel.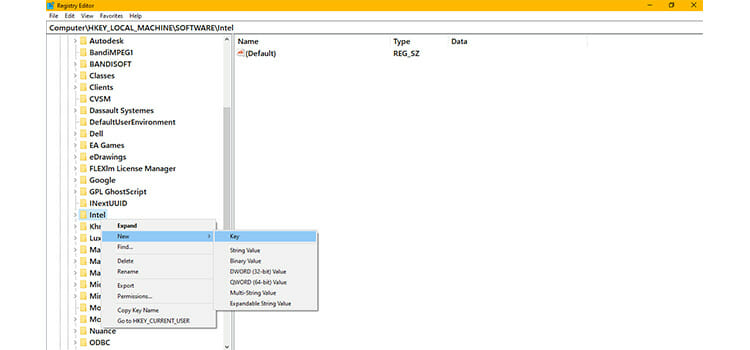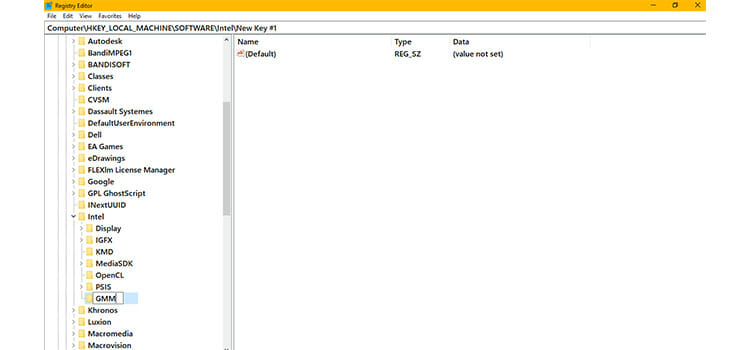 Click on the GMM key, and on the right, you'll see the "Default" value. Under that, right-click on an empty space and select New> DWORD (32-bit) Value.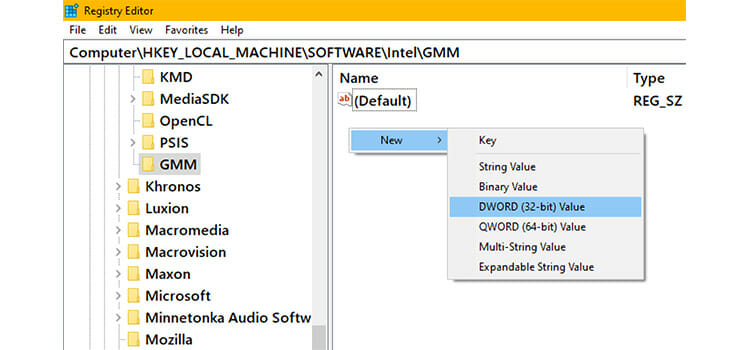 Right-click on this new value, and rename it as "DedicatedSegmentSize". Then, double click on it and type in the new VRAM you want in megabytes as Decimal value then press ok. If you want 512MB VRAM, type 512 while selecting "Decimal".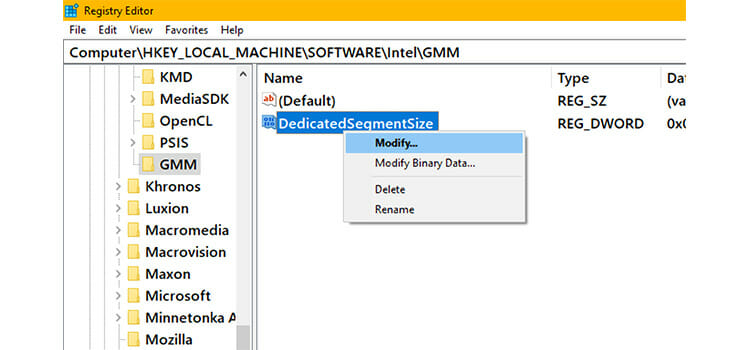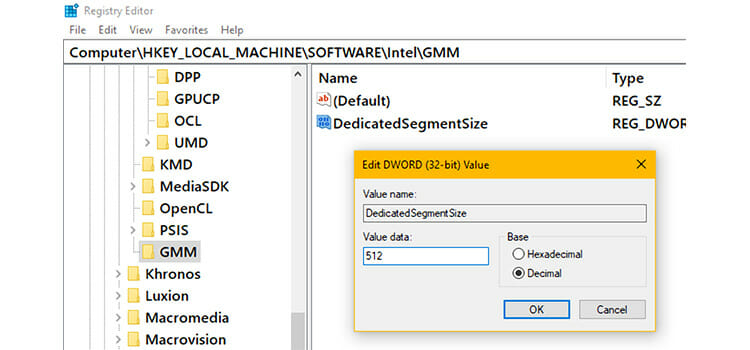 After that, close the Registry Editor and restart your pc to make changes. After restarting, you can check your new VRAM.
How to Check Your Existing VRAM
There are multiple ways to check VRAM. We can do it from the Display Settings. Right-click on an empty space of the desktop and select Display Settings. From the Display menu, go to Advanced Display Settings. Here select Display adapter properties for Display 1. The Display Properties window appears, where you can check your VRAM (Dedicated VRAM or Video Memory) along with dedicated memory like system memory and shared memory.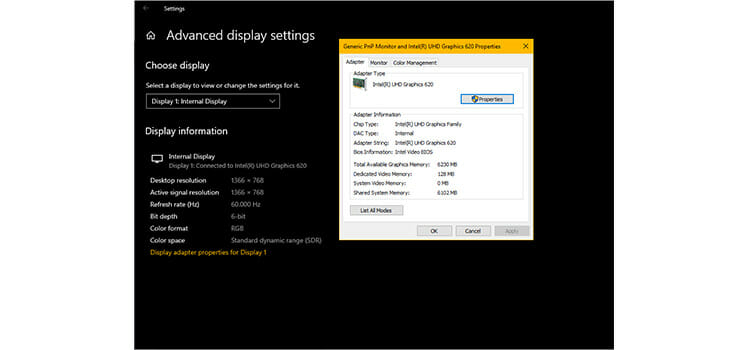 To check the VRAM of both your integrated and dedicated graphics, you can use the DirectX Diagnostic Tool. Type Windows Key + R to launch Run. Here type dxdiag and hit enter. From the tool, go to the Display tab to check the VRAM of your integrated graphics, and in the Render tab, you have your dedicated graphics card info. You can also go to the Task Manager, and under the Performance tab, you can see your VRAM info in GPU 0 and GPU 1 segments.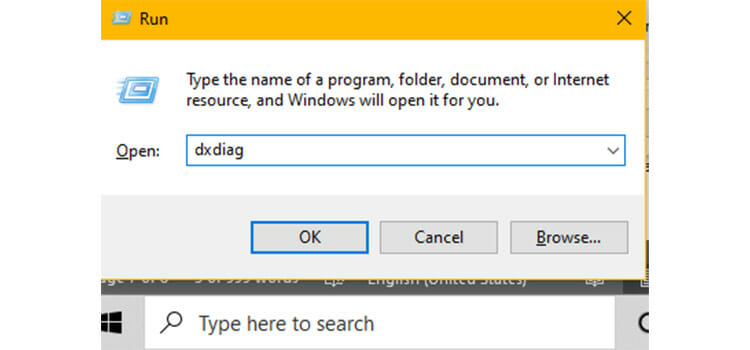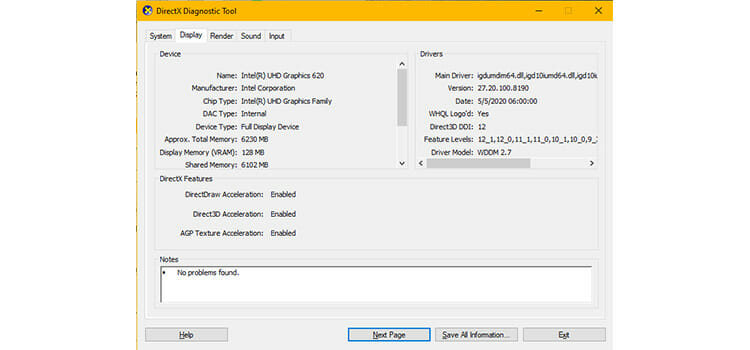 Results of Increasing VRAM
Like RAM, increasing video memory affects performance. More VRAM means a better ability to handle graphical information. It enables the user to run multimedia and graphics design applications better under the same cpu usage, and also makes more demanding games playable. It is still not even close to external graphics card performance, but the normal usage boost is worth spending this amount of RAM.
Important Considerations during Increasing VRAM
While changing VRAM allocation size, you should know that VRAM is an allocated part of the main memory itself, and changing VRAM affects available RAM. If you have low RAM (4GB RAM or less), you should only choose to have 512MB or less size. For 8 GB RAM or more, you can choose to have 1024MB (1GB) VRAM which is more than enough. Choosing more than recommended VRAM, you can fall short on available RAM and therefore, your performance would likely hamper.
Conclusion
In this article, we've discussed briefly how to increase VRAM on Windows 10 computers. While increasing video memory has its perks, proper cautions should be taken while changing registry values or BIOS settings, as wrong steps can cause the computer to misbehave, or even crash. Follow these procedures with caution and you should be having the required amount of VRAM in no time. We hope that now you know how to increase VRAM on intel HD graphics card. To know more about how you can increase virtual memory or RAM, click here.