MKV files are popular among people to collect audio, video files. It is open-source. It can contain high quality and various forms in one file. It has also some more advantages. But all of the players cannot open MKV files. These types are difficult to open both in Windows and Mac. They are unable or need to change some settings. 
What is MKV?
MKV is also known as Matroska video files. This type of file format can contain various types of audio, video with subtitles. This multimedia can contain more than one subtitle in one file. Various encoding in one file can make this type of format better. 
HD or online videos we stream are generally MKV file formats. It can recover any error easily. When the net connection is hampered during downloading MKV files, it can show the video up to how much it is downloaded.
Methods to Play MKV Files
There are several methods we can play MKV files. 
There are several media players in which you can play MKV files. These are VLC media players, DivX players, BS players, etc. 
The VLC media player is one of the most popular players people use. Most video formats can be played in VLC. The steps to play MKV files in the VLC media player are discussed below.
On Windows
At first you have to install LC media player in your device.
Then you have to go to MKV file you want to play in your device and right click on the file.
A drop down menu will be appeared. You have to select Open with from the menu.
Then you can click on Choose another app.

A box with menu will be opened. You have to select VLC Media Player and put check mark on the box beside 'Always use this app'.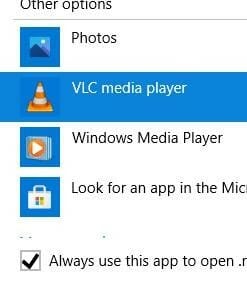 Then you can click on OK to complete the process.
On Mac
You have to go to the finder.
In finder, you have to right click on the MKV file you want to open.
Then a drop down menu will be appeared. You have select Get Info from this.
A window will be opened. You have to select the box under Open with to find VLC media player and select it.
Then you can finally click on Change all to complete.
Media codec can encode and decode all kinds of media files. It can allow your device to open MKV files. You can download any media codec online and install it on your device. 
Conclusion
MKV file formats are very useful in collecting many types of multimedia or various encoding in one file. It is also helpful to recover errors. But people sometimes have problems playing this type of file. So this article can be helpful to solve the problem of playing MKV files both on Windows and Mac. You can choose any of the processes for the MKV files.