Nowadays we depend on our PC so much that we cannot do anything a day without it. When we use a computer so much that sometimes it becomes slow and inactive. For this we face problems. There are some common problems you may face during using your computer. Resetting Windows 10 can be the solution to this problem. One of the features of resetting windows 10 is to reset in a factory setting. But there are other types of resetting Windows 10.
What is Factory Setting?
The factory setting is also known as the master reset. It is a type of setting which is the same as the computer settings when it was first bought. Everything will be deleted from the hard drive and also replaced by other software and operating system. To restore a PC to the settings known as 'factory', a restore disc is needed. This disc is generally made from the software that is included with the PC. A factory reset is generally done when a PC is being gotten ready to sell. It is performed to remove all the issues regarding software and this reset option can also remove all the personal details and profile or any third-party application for privacy before selling PC. Nowadays computers cannot use these restored discs. This PC has a partition that is hidden that can restore the factory reset.
Why Do We Need to Do Factory Reset in PC?
 Factory reset is done for several reasons. They are
 ⦁ Factory reset is done to remove all viruses from the main PC which can come from the downloaded or third-party applications.
⦁ Sometimes many errors or serious problems can occur in Windows 10. Factory reset is done to solve the problems. Because soft resetting does not always solve all kinds of problems.
⦁ When the PC is getting too slow, factory reset is done.
 ⦁ To get back the computer to the situation to how it was first bought.
 ⦁ When all the other resets do not solve the problems factory reset can solve it. Or you can do this if you face problems during resetting your PC.
Method to Factory Reset Windows 10
The directions to factory reset Windows 10 are given below.
⦁ At first, you can click on the Windows logo or start menu which is on the bottom left corner of the display.
⦁ Then you can select the 'Settings' option from them. A settings window will be opened then.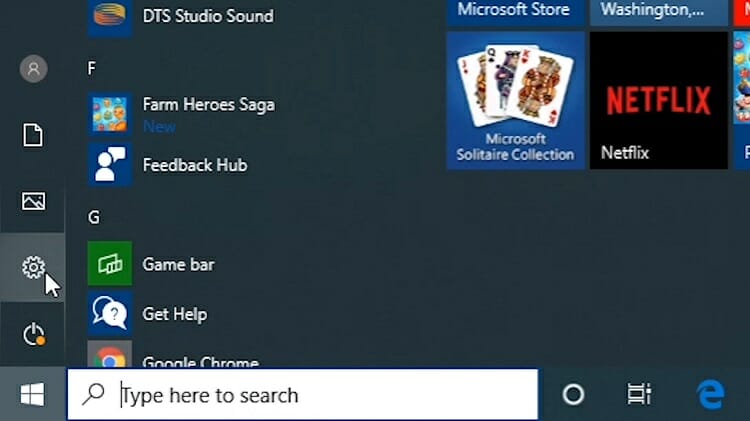 ⦁ You have to select 'Update and security' from the menu.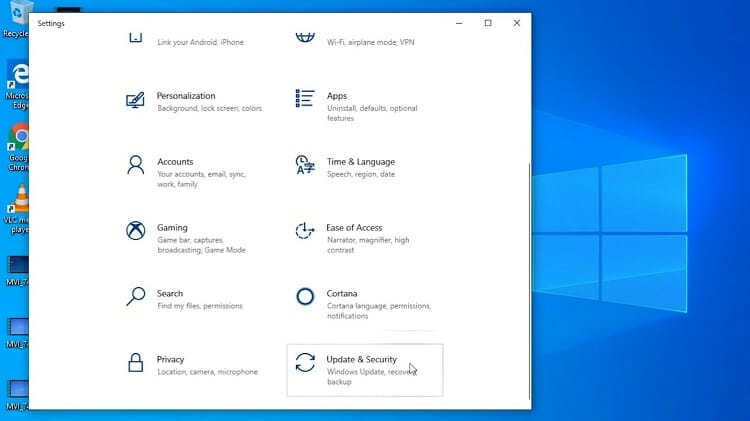 ⦁ Options of the screen will appear. You have to click on the 'Recovery' option from the left side of the screen.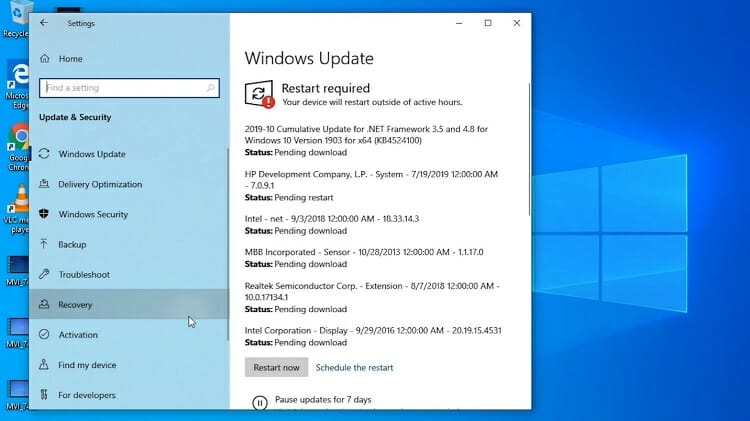 ⦁ Then you have to select 'Get started' which is under 'Reset this PC'.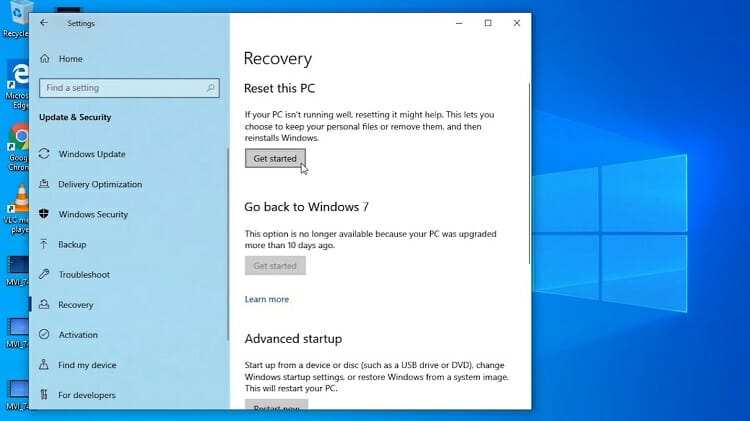 ⦁ After that a screen will be appeared in which you can choose one of the two options.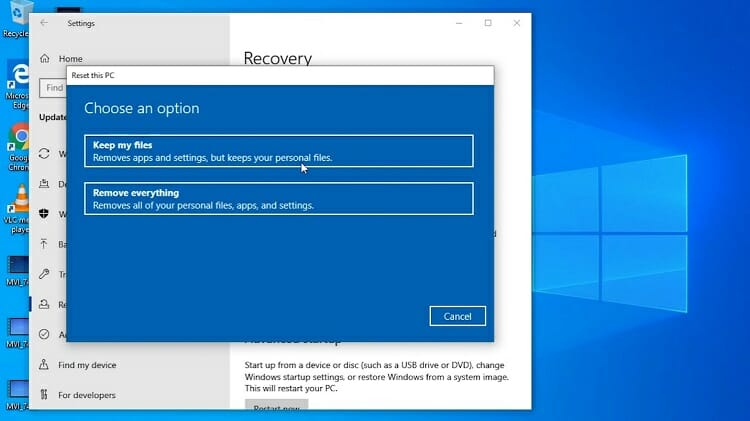 ⦁ In these two options if you choose 'keep my files meaning the software or apps or files. The settings of the PC will be set to default. So the PC's settings will be as new as before. Also, you can select the apps and files that you want to keep on the PC. After resetting you can also see the apps which are removed in the 'Removed apps' menu. You can change the setting by turning off the link of change Settings.
• You can also choose the number 2 option. Another option is 'Remove everything'. All the files or apps will be deleted if you choose these options. You can also keep the settings and apps without removing the personal files. For this, you have to change the link of settings. And you have to turn on the option of Data erasure. So, we suggest you keep a backup of your data and files.
• After taking one of the two decisions from the above given options and change the settings, you can select the 'Next' option which is lower on the pop-up screen.
 • A screen will appear that will tell you which apps will be deleted after the reset. It appears to help you rethink before the final decision.
• Then you can click on the 'Reset' option. The computer will start to reset and all the selected files and apps will be removed from the PC. So, think before clicking. Because if you don't back up those files, you will not find these files again.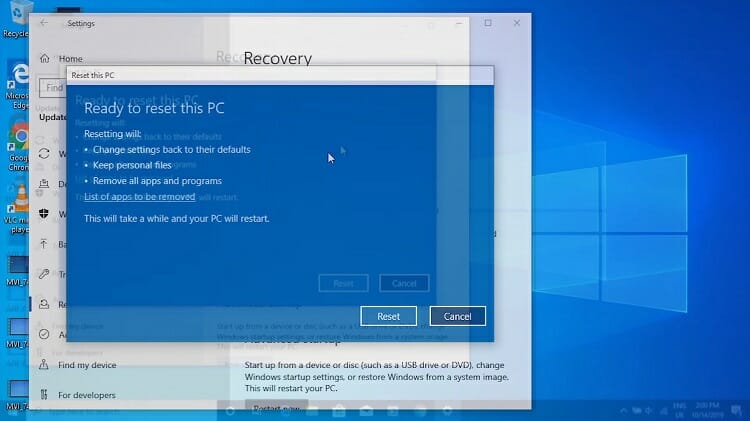 That's how you can easily factory reset Windows 10. The reset may take some time. After this, your PC will restart.
Why Resetting Windows 10 is Better Rather Than Installing New Windows
I think that you have learned already what you should. Should you install new windows or should you just reset it instead of re-installing it? I personally find it very obvious that the 'Windows 10 reset' option is a boon for us. You don't need any disc or external drive for re-installing. The function of resetting is already solving your problems with windows. This will save you time as well as is trouble-free and comfortable. That's why most of the time, resetting windows 10 is always better than installing windows.
Moreover, if you don't know how to install windows on your PC using the disc, but you need to solve your windows problem, the Reset this PC option is the best thing for you.
The user and function complexity are lesser in resetting windows than that of installing the windows.
It can be the resort of the emergency.
I think these reasons are enough to convince you to use the 'Reset this PC' option rather than installing new windows.
Things to Keep in Mind if You Reset Your PC
You should be very careful whenever you are using the option of 'Reset this PC'. Please keep in mind, as I have mentioned earlier, Reset this PC will remove all of your apps that were installed and also remove all of your settings; will make them their default one. So if you want them like before, you have to do it by yourself after resetting the windows.
Choose the transition options with care. Such as you should be conscious when you are choosing an option like 'Keep my files' or 'Remove everything'. If you click 'keep my files', your files will be there for you. If you click 'Remove everything', all of your files would be gone. So be careful with your own data safety.
You should choose 'Reset this PC' very wisely. If you are facing some minor errors of PC and without trying even Restart option you want to use 'Reset this PC' option, I will honestly say that it's actually frustrating and pathetic. So you should use the resetting option wisely and exactly at the right time.
Conclusion
Factory reset is important for the PC for various purposes. To make the PC faster factory reset is one of the best options. Sometimes PC becomes so much slow that you cannot work. Also, PC can not start because of third-party applications and viruses. Factory reset solves all the problems easily. It can help you to get rid of all the dangerous software and viruses. It is also helpful when you want to sell your computer. If you are interested to know how you can update the essential drivers manually, you can read this writing.
If you still have doubts regarding this, then you can read the fixed: Windows 10 reset problem.