Graphics Interchange Format (GIF) is an acronym for Interchange Format. It is a graphic that was created by CompuServe and is used for graphics files. It is subdivided into two categories: static GIF like JPG or PNG and animated GIF Animated GIFs are popular and simple to generate with the help of a variety of GIF animation applications. So, how to save a gif as a video on Windows or Android? Read the full article.
While animated GIFs can be accessed from any web pc, storing a specific GIF assures that it can be accessed from any computer, whether it's online or offline. This GIF can be used on several websites and systems that allow the .gif file format. These sites make it easy to save the GIF and use it.
In this article, I will discuss how you can easily save a gif as a video on windows or android.
How to Save Gifs on Windows
If you're surfing sites such as GIPHY, Tenor, or GIFs.com, there are quite a couple of various methods you can save gifs on your pc from the sites you're visiting. When you hover on an that you like, many of these websites will display simple Download options on the screen.
However, if the image does not appear to have a download option, you can save it simply by placing the mouse cursor over it, then, right-clicking on it, and choosing Save As from the drop-down menu.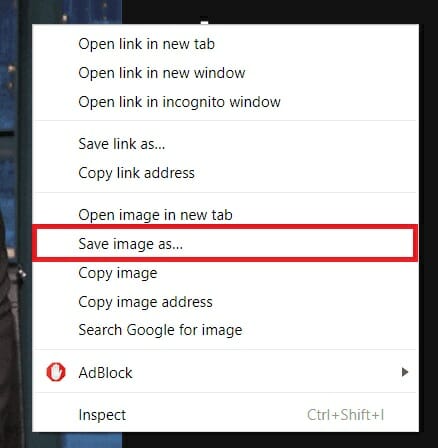 When you click on the file, a new window will emerge on the screen, that will let you select a location for it to be saved. To save it, open the folder where you want it to be saved and then hit the Save option.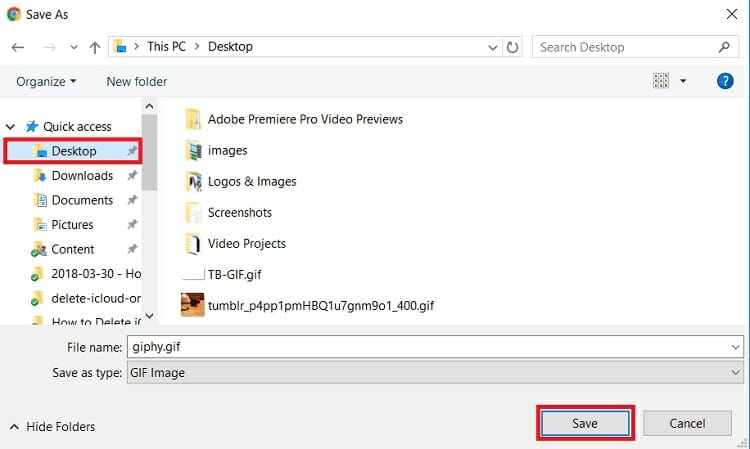 That is all that is required to save a gif from the majority of websites. On the other hand, you want to save one that you spotted on a social media platform, the procedure may be slightly different. 
How to Save GIFs From Twitter
Since these GIFs are shown as videos on Twitter, you will not be able to save them by just right-clicking on them. EZgif.com, for example, is a third-party downloader that you can use to store the images into your hard disk. Follow the procedure outlined below to save GIFs from Twitter.
Step 1: Log in to Twitter.com using your username and password. 
Navigate to Twitter.com and sign in to your profile using your browser's address bar.

Step 2: Locate a tweet that has graphics that you'll want to keep and copy the link to it. 
Navigate through your Twitter feed until you come across a tweet of your friends you following that includes a GIF that you'd like to download to your PC.
Step 3: Right-click on the downward-pointing arrow in the upper-right corner, and then click on the Copy Link to Tweet. 
You can save a graphic from a tweet by clicking the downward-pointing arrow in the top section of the tweet. For copying a link to a tweet, choose Copy Link from Pop-Up Window.
Step 4: Visit EZgif.com inside a new window. Then choose Video to GIF to convert the video to a GIF. 
EZgif.com is accessible from any web browser window. Click on the Video to GIF button on the main page.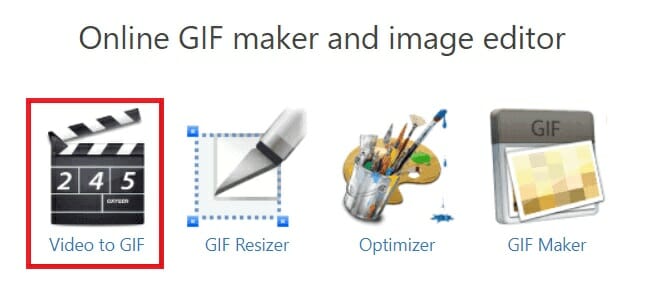 Step 5: Create a GIF from the URL. 
"Paste Video URL" is selected when you right-click in the text field. Then, from the option that displays, pick Paste. As soon as you've copied the URL, simply click on "Upload Video."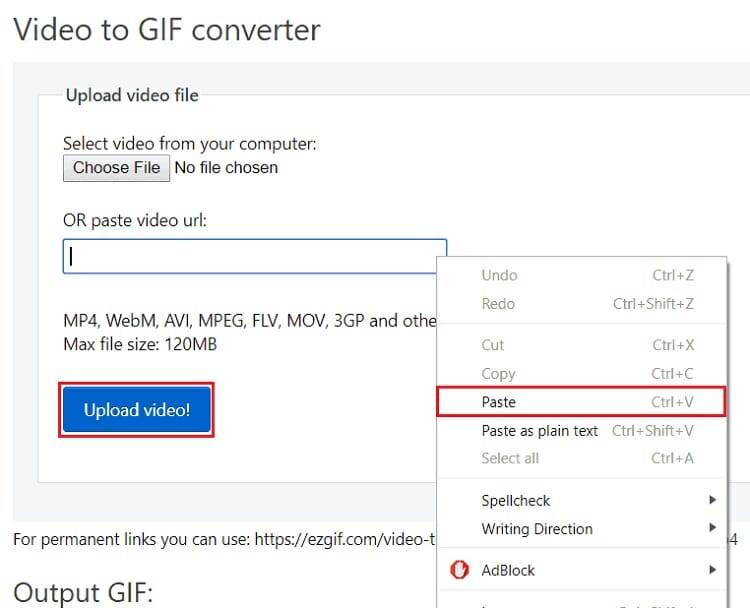 Continue scrolling down that list and clicking Convert to GIF.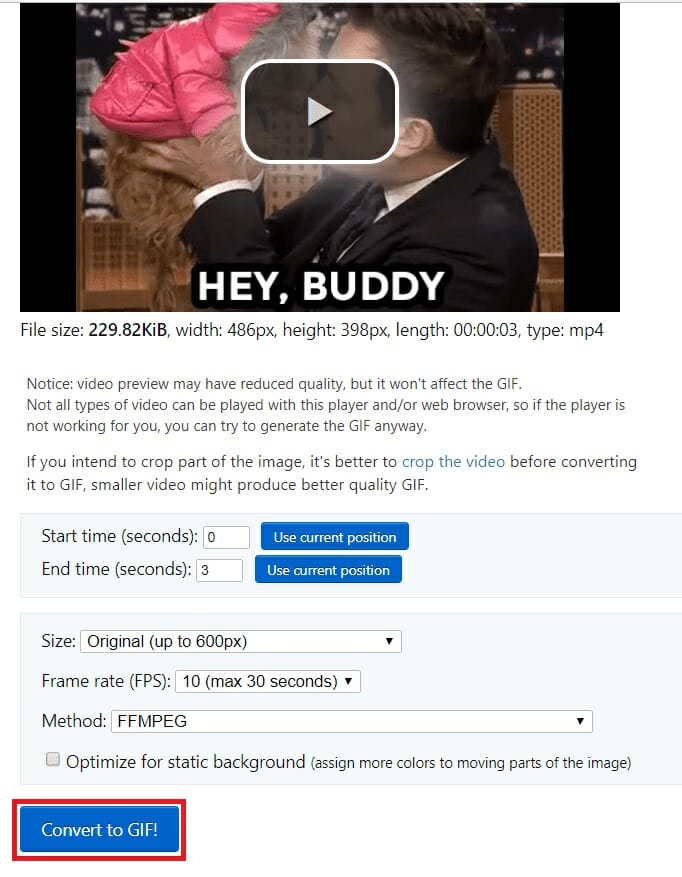 Step 6: Save the file on your pc by right-clicking on it and selecting "Save As". 
Please scroll down to see your final score! The clip from Twitter will now be saved to your desktop after it has been transformed into an animated image. Hit Save to use it. In your device's Downloads folder, the file will be stored for future use.
Six easy steps are all it takes to save gifs from Twitter. 
How to Save GIFs From Facebook
To save GIFs from Facebook, follow these five simple steps.
Step 1: Log in to your Facebook account. 
Navigate to Facebook.com using the web browser on your PC. Then you'll need to provide your username and password to access your account.

Step 2: Browse through your timeline until you locate a GIF that you like. 
You may now browse your newsfeed to see what your friends have been up to recently. Look through the postings in your newsfeed to see if any of your friends have shared animations with you.
Step 3: To access the GIF source, select it from the list at the end of the screen.
Save GIFs by clicking the "source" button at the bottom of each one when you go through one you'd like to save. This will redirect you to some other tab in your window, where you can view the graphic on the webpage from which it was sourced if it is available.
Step 4: Using the right-click menu, pick Save As to save the file to your computer. 
the original site will now show you the item in question. Now, right-click the gif. Click on the Save As in the pop-up box.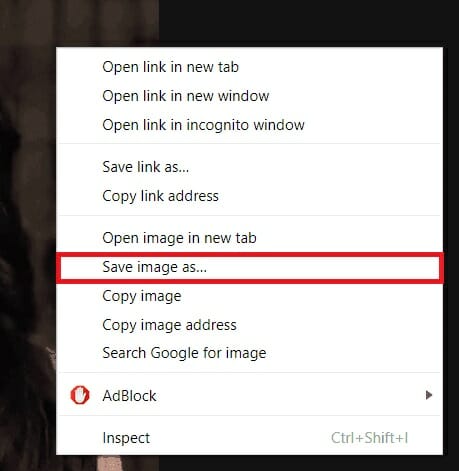 Step 5: Click Save after deciding how you want to save the file. 
If you choose to save the GIF to your pc, a window will pop up on the screen that allows you to specify the location. Click on the Save option after selecting the folder in which you need to save the file.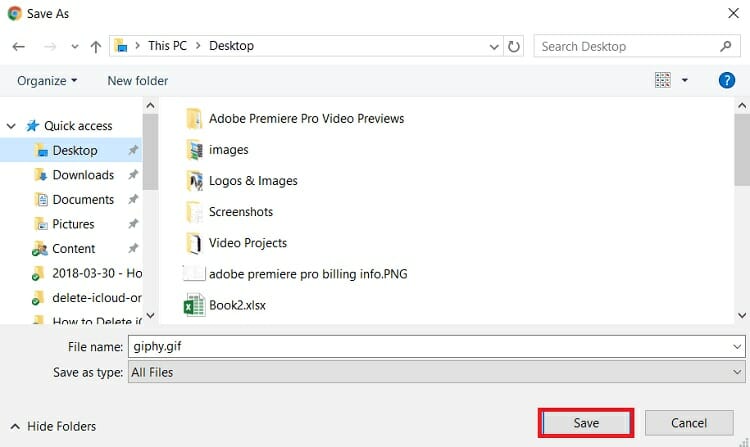 Simply following these steps will allow you to save the digital gifs from Facebook. 
How to Save GIFs From Tumblr
Step 1: Navigate to tumblr.com in your web browser and sign up. To log in to your profile, enter your username and password. 
Login at Tumblr.com using your chosen web browser.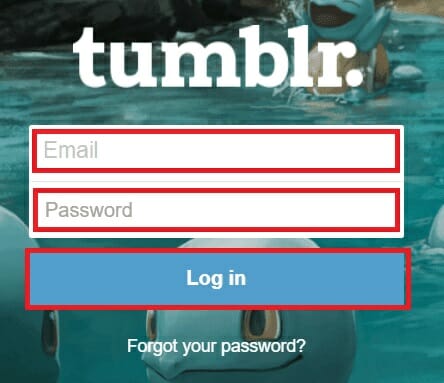 Step 2: If you like to save a gif, look through your newsfeed of posts and select it. 
Signing in allows you to view the postings of persons you follow. Find the photograph you want to save to your pc by scrolling down in the timeline section.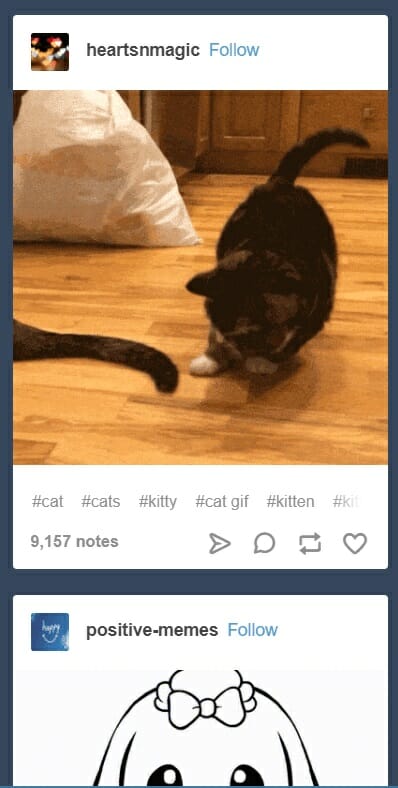 Step 3: Save the image by selecting it with the right-click menu. 
Click Save As in the selection that displays when your mouse is over the file you would like to save on your desktop.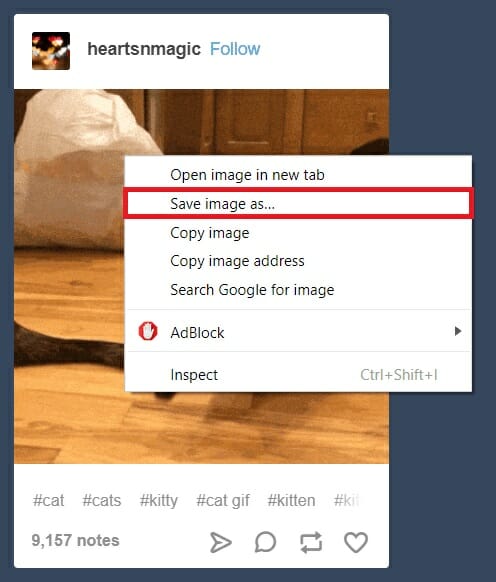 Step 4: After selecting a location to save the file, click on the Save option. 
If you click on Save gif, a pop-up menu will appear where you can pick the folder in which to save it. Choose a location and click on Save.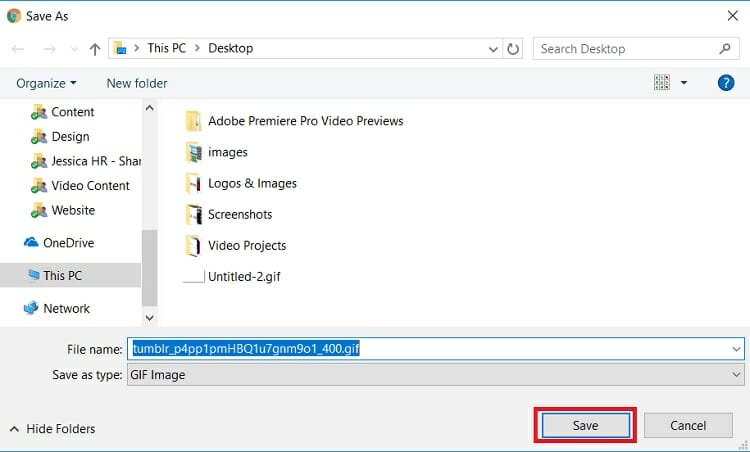 Four simple actions are required to save Tumblr GIFs. The instructions on how to save digital gifs from a number of websites are now complete.
How to Save Gifs Using Filmora9
Step 1: Download and Install
Select Windows or macOS from the list underneath and download this for free on the Computer. To install the program, double-click the.dmg file and follow the on-screen instructions.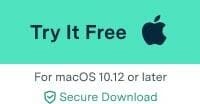 Step 2: Click on the filmora9 icon for starting a new project
Click on the "New Project" in the navigation pane to view the application software once it's been launched and opened. Project Settings can be accessed by selecting File in the menu bar.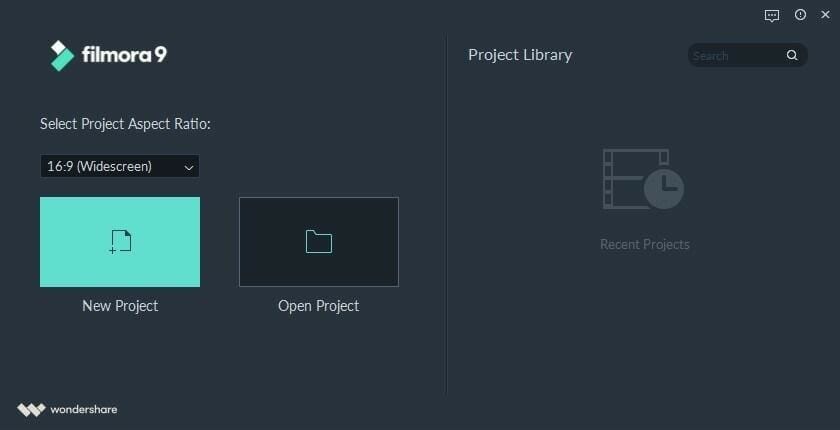 Use the project options to define the aspect ratio, quality, and screen resolution of the clip, depending on the version on which you plan to share it with others. Click on the OK and save your settings when you're finished.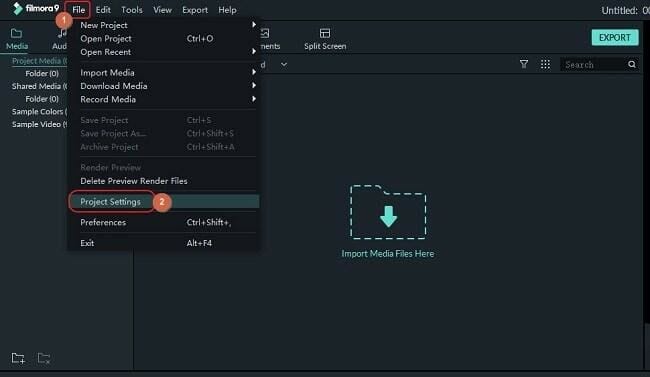 Step 3: Start a new project
Begin by downloading and saving the GIF you want to convert into a video to your computer's document folder. To upload a GIF, hit on the timeline.
There will be a prompt asking if the content portion ratio and quality match or if you want to keep the current settings. For the clip to be suitable with the format you want in the following step, it's best to select "DO NOT CHANGE."

Step 4: Export to convert
Click on the "EXPORT" button at the top of the page. Select from the list of alternatives, the video file type that will run on your PC or Mac. Name the file and select a location to save the clip to after renaming it. In less than 3 seconds, hit the Export option at the end to see how it's transformed. On the computer, you can convert gifs to videos with Filmora9.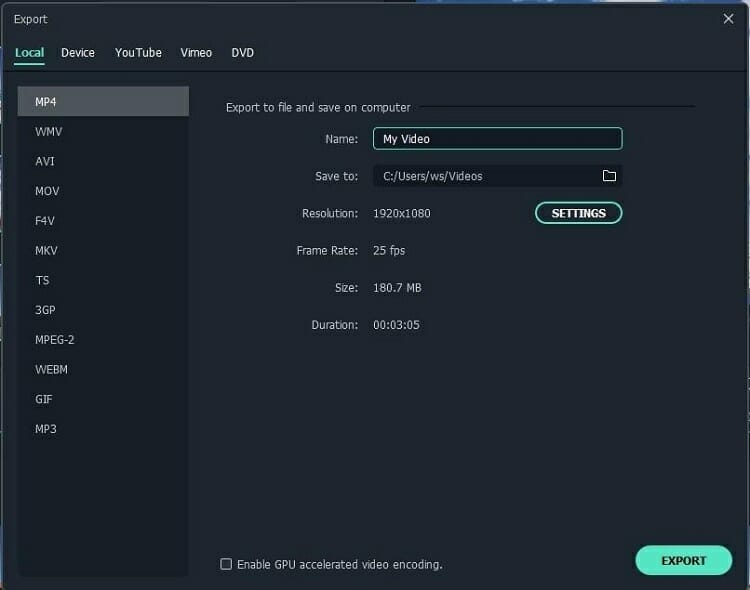 Step 5: Save the video
After the GIF conversion process is finished, tap Find Target to save the GIF file to your computer.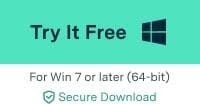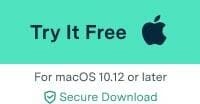 How to Save GIF on Android Using Convertio
An internet application will be used to convert GIFs into MP4 video files. If you're using an Android smartphone, open the Convertio app in the device's browser.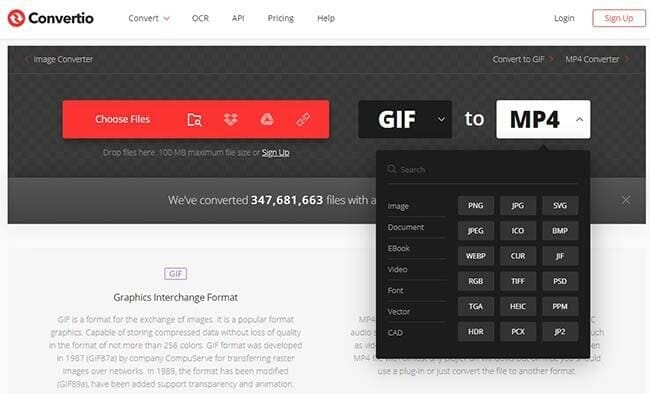 Step 1: GIF files can be downloaded and stored on your Android phone by doing a GIF file search.
Step 2: Specify the gif file location. A drop-down menu will appear when you click on the down arrow on the MP4 file. Place your pointer at the video settings and select the desired file type by clicking.
Step 3: Upload a GIF – Click Select Files and select the file you want to convert from your computer.
Step 4: Transform your GIF by clicking the convert option. Save the clip to your computer by downloading it.
MP4 To GIF, ezgif, and Zamzar are some of the video converters you may use on iPhone to convert videos to GIFs. In Android, it's as simple as 1-2-3 to convert an MP4 movie to a GIF. To use any of the programs mentioned above, simply upload an MP4 movie and then enter your desired settings.
How to Convert GIF to Video on iPhone/Android
For downloading GIFs and animated graphics, iPhones continue to be the most popular handheld device. Yet just a small percentage know how to turn GIF into video also on iPhone.
There are a number of GIF converters for iPhones available online. They are generally free for use and will not require registration or membership. 
Step 1: Using the Gif Share app, you can search for GIF files and upload them. The GifShare app or camera roll can also be used to download.
Step 2: When GIF files have poor quality, you can change them by using filters, effects, and background options.
Step 3: Change the speed of conversion and crop it to the right size.
Step 4: You can save the GIFs to your iPhone and watch them at a later date.
How to Convert GIF to Video for Instagram
Another very active social platform users are Instagrammers. Photo and video streams are deleted after 24 hours for this very reason. So you have to learn well how to convert Gifs to videos on Insta without copyright free if you want to keep your followers interested.
Instagram only allows some video file types, including GIF. To upload a GIF to Instagram, it must first be converted to an MP4 clip.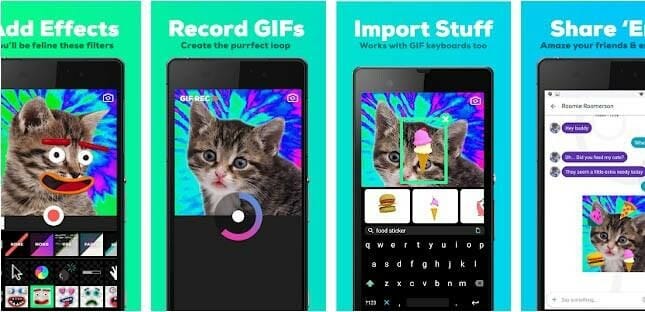 Step 1: Install the Giphy mobile version of the App and, if desired, set up an account.
Step 2: Fill in your email address in the Giphy Glove which appears and click on the Send. Under your downloaded GIF, click the Instagram icon.
Step 3: Giphy will send you an .MP4 video through an email.
Step 4: To download the video, save it to the Smartphone by downloading it from the email. Now you can submit the video to Insta or store it to post later.
Conclusion
GIFs are widely utilized on web pages to elicit a reaction, present a new topic, and keep visitors interested. Despite the reality that there is numerous GIF to video converter found on the internet, only a small number of them can be linked with social media platforms such as Instagram. So, how to save a gif as a video on Windows or Android?
How to save a gif will no longer be a difficult task for you if you follow the instructions in this article and use the appropriate equipment. The vast majority of GIF conversions for the iPhone are also compatible with Android handsets with no issues.