In today's world, we all have a mobile with us, whether it's an iPhone, Android, Windows, or another device, for the comfort of our everyday lives. Each of these devices is expensive, and we use them to store crucial information and papers. In this article, we are going to discuss how to track iPhone from android device.
We experience high levels of stress and anxiety in our minds when we lose such devices for any cause (including falling somewhere or being taken by a burglar). When we lost our mobile, we don't just lose our mobile; we also lose essential information, such as our phone contacts and documents, along with our device.
Users of the iPhone may be known with Find My iPhone, a popular iOS program that allows users to locate and track their iPhones from those other Apple devices. Apart from that, various more applications and software programs can be utilized to monitor an iPhone from the other in the future.
However, if none of your relatives or friends have an iPhone, the chore of tracking gets laborious. If this is the case, you may want to consider an alternative means of tracking an iPhone with an Android.
How to Track iPhone From Android
Method 1: Make a Call/Send a Message to Your Lost iPhone
Phone calls and text messages to a lost iPhone are still feasible possibilities, but only if the device is not being hijacked. While going across town or visiting a salon, grocery shop, restaurant, or any other location you may lose your iPhone.
It is possible to call your mobile number, and someone will almost certainly answer your call. When no one answers your call, try sending WhatsApp messages, Facebook Messenger, or other messaging apps that indicate whether or not the message has been delivered.
For instance, if you send out a message in WhatsApp with a double tick, it indicates that the message has been delivered as well as your device is turned on.
Making a phone call and getting "Not Reachable" or "Switch Off" is not a positive sign.
Method 2: Track iPhone from Android Phone Using Android Browser (iCloud)
You should first activate the appropriate setting on your Android device to track your iPhone. Any browse app can be used in conjunction with the techniques outlined here to locate a misplaced iPhone. 
You should run the Mobile browser in private mode when you're using anyone else's Smartphone to locate your iPhone. Consequently, no information about you is stored in the browser application.
Step 1: First, you have to sign in to com by using your Apple ID.
Step 2: then, you have to choose the Find iPhone from the available options.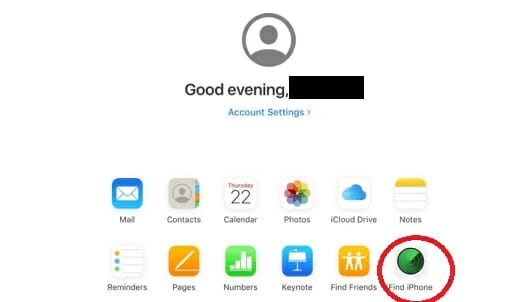 Step 3: Now, you have to select the device that you need to locate.
Step 4: You can use any one of the 3 choices provided to detect or operate your lost phone.
Play Sound: Whenever the phone is turned off, it makes a loud audible beeping sound. As soon as you hear the phone's sound, you will know where it is.
Lost mode: Allowing this option to be enabled will protect your phone from being hacked by intruders.
Erase iPhone/iPad: This selection will instantly remove the info on your phone, ensuring that private data is secure from being exploited by others.
Step 5: Once you have finished your search, log out of all of your accounts and exit the tab.
Method 3: Track iPhone From Android Phone Using Google Timeline (Maps)
Google Maps Calendar is a software feature that displays the major places you may want to visit on your trip around the world. It also shows you a few of the routes that you can take depending on the previous location data that you have taken. It is only you who has access to your history, as this software program keeps it private and secure. The program is functional and runs nicely from both the phone and desktop platforms.
Google Calendar can assist you in tracking down and locating the iPhone, however, the result is not always assured. For Google Timeline to work, you must first enable the feature on the iPhone that allows you to track it down before it is lost. The following are the configuration options:
Check to see Google Maps is downloaded on the iPhone and so the location access capability is enabled before continuing.
Open Google Maps then navigate to the Settings menu. 
Select Personal content from the drop-down menu, and then check that the location tracking option is activated in the Location Services as well as Location History settings screens.
Then, to trace your iPhone using an Android device, read the instructions outlined below. 
Run an internet browser software on your Ios device and sign in to your Google Calendar account, just as you did with the Google Map location access of your lost iPhone.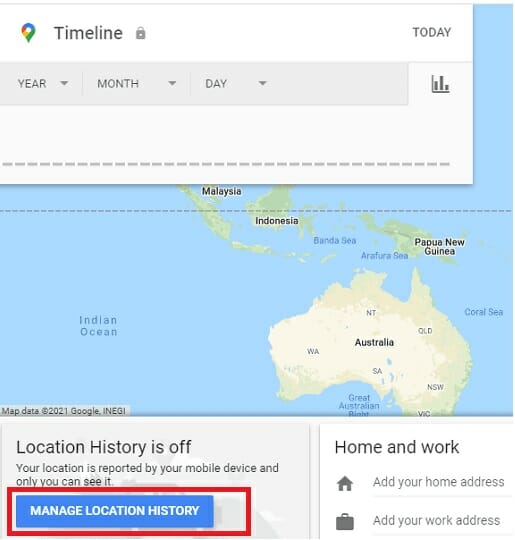 Determine when you can't find your phone and examine the routes and areas you traveled to get there. Your clicked photographs display in your timeline but also identify where you have been when you used your missing iPhone last. If you captured any photos on that exact day, the latest source in your history and shows where you were when you lost your iPhone.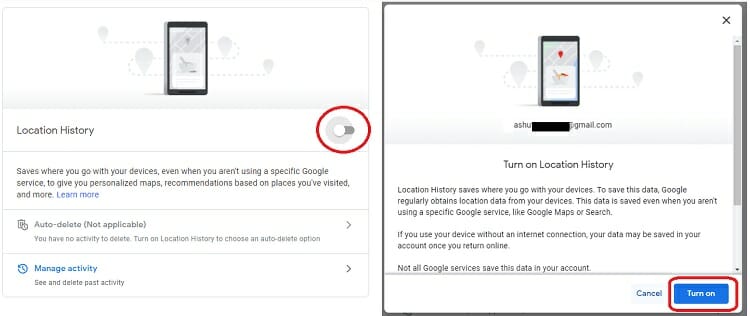 Method 4: Track an iPhone using a GPS Tracking App on iPhone and Android both
Another helpful technique to locate down stolen or missing iPhones is by using GPS tracking software. However, it is considering installing a GPS tracking program on the device before it is misplaced. 
Simply download the safest and most reliable GPS tracking applications on your smartphone, which can be used on respective ios and Android platforms. Launch the same application on both platforms then use it to track for your misplaced smartphone. Life360 is one such tracking application. You can also access the Life360 app's services by logging into websites using account information from any online browser application.
To locate the iPhone while using another Smartphone, launch the Mobile browser in private mode. Once you close the app, no information is stored on the browser.
Method 5: Track an iPhone Using the Family Orbit Tracking App
It is possible to follow both iPhone and Android devices with Family Orbit, which provides many features as a mobile tracking tool for iOS and Android devices. The majority of the time, this program and its Linux desktop serve as a parent configuration tool.
You can keep track of your child's activities as they become more involved in the digital world with the help of this app. It has a function that allows you to track the location of your iPhone, as well as their call history, text messages, images, and online searches.
Family Orbit is a mobile tracking app that uses GPS to pinpoint the location of a target individual on a map. To track the specific iPhone, you must first register for the program. You can try out the freebies for a limited period, or you can subscribe to the premium membership. Its free trial period allows you to keep track of up to 3 phones at the same time. 
Features of Family Orbit:
It allows you to see where your relatives are instantaneously on a map. 
It allows you to set family locations and receive notifications when members of your family arrive or depart from those locations. 
It includes a feature that allows parents to keep an eye on their kid's device images, contacts, and traveling speed while they are away. 
It enables you to communicate with your relative's members and share images with them. 
Adult members have entire control over their personal information. They can enable or disable their sharing feature whenever they choose.
Method 6: Track an iPhone Using Cocospy
It is possible to follow the location of an iPhone using Cocospy, a software program that can be used on some other phone, such as a Mobile phone. Cocospy informed you that because it is a reputable phone monitoring program, you would be able to follow any iPhone you desired. Families use it to keep track of their children's internet activities as well as their geographic location.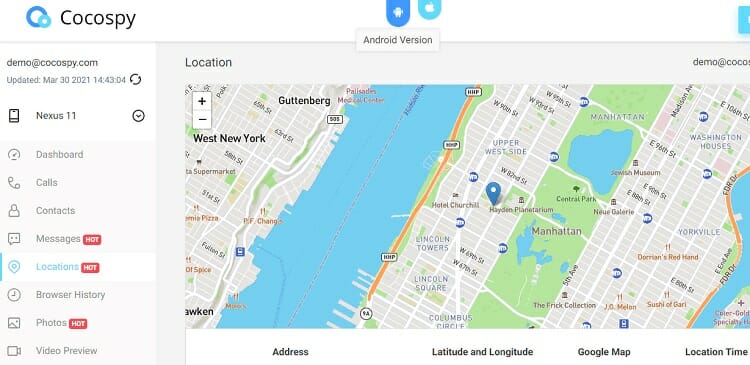 The following are some of the functions that Cocospy offers:
Location tracking, which uses GPS and SIM cards, monitors the location of your iPhone concerning the places where it is now available. 
Call records and contacts tracking are two important aspects of a business. You can use it to keep track including all incoming calls made and received by your specified device. 
Monitoring social media activity: A separate page allows you to track the majority of your online networking platform's applications, such as Facebook Messenger, WhatsApp, and other similar services. 
Keep track of your web browser: Using Cocospy, you can see which websites have been visited by a certain device. You will be able to see where apple user spends the majority of their internet time.
Using the Cocospy tool, you can trace an iPhone via an Android phone:
To join up for Cocospy's activities, go to the company's official website at "https://www.cocospy.com/" on the Smartphone. 
Select the services that you require to detect iPhone. 
Select the targeted iPhone that you desire to track at this point. You will need the iCloud passcode of your targeted iPhone to complete this task successfully. Fill out the form with your credentials and click on the Verify option. 
The activation process is done once the credentials for the targeting iPhone device have been entered. Click on finish. 
Now, sign in to Cocospy using the credentials to set up an account on your Smartphone so that you can follow the location of your iPhone.
You can utilize Cocospy's services to gain access to your targeted iPhone for an endless amount of time. Tracking your social media interactions as well as the location of the iPhone will be possible. All of these actions will be carried out on your Android smartphone.
Conclusion
You can use different methods to track your iPhone using android devices. Simply follow the steps of the methods properly and track the iPhone.