Feeling weird by blocking someone unexpected on steam? Don't be tense. Steam provides a great service to revert it by unblocking that person.
You know steam is a cloud-based gaming library. Whether you are a fresher in PC gaming or experienced, steam lets every user play and create games without judging your skill level.
Also, steam offers chatting & communication with other users. But often, some unusual cases occur because of wayward clicks.
You may block someone deliberately or you may block some wrong persons whom you don't want to block. But after a while, if you realize and wish to unblock them, steam has already an unblocking feature which will be helpful for you in that case.
So, if the situation sounds similar to you & you don't know how to unblock the persons you blocked, then this article is for you. By exploring the article thoroughly, the term- 'how to unblock someone on steam' would be very simple to you.
How to Check If Someone Has Blocked You or Not?
On steam, you may block anyone or be blocked by someone. It's not a serious matter. And there are many ways to verify if someone has blocked you or not on steam. Some considerations are here-
You only need to visit the person's profile. Steam will show you the user's friends list. Just go through the friends' list, and check if he/she has blocked anyone or not. 
If the user has blocked someone, then you will not be able to find him/her on that friend's list.
Check your friend list status whether it says online or offline. It doesn't relate to blocking. It just defines whether the user is available on steam or not.
Also, if the person has hidden you on steam, you can still find him/her on your friend list. But you will see his/her name and profile picture hidden & you cannot chat with him/her.
Another situation may happen that someone had blocked you before and now has unblocked you. In this case, you will find them on your friend list. To make it effective, you can re-add them.
How to Check Blocked Person's List on Steam?
Sometimes, you might block someone accidentally or temporarily or only for the reason they are lagging. But if you ever wish to unblock them, you have to check the block list on steam.
It is recommended for you- to check the blacklist at least once a month. To view the blocklist you need to do-
Launch Steam on your device.
From the top-left hamburger icon, tap 'You & Friends'.
Now, from the 'You & Friends' dropdown, choose 'Friends'.
Then, select 'Blocked' from the 'Friends' dropdown.
Here, you can view the list of blocked people on steam. So, if you wish to unblock them, go ahead with the article, follow the further instructions & then unblock the people sequentially.
How to Unblock Someone on Steam (Using Desktop)
Steam allows storing games by engaging less space on the computer. Also, you can connect with other users & chat with them.
Adding someone on steam or blocking someone out of anger is so common incident. So, don't worry if you are in this state. There are several ways to sort out this.
If you have unintentionally blocked someone on steam and would like to unblock him/her, then it's a matter of a second.
You can do it either via profile or via friend list. Both methods are described below-
At first, you must launch the Steam client and make sure that you are logged in with your steam account. 
Then, from the top menu on the right of 'Community', hover up to your 'name'.
Now, click on 'Friends' from the drop-down list and you will see the friend dashboard. 

Click on 'Blocked' from the left-side menu and open 'Manage Blocked List'. 
Here, you can see all the person list you have blocked. Now, just choose the user to whom you want to unblock and simply click on the 'Unblock' option.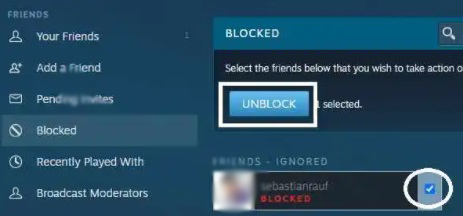 Moreover, if you want to unblock multiple users, check all the users at first and then click on the 'Unblock' button.
Once you are done with it, refresh the steam page and you will view that all the users have been unblocked now.
Start the steam application on your device and tap on 'Friends & Chat'.
Go through your friend list. If the blocked person is in your friend list, you will find them and view that they are blocked.
Then, click right on the user and then select 'Manage'.
At last, unblock all the users.
How to Unblock Someone on Steam using Mobile Apps
Not only using PC but also through steam mobile apps, you can manage blocking and unblocking people on steam. 
Following are some steps similar for both Android and iPhone-
Firstly, install & launch the steam app on your mobile. 
Then, click on the 'hamburger (≡)' icon which is on the very left-hand top. 
Now, select the 'Friends' option from the 'You & Friends' drop-down list.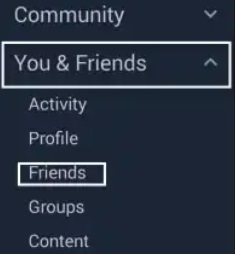 You will find the friend dashboard in front of you. Now, choose 'Manage Friends List' to rummage all the options. 
After that, search for the user whom you want to unblock and then, check the box by clicking on it which is usually on the right side of the user.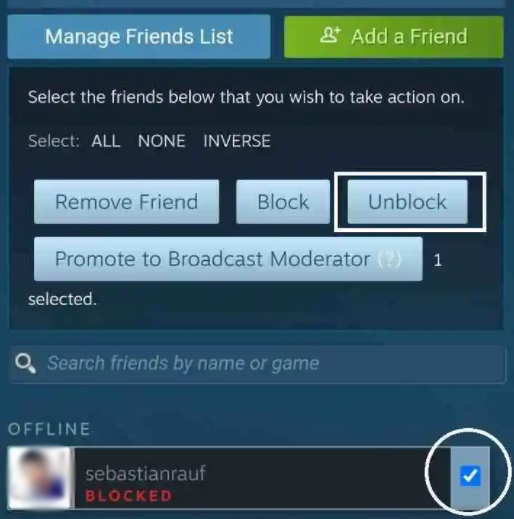 Once you check up the box, press 'Unblock'.
If you want to unblock a large number of people, then choose all the users before and then, move to tap on 'Unblock'.
Frequently Asked Questions
1. Even after unblocking someone if they still appear offline, then what to do?
Ans: If a user whom you have blocked was online before, steam automatically updates the user status to offline. And if it happens, you need to restart your steam client or computer for effective changes.
2. Which privacy settings should be used more?
Ans: As you know, steam contains various privacy settings. Among these, the most dominant one is – Disabling the persons who can see if you are ever online. 
And to do this, tap on 'Steam' which is on the top left side of the window. Then, choose 'Settings' & select 'Account' from there. 
After that, press the 'Offline Mode' tab & ensure that the slider is already set to 'Only me'. Thus, you will be sure that no one can know if you are online or not.
3. What happens when unblocking someone on steam?
Ans: The people you will unblock, will be on your friend list automatically. And the users will be able to see you offline and they will not be informed of your gaming updates via steam.
Conclusion
Blocking & unblocking is a key feature of any kind of social app through which people get connected.
On steam, blocking someone is a prominent way to conceal the online status and appear offline to certain persons without signing out. It also makes the users unable to see your profile.
But sometimes, a sudden unwanted click may cause some wrong person to block. But steam makes it quite easier to check the blocked list and unblock those persons you want to be connected with.
Above all, if you go through the whole article, you would capture the idea to unblock the persons on steam from both mobile & PC whenever you want.