The Internet has become a vital part of our daily life. It is surrounding our daily life. So it is very necessary to have a safe internet connection. That safety is provided with a VPN. VPN stands for the virtual private network. This provides a secure and versatile environment in the World Wide Web. Here, we will talk about how to use VPN in Windows 10.
When you use a VPN in your windows 10 pc or laptop, it creates a path through which your internet usages remain safe and secure and so outsiders can not be able to locate your IP address and can not get your internet information.
Again, by using a VPN you can easily change your location and can access any internet platform which is not accessible in your country. So you can get these very useful features by only using VPN in your windows 10 pc or laptop.
There is another feature in a VPN that can give an extra benefit. That is its ad-blocking capacity. When you enable your VPN connection, you will get this feature free. Thus you do not need to block adds manually. For this reason, your net connection will be faster enough. So you should give a try and can be able to use it on your windows 10 pc or laptop.
For using VPN effectively, you need to know the procedure of its use. Here you will get the step by step procedure of enabling and disabling your VPN according to your net. So let's start the journey.
How to Use VPN in Windows 10 PC Or Laptop
You can easily use VPN doing two main things. One is to create a VPN profile and another is to connect with the VPN. So first you need to create a profile. To create a profile, you need a VPN app. So firstly you have to download any VPN app from your windows 10 app store and then install it. After that, you have to choose the protocol for secure encryption. There are mainly four types of protocols available in any VPN service.
You should give attention to the protocol because it plays the main part in your security. The protocol tells about the strength of encryption. The more strength of encryption, the more secure your web activity. So protocol plays the role of encoding and that is known as encryption. So choose wisely a protocol. Though it gives your VPN service, so you have to take a good VPN service.
Your VPN service will directly tell you about the protocol's name. Such that the creation of a profile is done. Now you have to turn on your VPN from Windows 10 to get the benefit of it. So let's start.
Connection with VPN in Windows 10
At first, you have to type Settings on the search menu box. Then, clicking on the settings, you have to select Network & Internet option from the window. There are some options for connection in that part. You have to select VPN.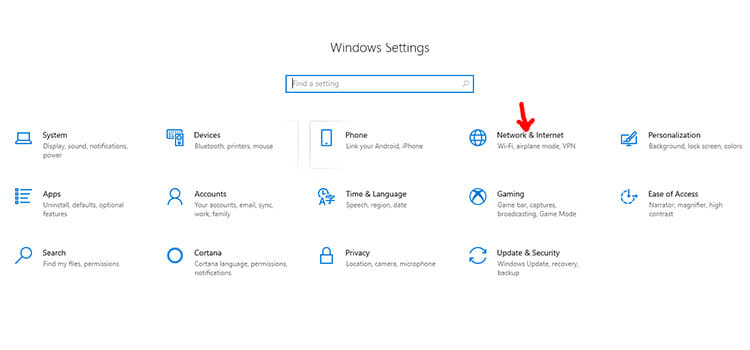 There you will find an option saying Add a VPN Connection. You have to click on it. Then, you will find a configuration page. There you will find six requirements. You have to fill them up.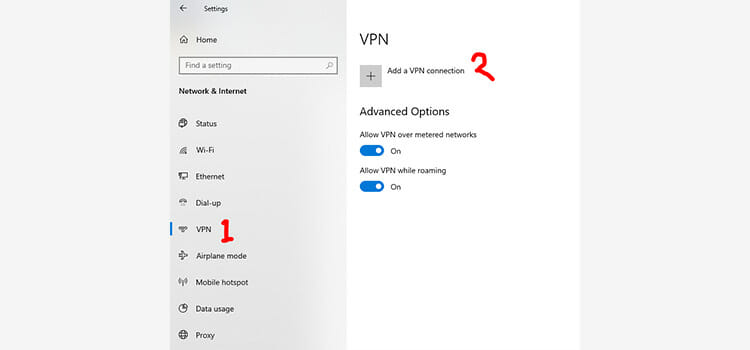 The first requirement is the VPN Provider. So you have to give your provider's name. In this case, you have to select the Windows (built-in) provider name from the drop-down arrow.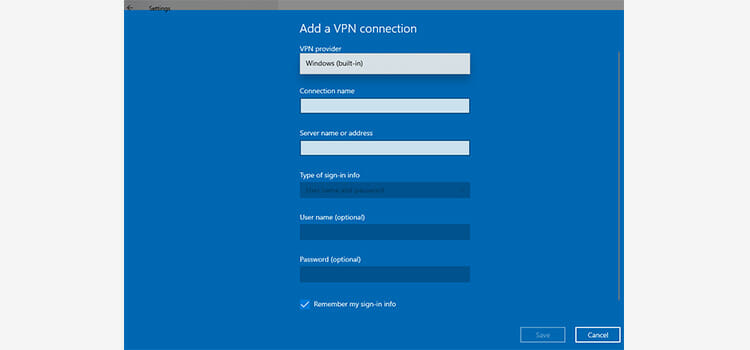 After this, you have to go for Connection Name and give this field a name consisting of your VPN service and the server you want to connect with.
Now comes the Server name or address field. Here you have to type the address of your connecting server and this will be provided your VPN connection. This address looks like a string of alphanumeric characters. There are five or six characters in the address which come from the VPN service. This address is a URL type name.
You will get a VPN type at this time and you have to fill it up by the protocol name. That protocol name you will get from the VPN service. Now Type of Sign-in Info field, you have to connect with your VPN connection. Here you will choose the connection type with your VPN service. Each VPN service uses their method. So you have to be sure about the method from your service provider. After this, you have to go for Username and password. So give your username and password to this area.
With the entered username and password, you have to connect with your VPN connection every time. Thus your connection will remain secure as well.
Finally, you have to click the Save button and now your connection to VPN is ready to work.
Now you have to come back to the Network & Internet window's VPN part. Here you will get a logo with a VPN written in. You have to click on it and select it. Thus your VPN connection is on.
Disconnection of VPN in Windows 10
Sometimes, you may want to disconnect your VPN connect because of any reason. For this purpose, you have to go to settings and select a VPN from the Internet & Network option. Then in the VPN connection, you have to click on and select disconnect. To assure it, you have to click twice the remove button. Here you go. The disconnection process is done.
Conclusion
This simple procedure is the effective one to use your VPN. So follow the step by step procedure and you will be able to connect to VPN. Sometimes you don't need to install an app to have VPN activation on your windows 10 pc or laptop. In that case, you only need to use a particular browser for this purpose.
The Opera web browser provides these features with their settings. For this, you have to click on the opera icon after opening the browser. Then, you will get an instruction bar in which you will get the Preference option and you have to click on it. Then after scrolling down you will a get VPN option. Finally, you have to click on the button to enable it. Thus your VPN is ready to use.
 If you want to disable then you will get the VPN icon with every URL when you will use opera. By clicking on the icon you will get the information about using MB rate also. When you will click on the VPN option, besides the writing you will find ON and OFF option. By clicking the OFF option, you can disable this feature. Sometimes, you need to disable this because it can cause your net connection a little bit slower.
So here you get another option of using a VPN without any installation of the app. You can use any of the two methods according to your choice. So pick one and enjoy your VPN features. LET US BREAK A LEG!