Apple has developed a brand new watch called Apple Watch SE and its bigger brother Apple Watch Series 6. You can use these watches as a smartphone just like Fossil. You can get all kinds of notifications on it like Facebook, Twitter, Instagram, signal, etc. There are a few ways to get WhatsApp works on Apple Watch. So, read the whole article to know more about this topic.
But among all these, Apple watches don't allow you to use WhatsApp, as there is no official Whatsapp app for Apple watches. But you always have a way as your apple watch allows you to third-party apps.
Whatsapp has been among us for over a decade. After its introduction, it has gained over 2 billion users and is available on every smartphone platform. If you use your Apple Watch as a second screen of your phone, it is crucial to get a Whatsapp notification.
There are a few ways to get WhatsApp works on your Apple Watch. So, let's get on to it.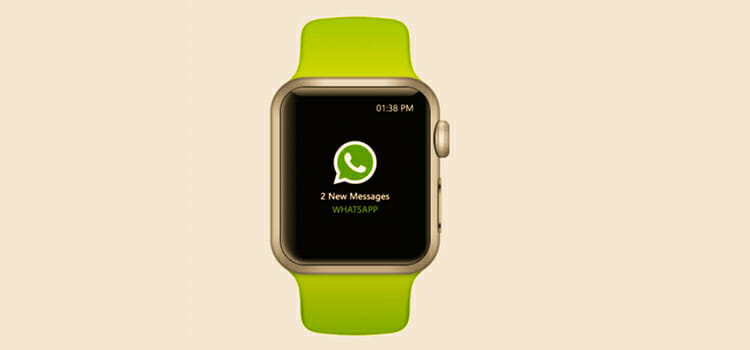 Get WhatsApp Notification on Apple Watches
Going through the official steps, you can get the notification and reply from your Apple Watch. You will have to make sure notifications are turned on to mirror your phone's WhatsApp to your watch. Follow these simple steps:
Change notification settings on your iPhone.
1. Open Setting on your phone.
2. Tap Notifications.
3. Scroll down and tap WhatsApp.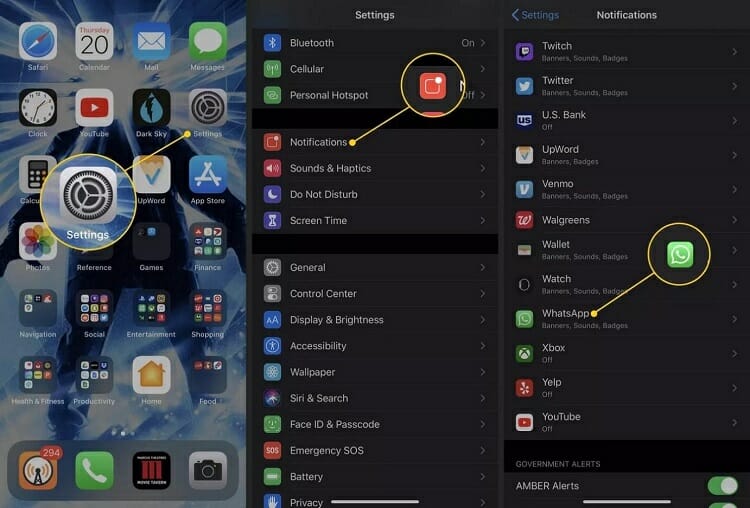 4. Turn on Allow Notification.
5. Select Show in Notification Center and Show on Lock Screen.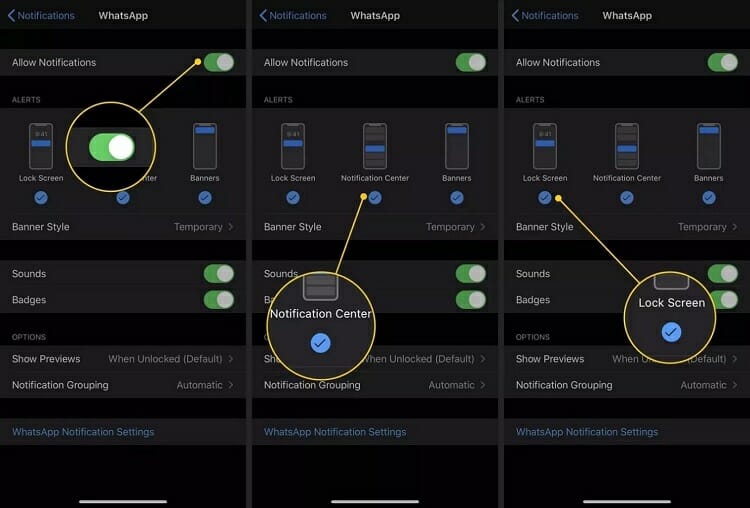 Configure on Your Apple Watch App.
1. On your iPhone, Go to the Watch app.
2. Go to Notification from my watch tab.
3. Scroll down and turn on Notifications for WhatsApp.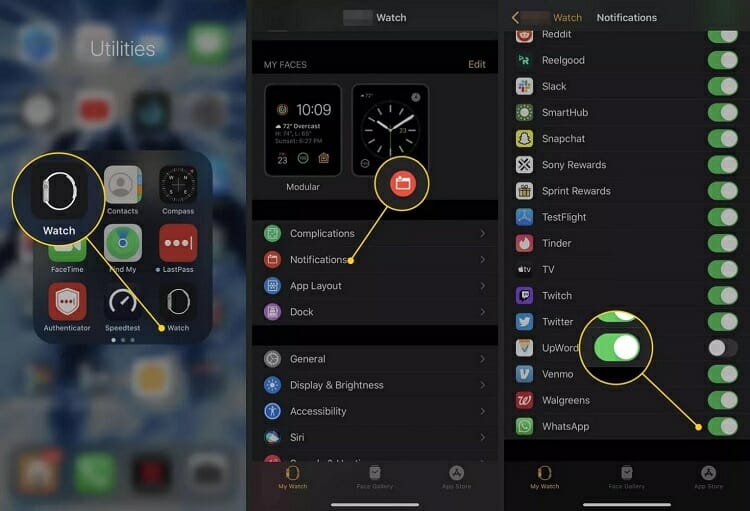 While you turn on this notification, you will notice vibration on your watch whenever you get any WhatsApp notification.
Reply to a WhatsApp Messages from Apple Watch
Though you get all your WhatsApp notifications on your watch, there are limitations. You cannot type a reply. But you can send messages given there in the watch, like 'Hello,' 'What's up?', 'OK' or 'On my way.'
But you can send voice records from your watch.
1. On your Apple Watch, go to WhatsApp Notification.
2. Select Reply.
3. Select any custom reply from the given list or,
4. Tap on the microphone and record your voice message and send it.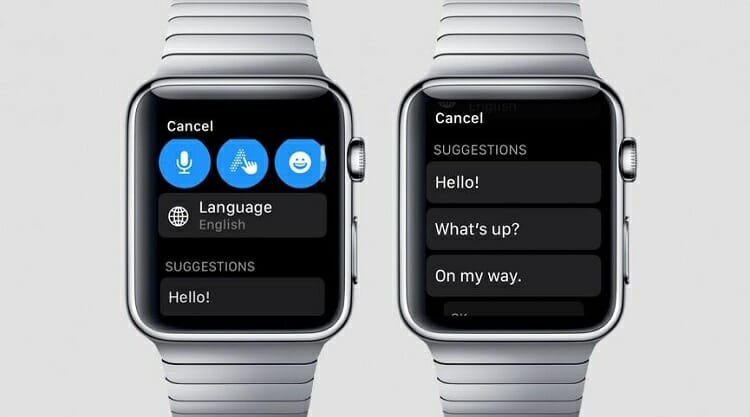 Download Third-Party App (WhatsApp Alternative)
There are some third-party apps, free and paid-for, you can use. Of course, not all third-party apps will work perfectly. It is your call to choose. But we can talk about apps called WatchUP, Chatify, WatchChat 2 ($4.22) in case of reliability and effectiveness.
While using these apps, you must be cautious about sharing your personal information. Among these apps, WatchChat has an excellent user review. You can find these apps in the App Store.
Download and Setup WatchChat 2 or Chatify
These apps allow you to get notifications, read messages, send custom replies, view emojis, listen to voice messages, view images, send voice messages. It's almost like using WhatsApp on your mobile phone.
The setup process of these apps is the same. Follow the instructions given below-
1. Go to the Watch App.
2. Tap App Store.
3. Type 'WatchCHat 2' or 'Chatify' on the search box.
4. Download and Install the app.
5. Open the app on your Apple Watch. It will give you a QR Code.
6. Open WhatsApp on your phone and go to Settings > WhatsApp Web > Scan QR code.
7. Scan the QR Code shown on your Apple Watch.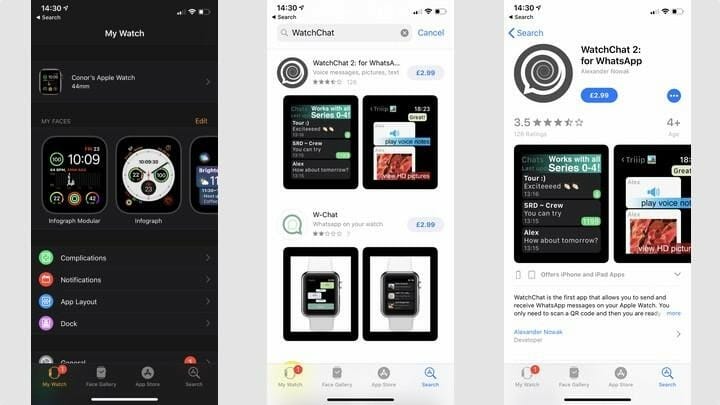 That's it. Now you can use WhatsApp on your watch as you want. As Whatsapp can have personal and important chats and files, you should know how WhatsApp can be hacked.
Conclusion
The apps are almost perfect to use. The layout is straightforward as the watch screen is tiny compared to the mobile phone's screen. The quality of the voice messages is up to the mark, even if you are in a busy place. But the questions remain, is it secure? So far, yes. Let's hope Apple adds this feature to their watches soon. If you are a cycle lover and love doing cycling, then you can also check these smartwatches.