Internet Vs Intranet Vs Extranet | A Comparison Between Them
Internet, Intranet, and Extranet are three different kinds of popular network terms of this modern era. These three have different configurations and functions. Internet is the most popular and widespread among them. Here are the comparisons between the Internet, intranet, and extranet.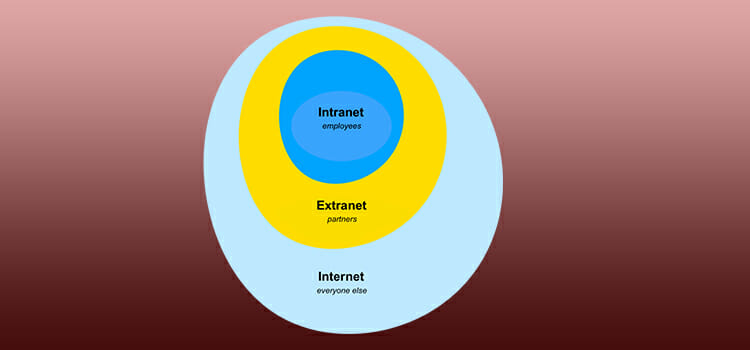 Definition of Internet, Intranet, and Extranet
What is Internet?
The Britannica defines the internet as a vast network that connects all computers from all over the world. There are billions of computer and electronic devices across the world. With the internet, any individual can access almost every data and information, communicate with others, and much more.
What is Intranet?
Steven L. Tellen introduced intranet as a private computer network that is used for private information sharing, collaboration tools, operational systems, and other computing services within an organization without the access of outsiders. Intranet is mostly used for connecting all the employees of an office or company.
What is Extranet?
An extranet is defined as a controlled private internet-based collaborative internal network that connects an enterprise with suppliers, customers, and other business partners. A company can connect with its stakeholders, vendors, suppliers and, clients to share required information and ideas through the extranet.
The Core Differences of the Internet, Intranet, and Extranet
Internet
Internet is a combination of worldwide public domains. It has a wider objective and a huge audience worldwide. Internet serves as a platform for sharing information and data publicly. Unrestricted access made it popular for all kinds of people.
Intranet
Intranet is a company's private domain. It has a positive impact in terms of shaping company culture and relationships between employees. Static resources like forms, policies, agreements, documents can be shared through the intranet.
Extranet
Extranet has a narrower objective with wider audiences. Primarily, it serves as a platform for sharing information with both internal and external stakeholders who require access to company information.
Types
Types of Internet
In the primary era of the internet, there was only one type of internet and that was Dial-up internet connection. In modern days a new type of internet has been introduced, which is called broadband internet connection. Dial-up internet is not used broadly nowadays.  So, here are two types of the internet;
Dial-up Internet.
Broadband internet
Types of Intranet
There are three types of intranet
Collaborative platform
Internal website
Distributed Intranet
Types of Extranet
There are 3 types of extranet
Company to consumer
Company to logistics
Industry-wide Extranet
History and invention
History of Internet
ARPANET, the Ancestor of the modern-day internet was born in a US Military project, financed by the US Defense Department. At that project, Researchers were researching about sharing information. That Project led the researcher to the formation of ARPANET (Advanced Research Project Agency Network). The first day of the year 1983 (1st January 1983), is considered to be the birthday of the internet. In the year 1989, British computer scientist Tim Berners Lee invented World Wide Web (www). Three years later, in 1993 he invented HTML as a public webpage format language. That's how ARPANET became the modern-day internet.
History of Intranet
ARPANET, the ancestor of the modern-day internet was a type of intranet itself. ARPANET linked the US Department of Defense computers together. Steven L. Tellen invented the intranet in 1994. In the year 2000, Enterprise Social Network (ESN) came to the spotlight as an intranet network. After that intranet is still improving commercially day by day.
History of Extranet
Within a year of the invention intranet, Extranet appeared for the first time. At that time extranet was only available for large corporations. In the year of 1996, IBM brought the extranet to public attention. After that, the extranet is being used as an efficient commercial collaboration pathway.
How They Works
Working Process of Internet
Internet connects all the computers of the world by using a packet routing network. This routing network runs through the combination of IP (internet protocol) and TCP (transport control protocol). This combination controls the transmission of data across the internet.
Working Process of Intranet
Intranet works through a cloud-based application that requires logins approvals by the admins. It uses cloud-based servers to store and share information and static resources of the enterprise.
Working Process of Extranet
Extranet works through the VPN (a virtual private network) of an enterprise. By using VPN, the extranet connects all the system devices, machines, and computers of that enterprise.
Accessibility
Internet
Internet is accessible for all types of people. It is a public network system where anyone can easily surf through different web pages. Internet requires no permission to access and it is not always secure to share confidential files and documents.
Intranet
An intranet network is accessible via a cloud-based portal where login is assigned by the admins. Employees can communicate with co-workers and higher-ranked personnel of the company. In intranet network employees could have access to view and share documents and company manuals.
Extranet
The extranet network is not accessible for everyone. it is only accessible through a web-based authorized login. An extranet allows clients, vendors, or suppliers to communicate with business employees.
Privacy and Security
Internet Accessibility
The Internet has open access for anybody. Security and privacy are always a concern on the internet. Devices can easily get affected by malware. So, anti-virus protection is needed for safe browsing throughout the internet.
Intranet Accessibility
Intranet is safe and secure for its encryption system. Encrypted passwords and data encryption are extensively used features in the intranet. Accessing information is controlled by the security and privacy system.
Extranet Accessibility
There is no security layer used in the extranet. Security layers can be additionally added to the extranet. Without strong security features, highly confidential data could be get stolen and the database may become easy to hack.
Sharing of Ideas and Collaboration
Internet
The Internet has free access for all. Anyone can easily access the data and information available on the internet. So, it is easy to share data and information through the internet. But the Internet is not safe for personal and business data or new ideas.
Intranet
An intranet allows collaborative groups, where employers could share their ideas planning, blogs, etc. with their colleagues and co-workers. This intranet feature helps an employee to take creative and collaborative decisions for the company.
Extranet
An extranet offers cloud integration. By using this feature of the extranet, ideas and support can be shared with external stakeholders to bring creative ideas.
A Summary of Comparisons of Internet vs Intranet Vs Extranet
| | | | |
| --- | --- | --- | --- |
| Subject of Comparison | Internet | Intranet | Extranet |
| Network Type | Public | Private | Private |
| First Introduction | 1983 | 1994 | 1995 |
| Types | 2 | 3 | 3 |
| Used for | Public and Educational | Commercial | Commercial |
| Security | Low | High | Low |
| Sharing Features | Easy Access to all Public Information | Collaborative Groups | Cloud Integration |
Frequently Asked Questions
Q1: – Is the e-commerce platform is a type of Extranet?
Ans: – Yes. Modern e-commerce website connects company employees with the company's vendors, clients, wholesalers, and other stakeholders.
Q2: – What is ESN (enterprise social network)?
Ans: – ESN is a kind of intranet. ESN privately connects all employees of an enterprise. Static resources like ideas, information, files, documents, etc. can be shared through ESN. It was introduced in the year 2000.
Q3: – Can I build an intranet site using Google?
Ans: – You can build an intranet site using G Suite and Google drive.
Q4: – What does the intranet means?
Ans: – If we elaborate the word 'intranet', we can find 'intra' and 'net'. 'Intra' stands for internal and 'net' stands for network. Intranet means Internal Network.
Q5: – Are intranet and extranet is part of the internet?
Ans: – Yes. Intranet and extranet are part of the whole idea of the internet.
Conclusion
The main difference and comparison between the internet, intranet, and extranet remain in their formations and usage area. The Internet has public access and widespread audiences, where intranet and extranet are two types of private networks.
Subscribe

to our newsletter

& plug into

the world of technology