With the arrival of many latest digital technologies, SD cards have become one of the most convenient modes for portable data storage devices. Sometimes, users might find some issues with SD cards about the inaccessibility of data, or the cards get corrupted or damaged, and tragically all your stored photos, videos, and other important files simply disappear. Usually, this situation shows an initial error message. If the problem is not handled properly, it may cause you a permanent data loss situation. So you need to know how to repair a corrupted SD card. The following sections will have the answers to all of your questions.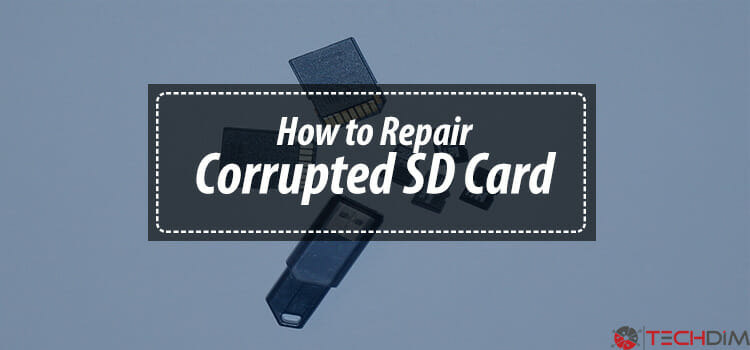 Why SD Card is Corrupted
There might be many reasons for the SD cards being corrupted or damaged.
The card can be physically broken.
There may be file and data corruption.
There may be manufacturing defects and cumulative defects.
Sometimes, removing an SD card from a card reader while files are still being transferred to a device may damage the SD card.
SD cards usually have a limited lifespan. Such as- a flashcard unit has 10,000 writes/erase operations approx., and for this, after certain cycles the chances of corruption increase.
Things to do when SD card is corrupted
Sometimes, you won't be able to do anything with your camera and a black screen may appear along with an error message 'SD card is not accessible. The file is corrupted.' Or maybe error messages are saying that 'memory card error' or 'memory card corruption'. Whatever it is, If it's not handled properly and systematically, it can cause you a permanent data loss situation. Corrupted drives may also induce various error codes. Whenever your SD card gets corrupted, frankly speaking, there is no guarantee that you will always fix the problem and can recover your data back. When there is physical damage, you may not be able to repair it, but thankfully software errors can be fixed in some simple ways. These are described as follows.
Different Methods – How to Repair Corrupted SD Card
There are many ways by which you can fix or repair your corrupted SD card.
1. Drive Letter
Firstly, connect your SD card to the system through a card reader, if your system somehow doesn't assign a new drive letter and show it to you, then for some reason, it isn't reading it. Now and then your computer is unable to assign drive letters like C or D drive to your storage media device. Because of this reason, the files on it might not be accessed. To solve this issue, you have to assign the drive letter to your device on your own.
You have to right-click on My Computer/This PC. Then click on Manage in that drop-down list.
Then click on Disk Management on the left side and wait till the Virtual Disc service appears on the screen.
You have to right-click on your storage media and then click Change Drive Letter and Paths in the drop-down list.
After that, click the drive letter and click Change. Then after selecting the drive letter, click Ok.
Use it on another PC: Sometimes, some of the devices might not read a specific SD card for some reason; therefore, you should try to connect your SD card to another device. It is possible that maybe the issue is particularly on your PC and as a consequence, you are finding trouble in running the USB flash drive. So to better possibilities, try to connect your SD card to another computer. It may work hopefully and you'll be able to access your SD card.
Install drive (uninstall the old): Sometimes, the drivers that run your SD card get corrupted, and as a result, your PC will not be able to detect your storage media. You can reinstall drivers by the following simple steps:

You have to right-click on My Computer/This PC. Then click on Manage in that drop-down list.
Then click on Device Manager on the left side and wait till the Virtual Disc service appears on the screen.
Have a double click on Disc Drives in the list.
Right-click on the name of your SD card and click uninstall. And then confirm by clicking Ok.
Disconnect your SD card and restart your PC. Then connect your SD card again.
2. Using Windows Explorer
This is the most common procedure that is used to repair connected storage media like an SD card to your computer.
Open My Computer /This PC.
Select the corrupted SD card drive and right-click on it.
Click on the Format option in the drop-down list.
Click Restore Device Defaults. Then click Start to begin the process of formatting. If you want the computer to scan deeply for errors, you can uncheck the Quick Format option. Do it if you have time; as it usually takes some time.
Then click Ok for confirmation which will warn you that the data will be lost.
3. Using CMD
At first, you have to connect your corrupted SD card to your PC.
Then, take your mouse cursor on the Start button and Right Click.
Click Command Prompt. A CMD window will appear on your screen.
Type disk part and press Enter.
Then type list disk and press Enter. You will see that a list of all the storage devices that are connected to your PC will be displayed.
After that, type select disk >the number of your disk>and press Enter. Make sure that you enter the number correctly. Or, you may format your internal hard drive completely. So be careful. Also, you may type the list disk again to check whether you are doing it correctly or not. You may see that there will be a star before the name of the selected disk.
Then type clean and press Enter.
Type create partition primary and then press Enter.
Type active and then select partition 1.
Lastly, type format fs=fat32 and press Enter. The format process will finish in a few minutes. You can also write NTFS instead of fat32 if you want to carry files larger than 4 gigabytes. Wait and don't close the CMD until the work is finished.
Remove Bad Sector
Many people don't know that our storage devices usually store data in different sectors of it. Due to various reasons, sometimes, these sectors become unusable, and as a result, give rise to bad sectors. But as always, it isn't a matter to worry about; by using some easy steps and running very simple commands, you can perform a USB drive or SD card repair.
You can repair bad sectors using CMD in windows.
Open a command prompt on your PC. Type chkdsk sd card letter: /f. Example- If E is your drive letter, type chkdsk E: /f.
This will now repair any soft bad sector present on your SD card. After finishing, restart your computer.
How to Recover Lost Data
There are many software presents by which you can recover your lost data. You may use Sandisk Rescue Pro to recover your precious data in case you have deleted those or formatted your SD card by mistake. To perform the recovery process The SD card has to be in working condition. Again, there is another salient data recovery software also like Recuva by Piriform.
1. Use the Manufacturer's tool
Like many people you might not know that many storage device manufacturers like SanDisk, Samsung, Sony, etc. provide their own utilities for many purposes like formatting or repairing devices. You can find these tools very easily by visiting the websites of the device manufacturer or by contacting their support maybe. If you believe in my experience, I would say that such alternative SD card repair methods are more useful than many.
2. Corrupted SD Card Repair Software
There is some repair software by which you can repair your corrupted SD card.
EaseUS
EaseUS is professional software by which you can recover your valuable data, by using EaseUS file recovery software; again you can repair your SD card by formatting it forcefully using the EaseUS Partition tool.
To recover data
Connect the corrupted SD card to your computer, and launch EaseUS data recovery software, you have to select the card and click 'Scan'.
You will see that a quick scan will start to search all the lost and existing data on the SD card, as well as a deep scan will automatically launch to find more files.
When the scan is finished, choose those files or data you want to recover and then click the "Recover" button to get them back.
To format SD card
After the recovery process, launch the EaseUS partition tool and then have a right-click on the card you want to format and choose Format partition.
A window will appear on your screen, where you can edit the partition label and choose a suitable file system such as FAT/FAT32, NTFS, etc.
When you are done with that, click Apply to confirm to format the SD card.
Stellar Phoenix Photo recovery
Stellar Phoenix Photo Recovery is trustworthy recovery software to recover photos, music, and video files lost after the accidental or unintentional deletion or formatting from various storage devices like digital cameras, SD cards, etc.
Moreover, this software is very easy to use.
You have to select the particular storage media for picture recovery.
Then scan the selected media and preview your recoverable data.
Lastly, save the recovered files to your desired location on your device.
Safety Tips while Repairing Corrupted SD Card
Please do not try to be an inventor while you are repairing your SD card, rather just follow the instructions.
Use the command prompt carefully.
Do not format your SD card unless you have recovered your valuable data.
You have to remember that the SD card repair methods that are described above are general and most frequent ways to fix a device. There may be some device-specific issues, and as a result, could be possible when these steps might not work as expected.
Protect your SD card
You have to careful while using SD cards. For, SD cards are small and sensitive devices. You have to protect your SD card from being corrupted.
Please do not remove an SD card while turning on/off your phone or camera or any other devices.
Never remove your SD card while saving and viewing a photograph or a video.
Do not take or view new pictures or use the SD card in some big work on battery low mode.
Do not change your SD card when the camera is on.
Start using big brand's SD cards like Sony, Samsung, etc.
You have to be careful as you can.
Summing up
As SD cards are very useful in our daily lives, we should be careful while using them. Very often the cards may get corrupted or damaged for various reasons. Now you know how to repair a corrupted SD card. So you can fix it very easily if your SD card has such issues.
I would say that will be all for now. Good luck.