Skype is one of the oldest and popular communication applications/ software owned by Microsoft. Skype is older than Skype for Business. They are both renowned applications among the people. Both have many similarities and also many different features. People use them according to their needs. Though they both have the similar name Skype and product of Microsoft, they are unique in their uses, capability, etc. So, Skype VS Skype for Business? We will find out about their difference.
You can find your friends or client on Skype and can video call, or join a Skype meeting, and the calls you made can also be recorded. You can block some irritating person and can delete the sent messages from the both sides too.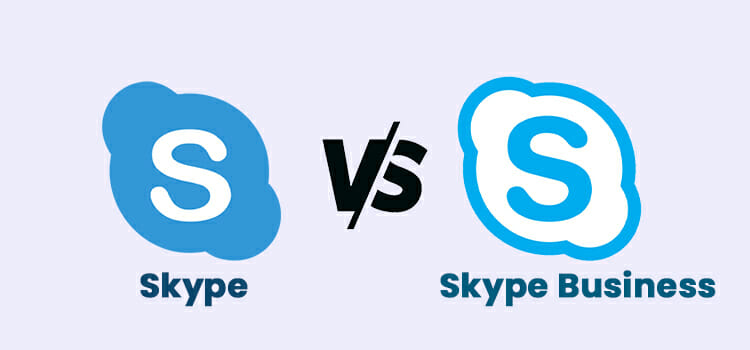 What is Skype?
Skype is a communication application. We generally find it default in our Windows PC. We can contact people all over the world through text files or messages, video calls, and audio calls. Much important information is transferred via the internet through Skype. We can add up to 25 people in a group chat or call on Skype. It is quite similar to Hughesnet video and streaming software in terms of common protocols. The features of Skype are developing more day by day. It is a useful app for many people. But finding saving files from skype is not normal like others.
What is Skype for Business?
Skype for Business is a business-related communication application. They have many features which are useful for any organization. The meeting feature of this app can add up to 250 people at once. Also event organizations in the calendar in one of the useful features of the app. It can integrate with many Microsoft Office applications to organize business tasks.
Difference Between Skype and Skype for Business
Skype and Skype for Business both have many unique features. The difference between the applications is given below.
When there is any meeting or group video or audio call, there is a different number of allowed members in both apps. Skype is allowed to have up to 250 participants. On the other hand, up to 250 members can participate in a meeting of Skype for Business.
Skype is a free application of Microsoft. It is a built-in application for any Windows PC. But Skype for Business is a paid application. We have to purchase it with a card or anyway from the Microsoft store to use it.
Integration with another apps
Skype for Business can integrate with applications of Microsoft Office. It is combined with Office 365. It has applications such as Microsoft Excel, Power Point, or MS Word etc. Also it can combine with the Calendar application of Microsoft. The event can be organized in this calendar.
Compatibility with Device
Skype and Skype for Business both are compatible with device. Apple devices also support them. But Skype supports more devices than Skype for Business. It is available in the most popular operating systems of current times
Conclusion
Skype and Skype for Business both have purposes of great communication and connectivity among the people. Both have unique features. We can use Skype for our personal causes. But for organization or business purposes Skype for Business is greatly useful. If you want to know how to strike through in skype, you can check this article. So, Skype VS Skype for Business | which one to choose? We hope we could made you clear the concept. You can learn about Diskpart.exe which is a very useful feature of Windows.