Windows 10 allows you to use a local PIN instead of the account password while signing in. The PIN is easy to remember and also the PIN can be stored locally. That means you can sign in to your PC by using a PIN without any internet connection. Sometimes, you may face an annoying issue that shows Something happened and your PIN isn't available, click to set up your PIN again message. Though you can see an option to change your pin, it doesn't help you to log into your device. If you are facing this right now, don't worry, I am here to solve the issue. Let's start;
Reasons of "Something Happened, and Your PIN Isn't Available"Issue
The unavailable PIN issue could be caused by various reasons like the outdated system driver, unfinished attempt to go to safe boot, and corrupted and missing system files. It can also be occurred for not shutting down in a while. Whatever the reason is, you can sort out this issue by repairing the system startup.
Solutions of "Something Happened, and Your PIN Isn't Available"Issue
To fix the unavailable PIN issue of Windows 10 startup, you have to diagnose your Windows operating system startup from the windows recovery screen. After running the process, you will be able to log in to your device again.
You can follow these steps to repair the startup process.
Step-1; You have to Turn Off your device and then Turn On back the device. As soon as you see the moving dots (which indicates Windows 10 is starting) Turn off forcefully by pressing and holding the Power button. You have to repeat this process until you enter the winRE (Windows Recovery) screen. When you enter the screen, select the Advanced option from the Windows recovery screen, go to the next page of repairing options.

Step-2; From the available options, select Troubleshoot to go to the troubleshooting page.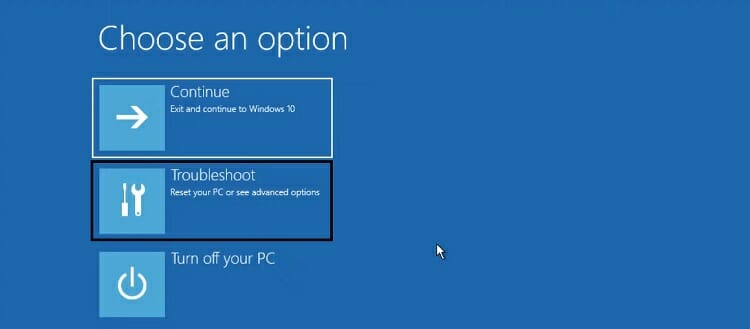 Step-3; You have to select Advanced Options from the Troubleshooting page to see more troubleshooting options.

Step-4; From the advanced troubleshooting page, select Startup Repair to start diagnosing your PC.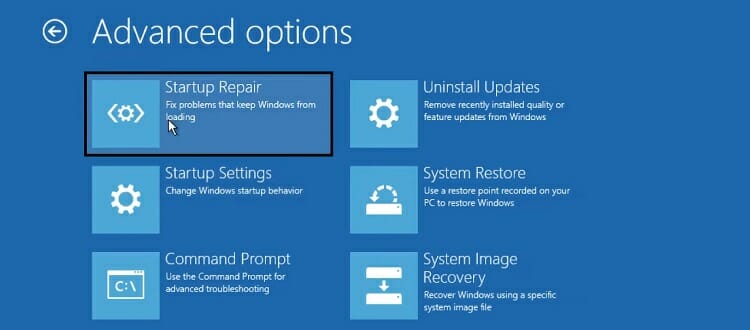 Step-5; Now, your Windows 10 system has started to diagnose your PC. Wait for a while to end the diagnosing process. Your issue will be fixed when the diagnosing process is completed.

Frequently Asked Questions (FAQs)
How long does it take to complete the startup repair process?
Well, it depends on the reason behind the issue. If the issue occurs for corrupted and faulty drives or system files, it could take 5 minutes to 1 hour to complete the startup repairing process of your device. Otherwise, it wouldn't take more than 20-30 minutes to complete the process.
Do I need an internet connection to repair the startup process?
No, you don't need an internet connection to repair the startup process. You can complete the process without any internet connection.
How many times should I need to hard shut down to enter the Windows Recovery screen?
Usually, when you hard shut down your computer about 3-5 times continuously, you'll find the Windows recovery blue screen on your PC screen.
Finishing lines
Hope you have fixed the unavailable PIN issue of Windows 10 by following the above-described method. It is always better to shut down your PC at least once a fortnight and keep all the system drivers updated. That's all for today, see you later.