The gradual adoption of technology that has been witnessed in the real estate market over the past few years is long overdue. Other sectors have been seen to jump at new opportunities to incorporate new IT trends into their daily functions, but the same cannot be said for most real estate companies.
Companies that provide software for real estate businesses have been the sole drivers behind this significant change. Zillow.com is the leading real estate marketplace, but for instance, did not become a household name overnight. It is considered a trailblazer for real estate apps because the company integrated IT into their business long before anyone else thought to do so. That is not all. The app's features are user-friendly and enhance both buyer and seller experience. One can only achieve this by employing the services of an expert IT company.
If you already have a functional real estate mobile application, the gravest mistake you can make is getting comfortable. Regularly check what competitor businesses are doing and, above all, listen to your customers.
Please check out some fantastic IT aspects that have been incorporated in real estate, those that will be adopted soon, and their impact on the industry.
Major Technology Trends in Real Estate
Immense Data
You cannot run a reputable real estate company without enough data to support it. Unlimited data allows you to refer to a wide range of resources and make the right decisions every time. Trulia, Redfin, and Zillow all use data to remain at the top of the market. This big data we are referring to isn't just random data.
It should be within the boundaries of market trends, demographics, traffic, and consumer reviews. Property companies should then use this data to offer informed perspectives on prices, appraisal trends, and the estimated value of particular neighborhoods.
Such data is also resourceful for property owners regarding different building techniques, material preferences, and systems. If data is appropriately utilized, property owners can improve their properties and even perform foresighted maintenance and replacements.
Machine Learning and Artificial Intelligence
Although the real estate industry might be lagging in terms of technology, adopting advanced technologies like Artificial Intelligence (AI) and machine learning can vastly impact this sector. At the moment, property websites have search options that provide results based on location and property size. However, AI would allow property websites to offer options based on a buyer's personality traits, values, and user preferences.
The chat-bots currently used for 24hr communication on property sites and apps can be optimized to enable them to chaperone buyers to property showings, thus enabling real estate agents to preside over more showings in one day.
Artificial Intelligence also has the potential to foresee market prices more accurately than even the most experienced real estate experts. They would do this by utilizing the big data available on different aspects such as transport, market trends, crime rate, schools, and proximity to social amenities. It would also ease the entire buying process by doing away with numerous documents to read and sign before a deal is closed.
Virtual Reality
Virtual reality improves the buyer's experience on property websites and apps. A large percentage of homebuyers have been reported to search for listed homes as opposed to other sources. If a property has incorporated virtual reality, users get to enjoy a thrilling online experience.
Many companies have adopted virtual reality in their operations, and real estate ought to keep up. Can you imagine taking a virtual tour of a property you are interested in from the comfort of your sofa? That would be convenient for most buyers who do not want to go to numerous showings before buying a property. It would also help real estate companies to reach a market they otherwise couldn't access.
Some companies have also revolutionized buyer experience online by letting agents virtually mount proprieties by including furniture and embellishments to photos of individual homes' interiors. Virtual reality provides lifelike architectural representations and tours so that buyers can get the feel of a property before construction commences.
Property executives can also benefit immensely from virtual reality. Instead of lengthy physical tours of premises, they can show buyers virtual tours of these houses, including guides on operating different home appliances.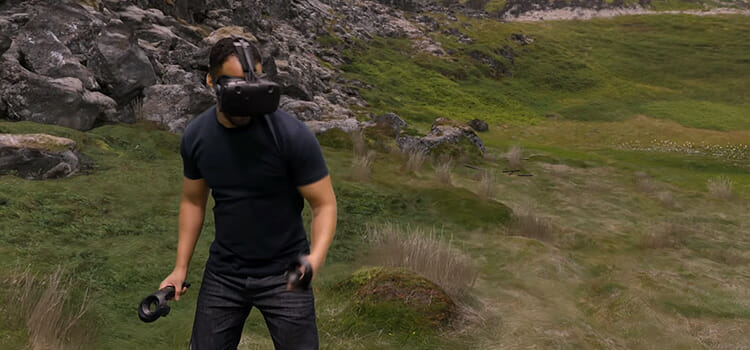 Drones
No idea is too outrageous for the real estate market, more so if it can improve operations and services. Drones offer a welcome upgrade to traditional photography by providing aerial images of properties for sale. This technology is beneficial for presenting larger properties. It gives the buyer an accurate perspective on the size of a home and its prominent exterior features.
Drones are perfect if you want to show potential buyers a tour of a particular property. Footage captured by this device can provide buyers with an insightful look into the neighborhood. They can also help property owners to detect issues that are easy to miss on the ground.
Benefits of Integrating IT in Real Estate
1) Increased Efficiency
Numerous real estate companies are moving towards incorporating IT in their businesses due to the levels of efficiency witnessed in other business enterprises that have done the same. Technology advancement in this industry translates to faster and routine operations, eases the amount of work required, and allows your staff to concentrate on the tasks that matter. A company that isn't too swamped with paperwork will undoubtedly serve its clients better.
2) Informed Decision-making
Real estate experts no longer have to read through tons of documents and records to find a singular piece of information necessary in making a decision. You can now access any information you require quickly and conclusively with the help of technology. Experts can analyze market trends and statistics and make the right decisions ahead of time.
3) Low Operation Costs
Technology is a worthwhile business investment that pays off in many ways, including reducing operations costs. If you integrate technology in your business operations, you will not require hiring additional staff hence saving you money.
4) Greater Competitiveness
Customers prefer companies that are advanced in terms of technology. Since most real estate brokers are still transacting traditionally, integrating technology in your business will give you the upper hand in terms of competitiveness compared to similar enterprises.
5) Optimized Task Management
Real estate agents usually take up a lot of time dealing with loads of documentation concerning various properties. Such time could otherwise be spent researching new homes in the market, following potential social media opportunities, and creating new networks.
Technology offers the automation of functions to streamline the overall functions of your company. Real estate companies can now run marketing campaigns via email, schedule appointments online, and even complete sales through their apps and websites.
6) Security
Every industry that deals with consumers have a ton of confidential information and should be safeguarded from third parties. This privacy breach risk has necessitated IT to develop security measures such as encryption which keeps intruders on the outside. Customers like to be assured that the information they trust a company with is safe because, in today's technological world, cyber-attacks like DDoS, Phishing attacks, etc can cause security issues.
This form of protection also prevents lawsuits bound to ensue if vital information obtained from a company falls into the wrong hands or is used to commit a crime.
7) Exposure
IT has enabled the business to showcase themselves and their services through social media, blogs, websites, and mobile apps. Companies can communicate with their target audience and get to know their interests, what they are likely to buy, and what counts as a deal-breaker for them.
Technology also ensures that a single post can reach millions of people simultaneously, and the best part of it all, you don't have to go anywhere to do it. It offers solutions to optimize a business's website and the app to enjoy an even broader market. IT also provides excellent insight into marketing strategies on social media.
Final Thoughts
If we ignore all the technological evolution happening among us, we will certainly miss out on many once in a lifetime opportunities that have presented themselves as a result. You can also rest assured that other people are taking advantage of technology and making their lives easier for themselves. Technology is no longer something to be skeptical about, especially after what we have learned. It has been tried and tested with extraordinary evidence pointing to just how essential a tool it is in running any form of business in this era and age.
Technology and IT solutions are here to stay, and blending them into the real estate industry isn't just a good idea; it might as well be the century's golden move. Weigh the benefits such a move could mean for your business or yourself individually and make the right choice.