You might be very tensed knowing that someone deleted your valuable data accidentally from your hard drive (even from Recycle Bin using Shift+Delete), and you need those data verily, and there is no another backup source where you will find those data. Don't worry and be calm; there has a solution. If you are googling for data recovery software that can help you a lot to recover PC data.  then this article will help you most. It will also help you to find the exact data recovery software which will be the best option to use.
How Software Works in Recovery
Data loss occurs in many different ways, and it usually happens at unexpected times. The reasons for data loss are accidental, such as an employee or another person who accidentally deletes essential files or messages. Sometimes, though, other factors also cause data loss such as an improperly disconnected hard drive, viruses, malware, or errors in disk reading and writing. If you have used a smartphone like Samsung, iPhone, etc, then you may know how to retrieve deleted messages.
It is possible to recover data because when you delete files from a computer's hard drive or a flash memory, they remain on there. It is true that all the deleted data remains on your hard drive until someone writes or saves any new data in the same location and data recovery software can recover them using a searching algorithm. You should back up regularly your essential data to a separate hard drive. In this article, I will pick that software that has a high success rate for recovering lost files I can not guarantee that any data recovery software can regain everything that you have deleted.
I will review a list of ten best free data recovery software, though some of them have a limit in time and how many data you can recover. These tools can retrieve data from NATURAL, Unallocated, Infected or Formatted Hard Disk. Let's make a comparison at some of the best data recovery Applications for Windows you need to use to recover lost data.
1. EaseUS Data Recovery
EaseUS Data Recovery Wizard is a great file recovery program with a user interface like Windows Explorer. It has a very familiar interface that displays files and folders instantly, and most people are comfortable to use it. You can browse the deleted files by path in a Windows Explorer-like interface, can search by file type, a specific time (data deletion year or month) and file name or extension. Recovering deleted files is so easy to do with merely a couple of mouse clicks.
It can undelete essential data from internal and external HDD (hard drives), USB devices, memory cards, iOS devices and also from music players. The whole scan results can back up to reuse in the future so that anyone can recover deleted files without doing a new scan to the entire drive. It also has partition recovery feature. The deep scan can analyze the disk more carefully, though it takes longer time than a quick scan.
EaseUS Data Recovery Wizard supports all formats of Mac and Windows like 10, 8, 7, Vista, and XP. It is also compatible with Windows Server 2012, 2008, and 2003.
This program is straightforward to use (no complicated settings or screens). Preview files before recovering them is a unique feature of this tool. Multiple files can regain at the same time, but the free version lets you only 500 MegaBytes of data to recover. You have to buy a license to use its full feature. It's not entirely free.
2. Recuva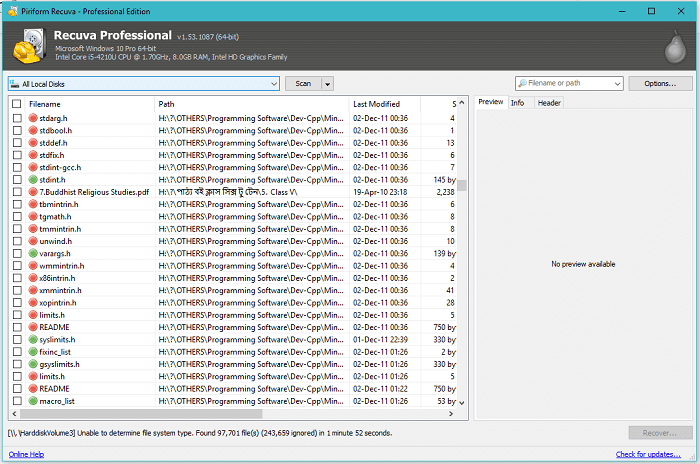 Without any doubt, Recuva is the very best free data recovery software tool available with a simple wizard and deep scans. If I say that Recuva should be the top of the best data recovery software list, It may not take as a surprise to the most of you.  It's straightforward to use and has a superior file recovery feature. Both an installable(.exe) and a portable(.zip) version of Recuva is available.
Recuva can undelete files from hard disk drives (HDD), external flash drives like USB pen drives, and DVD/CDs, and flash memory cards. Recuva can also recover data from your iPod and music players. For Recuva, Undeleting a file is as comfortable as deleting one. The secure overwrite feature is available that uses industry & military standard deletion techniques and, I will primarily recommend that you try Recuva first if you need to recover a file without any cost.
Recuva Supports most of all platforms of Windows 10, Windows 8 & 8.1, Windows 7, Windows Vista, Windows XP, Server 2008/2003, and older Windows versions like 2000, Windows NT, Windows ME and 98.There is also another version of Recuva available which supports 64 bit Windows.
The main problem is the download page of Recuva on Piriform's site is a little confusing and installer might try to add or install other programs to your computer, but those problems are negligible.
3. Puran File Recovery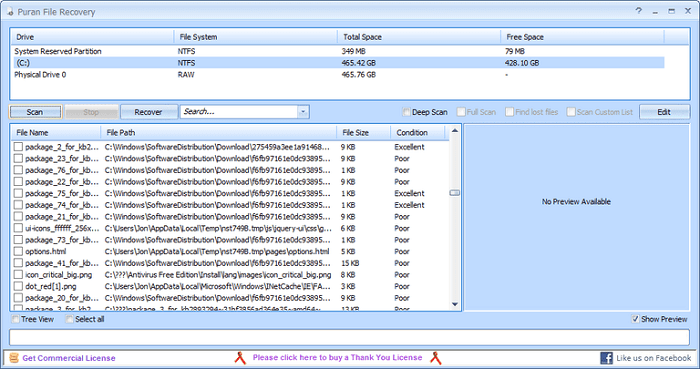 Puran File Recovery is a free file restoring program which provides a lot of advanced options if you need them as the disk scans are quick and the program is easy to learn or use.
Working system of Puran File recovery base upon three main recovery modes.
> First is the "Default Quick Scan"; This option reads the FAT or NTFS file system for deleted files from the recycle bin of your computer.
> The second is the "Deep Scan" that also provides scanning all available free space of your hard drive or flash memory drive.
> The third is "Full Scan" will check whole space on the device or drive with the drive where operating system contains the better chance of data recovery.
Puran File Recovery will also recover lost or deleted partitions if there are no overwritten partitions yet. You can edit and make a custom scan list which stores file signatures for more accurate recovery of damaged data.
Puran File Recovery has a Tree View option in its interface that is so easy to navigate through the deleted files and find specific ones you want to undelete. It can filter removed file results to see over 50 files types like pictures, music, documents, videos, or compressed data only.
It works with every recent and older Windows operating system and also portable version is available for both 32-bit and 64-bit versions. But one problem is still that the software is only free for home use (non-commercial).
 4. Glary Undelete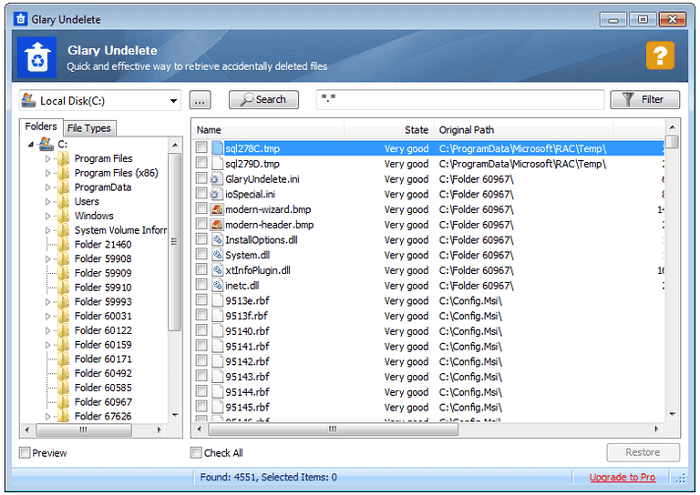 Glary Undelete is a marvelous free file recovery program that provides essential features with a clean and convenient interface for novices and expert users. It's straightforward to use and has one of the best and logical user interfaces that I've experienced. I especially like the  "Folders and File Type" views of  Glary Undelete which make finding the specific file you'd like to undelete. It's more comfortable than in some other programs that just include all found records in a giant search list.
Glary Undelete supports all type primary hard drive, floppy disks, flash drives, and memory cards and all file systems used in Windows like FAT or NTFS.The deleted file's original location with the whole path, actual size, and last modified date are recorded and sorted next to the file before you restore it. The advanced filter provides the narrowing of found data based on categories like name, file size, deletion date, and level of corruption (good/bad). This software is installable on most newer and older Operating System versions. It's tiny to download, but there is no portable version available – must be installed on the hard drive and sometimes it tries to download another program during setup if your computer has an active internet connection.
5. Disk Drill
Disk Drill is an excellent free  Mac utility for file recovery, scanning, restoring. Both because of its attributes and its straightforward layout of the interface, it is complicated to get confused. This tool has more advanced features like it can undelete data from storage system with virtual connectivity, including internal and external hard disk drives, USB devices, Flash memory cards, and iPods or music players with simple clicks. In different words, it is clear that Disk Drill can be used by virtually anyone, no matter about the skill level of a user.
Existing Pandora Recovery tool is the previous version of Disk Drill. Disk Drill can recover from FAT, exFAT, NTFS, HFS+, and Linux based EXT2/3/4 formatted drives. A surface scan allows you to retrieve deleted data from formatted hard disk drives (HDD) and it can recover archived, zipped or compressed, hidden and encrypted files; it packs quite a punch. In the search result, it organizes Pictures, Video, Documents, Audio, and Archives differently or anyone can view them all together.
There is an efficient search tool that lets you quickly filter the results by name or other attributes like size, date modified, etc.Deep scan and a Quick scan feature of a partition are also available in this tool. It's effortless to use and also works with all recent versions of Windows and macOS.Back up of volumes of a hard drive to a DMG file is a unique feature of Disk Drill, which is useful if the hard drive is about to fail (shows warning message), but you want to recover deleted files from it. It doesn't show a file's condition or quality before regaining it, though it is the standard feature of any recovery tool. Another problem with this software is it has no portable option, and free version lets you recover only 500  MB of data.
6. Wise Data Recovery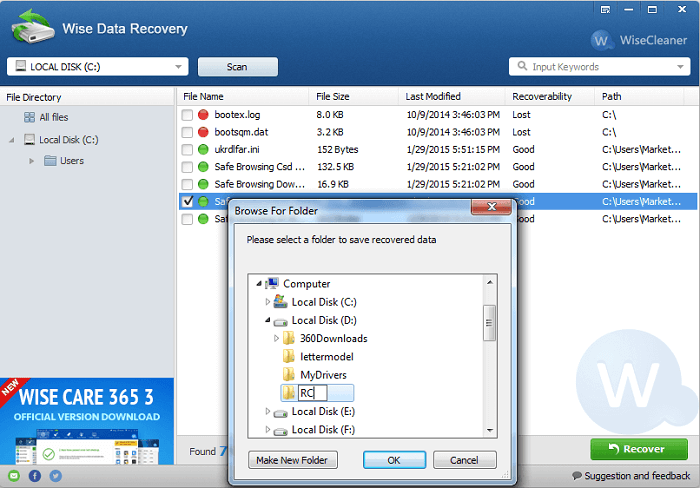 Wise Data Recovery is faster and reliable than other recovery tool listed here. Its interface looks good and has an intuitive interface. This recovery tool can find deleted files from all types of media devices. As well as being so easy to use, it also includes a fast search filter using the file's type. The program has no deep scan mode, and it is the main lackings which could slightly reduce the chance of recovering deleted data.
All the files marked with a green circle next to their name and Other records may have an orange or red circle. The Red circles indicate that they have a "Good" recoverability status and the file the data is intact still now, and software can restore frequently. The Orange or red circle indicates that they are in deplorable condition or lost from the location and they have no chance of being thoroughly recoverable. This tool quickly understands how recoverable a file is.
Wise Data Recovery has a portable version that means you don't have to install to use it. You can run the software from a flash drive to recover files from your primary hard drive.It also searches for deleted files using its name and extension and differentiates as Documents, Images, Emails, Compressed Files,  and Videos. When you need to recover an individual file with Wise Data Recovery, The folder structure of it will help you a lot. It also helps if you undelete multiple files from different folder locations, All data will save into just one single user-defined place. Restoring a deleted folder will even recover its subfolders in the same structure and situation. Wise Data Recovery is compatible with Windows XP up to Windows 8.
7. Restoration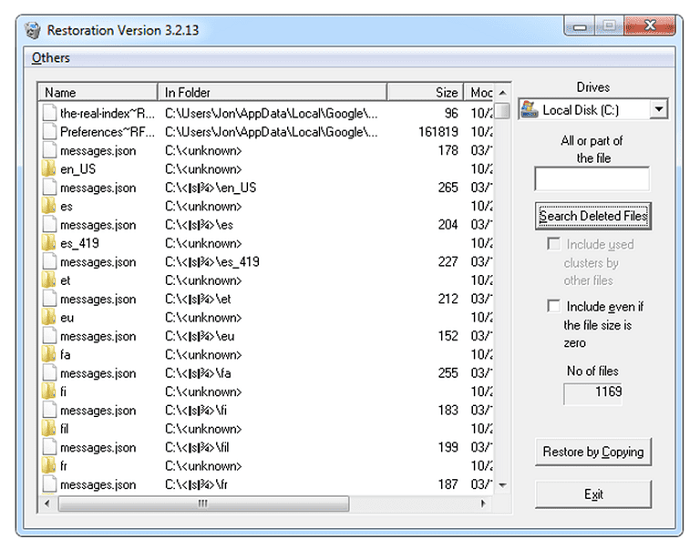 Restoration is a very small, portable, and very easy to use and full free data recovery program which has no hidden buttons or difficult file recovery procedures. It provides some unique features that will help to do some different optimization of data through some essential functions found missing in this recovery software.
A unique feature is that it can optionally search for empty files as well. It takes up very little disk space (< 500 KB). Restoration supports Windows Vista, Windows XP, Windows 2000, Windows NT, ME, 98, and 95. In a test, Windows-10 and Windows 7 and didn't run into any problems. But in Windows 8 the test was not successful.
Restoration can recover data from NTFS and FAT ( the most common file systems in use today) formatted drives. It scans and sorts the results by the file name, date modified, size, and folder. To recover any data, it is essential you don't overwrite the files you're trying to undelete, which is why it's necessary to use a different hard drive to save recovered file than the one that has the deleted files. Like other recovery software, it also has a portable version. Restoration doesn't have the file status (recoverable/unrecoverable) knowing feature, but it has an option named "Include used clusters by other files" which prevents to show up files from the results if another file or program uses part of the deleted file and those are not fully recoverable.
Restoration can recover only one file at a time; knowing that, it is clear that you can not restore a whole folder of deleted data at a time. Either you can restore one or multiple files at a time. Its unable to restore entire folders and subfolders of it and this is the main problem with this tool.
8. MiniTool Power Data Recovery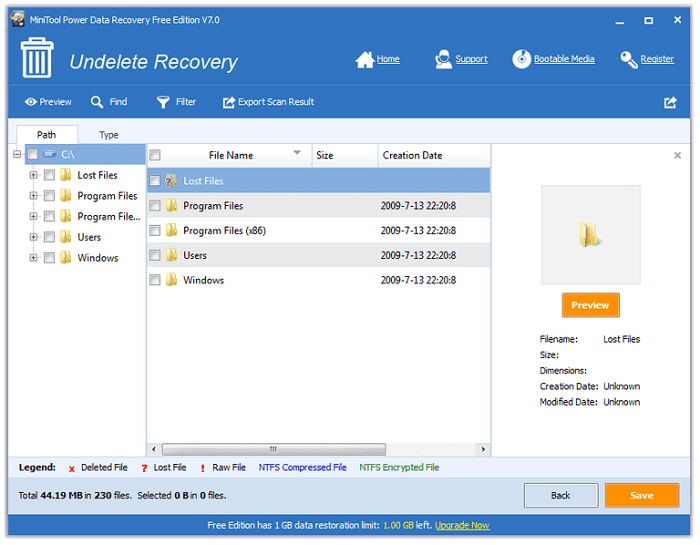 MiniTool Power Data Recovery is another recovery software which is wrapped up in an intuitive and attractive interface that provides you to run a quick scan on the whole PC, find deleted or damaged partitions, digital flash media, Compact Disc or DVDs to identify undeletable files. If
Features of this Tools are:
Simple installation and user-friendly GUI.
Quick or full scans and file analysis.
Advanced searches, scan export, and preview
File filters and data recovery.
MiniTool Power Data Recovery has no portable version like some of the other file recovery programs from this list. But installing any application on your personal computers existing hard drive may overwrite your deleted necessary files and make them recoverable, and This isn't the best way to work with this type of software. Another drawback of  MiniTool Power Data Recovery is that you can just solely recover one Gigabyte of data if you are handling a freeware or trial version. You only need to buy a license to use it's all features. The icons and highlights indicate the status of the files, lost or raw, as well as NTFS compressed or encrypted. Power Data Recovery provides support for Windows 10, 8, 7, Windows Vista, XP, 2000, and Windows Server 2008/2003. I installed and used this version of Power Data Recovery in Windows 10 a long time. This software tool worked smoothly and delivered best output recovery for recently deleted files in our tests; it does not create any triggering issue on Operating System to hang, crash or prompt errors reports.
9. SoftPerfect File Recovery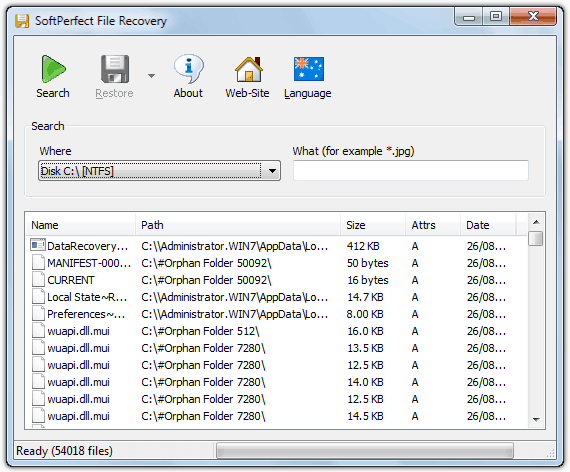 SoftPerfect File Recovery is another excellent and straightforward but efficient file recovery tool which is easy to search for recoverable files. Developers targeted those users who don't want the hassles of installing big software. It is the small solution which offers a modest and user-friendly interface. It can restore deleted data from hard disk drives, USB flash drives, most types of flash memory cards and other storage media devices. It supports zipped and encrypted file systems like NTFS and NTFS5 as well as the standard FAT12, FAT16, and FAT32. The program is about as easy to use as you can get, select your drive and press the button. This tool supports multiple languages and
doesn't show the health of the files which you want to recover.
SoftPerfect is File Recovery a  portable executable, so no installation is required. It Provides support for Windows 8, 7, Windows Vista, XP, 2000, NT, ME, 98, and 95 and Windows Server 2008 and Windows 2003. According to the SoftPerfect File Recovery developer, this software supports 64-bit versions of Windows operating systems. The total size of the program is only 500KB, and recent update version also supports Windows 10.
10. DMDE Free Edition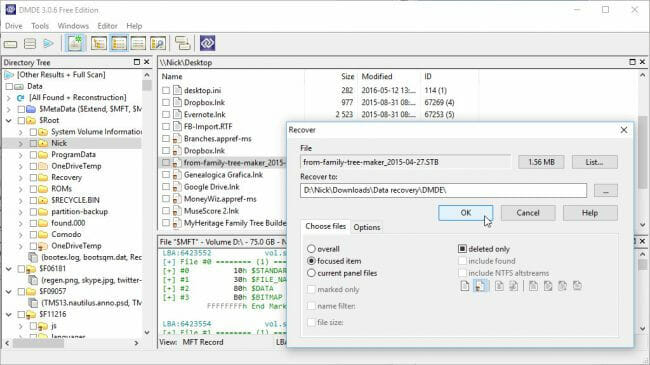 DMDE Free Edition is a powerful software file recovery tool with three significant features which are; High success rate, Disk editing mode and Interface may be intimidating. DMDE (DM Disk Editor) Free Edition has many extra features such as simple partition manager, disklabel and size editor, a tool that makes disk clones, RAID creator, file recovery from the current directory panel. The paid version of this tool support file and complete directory file and recovery without any hassles. DMDE Professional Edition has extras options to recover data for the user. Algorithms for full search and analysis efficiently reconstruct directory structure and undelete data without formatting disk space and partition status failure. It is not impossible to find data quicker than any other file recovery software without a full deep scan in the case of minor filesystem damage. RAID constructor is a unique and specialized tool to reconstruct RAID (Redundant Array of Inexpensive Disks) virtually and supports RAID-0, RAID-1, RAID-4, RAID-5, RAID-6. Moreover, custom marking, delayed parity, spanned disks, automatic detection of RAID configuration. Another feature, NTFS utilities provide a user to copy, delete files, create, repair, remove directories bypassing NTFS driver of Operating System.
DMDE provides specialized support for  NTFS, FAT12, FAT16, FAT32, exFAT, Ext2/Ext3/Ext4, HFS+/HFSX and all Linux and mac file formats and works under the operating system like Windows 98, WindowsXP, Windows7 Windows 10 (in both GUI and Console interface), DOS, Linux, Mac. DMDE (DM Disk Editor) provides all type of file name searching, large disks drive, large audio/video files, large HDD sectors,  compressed NTFS data, and other specific and unique features.
It is one of the most feature-rich data recovery software I have ever seen, but there are limitations on the way you can recover data from the free version of this software, but there is no restriction to how much you undelete your deleted data. If you want a more straightforward, faster and efficient recovery process, just pay an upgrade to the Express or Standard edition. DMDE is entirely portable to install and runs only after extracting the zip file.
My Thoughts
After checking all criteria and must need features, I would personally recommend using Piriform's Recuva data recovery program to any or all readers of this article. Recuva is undoubtedly one of the best free data recovery tools in this list with superior file recovery, a sophisticated deep scan mode and a secure overwrite feature. As mentioned earlier can recover files from damaged or newly formatted data.
If a file has gone missing or accidentally deleted from your PC, either from your mistake or even from a malware infection or system crash, I strongly suggest you use the Recuva free file recovery program. There is no cent percent guarantee that Recuva can successfully recover any specific deleted data but it is undoubtedly your best bet comparing any other data recovery tool.