How to Turn Off Fire Stick | Steps to Turn off the Fire TV
After the initial release, Amazon Fire TV Stick has been highly appreciated in the tech world for its usefulness and functionalities. It is the easiest and cheapest way to turn any normal TV into a smart TV. It is popularly used as a streaming device worldwide. Although being very easy to use in all devices, there is a common question most users may face, which is turning off the Amazon Fire TV. By default, the option to turn off this device can be difficult to find. To help, in this article, we're going to show you easy ways on how to turn off fire stick.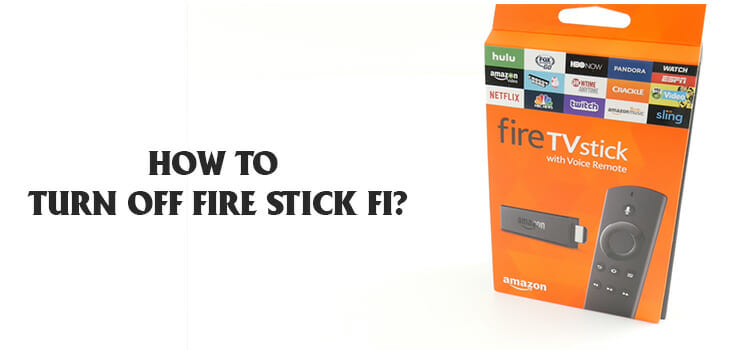 Why Turn Off Fire Stick?
Amazon Fire TV Stick is a powerful device to enjoy smart television royalty on your TV. It supports Dolby digital audio, comes with a blazing fast quad-core processor, and to utilize the best of connectivity, an 802.11 ac Wi-Fi. It can be used in any HD television with an HDMI input, which you can convert into USB too.
Out of the box, the Fire TV doesn't require additional purchases and users can stream HD videos through a wide range of services like Netflix, TED, and not to mention, Amazon Prime Video. It comes with 2 AAA batteries, a USB cable, HDMI cable, and a voice-controlled remote. You can check this article for the best choices of the TV for your enhanced Amazon home experience,
The catch is, it is always turned on by default. And the result is non-stop internet and power consumption. It can also interfere with your existing television set up, so disabling it can be important if you want to use your television service provider again. If you want to learn how to connect the Fire TV to new Wi-Fi without a remote, click here.
How to Turn Off Fire Stick
The first thing you should know regarding this device is, there is no Off switch in this remote. If you use your remote on-off button, you'll only turn on or off your television. If the TV is turned off. the fire TV stick will still be on. So, there are only 2 options you can choose:
Putting It to Sleep
While there isn't any shutdown option, there is an option to put it into sleep mode. You can go to Settings, choose Device, and 4 options pop up. Choose Sleep. Alternatively, you can also press and hold the Home button of your Amazon fire remote to get to the page and choose to sleep. By default, the stick goes into sleep after 20 minutes of inactivity to save power. The above process is useful for people who don't want to wait for that period.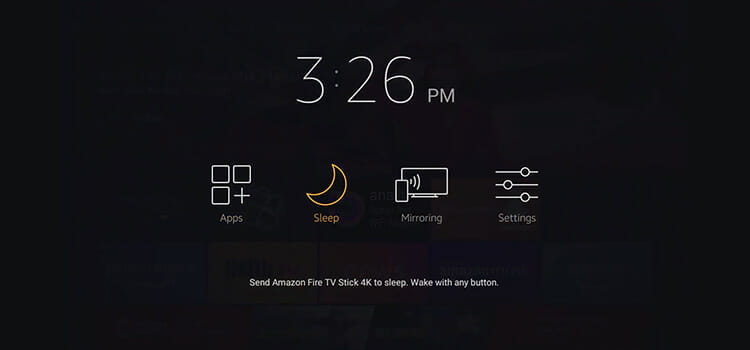 Putting into sleep will stop power consumption and the services temporarily. It is very useful if you want to opt-out from streaming for a brief period. To turn it on again, you can press any button on your remote control and the fire stick will again be online.
Turn off the Fire TV Stick from Your Smartphone
Turning off the Amazon Fire TV stick from your smartphone too is a viable option, considering most of us are on our phones all the time. To do this, get the Fire TV app from the app store. Open the app and set it up using the appropriate model and the 4 digit code displayed on your display. Do remember that you need to be on the same Wi-Fi network that your Fire Stick is using.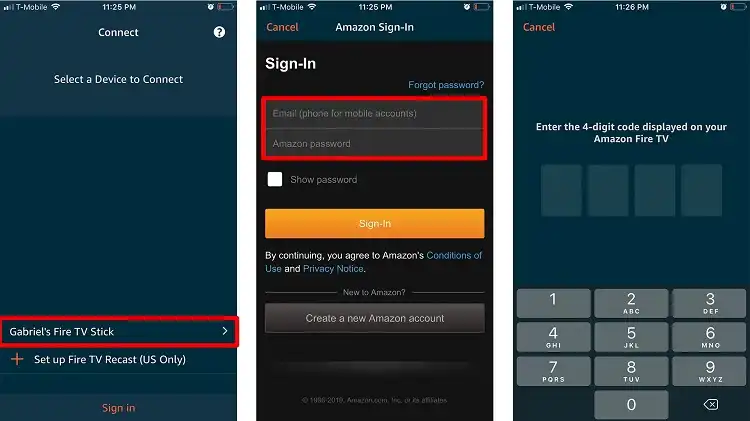 Here's how to check what Wi-Fi network your Fire TV stick in on. Go to the network section and select SSID.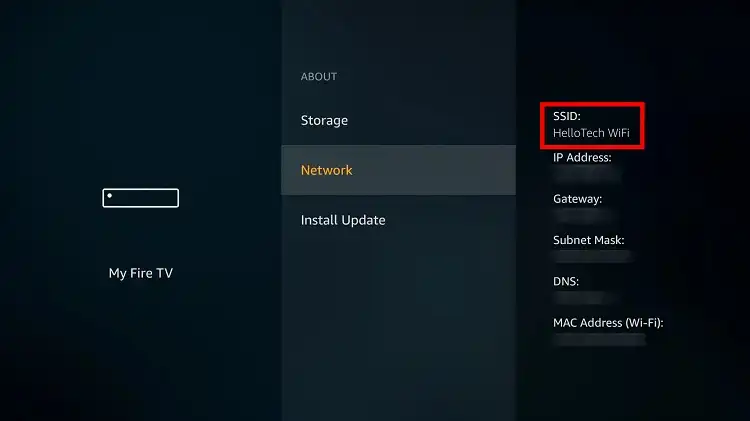 When the setup's done, and you made sure that both your smartphone and the TV stick are using the same network, tap on the gear icon on top left, as marked in the picture.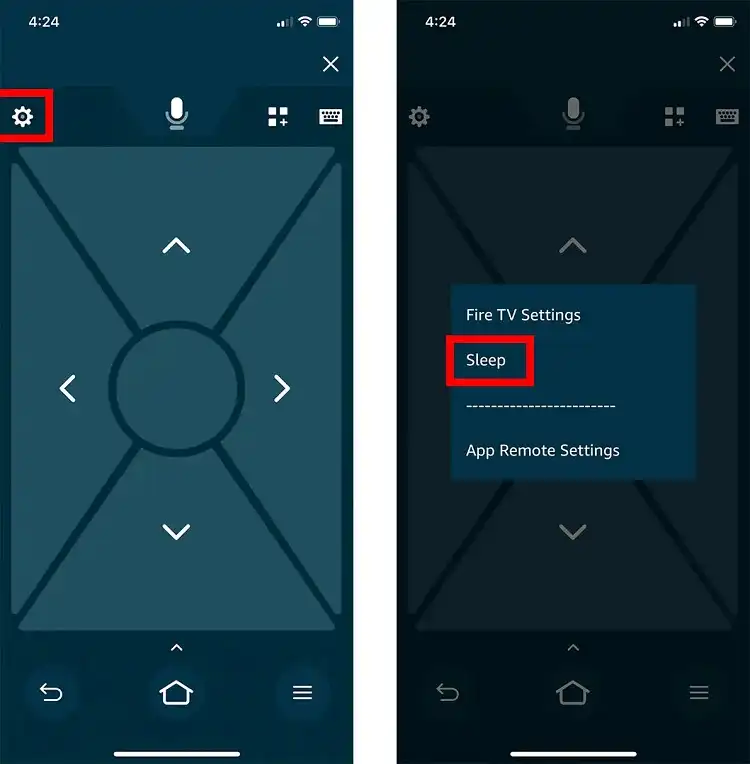 Finally, tap on Sleep to turn the TV stick off. 
Unplugging the Fire TV Stick
The second option to truly turn off your fire stick is to unplug it from the wall socket. If you won't use it for a very long time, this can be a viable option. The stick is powered by a power adapter which is connected to the socket. You can unplug it, or even unplug the USB cable that connects the fire stick to the power adapter. Note that, unplugging the television itself will not shutdown the fire stick, it will still be online and functional.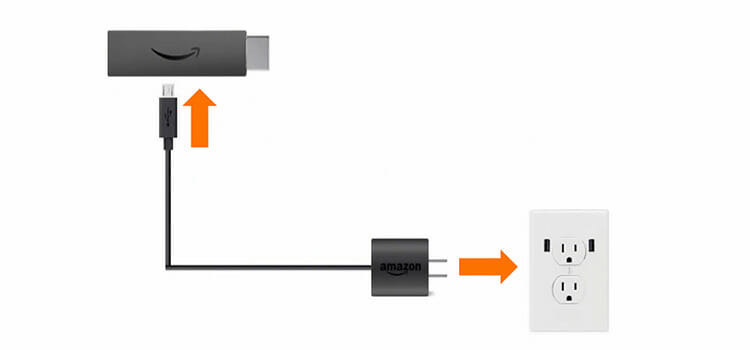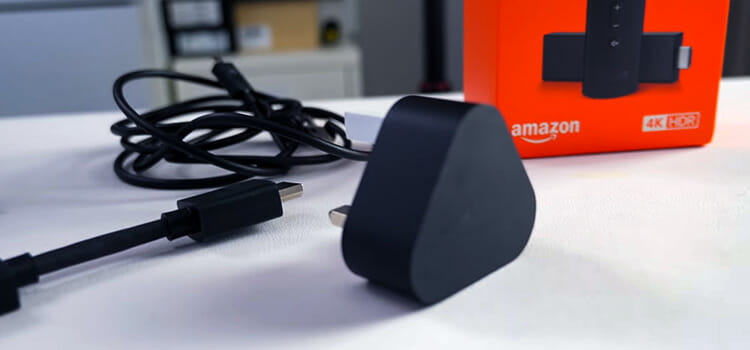 Unplugging the fire stick will completely disconnect it and makes it offline. While traveling, unplugging, and carrying it is the only option if you want to have the Fire TV experience anywhere around the world with a Wi-Fi network, like in a hotel. Being unplugged, the fire stick is fully turned off, which can be the solution to many issues and gives it a fresh start after long usage periods.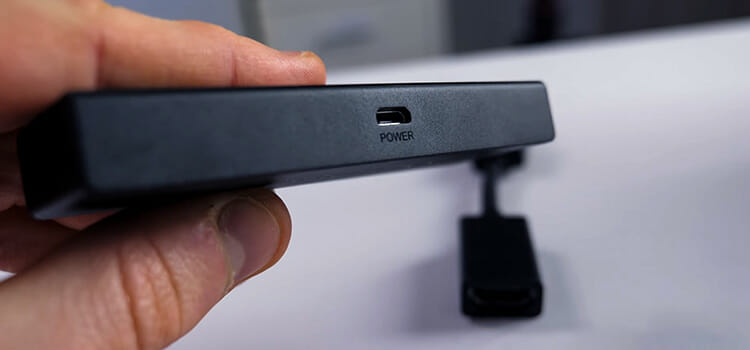 Turning it On
After 20 minutes of inactivity, the fire stick automatically goes into sleep. To wake it up from sleep, just press any one of the buttons in the remote and it will wake up. If you unplugged the device, you will have to connect the stick to the USB cable and connect the other end of the cable to the power outlet. Then, plug it into the wall socket and the fire stick will turn on.
Frequently Asked Questions
Will I lose data if I turn my Fire Stick off completely?
No, unless you factory reset, you won't lose any data.
Can I leave Fire Stick on all the time?
Yes, you can leave it on. Unless it overheats, there's no need to unplug it.
Why won't my Firestick remote turn my TV on and off?
Reset your device first. Then unpair and repair your remote. You can also try replacing the batteries in your remote controller.
Conclusion
In this article, we've discussed some easy steps on how to turn off the fire stick. Without the proper knowledge, trying to turn it off or put it into sleep can be a hassle. Turning off the fire TV stick is a good way to save both power and internet, and rest the device after long services.
Subscribe

to our newsletter

& plug into

the world of technology