Hundreds of electro-mechanical devices you use in everyday life. These devices come with unique mechanisms and installation processes among which the need for cable is worth mentioning. Your TV dish line requires one type of cable i.e. coaxial cable and your Wi-Fi line needs another type of Ethernet cable. Radar, radio equipment, mobile communication, antenna, etc. also require coaxial cable in their mechanism. You must have had a glance at those cables especially to the end part where there exists a metal thing which is our focus point. It is known as a coaxial connector as it connects the cable with any device or with another cable. Coaxial connectors play a pivotal role in an electric communication system. Let's discuss different types of coaxial connector, special features of each of them along with the applications.
What is Coaxial Connector?
Before we get a clearer picture of coaxial connectors, we must know what coaxial cable is. As I have mentioned earlier, coaxial cable is widely used in an electrical communication system. It carries the high-frequency electrical signals from one point to another. The cable is made up of three layers: a copper wire that transfers electrical signal and is covered up by an insulating layer which is further protected by a plastic shield. Thus a coaxial cable becomes secured against all types of noises and disturbances. The coaxial cable can transfer data up to 10 megabits per second. 
A coaxial connector is a metal-made object used to provide linkage with the electro-mechanical device or the other cables. It also gives protection to the main parts of the cable. There are two versions of coaxial connectors available in the market- male and female. While a male connector has a pin protruding from the center, a female connector has a hole for taking the pin from its male counterpart. The reverse polarity connectors show the opposite making-up in the structure i.e. the male connector possesses the hole this time and the female one possesses the pin.
Types of Coaxial Connectors
There are several kinds and types of coaxial connector with a variety of applications. You should know that all the devices and equipment are not compatible with all the connectors. You need to use the right size of connector for a particular application. There are differences in the range also. You need to learn about the characteristics, key features, and applications of each of the coaxial connectors for choosing the right one.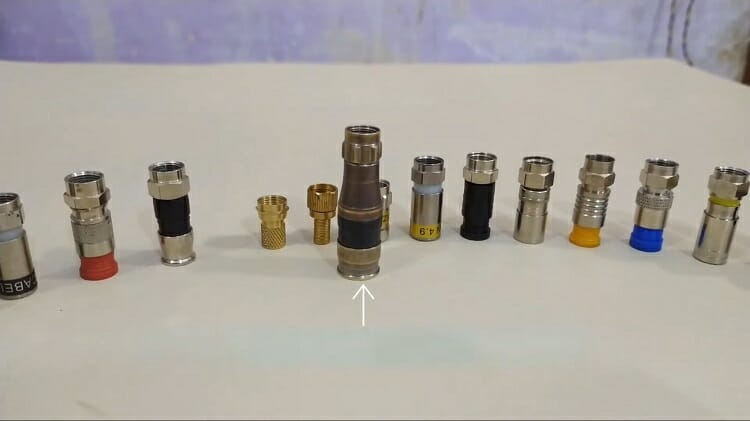 BNC Connector
Full form: Bayonet Neil Concelman. BNC connectors were initially invented for military use. These are small in size. The frequency range is 2 to 5 GHz. Applications: Radio, TV, and video signal.
TNC Connector
Full form: Threaded Neil Concelman. TNC connector is the improved version of the BNC connector. The frequency range is higher up to 10 GHz which makes it suitable for mobile antenna applications.
F Connector
F connector is used mainly for satellite television. Your cable line on the TV set is most probably the F-type connector.
FME Connector
Full form: For Mobile Equipment. You can easily get its application from the name itself.
SMA Connector
Full form: Sub-Miniature version A. Applications: Radio signal, walkie-talkie, etc.
SMB Connector
The SMB connector is similar to the SMA connector; we can call it the other version. It can transmit signals at a frequency rate of 4GHz. Key feature: SMB connector comes up with the reverse polarity characteristic as well. The coaxial cable of the amateur radio requires an SMB connector to function.
UHF Connector
The full form of UHF is Ultra High Frequency. Don't judge its feature with the name. Although it was invented for high frequency, now it is used for low range applications, especially for video signals.
QMA Connector
Key feature: quick connection and disconnection. These possess resistive characteristics.
PAL Connector
Full form: Phase Alternating Line. PAL connectors are not used in every country. These coaxial connectors are good for connecting with different electrical equipment.
MCX Connector
The full form is Micro Coaxial Connector. Frequency range: 7 GHz. Applications: transmitting Radio Frequency (RF) signal, in TV tuner card, etc.
Conclusion
Think about your requirement at first; whether you need high frequency or strong protection in the coaxial connector. You also have to look at the matter of size and shape required for the particular application. Hopefully, the article is going to assist you in choosing the right coaxial connector from different types of coaxial connector.