Legacy BIOS seems to be irrelevant. However, it remains a choice when you boot your pc. You should suggest selecting the system you like, not the trendy system. For more than 25 years, the legacy has been tested as the number one boot device. However, like all the big ones, a predecessor still comes into control. But what to consider between UEFI vs Legacy? Let's get deep inside between UEFI vs Legacy.
Legacy BIOS is less common, although UEFI has become a dominant part of how users build their booting processes of systems. This could happen because people are nourished by legacy coding that transforms into a really sloppy, obsolete, and unorganized operation. However, it does not take out immediately all legacy hardware and applications. You do have to try getting the best of what you have.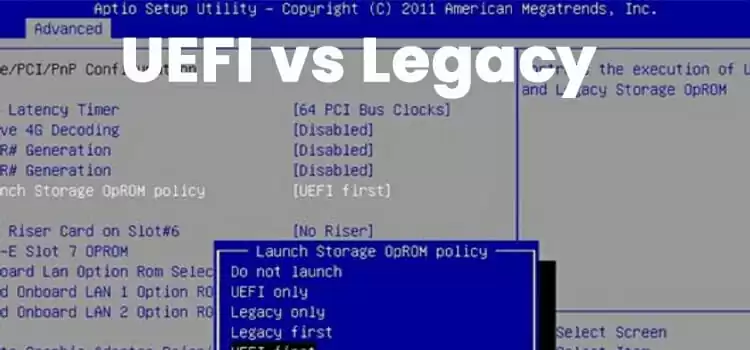 UEFI
The UFI is a specification for a program that connected device firmware with its operating system Unified Extensible Firmware Interface (UEFI) (OS). UEFI will replace BIOS at long last.
UEFI is the first software to start when a machine is activated and is updated at the time of production. It monitors the components of the hardware on the computer, wakes up the part, and transfers it to the operating system. The current specification fixes various constraints on BIOS, including hard disk partition size restrictions and the amount of time it takes for BIOS to execute its tasks.
Unlike traditional BIOS/EFI, which is device-specific, the UEFI framework allows OEM (original equipment manufacturer) developers to implement new programs and drivers that serve as a means for lightweight operating systems. 
A consortium of chipset, hardware, device firmware, and OS vendors named UEFI Forum manages the Unified Extensible Software Interface. The specified letters U-E-F-I are the most often specified.
Legacy Boot
Legacy Boot is the BIOS firmware booting operation. It maintains an inventory of installed storage devices bootable in a configurable order of priority, such as floppy disk drives, hard disk drives, and Optical disk drives. The BIOS exercises self-test control while it is on the screen (POST). In order to show that starting up is natural, the inner speaker produces a small beep. The beep code allows to locate the code and solve problems.
After the POST process is completed, the firmware can load into the memory the first sector of each storage destination. It then searches it for a true boot master record (MBR). If a valid MBR is discovered, execution of the firmware goes to the bootloader to choose a boot partition. If you do not find one, it continues in the boot order to the next computer.
Differences Between UEFI and Legacy
The UEFI is the most modern way to boot a machine; the legacy boot is the mechanism of booting the computer using outdated BIOS. But what are the differences between UEFI vs Legacy?
Booting with UEFI can eliminate many of the shortcomings seen in BIOS-based boot methods. The Unified Extensible Firmware Interface is governed by motherboard, hardware, device, and software manufacturers, commonly referred to as UEFI, as well as by BIOS and OS. A legacy boot is using the BIOS approach to get to the device. Much to the point, UEFI boosts computer stability and speeds. Safe Mode is great for avoiding time- and security-wasting infections.
The decision to be booted from UEFI or the legacy BIOS is just dependent on a number of other items.
Three main factors are functionality, adaptability, and pace when determining which scheme, UEFI, or legacy is the best program. One way to decide which device is more practical is to compare ROMs to drivers. Let's dive into the differences between UEFI vs Legacy
Option RAM vs Drivers
Legacy BIOS is executed by ROM's choice, which is restricted together to 64 KB of storage. The ROM alternative for legacy systems to be run only works if the hardware on which it runs is compatible. You would need to change the ROM alternative to ensure that all aspects of the booting procedure are compliant if you upgrade your hardware.
The paper, Two Tales, deals with the ROM's issues more, "BIOS-related interfaces developed over time, offering customized extensions to each PC maker and/or BIOS provider. This created interoperability problems at some stage. There was no well-defined BIOS "norm."
UEFI solved the problem by adding drivers to its framework instead of the ROM alternative. The drivers are practically free of room and support upgraded hardware. Drivers may also be imported via a flash drive, and published separately. In order to maintain consistency, the knowledge imported to the framework is then interpreted by UEFI's programming interface.
Assembly vs C Language
The next step taken by UEFI relates to the kind of code they are using. UEFI is C-speaking. This method of coding, which is the language that legacy systems need, is far simpler than assembler.
Because legacy programs exist for so long, their protocols can be long and complex, making them harder to deal with. Device upgrades without hardware updates are not allowed for legacy systems. This prompts many people to build and compose a range of fresh, confounding, and undocumented code updates, allowing users to circumvent the mandatory consistency method.
On the other hand, C-language is much smoother. This allows users to compose a new code that adapts and functionally adapts their software as the user wishes. This makes adding and subtracting what you like from the code simpler for consumers.
Boot Speed
The adaptability of UEFI influences the boot period. For this purpose UEFI boots more rapidly than Legacy systems.
Security
Although traditional BIOS have minimal protection and the old features have been replaced by UEFI, one of the most significant distinctions being that UEFI is more secure and less error-prone.
Friendly
While the legacy Boot system is helpful to experts, the UEFI implementation is user-friendly to novices.
Bootable Storage
In the case of UEFI, the partition table (GPT) utilizes GUID identifiers, in the case of BIOS, the master boot record (MBR) system is in operation.
Partition
Legacy partitions can grow to a limit of 2 terabytes. UEFI offers a total partition capacity of 9 gigabytes, which is massive. The legacy partition can be developed into the following two sub-partitions: P-0 and P-1. Up to 128 primary partitions can be created on a UEFI hard drive
GUI
Unlike previous BIOS versions, UEFI has a graphical user interface, which has a wealth of customizability, and simplified configuration procedures.
Conclusion
You will now see the above, and you may find that UEFI has several benefits over BIOS. Any industry experts expect UEFI to become a replacement for BIOS because of the advantages of the UEFI firmware.
Any UEFI implementations are not provided by all systems or all computers. You must have UEFI-compatible hardware to use ESM (Unified Extensible Firmware) firmware. Because your disk must be GPT, too, your hard drive has to be partitioned. If you aren't interested, you can use the MiniTool Partition Wizard to transform MBR disk partitions to GPT partitions. If you are able to do this, you will be able to launch your device in UEFI mode.
I hope that clears it up.