Even with access to greater computing power than 1960s NASA readily available in everyone's pockets, there's no denying that laptops still hold incredibly great importance in corporate life and casual life. Simply put, a full-sized screen, physical keyboard, and far more computing memory are much more practical, compatible, and far less cumbersome for occupational tasks than a minuscule smartphone screen. The one upside that you won't get from a laptop, however, is simple, seamless, easy, and accessible charging universality.
Generally, any iPhone or Android smartphone manufactured within the last few years will work in tandem with any respective cable, but different computers across a brand may have different charging commands, different charger compatibility, or different charger models entirely.  Apple products often draw the ire and criticism of "planned obsolescence," with frequent, near-annual, update unfriendly changes, but the issue isn't much better with Windows, Unix, or Linux-operating system laptops, as the majority of laptops carrying them are produced by third-party manufacturers as opposed to proprietary hardware.
If you've got any sudden hardware breaks or laptop changes on your hands, the hunt for a laptop charger can be an annoying, difficult, and a rather painstaking one. Fortunately, hardware manufacturers are well aware of this annoyance, which is why they've begun to direct their efforts toward devising the ultimate, variable, all-in-one, universal laptop power supplies, capable of handling a wide variable of voltage ranges, fluctuating DC currents, and nearly (if not) every conceivable laptop model that can be purchased on the market.
A catalog of general all-in-one electronic utilities can be found here on Adapter Co, but no matter where you're buying from, there's always a few universal traits you'll want to consider when buying a universal charger. Read on to learn more.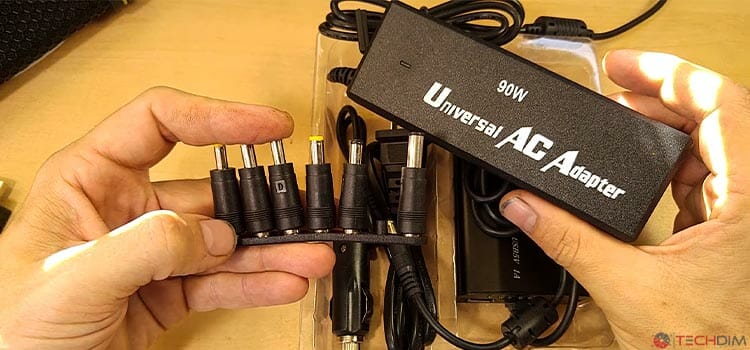 Input Power
Ostensibly, input power refers to the power level absorbed and consumed by the device. Typically, most modern chargers' input levels are rated between 100-120 (common in American markets due to lower voltage power grids) or 230-250 volts (predominant in European or Asian markets with higher voltage power grids). You don't want to stress about a low voltage weakening your charge over travel, or a high output overworking and damaging your equipment; for the least worries when traveling abroad with your universal laptop charger, always look for one with the most variable input power supply.
Output Power
As the name implies, output power means the emitted power generated and supplied into your device. Most computers need anywhere between 12 to 24 volts of output power to adequately charge, so seek out a universal laptop charger power supply adjusted to handle those output power metrics specifically. Some vendors will advertise wattage, but you'll only want to concern yourself with one number; anything under 90 watts can handle these fluctuating variables.
Variable Connection
What good is a universal laptop charger if it can't handle a multitude of laptop chargers? Look for a model with at least a dozen adapters minimum and ensure that they're the most popular makes around.
Designs
Six words: compact narrow box, wide adapter space.
Conclusion
In conclusion, a universal laptop charger can come in handy in many situations. It can save you from having to buy multiple chargers if you have more than one laptop. And now you know what to look for when you're buying a universal laptop charger. If you still need further assistance, please do not hesitate to contact us in the comments section.