If you examine your existence closely, you may find that it is entirely reliant on an internal network. We cannot imagine a single day, let alone an hour, without internet access. If you have WIFI in your house, you have unrestricted internet connectivity. However, in the event of load shedding or other issues, a WIFI Router might be insufficient. At that stage, USB tethering becomes useful. If you are curious to learn why Windows USB tethering is not working as it should, then please read the instructions in this post.
Tethering is a secure way of connecting another user to the Internet, such as a laptop or desktop computer. Tethering is the process of sharing mobile data from a handset with another device, such as a desktop, in order to connect to the internet. Tethering may be accomplished via Bluetooth or NFC, but the simplest and most effective method is via USB.
If you have a phone with a USB port, you can attach it to your computer and use it as a mobile Internet dongle. With Wi-Fi Off, your laptop will link to the Internet even though there is no wireless network access.
It is surprisingly easy to set up USB tethering in Windows 10, but there are cases when it does not function as anticipated. If you are having problems with USB-connecting your device in Windows, we suggest the following troubleshooting steps: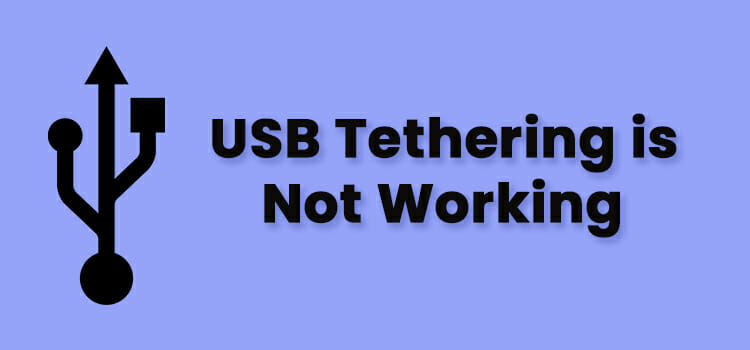 Precaution Before Going to Resolve USB Tethering Issues
Before you begin troubleshooting the USB tethering is not working issue you're experiencing, it's a smart idea to verify that you've followed the proper tethering setup measures in Windows both on your computer.
Turn off WIFI: A wireless network will sometimes obstruct tethering. Disable WIFI to see if that resolves the tethering with Windows 10 problem. Swipe down from the top of the device on iOS or Android to show the control center or fast settings, then press the Wi-Fi button.
Ascertain that the USB cable is functional and properly wired: Ascertain that the USB cable is properly connected at both ends. If necessary, unplug and re-plug it. Using another USB cord, if you have one on hand, is also a smart option.
Attempt Different USB ports: Are you using the system's fastest USB port? If you're using a USB 2.0 port, upgrade to a USB 3.0 or USB 3.1 port. Alternatively, you may simply go to a new one. You never know whether a USB port is defective.
Restart the whole system: Rebooting your computer or desktop and restarting your phone does not solve anything, but it's shocking how much it does. In this scenario, test it to see if the Windows tethering issue has been resolved.
Run Windows Troubleshooter: While Windows Troubleshooter is not always efficient, when it is, it will save you a lot of time and aggravation.
To see if it can resolve your USB tethering issue in Windows 10, type "Troubleshoot" into the Windows search box, or Cortana and then pick the appropriate answer. While the troubleshooting window appears, click Network Adapter > Run the troubleshooter and then obey the on-screen directions to determine if the tethering problems have been fixed.
How to Resolve USB tethering, not Working Problem
After doing these steps, you have a 50-50 chance of solving the USB tethering is not working issue. On the other hand, there is also a 50-50 chance of not solving the problem. In that case, you can go for the below methods. Try and error method, you have to apply and the tethering issue is going to be eradicated. So let us start with the effective methods.
Resolving USB Tethering Problems with Device Manager
The primary cause of USB tethering problems in Windows is a corrupt Device Driver. The problem can be resolved by downloading the most recent USB Driver. To download, you have to follow the following steps one by one.
At first, to begin, you have to navigate to the desktop and press the Start icon. They, you have to type device manager into the search window. Now, in the menu, you have to choose Device Manager.
After that, you have to look for Network Adapters in the Device Manager window. After getting the Network Adapters, you have to expand Network Adapters. You will get the Remote NDIS-based Internet Sharing Device under Network Adapter and right-click on it.
After right-clicking, you have to choose Property and from the property, you have to select Drivers. At this stage, you have to select Driver Updates. To search for driver apps on your device, click Browse my computer. You must pick ''Allow me to choose from a list of installed system drivers'' on my desktop. You have to deselect the box labeled "Show compliant hardware."
Now you have to pick Microsoft as the vendor in the Manufacturer's table. You need to select Remote Internet Sharing Device based on NDIS. Now you have to click Next.
Wait for the procedure to conclude. The Device Manager can retrieve the appropriate driver from the database and update it. Finally, you have to switch off tethering and then re-enable it.
After doing all these steps, your problem is not solved yet, then go for the next methods.
The USB Controller's Disabling and Re-Enabling
You have to open the Device Manager.
After oping Device Manager, you have to expand the catalog of Universal Serial Bus Controllers and select the first USB Root Hub with a right-click.
Now, you have to navigate to the Power Management section. Finally, you have to remove the checkmark next to Allow the machine to switch off this gadget to save energy and click OK.
Windows and Your Computer Should Be Updated.
If particular driver updates do not resolve the issue, a general Windows, Android, or iOS update will suffice.
Change the APN Settings
Android users will sometimes resolve tethering issues with Windows by modifying their APN settings. Scroll down to APN Kind and enter "default. dun" before tapping OK. If that fails, some users have registered progress changing it to "dun."
Change Your Mobile Virtual Network Operator Form
Certain Android users who are experiencing tethering problems have discovered that changing their mobile virtual network operator type will improve. You will find it by navigating to Settings > Cell Networks > Access Point Names and selecting your mobile carrier from the chart. Scroll to the bottom and tap MVNO sort, then switch to IMSI.
Resolve USB Tethering Issues for Driver Talent
If you are a novice PC consumer looking for a one-step solution to the USB tethering not working issue, you can use a certified Windows driver download utility such as Driver Talent. In seconds, it will download and install the best-matched USB tethering driver for your PC, as well as patch any of your other old, broken, corrupt, or disabled Windows drivers.
To download and update the new USB tethering driver for Windows 10, Windows 8.1, Windows 8, and Windows 7 follow the three simple steps below, which allow both 32-bit and 64-bit models.
Scan Your Computer
Driver Talent is a game that you should play. A quick secure search would reveal all old, corrupted, disabled, or missing drivers, including the troublesome USB tethering plugin, in seconds.
Get and Install the USB Tethering Driver
When you click "Update," Driver Talent can download and install the most recent USB tethering driver in the context. You may also press "Repair" to correct any other driver problems.
Restart Your Computer
You have to enable the USB tethering driver update to take place by rebooting your computer. Check out Driver Talent's User Guide for more detailed guidance on USB tethering in download and upgrade. Remember to back up your USB tethering driver with Driver Talent in case it fails in the future.
Apart from being a driver download and upgrade software application, Drive Talent also includes specialized functionality such as driver restore, uninstall, device restore, driver pre-download for another PC, PC Fix (no voice, video, or Wi-Fi, for example), DLL file repair, hardware identification, VR support search, and PC speed up, among others.
If neither of the above options function, you can still go wireless. You will configure your phone as a Wi-Fi hotspot and wirelessly tether your laptop or desktop computer. If your computer does not have wireless support, you can still purchase a USB Wi-Fi adapter.
Conclusion
Here you have the required information regarding solving tethering in Windows. So simply apply these steps and get access to the fastest internet connection. Hoping you are going to enjoy this article as you will be able to get benefits from these tips. All the best and have an uninterruptible internet connection through tethering. We also suggest you to learn about USB threats for security purposes.