A Denial-of-service(DOS) attack is actually an illegal process or cyber crime of making a legitimate website ineffective, obsolete, and slow. Due to this attack, its actual users are unable to get service from that website. Normally the incident is occurred by a perpetrator or a criminal. You know, when too many users want to access a website at once and the number of users exceeds the traffic limit for that site, then it starts buffering and slows down. And this is what the criminals use as a principle of attacking. Moreover, this attack is totally intentional and malicious. The perpetrator normally targets high-profile web servers like banking, commerce, media companies, trade companies, and so on. A visual representation of the DOS attack is given below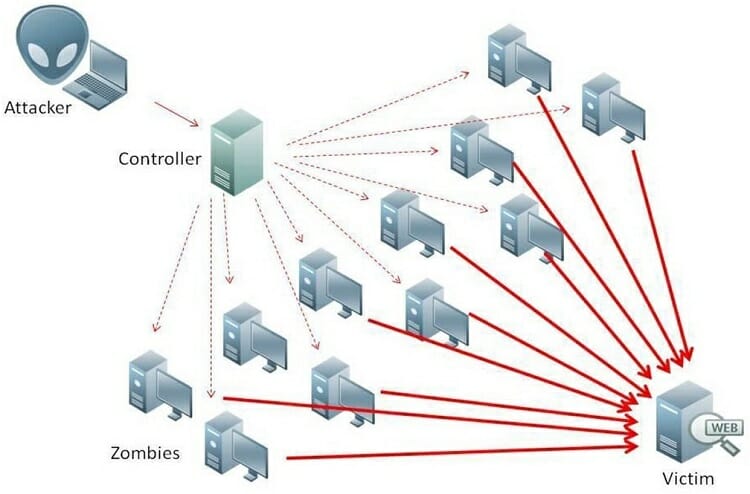 Types of DOS Attack
You may have already heard about DDoS attack and we can suggest you this article to let you know how you can prevent DDoS attack. DOS attacks can occur basically in two ways: flood attack or crash attack. Flood attack happens more compared with the crash attack. But, the ultimate result is about the same for these two attacks.
Flood Attack
A flood attack makes a machine/ computer or a website totally stop or slow down after receiving a large amount of traffics or requests from the hackers. Flood attacks may be of different types.
Bandwidth flood: When the entire (incoming and outgoing) bandwidth of a network is consumed by sending large volume malicious packets, it is called a bandwidth flood attack. Targeting the network resources, numerous ICMP echo request packets are sent as fast as possible without waiting for replies. So that the legitimate client can't connect with the target network. In addition to this, the main goal of this attack is to keep users away from the target network. This attack is also known as a volumetric attack, ICMP flood attack, and Ping-of-death or Ping flood attack.
Buffer overflow: Buffer is a temporary memory containing limited storage to perform a single task. The buffer overflow occurs due to giving input to an application that exceeds the allocated buffer memory. Here, hackers send a lot of traffic to a network memory address which crosses the buffer storage that is specified to handle the system by programmers. As a result, the server of that website starts erratic behavior in a program, provides incorrect results, and at a time stops delivering any information.
Syn flood: if you want to make a connection with any server over the internet, you have to use a protocol like TCP/IP address. The term "three ways handshake" plays a vital role to establish successful communication between you and the server. You have to begin by sending a request to the server to initiate a connection. This request is typically known as a syn message. After getting the syn message, the server sends you an acknowledge message. If the initial syn message is transmitted significantly, you will have to send back an ACK message as a response. And this process of building communication is called "three ways handshake". Due to a syn flood attack, using a fake IP address, hackers start to send a vast amount of syn messages to a target server. But the requester doesn't send an SYN-ACK response to the host. So, the host of the system remains to wait for each acknowledgment of the requests and this huge request message also allocates a lot of space. So, when authorized users send a request for a new connection, the server shows no port is available to receive any request.
Fragmentation attack: This is such a type of attack by which the perpetrator tries to disable the reassembling ability of the target system by sending numerous fragmented packets. Due to the attack, maintaining this ability becomes difficult for the target system, and Consequently, valid clients are deprived of benefits.
Crash Attack
Crash attacks occur less than the flood attack. When the server is configured, there may be found some flaws or faults in the application program. And the attackers take the chance of this vulnerability. In addition to this, Bugs of the targeted server can be exploited to conduct DOS attacks. As a result, the system crashes.
Reason for DOS Attack
Some common reasons are discussed below. There could be many more reasons behind these.
There are different kinds of gangs online who are involved in different kinds of malicious activities. So The attackers might have an aim to extort money from victims by disrupting their service.
In this competitive world, not every site is visited by the same number of clients. So falling in retaliation, some owners of less demanding sites hire hackers to carry out DOS attacks.
The attackers may use a dos attack as a weapon of expressing their anger towards a company or an organization. Actually, he wants to criticize that company for doing these vindictive activities.
Sometimes hackers may hack any site which has a hard security system for training. They want to make themselves expert for future intentional attacks.
Dos attack may be happened by non-malicious actions but the foolishness about the security of organizations employees. for example a server configuration problem.
without any specific reason, a server may be attacked and the victims never find any apparent reason at all.
How Do You Detect DOS Attack
Some symptoms will indicate that your site is affected by DOS attack. A few possible symptoms are discussed below
When opening any file or trying to access that site, it will give slow network performance.
While searching the site, results will show that the particular site is unavailable right now.
Monitoring network traffic is the best way to detect DOS attacks. If the administrator creates an alert system and system for identification of the source of traffic, it may be effective.
Is It Possible to Prevent DOS Attacks?
Yes, you can prevent your website from this attack. Though sometimes it is too costly and time-consuming to take preventive actions toward this attack, it will be possible by installing some web application security software. similarly, Dotdefender web application firewall is a type of security software that provides you optimal out-of-the-box protection against DOS threats, cross-site scripting, SQL injection attacks, path traversal, and many other web attack techniques. Moreover, this software will always inspect your traffic and checking protocol, IP addresses to allow or deny access to request packets. Further, there are more ways to prevent attacks.
Conclusion
Here, you get a complete idea about Denial-of-Service(DOS) attack. In this era of information technology, you need to have an idea about hacking for your own security. To prevent your website from enemies, you have to be prepared by gathering knowledge about DOS attacks. Hoping this article will help you a lot to make you conscious about your own privacy. It would be a great pleasure for us if you enjoyed it.