Do you ever wonder, what if you could zoom an image almost infinitely and still it wouldn't get blurry at all! Well, you cannot do it to a regular type of image which is png or jpg or gif formatted. But you can do it to a Vector-type image. That's right, with vector image you are capable of zooming it to any extent without any visible distortion, editing every bit of detail of it as well, and what not! That's why vector image is getting popular every day to logo makers or all types of people and here is everything you need to know about what is a Vector image system!
What is a Vector Image system and How It Works
The types of digital images we already know of are made on the idea of the pixel-based imaging system. Where a lot of pixels with different color values combine together to produce a large-scale pixel gathering which we call a Raster image or a Bitmap image or simply, an image. After processing the sum of the pixels we get that picture or image and the whole picture acts as a single unit while you zoom or edit it.
On the other hand, a vector image is made of lots of Dots which we like to call points. Lots of points and lines to join two individual points to produce a full image. The lines that connect two points(also known as  'paths' or 'strokes') are made from mathematical equations. These points are used to form any shape following the rules of geometry and then the geometric or organic shapes are filled with color later to illustrate it as an image. The coordinates of the points and how the lines will connect them and finally which color should be added to the shapes, all are stored within the image file as some sort of mathematical data. The file can be called a vector file. The computer processes those mathematical data from the vector file to render a vector image and display it to us.
That's why when you zoom a vector image, it's just the distance between the points increases only but the line follows the same equation to connect them. That's how a vector image maintains the same sharp edge no matter how further you zoom in to it. It'll be more clear if you look at the example shown below:
Here is an example of a bitmap image on the left side and a vector image on the right. When we zoomed in to the bitmap image the edge of the object is getting quite blurry as the whole picture acts as a single unit. But in the case of the vector image, all we see are some points and lines connecting them. That's why it's more efficient to zoom or process or print a vector image.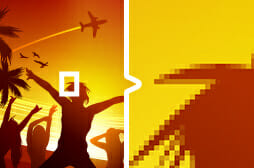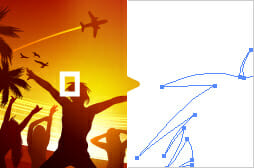 Why Use A Vector Image?
The vector image format is considered to have mainly three advantages over the raster image types.
Unlike the bitmap images, a vector image does not require the exact detailed information of every pixel of the image. It only requires the coordinates of the dots and the instruction of connecting them and the color value of each shape, that's all. That's why sometimes a vector image requires less space than an identical bitmap image. Did you know that you can easily transform an image into PDF file format?
Scaling or resizing capability is the most effective advantage of a vector image. You can resize a vector image to any extent you like without losing even a little bit of image quality. The picture will remain exactly sharp at any size. The processor just takes the same instruction to display the dots and strokes of the same picture, just at a different ratio. That's how you can now resize a vector image as per your demand.
As vector image is resizable to any extent, it is far easier to process at any point of the picture. Any point and line or group of points and lines of any individual object of the picture can be selected to work on it. Not only the points and lines but colors also can be selected to edit only that color. In a word, it's discrete in nature hence more editing-friendly. There are also a lot of applications made for vector file editing, like Adobe Illustrator, Corel Draw, etc. 
File Formats of a Vector Image
The file format of a vector image is Scalable Vector Graphics, in short SVG, which is a W3C standard. But the Encapsulated PostScript(EPS) and the Portable Document Format (PDF) are more commonly used formats nowadays. Another popular image format for a vector image is Adobe Illustrator (Ai) which was brought by Adobe. 
Application Fields of Vector Image
Today, vector image is replacing even camera applications in many fields like motion graphics, logo designing, and many more. From a small logo or a personal card to a large billboard, everywhere people are choosing vector images over photographed images. To know what is motion blur in photography, click here.
It is most commonly used in illustration purposes, logo and graphics designing, animation making, motion graphics, digital mapping, fonts & icon designing, etc. Most civil engineering designing software is using vector imaging methods today, so is almost every printing system. If you want to create SEO-friendly images, then we suggest you take a look at this article.
Software Used for Vector Processing
Lots of software are available nowadays for vector image generation and processing, the most popular of them are 
Adobe illustrator 
Inkscape
CorelDRAW
Sketch 
These applications are for PC, though we are also seeing lots of vector apps for smartphone users too and they indeed are gaining more and more users and popularity every day. Now, we hope you know what actually is a vector image system and all its whereabouts.
Conclusion
Vector image type is literally dominating photographic images in lots of sectors. For its excellent overcome of the resizing and blur issue of a bitmap image, more and more sectors where photoshopped or photographed images were used, are now being replaced by Vector images. In other words, it can be easily said that vector image is the future of the digital imaging system.