I know that each and every individual is perplexed with a question-what should I do once my computer or laptop gets older and cannot perform up to the expectations. Some may think of upgrading the SSD while others are biased towards RAM. A computer's performance depends on several factors along with the mentioned RAM and SSD there are other components (e.g. operating system, memory, peripheral devices, etc.) that can debilitate the speed and responsiveness of your medium to the long-aged computer. However, many consumers believe that the lack of performance of SSD and RAM memory contributes heavily to the performance of the PC. Today's topic covers the critical analysis of whether to upgrade SSD or RAM for boosting up the system's speed- stay with me if you cannot make a decision. But before that, you need to understand a bit more about the terms SSD and RAM and what the uses are.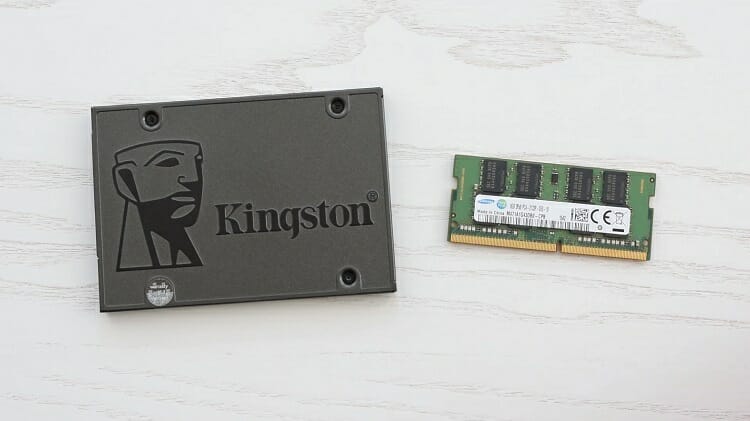 SSD- What are the Characteristics?
SSD is the abbreviated form of Solid State Drive. SSD is actually the upgraded version of the conventional Hard Disk Drive or HDD. While HDD uses magnetic disks with rotational elements for storing data, SDD is the integrated circuit form of a memory device that is built on the basis of a flash drive. SSD possesses many advantages-
1. SSD does not have any rotational parts which means it does not lose time while loading data due to any kind of friction.
2. The speed of a SSD is excellent comparing to other non-volatile memory storages.
3. SSD being a circuit based memory drive is light in weight and easy to carry.
RAM- What are the Characteristics?
RAM or Random Access Memory is one kind of volatile primary memory of your computer. RAM stores data temporarily whenever you open an application. Once the power is off the memory is lost; that's why it is called volatile memory. There are several benefits that we generally draw from RAM-
1. The speedy nature of RAM usually determines the speed of the CPU.
2. A good amount of RAM allows you to work with high end applications like HD games without any error.
3. It is RAM that makes sure that frequently opened software and files work without any delay.
When is System Upgrade Required?
You need to understand the needs of the PC first before doing a system upgrade. If the PC is working well, why would you waste money? Here is a list of indications- if these persist in your computer for a long period of time then you might look for a system upgrade.
1. Your OS is taking a lot of time to load an application.
2. Medium to high-end games is not starting at all or showing errors while playing.
3. Everything is going slow-motion even the mouse cursor is moving slowly or the keyboard is not working.
4. Your PC is not responding quickly enough when you use Photoshop, Word Processor, or Browser.
When you find the computer, laptop, or notebook in these situations, you must upgrade the RAM or the SSD obviously if you want to speed up things.
SSD vs RAM
One may wonder that SSD being non-volatile and RAM being volatile memory, how can there be any relation between the two. But the reality is many users ask the question of whether to upgrade SSD or RAM whenever the system performance is decreasing. So, why is the question aroused between the SSD and the RAM; why not between other components of the computer?
Both the SSD and the RAM contribute heavily to the speed, responsiveness, efficiency, and overall performance of the computer; whereas other components of the computer have very little to do with these attributes. The next thing is- both the SSD and the RAM possess relative advantages and disadvantages- which makes it a difficult situation to choose the right one for system upgrades.
When to Choose SSD Over RAM?
Individual's demand, current specifications of PC, budget- these are the main criteria for choosing between SSD and RAM. SSD has got some pros that make it better than RAM. However, give the most important to your demand; what aspect of your system that you want to improve.
If your PC has got a good amount of RAM i.e. minimum RAM of 4GB or more, then you should not focus on RAM while upgrading from a slow computer; rather buy a new SSD. Moreover, take o closer look at the hard drive, is it close to full? This can be one of the reasons for your PC being slow. As you need to have more hard drives for storing files and for creating more space in the memory, go for the SSD; thus you can create more swap space for the CPU to use for loading data quickly.
SSD possesses a budgetary advantage over RAM. Per GB of an SSD is cheaper than that of RAM. If you are constraint by the budgetary limitation then go for the SSD. It will improve your system performance to a great deal.
When to Choose RAM Over SSD?
Are you big on high-end games like FIFA or PES? If the answer is yes, then you must choose RAM over SSD on any given day. You cannot play these high-quality games with 4GB of RAM. Rather, you would require 16GB to 32GB of RAM for playing without any kind of error.
As I have mentioned earlier, RAM is responsible for the CPU for any kind of quick access data, hence increasing the RAM will surely turn in improving the speed of all activities related to the PC.
Also, if you have already installed an SSD on your PC and still the slow-motion persists, then you must upgrade the RAM. So the choice depends largely on the current system's specification and the amount of money that you are able to spend.
Conclusion
In summary of the above discussion, I would recommend you to upgrade both the RAM and the SSD for improving the system performance because both the memory device helps the CPU to gain speed and efficiency. But if you are low on budget, then shift the focus to your demand; if you wish to play HD games then upgrade the RAM; or, if you wish to improve overall performance then go for the SSD.