KeePass is a password managing software that is available for free and open-source (FOSS). There are versions available for iOS, Android, macOS, and Linux. When it comes to ease of use, KeePass falls short of most of its business competitors, who provide attractive user interfaces. So, what is KeePass actually? Read the whole article to find out.
A bit more effort is required to sync data across several computers than is required by other password management programs, however, there is a solid reason for all of this. KeePass uses real final encryption to protect your data. You can generate KeePass (.kdbx) documents that are secured and, by default, always visit the device on which they were produced. If you want to have a solid understanding of how to use Keepass, then check this article.
In contrast to corporate password managers, these are not saved on computer systems that can be stolen, and only you have access to the encryption keys to protect your information. The primary disadvantage of it now is there is neither a security net in place nor any third party which can save your bacon when you forget the unique password.
KeePass is compatible with a variety of plugins that allow it to do functions that are well beyond those master passwords.
It is top encryption that is free and open-source and supports and synchronization across multiple platforms. Again, KeePass has the ability for two-factor authentication and integration with a web browser (via plugin). There are a variety of encryption choices (via plugin)
Additional functionality is made available by a large number of extensions and plugins, most of which respond to very specific needs.
Syncing Between Platforms and Devices
All of your passwords are saved in secured KeePass boxes, which are commonly known as .kbdx documents following the file extension. Kbdx files are saved everywhere, including unsecured sites like Dropbox or Google Drive, with no risk of being compromised.
Because of this, there is no need to sync from one device to another across systems or platforms. However, because of the secured structure of the app store, KeePass applications in iOS need to import as well as export.kbdx files using the iOS Dropbox application, instead of simply accessing and storing the document in Dropbox instantly from the mac os Dropbox app. This is, without a doubt, a nuisance, but the fault lies with Apple, not with KeePass.
A System That Encrypts Everything From Beginning to End.
In secured kbdx boxes, KeePass keeps a password on your computer's screen. Anyone with the passcode can only unencrypt them if you do. Key files and/or other forms of several co-verification can boost security even further, though.
Encryption is complete from beginning to end with.kbdx files. However, you can use USB connections or hard drives to manually synchronize them throughout the devices. This assures that no cyber attacker, even within an encryption key, can ever reach it.
Even if you're a worried person, you can save yourself.kddx files in Dropbox or other insecure internet locations because of the powerful encryption they use. To crack AES-256, an attacker would have to gain access to the.kbdx file.
.kbdx files are protected with 256-bit AES encryption and SHA-256 passcode hashing. This is the strongest asymmetric encryption available today. Instead of using NIST-compliant ciphers, users can utilize additional plug-ins like Twofish or Serpent to secure their keys if they choose.
Open-Source
The KeePass password manager is completely free and open-source, excluding commercial competitors. Even though there is no such thing as a guarantee in the world, the fact that free software code may be checked by anybody trained to do that is the ultimate measure you have but the software is functioning exactly as intended. 
Even while KeePass 1.x varies greatly from KeePass 2.x, the results are nonetheless highly promising.
Ease of Use
Once the program is installed, you may access the main terminal window and conduct a variety of key password management operations, like establishing new passwords, organizing passwords in sets, editing and removing passcodes.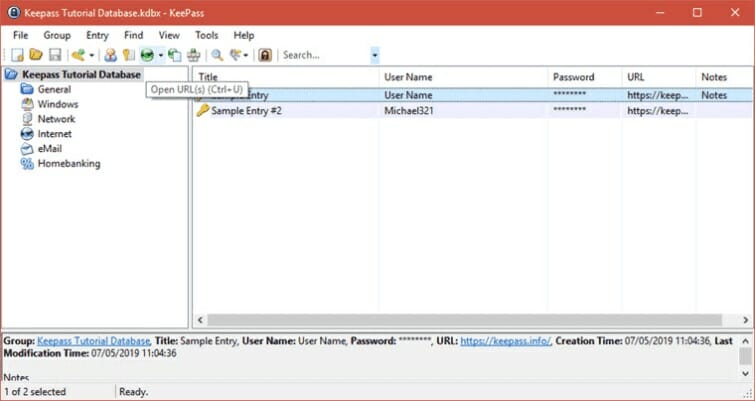 Notes sections are included with each password registration, which can be used to store any user data confidentially, rather than only information directly related to web keys. The ability to establish an expiration date for submissions is also available.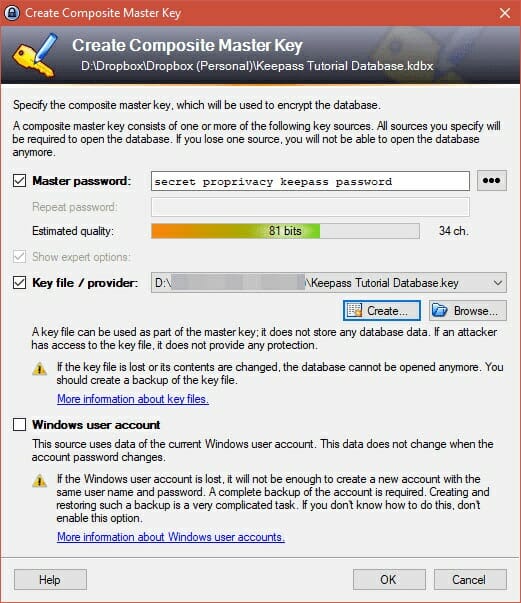 KeePass, like any other decent password manager, can create passcodes for you when you require them. Some webpages have extremely precise criteria for the credentials that they approve, so this is a good thing that KeePass gives you the option of customizing the type of passwords in which it creates at arbitrary for you.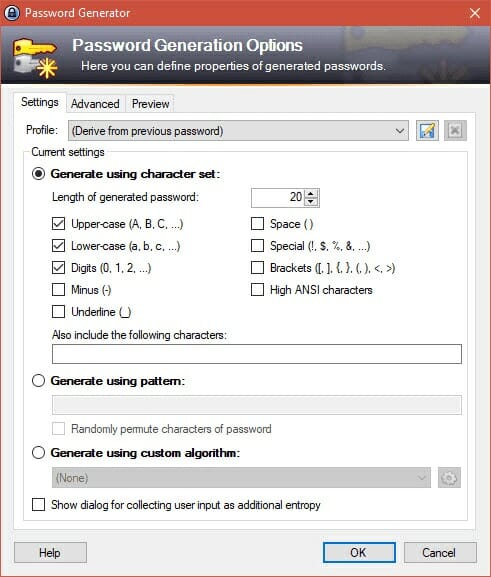 Two-Factor Authentication
Human error has always been the weak point, doesn't matter how powerful the encryption is. In particular, whenever it refers to passwords, of course. To use KeePass, you must memorize just one password manager, but ensure this is a secure password!
However, even the most secure password has a flaw. Automatic support for multiple verifications using key files is available in KeePass. If you generate a.kbdx database, a key file is generated, and it has to be available in having to activate the dataset. A password remains necessary, without the master program, it is meaningless.
A secured location like your personal computer, phone, or a secured USB drive can be used to keep the key file for easy access. Insecure places including Dropbox can never be used because the whole premise is that people get accessibility to it. 
It is easy to safeguard a file by demanding that you will be logged in to a defined Microsoft User Profile when you access a.kbdx document, but this limits your ability to transmit information to other systems.
Browser Integration
The ease with which a password manager may be used is a key consideration, and because the majority of our online activities when using a desktop PC are accomplished via the web browser, website connection is a primary consideration.
Even while KeePass does not provide any internet synchronization, this feature may be readily enabled by combining several plugins and web add-ons. There are a variety of choices available, however, you are recommended KeePassHTTP-Connector both for Chrome and Firefox as a starting point.
Once the KeePassHTTP-Connector is installed, you can simply tap on a login or passwords field to have the data from your KeePass store auto-filled. By default, any new login information will be stored towards the active KeePass store, unless otherwise specified.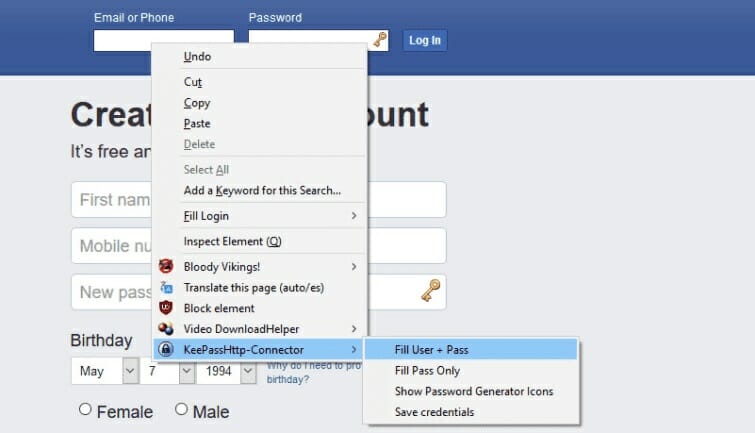 A lock symbol next to the password fields (which may be turned off when you found it unpleasant) will automatically generate a new safe password for you in a matter of seconds.
Conclusion
Whenever it comes to maintaining your passwords safe, there is no other security feature that compares to KeePass. Because of the large number of plugins available, it is by far the most extendable and versatile password manager available. Also, it is free.
KeePass comes highly recommended by us for people with even the slightest interest in technology. If you require a slick as well as foolproof password manager which even your parents are using, however, we recommend that you first check into source code Bitwarden before exploring commercial solutions to this software.