Do you read an email attentively? I know most of the answers are negative. What we actually do, we just skim through the email and often click on a link that we see on it. This habit can be so much destructive to you and your online accounts of various sites that you cannot even imagine. These types of emails are called phishing-attack which generally attack by using your emails which is one of the most common cyber-attacks nowadays; today we are going to talk about what is Phishing Email attack and its characteristics that we become smarter dealing with our emails.
What is Phishing Email?
A phishing email or phishing is one kind of cyber-crime that is used to deceive an email user by thieving his/her valuable personal information. In the last few decades, email(Electronic Mail) has become so much common in the online world as a communication medium; cybercriminals have also taken this opportunity for fulfilling their evil today activity. A phishing email can be brutally dangerous for your personal secrets, bank account, or social media accounts.
Thinking about the serious harm that phishing mail can do to you, one may wonder why we are not talking more about this phenomenon. It's imperative that we know a little deep about phishing mail for our online secured life; firstly we will try to go into the hacker's mind and understand the working process of a phishing email and its different types.
How does Phishing Email work?
The hacker, cracker, or cyber-criminal whatever you want to call them; surf the internet world and somewhere find your email address. You may ask how they find our email address in the first place. Well, It's not that difficult; your email address can be found on your social media profile, or you may have opened an account on some of the legitimate websites using the email address and the hacker has some sort of connection to that; or even the acquainted one who you knew as a clean guy and secretly he/she is a hacker, you just never know.
Now, we come to the main part; the cyber-criminal sends you an email that looks like from a legitimate site that you know very well. The email can contain security vulnerability information of your social media accounts, bank account, or your personal website; it may ask you for passwords of these sites or provide you a link so that you can rescue your accounts. If you do not recognize these fraudulent emails and do whatever they tell you to do, then you are in trouble. The hackers will implant malware virus on your device upon clicking on the provided link or replying to them and the malware will be used to get access to your personal information. After that the password of your bank account or Facebook account is changed by the hackers; that's how you can lose your property and the hackers can be the gainers.
How to Recognize a Phishing Email?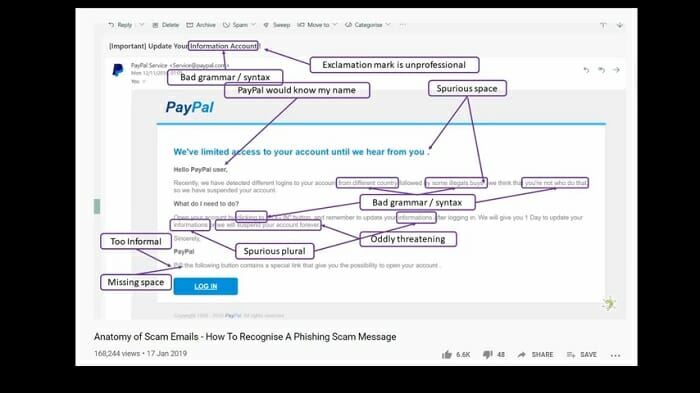 There are various types of Phishing email attacks like Trap Phishing, Whaling Phishing, Spear Phishing, etc few characteristics of a phishing email for you to recognize. But bear in mind that these are not common in every phishing mail. Also, another fact is that the criminals are generally smart in their evil work; and they are always trying to make it even more difficult for you to distinguish the spam fishy mails from the legitimate ones. If you want to be smarter than them, then read this article carefully to create a Gmail account safely and try to figure out the differences between Pharming and Phishing and other Phishing email attack.
Does the Sender Know Your Name?
Phishing email more often than not contains salutation with generic words like 'Dear Customer' or 'Hello'. The real websites where you have an account know your name and will surely address you with it. You must know about
Is the Mail Too Lucrative?
Many phishing emails lure you saying that you have won a lottery of a handsome sum; if you have nothing to do with that site know for sure it's spam.
Is the Mail Demanding Personal Information?
The legitimate sites never ask for your password or any other valuable information through an email.
Does it Contain a link?
In phishing, attaching a link with the email is a common method for forcing you to visit a site that was not intended and thus inflicts your device with malware.
Are the Spellings Correct?
Most often emails are not read carefully; the criminals take the advantage of this fact and send the mail from a site that was created using almost the identical name of a real site. Can you figure out the difference between Netflix.com and Nelflix.com? There are various types of Phishing email attempts. Read carefully.
Conclusion
Though there is a lot of chances of being attacked by a Phishing email attack, the next time you open up an email tries to remember today's learning. A little bit of knowledge about phishing emails can make your life and your property secured. Hopefully, the article is beneficial to you.