Sideloading is now a buzz word in the technological world. So it is a common term for all internet users. Though it is common and familiar with many people, most of them do not know what sideloading exactly is, how does it work, and the process of turn it on to use it.
Here you will get all the required information you need. Let us have a look through this article and you will get a transparent idea about this buzz word. All the best for your journey through this article.
What is Sideloading?
Sideloading is a very common term nowadays. It is a very popular term in case of internet usage. It is familiar with 'Uploading' and downloading terms. Sideloading refers to a simple and easy method of transferring files or data from a storage device to another device, but they should be local devices.
In a word, sideloading is a technique of transferring any file between two local gadgets or devices. Generally, one device is your computer set and another one is a mobile, phone, tablet, e-reader, smartphone, or portable media player. One important thing is sideloading does not need any internet connection. So you need some connection between these two devices through USB cable, Bluetooth, memory card, or Wi-Fi.
Again, there are two different methods of using sideloading in the case of app format. If you are an android user, then you will be able to install those apps which are in APK format. Those applications can be easily downloaded from the website rather than app stores.
For iOS users, sideloading can install apps that are in the IPA format. So it is an easy method for the installation of apps in your device. As it doesn't require any further data or internet connection.
How Does Sideloading Work?
Sideloading is like copying files from one device to another. As you know, sideloading does not require any internet connection, so it needs some external connection between the two devices through lighting cables, Wi-Fi, Bluetooth, or USB cable. So the connection between the two devices can be physical or wireless.
After connecting the two devices, you just have to copy the required files and paste or transfer them to other devices. If you have a memory card, then you have to insert the card into your computer and write what is need to write. After writing, you just need to put the memory card on your mobile.
So thus sideloading does its work properly without any kind of internet usage. But if you are an android user, then you have to make sure of allowing unknown sources setting in your device.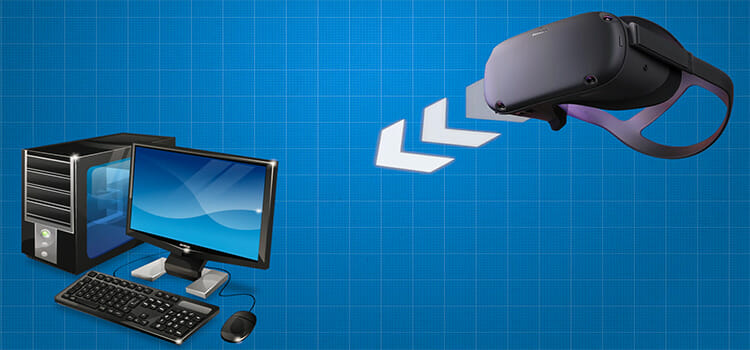 How to Turn on Sideloading?
Normally sideloading occurs between two devices where one mostly is a laptop. And you need to transfer data from or to your laptop, then you first need to turn on sideloading on your computer or laptop. So it is quite necessary to know the method of turning on sideloading.
For this purpose, you need to type Settings on your start menu search bar and then, choose Update & Security option. Then, in the second last option of update and security left pane, you will get For Developers option. There you will find three options among them you have to choose and select Sideload Apps.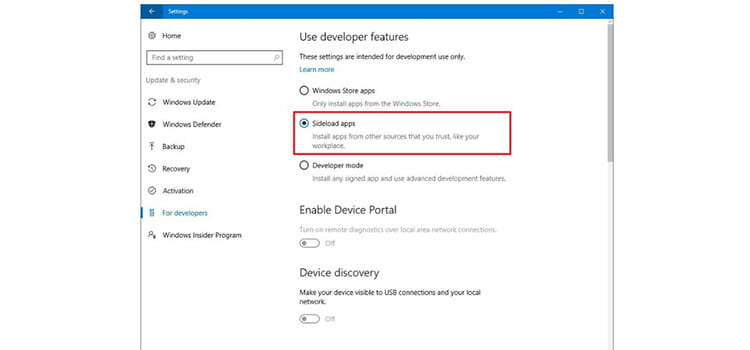 Then you have to choose the Yes button and your sideload app is now turned on and you can use it when you need it.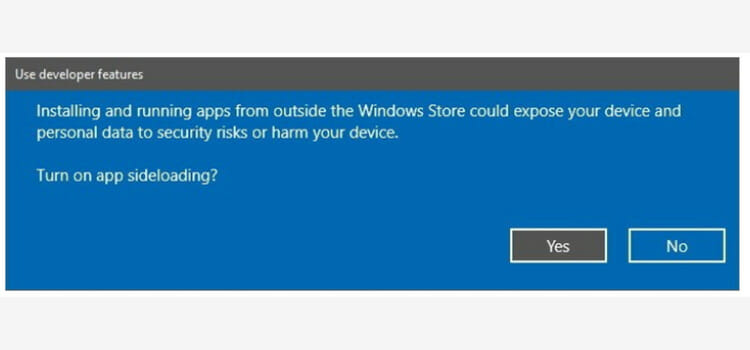 If you look in the box, this box warns us about the risk of enabling this feature. So you should be careful about this feature and should not use this app when the source is not trusted. You should use this feature when the source is completely trusted.
After clicking the Yes button, you have to restart your computer or laptop to complete the turn on task. Thus you can easily turn on this feature.
Conclusion
So here you have got comprehensive information about sideloading. Sideload app sometimes is risky to use but the method of sideloading is quite easy and helpful in many cases. It helps you to save your expenses regarding the internet connection. Again, it proves app installation with third-party media. Here you can see these advantages of sideloading. So welcome in the sideloading world for getting some unique features. I hope you have enjoyed this article. So break a leg!